What Makes a Great
American Essay?
Talking to Phillip Lopate About Thwarted Expectations, Emerson, and the 21st-Century Essay Boom
Phillip Lopate spoke to Literary Hub about the new anthology he has edited, The Glorious American Essay. He recounts his own development from an "unpatriotic" young man to someone, later in life, who would embrace such writers as Ralph Waldo Emerson, who personified the simultaneous darkness and optimism underlying the history of the United States. Lopate looks back to the Puritans and forward to writers like Wesley Yang and Jia Tolentino. What is the next face of the essay form?
*
Literary Hub: We're at a point, politically speaking, when disagreements about the meaning of the word "American" are particularly vehement. What does the term mean to you in 2020? How has your understanding of the word evolved?
Phillip Lopate: First of all, I am fully aware that even using the word "American" to refer only to the United States is something of an insult to Latin American countries, and if I had said "North American" to signify the US, that might have offended Canadians. Still, I went ahead and put "American" in the title as a synonym for the United States, because I wanted to invoke that powerful positive myth of America as an idea, a democratic aspiration for the world, as well as an imperialist juggernaut replete with many unresolved social inequities, in negative terms.
I will admit that when I was younger, I tended to be very unpatriotic and critical of my country, although once I started to travel abroad and witness authoritarian regimes like Spain under Franco, I could never sign on to the fear that a fascist US was just around the corner.  I came to the conclusion that we have our faults, but our virtues as well.
The more I've become interested in American history, the more I've seen how today's problems and possible solutions are nothing new, but keep returning in cycles: economic booms and recessions, anti-immigrant sentiment, regional competition, racist Jim Crow policies followed by human rights advances, vigorous federal regulations and pendulum swings away from governmental intervention.
Part of the thrill in putting together this anthology was to see it operating simultaneously on two tracks: first, it would record the development of a literary form that I loved, the essay, as it evolved over 400 years in this country. At the same time, it would be a running account of the history of the United States, in the hands of these essayists who were contending, directly or indirectly, with the pressing problems of their day. The promise of America was always being weighed against its failure to live up to that standard.
For instance, we have the educator John Dewey arguing for a more democratic schoolhouse, the founder of the settlement house movement Jane Addams analyzing the alienation of young people in big cities, the progressive writer Randolph Bourne describing his own harsh experiences as a disabled person, the feminist Elizabeth Cady Stanton advocating for women's rights, and W. E. B. Dubois and James Weldon Johnson eloquently addressing racial injustice.
"I wanted to show a wide variety of formal approaches, since the essay is by its very nature and nomenclature an experiment."
Issues of identity, gender and intersectionality were explored by writers such as Richard Rodriguez, Audre Lorde, Leonard Michaels and N. Scott Momaday, sometimes with touches of irony and self-scrutiny, which have always been assets of the essay form.
LH: If a publisher had asked us to compile an anthology of 100 representative American essays, we wouldn't know where to start. How did you? What were your criteria?
PL: I thought I knew the field fairly well to begin with, having edited the best-selling Art of the Personal Essay in 1994, taught the form for decades, served on book award juries and so on. But once I started researching and collecting material, I discovered that I had lots of gaps, partly because the mandate I had set for myself was so sweeping.
This time I would not restrict myself to personal essays but would include critical essays, impersonal essays, speeches that were in essence essays (such as George Washington's Farewell Address or Martin Luther King, Jr's sermon on Vietnam), letters that functioned as essays (Frederick Douglass's Letter to His Master).
I wanted to expand the notion of what is an essay, to include, for instance, polemics such as Thomas Paine's Common Sense, or one of the Federalist Papers; newspaper columnists (Fanny Fern, Christopher Morley); humorists (James Thurber, Finley Peter Dunne, Dorothy Parker).
But it also occurred to me that fine essayists must exist in every discipline, not only literature, which sent me on a hunt that took me to cultural criticism (Clement Greenberg, Kenneth Burke), theology (Paul Tillich), food writing (M.F. K. Fisher), geography (John Brinkerhoff Jackson), nature writing (John Muir, John Burroughs, Edward Abbey), science writing (Loren Eiseley, Lewis Thomas), philosophy (George Santayana). My one consistent criterion was that the essay be lively, engaging and intelligently written. In short, I had to like it myself.
Of course I would need to include the best-known practitioners of the American essay—Emerson, Thoreau, Mencken, Baldwin, Sontag, etc.—and was happy to do so.  As it turned out, most of the masters of American fiction and poetry also tried their hand successfully at essay-writing, which meant including Nathaniel Hawthorne, Walt Whitman, Theodore Dreiser, Willa Cather, Flannery O'Connor, Ralph Ellison. . .
But I was also eager to uncover powerful if almost forgotten voices such as John Jay Chapman, Agnes Repplier, Randolph Bourne, Mary Austin, or buried treasures such as William Dean Howells' memoir essay of his days working in his father's printing shop.
Finally, I wanted to show a wide variety of formal approaches, since the essay is by its very nature and nomenclature an experiment, which brought me to Gertrude Stein and Wayne Koestenbaum. Equally important, I was aided in all these searches by colleagues and friends who kept suggesting other names. For every fertile lead, probably four resulted in dead ends.  Meanwhile, I was having a real learning adventure.
LH: Do you have a personal favorite among American essayists? If so, what appeals to you the most about them?
PL: I do. It's Ralph Waldo Emerson. He was the one who cleared the ground for US essayists, in his famous piece, "The American Scholar," which called on us to free ourselves from slavish imitation of European models and to think for ourselves.  So much American thought grows out of Emerson, or is in contention with Emerson, even if that debt is sometimes unacknowledged or unconscious.
What I love about Emerson is his density of thought, and the surprising twists and turns that result from it. I can read an essay of his like "Experience" (the one I included in this anthology) a hundred times and never know where it's going next.  If it was said of Emily Dickenson that her poems made you feel like the top of your head was spinning, that's what I feel in reading Emerson. He has a playful skepticism, a knack for thinking against himself.  Each sentence starts a new rabbit of thought scampering off. He's difficult but worth the trouble.
I once asked Susan Sontag who her favorite American essayist was, and she replied "Emerson, of course." It's no surprise that Nietzsche revered Emerson, as did Carlyle, and in our own time, Harold Bloom, Stanley Cavell, Richard Poirier. But here's a confession: it took me awhile to come around to him.
I found his preacher's manner and abstractions initially off-putting, I wasn't sure about the character of the man who was speaking to me. Then I read his Notebooks and the mystery was cracked: suddenly I was able to follow essays such as "Circles" with pure pleasure, seeing as I could the darkness and complexity underneath the optimism.
LH: You make the interesting decision to open the anthology with an essay written in 1726, 50 years before the founding of the republic. Why?
PL: I wanted to start the anthology with the first fully-formed essayistic voices in this land, which turned out to belong to the Puritans. Regardless of the negative associations of zealous prudishness that have come to attach to the adjective "puritanical," those American colonies founded as religious settlements were spearheaded by some remarkably learned and articulate spokespersons, whose robust prose enriched the American literary canon.
Cotton Mather and Jonathan Edwards were highly cultivated readers, familiar with the traditions of essay-writing, Montaigne and the English, and with the latest science, even as they inveighed against witchcraft. I will admit that it also amused me to open the book with Cotton Mather, a prescriptive, strait-is-the-gate character, and end it with Zadie Smith, who is not only bi-racial but bi-national, dividing her year between London and New York, and whose openness to self-doubt is signaled by her essay collection title, Changing My Mind.
"We're going through a particularly rich time for American essays: especially compared to, 20 years ago."
The next group of writers I focused on were the Founding Fathers, Benjamin Franklin, Thomas Paine, Alexander Hamilton, Thomas Jefferson and George Washington, and a foundational feminist, Judith Sargent Murray, who wrote the 1790 essay "On the Equality of the Sexes." These authors, whose essays preceded, occurred during or immediately followed the founding of the republic, were in some ways the opposite of the Puritans, being for the most part Deists or secular followers of the Enlightenment.
Their attraction to reasoned argument and willingness to entertain possible objections to their points of view inspired a vigorous strand of American essay-writing. So, while we may fix the founding of the United States to a specific year, the actual culture and literature of the country book-ended that date.
LH: You end with Zadie Smith's "Speaking in Tongues," published in 2008. Which essay in the last 12 years would be your 101st selection?
PL: Funny you should ask. As it happens, I am currently putting the finishing touches on another anthology, this one entirely devoted to the Contemporary (i.e., 21st century) American Essay. I have been immersed in reading younger, up-and-coming writers, established mid-career writers, and some oldsters who are still going strong (Janet Malcolm, Vivian Gornick, Barry Lopez, John McPhee, for example).
It would be impossible for me to single out any one contemporary essayist, as they are all in different ways contributing to the stew, but just to name some I've been tracking recently: Meghan Daum, Maggie Nelson, Sloane Crosley, Eula Biss, Charles D'Ambrosio, Teju Cole, Lia Purpura, John D'Agata, Samantha Irby, Anne Carson, Alexander Chee, Aleksander Hemon, Hilton Als, Mary Cappello, Bernard Cooper, Leslie Jamison, Laura Kipnis, Rivka Galchen, Emily Fox Gordon, Darryl Pinckney, Yiyun Li, David Lazar, Lynn Freed, Ander Monson, David Shields, Rebecca Solnit, John Jeremiah Sullivan, Eileen Myles, Amy Tan, Jonathan Lethem, Chelsea Hodson, Ross Gay, Jia Tolentino, Jenny Boully, Durga Chew-Bose, Brian Blanchfield, Thomas Beller, Terry Castle, Wesley Yang, Floyd Skloot, David Sedaris. . .
Such a banquet of names speaks to the intergenerational appeal of the form. We're going through a particularly rich time for American essays: especially compared to, 20 years ago, when editors wouldn't even dare put the word "essays" on the cover, but kept trying to package these variegated assortments as single-theme discourses, we've seen many collections that have been commercially successful and attracted considerable critical attention.
It has something to do with the current moment, which has everyone more than a little confused and therefore trusting more than ever those strong individual voices that are willing to cop to their subjective fears, anxieties, doubts and ecstasies.
__________________________________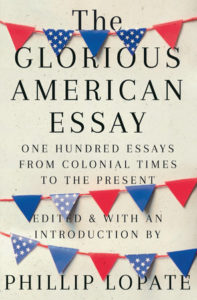 The Glorious American Essay, edited by Phillip Lopate, is available now.
---