What I Teach: Seven Titles From a High School Class on Trauma Literature
Kate McQuade on Yaa Gyasi, Art Spiegelman, Tim O'Brien, and More
For a little over a decade, I've taught a high school course on trauma literature. This isn't a commonly taught subject in general, let alone in high school—which is why, for a little over a decade, I've also been fielding questions about why I teach it.
By now I've accumulated a lot of answers, particularly for those skeptical that young people should be exposed to literature about war, genocide, and violence. I tell them that learning about trauma is not the same thing as experiencing trauma; I tell them that even though the literature we cover is difficult intellectually and emotionally, my course is less about mourning traumatic events than exploring what it means to depict them in art; and I tell them that shielding teenagers from the world's historical truths not only fails to protect them, but does them a disservice as young people about to inherit that world.
But the answer that feels the most honest—that is rooted in why I was drawn to this genre in the first place—is simply the fact that I'm a writer.
A common misconception about trauma literature is that its primary goal is to elegize the hardest, most emotionally destructive experiences a person can live through. Another way of saying this is: Most people think trauma literature is about trauma. In fact, trauma literature is at least as much about the problematics of storytelling as it is about actual traumatic events. It's about the difficulty of representing the truth of an experience so horribly extraordinary that it cannot be contained within the human mind, let alone within the borders of a page. It's about, in the words of trauma scholar Dori Laub, the simultaneous "imperative to tell" and "impossibility of telling."
A trauma story can never really be told—not fully, not truthfully. And yet it must be told when the alternative of silence is a far more unbearable option.
The paradox this genre presents to writers, this question of how to represent the unrepresentable, is the aspect of trauma literature that has the deepest hold on me. And I think my teenage students—little narrative-makers, all of them, still constructing the stories of who they are—feel the same pull. To be honest, I think that's why they're far better readers of this literature than most adults I know.
The problematics of trauma narratives are also, I suspect, why almost every book I've taught features at least one character suffering from writer's block. Blank pages, both literal and metaphorical, are inescapable motifs in this genre; characters routinely fail to write the texts they need to make sense of things.
Despite the wide range of geographies, time periods, and cultures that my syllabus covers, the books I teach often funnel down to the same thematic point: Sometimes we can't put the whole story down on the page. Sometimes closure is a lie; sometimes the mysteries we want answered don't get answered in the end. That blankness is true not just to traumatic experience, something the brain often fails to fully register, but also to the gap-filled historical narratives that trauma authors reexamine, and that I want my students to learn how to interrogate.
Which brings me back to my course, and to the questions I field about it. If the most common inquiry is "Why?," the second most common is "Where can I start?" Here are seven books drawn from my trauma lit syllabus, each centered on a historical collective trauma. Each is also concerned with the problematics of writing—with blank pages, plot holes, unsolvable mysteries, and characters struggling to put something down on paper.
These books remind me when I'm at the front of my classroom that it's important to teach my students not just how to answer questions, but how to ask them. And they remind me as an author that sometimes the most powerful stories are told when we don't tell them at all.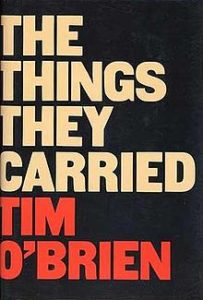 Tim O'Brien, The Things They Carried
Every fall I open my course with this book of linked stories, which follow a platoon of soldiers through the Vietnam War and its aftermath in America. The narrator who connects them—also named Tim O'Brien, also a writer—is perennially frustrated by what he sees as his own inability to "get the story right" for his audience. Several events are narrated multiple times, from multiple angles—the deaths of Tim's fellow soldiers, his own guilt over killing a young Vietnamese man—and with each story's retelling, what happened grows less clear for the reader, not more.
The facts blur because the facts are not O'Brien's priority. "I want you to feel what I felt," his narrator tells us. "I want you to know why story-truth is truer sometimes than happening-truth." His story's factual slipperiness isn't antithetical to understanding the war; in fact, it may be crucial to understanding an experience in which "the only certainty [was] overwhelming ambiguity."
Year after year, I see just as many students throw up their hands in frustration at this book as fall in love with it. (Actually, most of my students do both. They adore this book, even though it never lets them pin down Tim O'Brien's story in the ways they want to.) Invariably, The Things They Carried becomes our main point of comparison, our psychological and historical lodestar, as we move on to other books in this course.
"In any war story," O'Brien writes, "but especially a true one, it's difficult to separate what happened from what seemed to happen. What seems to happen becomes its own happening and has to be told that way." The process by which fact can be subsumed, in an inescapable present-tense, by the stories we tell ourselves echoes both the inescapable hold trauma exerts on the mind and the Vietnam War itself, a war whose ambiguous enemy was never clearly defined in the American imagination.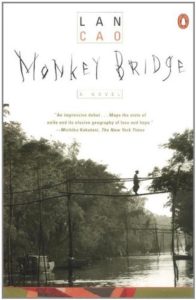 Lan Cao, Monkey Bridge
Cao's haunting novel opens in 1979 Virginia, where Mai, a teenage refugee from Vietnam, is caring for her mother, Thanh, after a stroke. Throughout the novel, interstitial chapters interrupt Mai's coming-of-age narration: excerpts from Thanh's diary, which Mai finds hidden in a dresser and secretly reads, hoping it will help her better understand not just her mother's story, but her own. Gradually, both Mai and the reader come to recognize that the diary isn't what it appears to be, and the truth is slowly, and tragically, revealed.
Although Thanh's diary is the problematic text whose discovery—and dishonesty—sparks Mai's biggest reckoning, the texts she doesn't find collectively prove just as formative. As her well-meaning mother shields her from the traumatic truth of her ancestry, Mai searches her local library for information about her grandfather's life, but finds no books about contemporary Vietnam. She sees depictions of Vietnam on screens all around her—on television, on the news, in her local movie theater—but the portrayals are insultingly primitive. She knows they don't come close to the "untranslatable world" she's from, let alone to her life in America.
"We were," she notes of her fellow Vietnamese refugees, "a ragtag accumulation of unwanted, an awkward reminder of a war the whole country was trying to forget." Failing to find her immigrant experience represented in the many narratives around her, Mai struggles to shape the story of who she really is.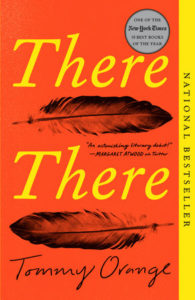 Tommy Orange, There There
Orange's novel follows a cast of Native characters whose paths intersect at a powwow in contemporary Oakland. In a book populated with artists—dancers, drummers, filmmakers—two writers in particular stand out: Edwin Black, an overweight internet addict who once dreamed of writing fiction, and Dene Oxendene, a documentarian gathering oral histories of what he calls the "Urban Indian story." Edwin and Dene don't know each other, but both face the same artistic conundrum: how to represent a cultural history caught between historical oppression and contemporary invisibility.
"The problem with Indigenous art in general," notes Edwin, "is that it's stuck in the past. The catch, or the double bind, about the whole thing is this: If it isn't pulling from tradition, how is it Indigenous? And if it is stuck in tradition, in the past, how can it be relevant to other Indigenous people living now, how can it be modern?" Dene, unsure of which direction to take as he makes his documentary, treads similarly shaky artistic ground. "Sometimes not having a story is the story," he tells himself, adding later: "Which is not just another way of saying he's making it up as he goes along."
Although There There contains scenes of extreme violence, the most harrowing traumas within it are subtler ones: legacies of Native American genocide and discrimination that each character bears and that the rest of the world doesn't acknowledge. At one point, Dene reflects upon the urban landscape around him, identical to so many other cities across America. "[I]t's been developed over, buried ancestral land, glass and concrete and wire and steel, unreturnable covered memory. There is no there there." The paradox within that titular phrase, originally a Gertrude Stein quote about Oakland, illustrates the problem facing Dene and every other Native character in this story: a lack of historical representation at the center of the American city that ties them together.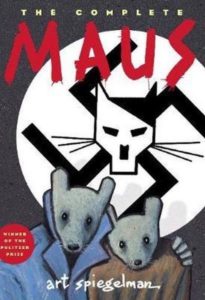 Art Spiegelman, Maus
Spiegelman's graphic memoir traces the relationship between Vladek, a Jewish survivor of the Holocaust, and his adult son Artie (Spiegelman's self-named avatar), a graphic artist struggling to write his father's story. The memoir's epigraph is from Hitler—"The Jews are undoubtedly a race, but they are not human"—and it's a quote Spiegelman makes literal in the book's artwork: Jews are drawn as mice, Nazis as cats, Americans as dogs. Through this multivalent metaphor alone, Spiegelman calls into question what it means to illustrate human suffering in art. "There's so much I'll never be able to understand or visualize," Artie laments (via talk bubble) as he tries to draw his father's Holocaust experience. "I mean, reality is too complex for comics. . . .So much has to be left out or distorted."
Spiegelman makes Artie's artistic uncertainty a key element of the plot. When his animal metaphors break down—when characters have mixed ethnicities, for example, or when they disguise themselves as other animals for survival—Spiegelman ensures his audience notices the seams: a mask slipping off, a page full of sketched, not-quite-right animals discarded. When Vladek's testimony about the camps contradicts the historical record with which Artie is familiar, Spiegelman makes his indecision about what to draw part of what is drawn.
And the most unimaginable scenes from the camps (a family friend's hanging, a baby thrown against the wall) sometimes aren't drawn at all; Spiegelman covers the worst images with talk bubbles that prevent us from seeing the full horror of what happened. "I can't begin to imagine what it felt like," Artie admits about the camps—an inability Spiegelman makes literal with drawing that occludes itself.
In the end, Spiegelman's narration suggests that it's the telling of the trauma story—the talk bubbles, the fraught authorial decisions about metaphor, Vladek's meandering testimony—that paradoxically enables narrative and obscures it. "You see how I have to suffer?" Vladek asks his son at one point (referencing, not insignificantly, his troubles with glaucoma and cataracts). The thing is, Artie doesn't see—not completely, not adequately—because suffering of this scale is impossible to witness. The genius of Maus lies in the many ways Spiegelman passes that impossibility on to us.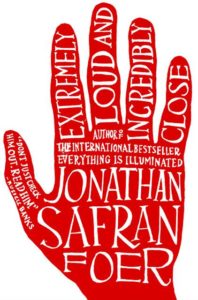 Jonathan Safran Foer, Extremely Loud and Incredibly Close
Foer's second novel—like his first, Everything Is Illuminated—is centered on a young man trying to solve a mystery, one whose answers he believes will bring closure to his family's trauma, and one he fails to solve in the end. Our protagonist, Oskar, is the nine-year-old son of a man who died on 9/11, who was the son of a mute survivor of WWII's Dresden bombing. Oskar has found a hidden key in his dead father's closet and tasks himself with tracking down the lock it fits, a quest that takes him across all five boroughs of New York, eventually aided by his mute grandfather.
Taken alone, both characters' trauma stories are moving ones. But their arcs gather even deeper significance in parallel, particularly when Oskar and his grandfather use similar methods—writing into a void—as part of their grieving processes. Oskar writes letter after letter to famous celebrities unlikely to write him back, just as Oskar's grandfather has written unmailed letters to his abandoned son for decades. Foer allows his readers to see some of these testimonies but consistently undercuts our ability to fully witness them: in one letter, as Oskar's grandfather runs out of typewriter paper, the font cramps and shrinks on the page, words overlapping until all we can see is an opaque blob of black ink. In another passage, a confession over the telephone is transcribed solely as strings of numbers (more than two indecipherable pages of them) as the caller types the words he can't say into the phone's numerical keypad. The reader's inability to witness the message is, at times, Foer's message.
At one point, Oskar has the opportunity to solve the plot's inciting mystery—what will the key unlock?—and declines to solve it. "It's not that I wasn't curious," Oskar tells the reader, almost apologetically. "I was incredibly curious. It's that was afraid of getting confused." He realizes, with a wisdom beyond his nine years, that the simple answer he once sought won't give him the closure he needs—that perhaps nothing will. In the end, the novel memorializes not only Oskar's lost innocence, but also the loss of pre-9/11 America, a narrative of exceptionalism once symbolized by the Towers, replaced today by unfillable holes.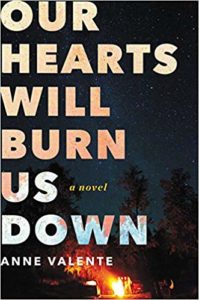 Anne Valente, Our Hearts Will Burn Us Down
Most of the books I teach in this course have their roots, one way or another, in war or transnational terrorism. Valente's novel is an exception, belonging to what I think of as a relatively new (and unfortunately quickly growing) subgenre of trauma literature: the American school-shooting narrative. In Our Hearts Will Burn Us Down, Valente explores the aftermath of a shooting in a St. Louis suburb. The novel grapples less with cause than effect; Valente trains her focus not on what preoccupies many writers within this genre (the question of what motivated the shooter), but on how students and families cope in the aftermath, a grieving process further problematized when the victims' houses begin burning down, one by one, at night.
Through this series of intertangled losses, we follow four student survivors—the staff of the yearbook club—tasked with memorializing those lost in the shooting. It's the impossible assembly of this yearbook that gives the novel its sharpest metaphorical resonance, as the staffers face an immediate version of the problem we all face following catastrophe: How can we assemble a narrative that makes sense of something nonsensical? How, for that matter, can a single narrative ever suffice? As the novel progresses, yearbook entries are logged alongside medical reports, news articles, and scientific information about anatomy and fire—fact-based documents that reveal our narrators' attempts not only to memorialize, but to understand. "We have tried to catalog the details," the staffers confess, ". . .as if we shared the same memory, as if every student at Lewis and Clark bore the same witness. . .an attempt to archive. An attempt at futility."
Like Foer's novel, Our Hearts Will Burn Us Down suggests that the closure we seek after tragedy is both necessary and inevitably incomplete. Valente sets up a straightforward mystery in her novel's early pages—who is lighting the fires?—then pushes that mystery well beyond the plane of its original conception. Her novel reminds us that loss sometimes transcends the reason, logic, and fact-based methodologies we use in our attempts to find unattainable answers.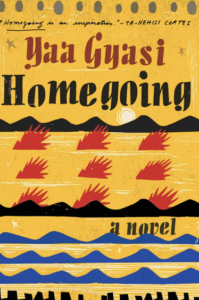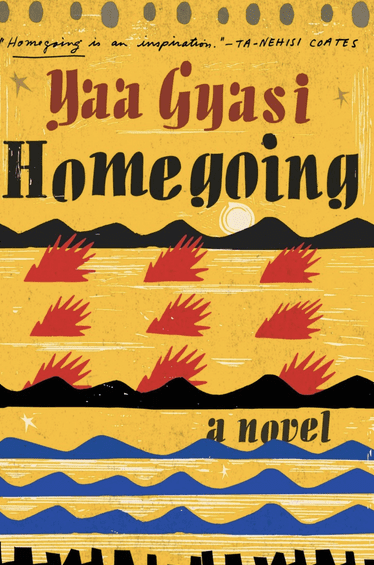 Yaa Gyasi, Homegoing
Late in Gyasi's novel, Yaw, a teacher in pre-independence Ghana, explains to his classroom that history is merely storytelling wielded by those with power and privilege. "So when you study history," he says, "you must always ask yourself, Whose story am I missing? Whose voice was suppressed so that this voice could come forth? Once you have figured that out, you must find that story too." Yaw's dialogue could be a project description for Homegoing, which opens in the eighteenth century with two Ghanaian half-sisters separated by the Gold Coast's slave trade.
Unaware of each other's existence, the sisters' fates diverge: one stays in Cape Coast Castle, wed to a white slave trader, while the other is sent across the Atlantic to an American plantation. The novel traces the family's divided lineage in alternating chapters that cover more than 200 years of Ghanaian and American history, with each chapter re-crossing the ocean and devoted to a character of the subsequent generation.
Several of Gyasi's characters are writers, but the one who best captures the unique problematics of telling this story is Marcus, a grad student trying to write about his great-grandfather's experience as a leased convict in post-Reconstruction Alabama. Marcus is paralyzed by the impossible scope of his historical project. He acknowledges that writing comprehensively about Jim Crow would require writing about other causes and effects—the Great Migration, Harlem, heroin, the war on drugs, his father's addiction, the mass incarceration of black men—and "when Marcus started to think this way, he couldn't get himself to open even one book." Marcus, like Yaw, recognizes that telling historical truths means exhuming stories that have been suppressed. But when the suppression is systemic and centuries long, where do you begin?
Gyasi's novel offers one starting point, which is a trauma narrative not just inclusive of gaps, but built upon them. Her characters, isolated within their separate chapters, are often unaware of each other: all of them are in the dark about their parallel family line across the Atlantic, and many of them have been separated from parents with no knowledge of their ancestry or cultural identity. They move through the world unable to recognize how their actions echo the characters who came before them. Only we readers have the ability to stitch their stories together, to draw the connections that produce the whole story of a family. By giving the reader the chance to occupy this position—the filler of holes, the co-creator of a narrative otherwise suppressed by history—Gyasi implies that the destructive gaps within trauma stories might also enable witnessing and historical reintegration.
__________________________________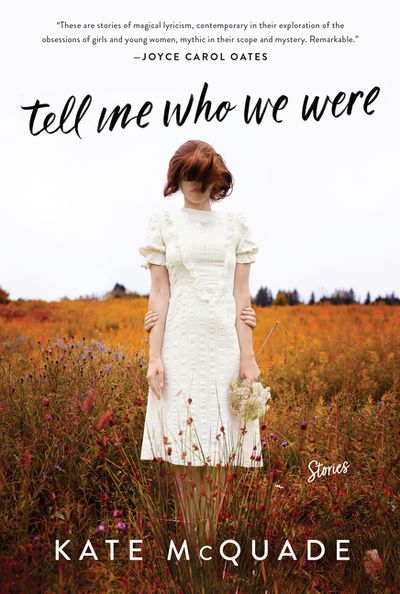 Kate McQuade's Tell Me Who We Were is out now from William Morrow.
---