What I Learned From Photographing Great Writers
Beowulf Sheehan on His Life in Pictures
Life lessons come not just from books, but from writers themselves. They taught me (and keep teaching me) the power of language, agility, empathy, humility, patience, positivity, and vulnerability. Some degree of each needs to be shared to help make a successful portrait.
*
In 2007, at PEN's third World Voices Festival, I was in the green room at New York's 92nd Street Y, photographing the writers participating in the PEN World Voices Festival of International Literature. Tasked with making a photograph of the great Umberto Eco, I stumbled in poor Italian toward him, polite, open.
"Piacere, Dottor Eco, io mi chiamo Beowulf." ["Pleased to meet you, Dr. Eco, my name is Beowulf."]
"Piacere." ["Pleased to meet you."]
And we made our pictures.
"Grazie, Dottor Eco."
"Prego." Then Eco stops me, saying in English, "You know, I'm not a 'dottore.'"
"My apologies, Mr. Eco."
He continues, "In Italy, anyone with a degree is a 'dottore.' Anyone who has an advanced degree as I do is an architect. Do you know how to tell the difference between a doctor and an architect?"
"No, please tell me."
"A 'dottore' drives a Mercedes. An 'architetto'"—he begins to gesture wildly with his right hand—"drives a Saab."
*
Days later I had a moment to photograph Nadine Gordimer, the South African writer and winner of the 1991 Nobel Prize in Literature. I introduced myself, and she replied, "Young man, there's nothing I hate more than having my picture taken." Smiling, positive, I answered with, "And I love your honesty. Let's get started." The image was simple, the moment when her laugh of surprise at my words began to recede yet her smile remained full. I thanked her after only a few frames, and she asked me, "Is that it?" "Yes, thank you so much." And she smiled again.
Zadie Smith
Valeria Luiselli and Álvaro Enrigue
Rickey Laurentiis
Jonathan Frazen
Donna Tartt
Toni Morrison
In the winter of 2008, PEN honored the Nigerian writer Chinua Achebe at Town Hall. I had a moment to photograph him, in a back room at the end of the evening, his family waiting to my side. Achebe was expressionless. One of his sons said to me, "Are you almost done? It's my father's birthday, and we're going to be late to dinner."
I responded by saying that was wonderful and began singing "Happy Birthday" to Achebe. He grew a surprised, bemused smile on his face—and then we were done. I later learned that it wasn't his birthday, but I was grateful for the chance to inspire a more animated Chinua Achebe.
*
In 2013, the literary agent Binky Urban and publisher Little, Brown and Company gave me the tremendous opportunity to photograph Donna Tartt for The Goldfinch, her first novel in over a decade. By then I'd established the practice of reading the writer's work ahead of the shoot to learn the writer's voice and inform picture ideas as part of my workflow. This time, my request to read the work was politely denied as a security measure for the book—so instead we talk. Donna told me bits about the new novel and suggested I reread The Secret History to glean her aesthetic. She called herself a "dandy." Indeed, when she arrived at my studio days later, she was singularly yet timelessly beautiful. The locations I scouted, all attempts to balance the coarsely urban with the timeless, met with her approval. I asked Donna for her poise and grace indoors and on the street, but she was already more than delivering. The winning photograph was made in a parking lot. The experience with Donna Tartt taught me that sometimes the subject needs nothing drawn out. Sometimes the gift of a special persona just needs to be accepted. And then cherished.
*
My work with Donna inspired my confidence to make better pictures for my subjects and clients. I also recalled the advice given by Nigel Parry at his Camera Club of New York lecture in 2001: "With each shoot, make the picture the client needs and, if you can, the picture you want." When given the time to prepare and enough time to create, I'd do my best for both. Character, I learned, drove not only so many writers' works but also the writers themselves.
*
My photo sessions with Salman Rushdie were many over the years, and we grew comfortable with each other. In 2014, I photographed him in the backyard of his friend's home in the West Village. Salman smiled and asked, "Do you know whose home we're working in?" "Your friend Francesco's," I replied. "Yes, but before him?" I did not. "This used to be Bob Dylan's house." I answered, "Salman, photographing you on this hallowed ground would be a great way to go out on top, but I'm not ready to retire yet." "No, you have much more ahead of you." Each of us needs a champion and a friend. Salman has been both in my journey, among many to welcome me, give me opportunity, and help me grow in community. It indeed takes a village.
*
Penguin Press asked me to photograph the North Korean refugee turned human rights activist Yeonmi Park for her memoir In Order to Live, published in the fall of 2015. The request was for a simple, striking headshot that showed her inner strength. Yeonmi visited me in my studio a week before the shoot. We had a lovely talk. At the end of it, she said, "May I tell you? I'm scared." "Of what?" "Of how my life will change after the book is published." Yeonmi told me she'd already received death threats, and she feared those would grow. I reminded her of her own journey, her family's and her own suffering, and how her neighbors back home continued to suffer. I thought of what my years working with writers had taught me. I told Yeonmi that she had a responsibility to write and share her story, said her mission was to embolden those in need of her light. I told her yes, challenges would certainly come, cowards living to undermine the liberty all should have would be after her. And I said that however many such people will attack her, the number of people who love her for courage and be inspired by her will grow exponentially. Yeonmi left excited for our work together.
Yeonmi was the face of courage when we made our pictures. At the end of the shoot, as my assistant and I broke down equipment, Yeonmi screamed. We all leapt to help her, and her scream turned to elation. Her best friend had just written to her via Facebook to tell her she was alive and out of North Korea! (Yeonmi was 22 when I photographed her; she fled North Korea at 13.) Love was growing very quickly. When the work was published, a Western critic in the employ of the North Korean government denounced Yeonmi's memoir, defamed her, and doubted the validity of her story. Nevertheless, In Order to Live went on to be published in ten countries.
*
With two assistants, in the spring of 2016 I drove to the great Neil Gaiman's home to photograph him for his coming Norse Mythology. As I stepped out of the car and walked to the house, his wife Amanda Palmer approached me. I'd never met her before. "Is that the sexy photographer?" I replied, "Is that the beautiful artist?" She said yes, I said yes, and she led me to the house. Neil soon came out, and we were off and running. We had met before, so hellos were easy. When I first met and briefly photographed him in 2007, at my announcing myself he said, "That's great. We were destined to work together." I asked, "How's that?" He replied, "Because I wrote the screenplay for Beowulf." I didn't do my homework in 2007—but I did in 2016. My team and I made seven different looks (props, locations, lights and all) with Neil in the hour he gave us.
*
Seven years in the making, Ron Chernow's Grant would be his second biography since his 2004 Alexander Hamilton (which the world saw interpreted as the musical Hamilton in 2015). Ron and I spoke to discuss the type of photograph he wanted. We both had the idea to make the editorial picture at the General Grant National Memorial (at the north end of Manhattan, in case you knew who was buried at Grant's Tomb but didn't know where he was buried). We picked a date that worked for both our schedules. Upon our arrival at the memorial that day, Old Glories were strewn about everywhere, adding vivid color to its majestic yet neutral columns. Ron laughed at his having forgotten the significance of the date of our shoot: April 27, 2017, Ulysses S. Grant's (195th) birthday.
*
I photographed Leslie Jamison for The Recovering, her memoir and study of the history of addiction. Reading her book ahead of the shoot was a punch to my heart. Through her words, I was getting to know my own father, better understanding his disease, reconciling parts of my childhood. I shared with Leslie how much we had in common, and our work together was all the stronger for it. We had time. We made the picture needed for her book. In addition to the author portrait, there was the editorial image speaking to her journey that I wanted to try. Leslie was an alcoholic, yes, but also a brave, elegant, mature adult. I photographed Leslie, graceful in her colorful, flowery dress, against a gray concrete wall. The wall was as mute as she was radiant, its pattern constant excepting the seams and hinges revealing a door in it. Leslie stood before the door. The abyss of addiction remains close for all who face it, the darkness opening and enveloping if we let it, the beauty of a new day welcoming us if we don't.
*
Looking at my journey, I find it remarkable that my lacking confidence as an artist led me instead to explore a way to support artists, only to find artists giving me confidence, inspiring me to go forward, grow as an artist, and support them with my work. To discover and embrace one's passion is among the secrets to a happy life. To the many, many storytellers—writers, poets, playwrights, musicians, dancers, choreographers, directors, actors, dignitaries, and humanitarians—who shared a bit of their hearts and time with me, you have given me as much purpose as you've given me joy. You are my superheroes. You've empowered me to do my thing. I thank you for the chance to celebrate your stories.
Here is what I have learned about writers: Balancing private and public selves, they need solitude as much as they need community. They know they're entrusted with recording and imparting history. Though a fearful few would have many of their voices silenced, they speak their hearts. Their vulnerability is their strength. They reflect and help shape societies and cultures, calling attention to their ills and dangers, celebrating their wonders and triumphs. They are you. Me. Us. And they are beautiful.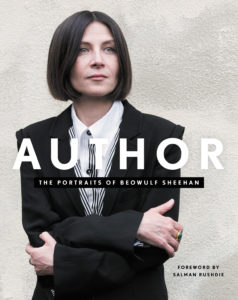 Adapted from the introduction to AUTHOR: The Portraits of Beowulf Sheehan. Excerpted with Permission of the publisher. Copyright 2018 by Beowulf Sheehan.
---