What Can an Essayist Do in the Face of Massive Tragedy?
Sonya Bilocerkowycz on Guilt, Ego, and Speculative Nonfiction
Thirteen years ago, my favorite writer was murdered.
Anna Politkovskaya was a Moscow-based journalist who gained an international reputation as a critic of the Kremlin's "dirty war" in Chechnya. Beginning in 1999, the Second Chechen War involved separatist fighters who sought to establish an independent republic in the region and Russian troops who were deployed to quash such an attempt. After the Russian military captured and razed the Chechen capital Grozny (prompting the UN to name it "the most destroyed city on Earth"), Vladimir Putin appointed a separatist-turned-loyalist, Akhmad Kadyrov, as leader of Chechnya.
One of few journalists reporting from the North Caucasus at the time, Politkovskaya documented scores of human rights violations committed by Russian government forces, Chechen rebels, and the Kremlin-backed Kadyrov regime. Predictably, this earned her some powerful enemies. Politkovskaya was detained, poisoned, endured death threats, and eventually murdered on October 7th, 2006.
The day she died—which happened to be Vladimir Putin's birthday—Politkovskaya returned home to her apartment building, carrying a bag of groceries. She stepped into the elevator and behind her was a man in black. Five shots from a standard issue Makarov pistol. The assassin left her on the ground like a heap of rotting leaves with the groceries there beside her.
When I began writing about Anna Politkovskaya for my book, On Our Way Home from the Revolution: Reflections on Ukraine, I felt both kinship and shame. I identified with Anna's impulse to "speak truth to power"—an impulse familiar, I'm sure, to many nonfiction writers whose work explores the interplay of personal and political concerns.
But that identification also left me feeling uneasy. I am a personal essayist; she was a war correspondent. In light of Anna's sacrifices, my work seemed insignificant, self-indulgent, pathetic. If I was not reporting from a war zone and advocating for the conflict's victims, what was the point of my nonfiction?
And there was another thing I could not shake: a sense of the uncanny. Anna was murdered on October 7th—Putin's birthday—which also happens to be my birthday. I was ashamed of my writing, and I was ashamed to be alive and celebrating while Anna had died in an elevator. These circumstances seemed to align me not so much with Anna, but with her murderers.
The fact that I have not personally murdered someone is less important than the fact that someone was murdered.
When I started writing about her death, my narrator slipped into the assassin's vantage point. I look into his eyes and see my own reflection, I write. I can't say where he ends and I begin. What follows is a speculative retelling of the event from the killer's point of view. The murderer/narrator is on the outside of the elevator, looking in.
I've come to believe that Anna understood this dynamic. Readers of her newspaper sent letters imploring her to stop writing about the horrors she witnessed in Chechnya. Why are you writing this? Why are you scaring us? Why do we need to know this? Anna's response is not about Putin, or Kadyrov, or the violence of armies—it is about those readers and about herself.
I'm sure this has to be done, she writes, for one simple reason: as contemporaries of this war, we will be held responsible for it. The classic Soviet excuse of not being there and not taking part in anything personally won't work. Anna taught me this: the fact that I have not personally murdered someone is less important than the fact that someone was murdered. As a contemporary of the murder, I, too, am responsible for it.
The essayist is perhaps uniquely primed for an obsession with guilt and responsibility. James Baldwin's "Notes of a Native Son," often presented as one of the genre's essential texts, depicts a narrator who seems almost more preoccupied with how his rage implicates him in America's murderous prejudice than he is with the crimes committed against his own black body. In Maxine Hong Kingston's seminal "No Name Woman," the narrator, having kept silent on the subject, admits that she too is a guilty participant in her aunt's unjust and misogyny-fueled punishment from decades prior.
Contemporary essayists Eula Biss and Lina M. Ferreira Cabeza-Vanegas explore their complicity through histories of racist lynchings and mob violence. Because the nonfiction narrator is some version of the author's self, a relationship must be established between the "I" and the events the narrator is witnessing. This necessitates a grappling with responsibility, even when it would appear that the narrator has not personally done anything wrong.
I agree with Philip Lopate who, in "On the Necessity of Turning Oneself into a Character," another popular introductory text for students of the essay, argues that there is something off-putting about a nonfiction story in which the "I" character is right and all the others wrong, the "I" infinitely more sinned against than sinning. But I am also suspicious of my instinct to agree. Is this instinct a byproduct of white America's need to diffuse responsibility for its crimes? Do I want others to feel guilty, as I often do? Is my reason for admiring an essayist's self-implication, in fact, a corrupt one?
Is my reason for admiring an essayist's self-implication, in fact, a corrupt one?
In the case of Anna Politkovskaya, it remains unclear who killed and who ordered the killing. The Russian state's tactic of floating myriad theories works well to diffuse individual guilt, and such diffusion made me perhaps more inclined to locate that guilt in myself. (Russia's Prosecutor General told reporters in 2007, Our investigation has led us to conclude that only people living abroad could be interested in killing Politkovskaya.) Since I could not pin down a murderer out there, I moved inward.
I recognize, too, that a move toward self-incrimination is its own kind of prerogative. As essayist David Lazar notes, Guilt is the privilege of the living. This privilege applies most acutely to my fascination with the late Anna Politkovskaya. I have serious reservations about how and why we expect a narrator to self-implicate, and exactly which narrators we expect to do this, so I am hesitant to be as prescriptive as Lopate.
In my own writing, however, self-incrimination has become the only satisfactory response. The perpetrator and I both count ourselves among the living, and I am compelled to consider what else he and I might have in common. The classic Soviet excuse of not being there feels like just that—an excuse.
As an essayist with a social justice orientation, I strive to hold three ideas concurrently: 1) There are systems, governments, and bad actors that commit specific crimes of oppression, 2) I have committed specific crimes of oppression, and 3) I may also be culpable for the crimes of oppression committed by those systems, governments, and bad actors. I believe this third idea best characterizes my relationship to Politkovskaya's death, my culpability emerging from contemporaneousness and inaction. (Another incriminating image plays on loop in my mind: Putin ordering the murder, he and I both eating cake, Anna stepping into the elevator.)
I am especially interested in how speculative nonfiction can open pathways for more robust engagement with these realities, making room in my imagination, and in the reader's, for all three at once. The essay form seems most dynamic and most honest when it captures the complexity of these simultaneous truths, refusing to let one cancel out the others.
I'm afraid that when we are unwilling to reside thoughtfully within this tension, we become vulnerable to propaganda. It is the whataboutism of the Soviets, the classic "and you are lynching blacks" retort when Americans pointed out human rights violations in the USSR. Propaganda welcomes the divergence, not because it is sincerely interested in justice, but because it is interested in shirking responsibility. Its motivation is self-preservation. The divergence of propaganda is exemplified by President Trump who, in response to Bill O'Reilly's comment that Putin is a killer, jumps at the chance to distract: There are a lot of killers. We've got a lot of killers. What, do you think our country's so innocent?
The perpetrator and I both count ourselves among the living, and I am compelled to consider what else he and I might have in common.
Trump is right, of course, in the strictest sense. Our country is not so innocent, though his answer is meant only to protect Putin, and by extension to protect Trump's assets, his business associates, his family, and himself. Propaganda is incapable of serious meditation on responsibility; it frantically tilts the mirror, hoping for a sunbeam to deflect scrutiny.
But in all fairness to Putin, Trump says in another interview, you're saying he killed people. I haven't seen that. I don't know that he has. Have you been able to prove that? Do you know the names of the reporters that he's killed?
It's a shame Trump does not know the name of Anna Stepanovna Politkovskaya, a brilliant writer and a victim of Putin's violent regime. It is a shame, too, that the US President's imagination is so limited, that he is loath to admit how his own aggressive rhetoric contributes to a hostile environment for journalists worldwide.
As average readers and writers, what is our responsibility in light of such rhetoric?
For one, we would be wise to prioritize imagination and acknowledge the possibilities afforded by speculative art. Before he was elected President of Ukraine in 2019—before he was entangled in our American corruption drama—Volodymyr Zelensky was an actor. He created and starred in Ukraine's Servant of the People, a TV comedy about a regular history teacher who is elected to the presidency in a wave of anti-corruption sentiment.
When asked in a 2017 interview why the series had become so popular in Ukraine, Zelensky answers, It touches upon a universal desire: all normal people want to live a better life. As the expression goes, a fish rots from the head down. Therefore, everyone wants decent people at top. When you have that, everyday life can be more normal, and then you don't have to think about survival on a daily basis.
I'm inclined to say this is the essayist's responsibility: to draw attention to the putrid head while remembering that I am also part of the fish.
__________________________________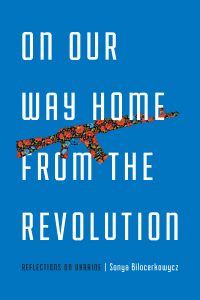 Sonya Bilocerkowycz's On Our Way Home From the Revolution: Reflections on Ukraine is available now from The Ohio State University Press.
---