What Can a Dead Egyptian Pharaoh Teach Us About the Modern World?
Christina Riggs on the Women Behind King Tutankhamun
Nefertiti, Akhenaten, Tutankhamun. Firm facts about these ancient individuals are as dry as an Ohio canal, compared to the soap opera psychodramas that have been woven around them. Tutankhamun was part of Akhenaten and Nefertiti's family, but specialists still disagree on the specifics, including who his parents were. Analyses of ancient DNA have lately claimed to offer firm solutions, but they are a house of cards built on a shaky table.
For a long time, scholars like Petrie and Breasted assumed that Akhenaten and Nefertiti had only daughters, because the six princesses appeared so often with their parents and never with any princes present. The logic hasn't held up, however. In this period, the 18th Dynasty, the conventions of Egyptian art meant that a reigning king was not shown together with his male children. Tutankhamun may therefore have been Akhenaten's son, either by Nefertiti or by a different wife.
Other theories have proposed that Tutankhamun was Akhenaten's younger brother or half-brother, or most recently that he was Akhenaten's grandson, born to one of Akhenaten and Nefertiti's older daughters. It's a puzzle with a hundred pieces, many of them missing; hence the question marks around the line of succession between Akhenaten and Tutankhamun, too. After Akhenaten's death, a woman described as "beneficial for her husband" and "beloved of Akhenaten" took over for a year or two. She may have been his daughter Meritaten or his widow Nefertiti, taking on new names as every pharaoh did. Either before or after this "beloved" came a ruler named Smenkhare, whose identity is even less clear.
Perhaps he was Tutankhamun's older brother or, in a recent reconstruction of the family tree, his father. One Tutankhamun specialist believes that Smenkhare was a new name for Nefertiti as her independent rule developed. Whatever the case, Smenkhare reigned a short time too, leaving only the boy still known as Tutankhaten to take on the rule of Egypt.
To see the past and its endurance in our present, we have to turn time's mute survivors towards the light.
Two pieces can be anchored into place in the jigsaw of Tutankhamun's origins and family life. First, he married the third daughter of Akhenaten and Nefertiti, a princess named Ankhesenpa–aten who, like him, changed the last portion of her name in honor of Amun, becoming Ankhesen-amun. Whether she was his sister, half-sister, or aunt, and what the difference in their ages was, remains unknown and probably unknowable. The figure and name of Ankhesenamun appear on many of the best-known objects from Tutankhamun's tomb. On the backrest of the gilded chair known as his throne, she is clad in silver and lays a hand on her husband's body, anointing him with scented oil. In the gold leaf covering a small wooden shrine, he pours water into her cupped hand to drink. Male and female went together in Egyptian thought, and every king needed his counterpart in a queen who could balance, define, and refuel his masculinity.
The second puzzle piece to fix in place is this: Tutankhamun was born a prince and recognized as such in childhood. On a carved limestone block later used as building rubble, his slender, dangling legs appear alongside the royal formula that identifies him as "the king's son of his body, whom he loves." History has little use for love, however, and it makes scant room for women, children, and the dispossessed.
Whoever Tutankhamun's mother was, the absence of her name or image anywhere in his tomb, or on any monument from his reign, probably indicates that she had died before he became king. Rulers of the time with living mothers made those women prominent, alongside or in place of their own wives. We do know about one woman who cared for Tutankhamun in his younger years. Her name was Maia, and her privileged role as the prince's wet-nurse gave her the social status and financial means to build a large and lavishly decorated tomb in the cemetery of Saqqara, west of Cairo. She had earned the right to represent the king inside her tomb as well, and on one wall, Tutankhamun sits on Maia's lap, depicted—according to convention—as if he were a miniature adult in her embrace. Prince and king, child and man, at once.
But on the inside of one lid, chased in the beaten gold, are faint outlines of the hieroglyphs that wrote out "beneficial for her husband," a phrase that imbued the queen with the qualities of a goddess.
By the time this orphaned boy came to the throne around 1332 BC, Akhenaten's palaces at Amarna had been abandoned in favor of older royal residences, such as those at Memphis, near Cairo, and Thebes—the name Egyptologists use for the ancient site that lies beneath and among the streets of modern Luxor, as if a different name were all it took to separate the past and present into discrete parts.
In Tutankhamun's childhood, a turn back to the old gods was already under way, and no surprise. The specific form of Aten worship that Akhenaten had promoted, with himself and Nefertiti in star roles, was not sustainable once both were dead. Tutankh-aten quietly became Tutankh-amun, and both those names appear on a handful of objects in his tomb. More important for Egyptians was the new name he adopted on becoming king: Neb-kheperu-re, which identifies him with the visible forms (kheperu) of the sun god, Re.
Becoming king may have meant leaving childhood behind, but some traces of that childhood, and of the family who predeceased him, were set aside for safekeeping. When Tutankhamun died, aged around eighteen or nineteen, these keepsakes joined him in the tomb. A single linen glove, sized for a child's hand, was folded up in a delicately painted box, one of the "wonderful things" that Carter spotted in his initial glimpse of the tomb's first room (the Antechamber, as he called it). Nearby, a child-sized ebony chair was tucked neatly under a gilded bed carved like a lioness, probably used to support the wrapped-up, embalmed body of the king in funeral rites.
History has little use for love, however, and it makes scant room for women, children, and the dispossessed.
Draped over the body of the jackal figure that kept watch over Tutankhamun's burial shrines was a linen tunic, freshly pressed and marked in ink with what looks like the name of Akhenaten and "year 9," perhaps the date in that king's reign when the garment had been made. A slender ivory writing case, with wells for six different shades of paint or ink, lay between the jackal's forelegs, lined up with precision. The hieroglyphs incised upon its surface name Princess Meritaten, Akhenaten and Nefertiti's eldest daughter. Depending on how you fill the gaps in your Amarna puzzle, Meritaten may have been the wife of Smenkhare, the woman who briefly ruled before or after him, and the mother of the young man whose body had been secreted away inside those burial shrines.
Meritaten, or another woman who ruled as king, is a silent presence elsewhere in the tomb as well. The miniature coffin that had sent goosebumps up my arms had not been made for Tutankhamun but for a royal woman. Tutankhamun's names are on the lid, spelled out with inset slivers of colored glass and carnelian. But on the inside of one lid, chased in the beaten gold, are faint outlines of the hieroglyphs that wrote out "beneficial for her husband," a phrase that imbued the queen with the qualities of a goddess. Gold workers had begun to craft a set of these containers for this woman's burial, to hold the corpse's embalmed viscera.
For some reason (speed? convenience? family ties?), the craftsmen repurposed the four coffins, each around 40 cm high, for her successor—and perhaps son—instead. Shimmering in blue, turquoise, and red, the feathered body distracts the eye from the reworked name. Whoever the queen of these so-called canopic coffins was, she is no more than a shadow beneath the outer shell, or what historians call a palimpsest—a surface that has been erased and written over, rubbed almost smooth to start again. It makes a useful metaphor for history itself, with a gentle warning and an urgent plea. To see the past and its endurance in our present, we have to turn time's mute survivors towards the light.
___________________________________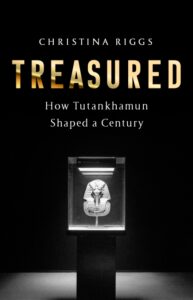 Excerpted from Treasured: How Tutankhamun Shaped a Century by Christina Riggs. Copyright © 2021. Available from PublicAffairs, an imprint of Perseus Books, LLC, a subsidiary of Hachette Book Group, Inc.
---