What Being a Dancer Does to Your Relationship with Food
Phyllis Grant on Anorexia, Food, and Ballet
When I am 11 years old, I lose 15 pounds. Everyone looks for a reason. Blood tests, weekly weigh-ins, X-rays, intense parental discussions behind closed doors. It is 1981 and people aren't talking about appetite, hormones, and the teenage brain. They rule out the big stuff like anorexia and brain tumors. All I know is I keep looking and I just can't find any hunger in my body. 
On weekend mornings, I bake. I bake to feed others. Danish ebelskiver, Belgian waffles, French toast, crêpes, chocolate chip cookies, bûches de Noël. 
When I cook, I am calm. And confident. Baking works. You just follow the rules. There is comfort in the logic. 
*
Often, in the middle of dinner, I slide down under the kitchen table and snuggle with the dog. As I listen to the muffled voices and clinking of glasses, my head gets all bubbly and blissful. I close my eyes and I am on a brightly lit stage pirouetting, suspending, leaping. I can't stop choreographing dances in my head. 
Article continues after advertisement
After a year, I start eating again. I am 12. 
* 
My best friend and I sit on the kitchen counter, eating toasted presliced Colombo San Francisco sourdough, discussing our intersecting dreams of bigger sticker collections, kissing Han Solo, getting an apartment together in New York City, world peace. Each slice of toast drips with butter and my mom's apricot jam. There is no such thing as being full. 
* 
Left leg up up up. Toes to the sky. I am 14, in my attic bedroom in front of the full-length mirror, surrounded by magazine cutouts of Rob Lowe, the Soloflex man, and all the actors from Fame. I slam down into a standing split. Over and over again. 
I don't see myself. I see only the dancer I want to become. 
* 
My mom and I get out of the cab at 93rd and Broadway, stand on the sidewalk, and look seven flights up to my new home: a residence hotel filled with Juilliard students. 
We don't care what we eat. We just want to be full so we can do it all again the next day.
She walks into the apartment ahead of me and takes it all in. Stained rug. Bedroom windows facing an air shaft. No kitchen. 
We decide that the top of a left-behind yellow dresser will be my kitchen counter. My mom opens a drawer and finds used syringes. She throws them in the trash without comment and takes me shopping for my first winter in New York City. 
I sit down on the floor of Bloomingdale's in an ocean of winter coats. They all look the same. It is 1988. There are lots of shoulder pads. I don't know how to choose.  
My mom picks out a black wool coat, a floral scarf, a whisk, two wooden spoons, a plastic spatula, a cheese grater, a hot plate, and a microwave. 
We eat all over the city. Cheesecake and French fries and mesclun salads with goat cheese. Chocolate sundaes. Tiramisu. Sun-dried tomatoes are everywhere. Nothing is seasonal, everything is overpriced and oversize and overpackaged and over the top. We eat so we don't have to acknowledge what's coming next. But every time I look up, she confirms—with a gaze, a smile, an arm squeeze— that I am just where I need to be. And then I need to look away. 
She flies back to Berkeley, leaving me in my kitchenless one-bedroom apartment with a membership to the Museum of Modern Art and a book of her handwritten recipes. 
*
We are so hungry. 
We dance all day long. In the studios. In the stairwells. On the sofas in the lounge. Down Broadway. It is my childhood dream come to life. The New York City package: 1988 style. Dance school. Depressing apartment. Leg warmers. Straw basket bag like Coco on Fame. 
There are no dorms. We don't know how to cook. New York City is our cafeteria. 
White onion, cheddar, and tomato omelets with French fries in fluorescent diners, all-you-can-eat barbecue ribs at Dallas BBQ, General Tso's chicken with free white wine, Ben & Jerry's New York Super Fudge Chunk ice cream, banana muffins with inch-thick streusel, airy blueberry scones, Häagen-Dazs bars, Doritos, and Peanut M&M's. 
We don't care what we eat. We just want to be full so we can do it all again the next day. 
*
My nightly soundtrack is made up of car alarms, a hissing radiator, and the frantic inhales and exhales of my assigned roommate trying to climb the walls. Several times a week, she puts in a James Taylor tape and run run run slams her naked body against the wall, her hands and feet clawing at the chipped paint, sobbing as her body slides to the ground. 
I meet her older brother. He has scars over a quarter of his body. Something about a backyard barbecue and an exploding can of lighter fluid and the death of an older sister. He asks me to watch out for his baby sister. 
She tiptoes down the street as if she is walking on air, smiling hard at everyone, engaging strangers in conversations about the beautiful day, her light blue eyes brimming with tears, her ecstatic bliss changing midsentence to deep gloom. 
She buys a folding shopping cart at Bed Bath & Beyond that she pushes up and down Broadway. She bursts through the door with a new collection of gathered items: a broken lamp, three packages of stale Mint Milanos for the price of one, a man she met at Tasti D-Lite frozen yogurt shop. 
I shake her awake every day. I feed her granola. I tuck the hair behind her ears. 
*
My ballet teacher squeezes my waist. He trained with Rudolf Nureyev and wears a cape that he flips back when he's angry. He smacks my ass with a stick. 
Stop eating so many croissants, Phyllis. 
Head down, purse pulled into body, face emotionally sealed, I move with the anonymous throngs up and down Broadway.
He says I have an attitude problem. He would like me to disappear. 
We share a bathroom with the School of American Ballet, I listen to the heaving in the stalls. I watch girls erase their femininity, their fertility. 
I learn the tricks. 
A stick of Juicy Fruit gum is ten calories and if you chew it for over an hour, you will burn eleven calories. 
Bulimia is much harder to cover up. It's loud and messy. But you get to eat more. Anorexia is clean and requires control. 
I choose anorexia. 
Breakfast is coffee and a cigarette. Lunch is a cigarette. Dinner is broth. 
I think I'm in control. I hear the words I want to hear: You look great, Phyllis. Look at the line in your penché. You finally have a waist. 
I audition for the big performance at the Juilliard Theater. I don't even get cast as an understudy. I almost get cut in my first evaluation. So I ask why. 
We saw a lot of potential in you but you haven't lived up to it. Your technique is very weak and we're not sure you're going to make it here at Juilliard. 
I go to the Juilliard Halloween party. Alcohol hits my empty stomach. I don't remember getting carried out of the school and ten blocks up Broadway to my apartment. I don't remember how I get out of the tight green dress. I do remember waking up as my head slams the side of the bathtub, my body slumping to the tile floor. 
*
Head down, purse pulled into body, face emotionally sealed, I move with the anonymous throngs up and down Broadway. I find a speed I never knew I had. I walk for distraction. I walk to try to understand what to do. I walk to try to figure out who I am. I am 18. 
I visit every church, temple, mosque on the Upper West Side that will let me in. I breathe in the religious air. It feels thick, cool, supportive. It smells musty but sweet like my grandmother Elizabeth's garage. I pretend to believe in God by listening to the music, planting my feet on the cement floor, holding a Bible to my chest. 
I peer into brownstones. I want to sit at those kitchen tables. I want to be fed. I buy a box of cake mix and make it in my microwave. To watch it rise. For the smell. To feel the warmth of just-baked anything in my hands. 
__________________________________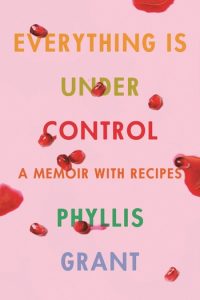 Excerpted from the book Everything is Under Control © 2020 by Phyllis Grant, published by Farrar, Straus and Giroux on April 21, 2020
---