What a New Translation of Beowulf Says About Extinction
Lydia Pyne on Talking About Species Loss
December 2020 was grim. We were post-election here in the United States and pre-Capitol riots. Covid cases surged amid the Alpha variant wave and vaccines hadn't been announced. My then seven-month-old daughter hadn't met any family or friends outside of FaceTime. Every headline, every news article, felt worse than the last one.
I started reading my I'm Getting To Those pile of books out loud to my daughter as bedtime stories, in part to pass the time, in part because I couldn't take The Very Hungry Caterpillar anymore. She and I read Octavia Butler's The Parable of the Sower, José Saramago's Blindness, Albert Camus's The Plague—I'm pretty sure I'm going to have to apologize at some point in the future that her first foray into a literary world outside of Eric Carle was what it was. (Kid, what can I say. That's where we all were.) Right before Christmas, she and I cracked into Maria Dahvana Headley's new translation of Beowulf.
The first time I came across "Beowulf" was in Eaters of the Dead, thanks to my junior high Michael Crichton sci-fi kick. I think the last time that I had read it was in an undergraduate literature class that had assigned Seamus Heaney's then-new translation, circa 2002. The poem didn't carry any special significance to me—not until I read Headley's translation, a translation that Ruth Franklin in the New Yorker calls "a Beowulf for our moment."
"Bro! Tell me we still know how to speak of kings!" I read the first line aloud.
My daughter and I agreed with Ruth Franklin that this Beowulf was fierce and fearless and refreshingly relevant. We worked our way through the poem's battles, songs, and mead halls until we got to the part known as the Lay of the Last Survivor. This is where the last man standing mourns his aloneness. Just him and no one else. "Now there are no heroes, no soothing music, / No harp, no hawk soaring through hall,/No swift horses trampling green grass. / We existed; now we're extinct." (Lines 2261-2264, emphasis added.)
What stood out to me was the word "extinct." More than reading how Hrothgar's wife, Wealhtheow, was "hashtag: blessed" or how Beowulf suiting up for battle "gave zero shits," Headley's use of the word "extinct" jarred me out of the Old English poem into the here and now of a 21st-century-dumpster-fire-always-batshit-insane-world.
We need new words and new types of stories for thinking about species loss.
I was used to reading the word "extinct" in completely different contexts. Archaeologists and paleoanthropologists talk about extinct species of human ancestors. Biologists and conservationists tell us that species are going extinct at horrifyingly unprecedented rates. Climate scientists, philosophers, and activists point out that we're quite possibly witnessing the extinction of our own species. But Beowulf?
I reached for my undergrad copy of Seamus Heaney's Beowulf and found Heaney had translated this passage as,
No trembling harp,
no tuned timber, no tumbling hawk
swerving through the hall, no swift horse
pawing the courtyard. Pillage and slaughter
have emptied the earth of entire peoples.
Intrigued, I consulted J.R.R. Tolkien's posthumously published translation. No extinction. Headley's Beowulf is the Beowulf where that survivor—and her own readers—face the word extinction on so many levels. Here among Grendel and the Geats, I found the word sparked the same questions of loss, memory, survival, and fate that so many of us were grappling with in the first year of the pandemic and amid catastrophic climate change.
It made me consider how we write about endings and how literary tropes influence what it means to talk about extinction. It's easy to talk about a character's origin story; what would the flip side of that look like? (Claire Cameron's brilliant novel, The Last Neanderthal, takes this theme and runs with it.) Of course, I should add that this isn't necessarily a new question as plenty of philosophers, historians, journalists, researchers, and writers contend with the question of extinction and endings and have for decades. What could Beowulf bring to the extinction table?
Incidentally, there's a word for the Last Survivor of a nonhuman species before that species becomes extinct—it's an endling.
History is full of endlings as millions of species have come and gone over billions of years of life on earth, most of these endlings are lost in the eons of time and the fossil record. By the 20th century, however, some of these endlings became famous, known, named characters in our ever-growing canon of extinction stories. We humans tend to name the endlings that we know of, creating a persona or character to identify with—the naming, perhaps, becomes a way of laying claim to how we tell these endlings' stories.
Over the last century or so, these endlings have included: Martha, the passenger pigeon; Benjamin, the thylacine; Booming Ben, the solitary heath hen; Orange Band, the dusky seaside sparrow; 淇淇 (Qi Qi), the baiji or river dolphin; Turgi, a species of Polynesian tree snail; Incas and Lady Jane, the last Carolina parakeets; Celia (Laña), the Pyrenean ibex; Toughie, the Rabbs' fringe-limbed treefrog; and Lonesome George, a Galápagos tortoise. Now, during the sixth mass extinction on earth, endlings are a way to make something as abstract as species death into something concrete.
As I dug into the history of endlings, I found that these animal stories were often presented in narratively familiar ways. The last Carolina parakeet—Incas—supposedly died of a broken heart when his companion, Lady Jane, passed away. (Like the Arthurian legend of Tristan and Isolde, but with birds.) Celia the ibex—held up as a Second Coming of de-extinction's techno-wizardry—was the only species to go extinct twice after her clone died in a laboratory seven minutes after it came to life. And I found it impossible to read the story of Benjamin, the thylacine or Tasmanian tiger, as anything other than a Last Survivor—an individual whose species' extinction is the story of colonial violence in a microcosm.
Taken together, I felt like endling stories formed a modern compendium of Aesop's fables—animal stories with morals that exist to be told how to teach us to be better humans here in the Anthropocene. How could we not feel shame after hearing so many of these stories? How could we not want to be better when we see what we cost other species? However, I wondered—still wonder—what would happen to endlings if we could expand the types of stories that we draw from to talk about them.
Specific estimates vary about current extinction rates. At the beginning of the 21st century, the Millennium Ecosystem Assessment (a survey called for by the United Nations Secretary-General in 2000) estimated that 24 species a day went extinct. More recently, the United Nations Convention of Biological Diversity concluded that 150 species a day are lost. Regardless of the exact, precise number, the loss is staggering. For every Benjamin, Incas, or Celia, there are hundreds—thousands—of endlings that we don't know, we don't name, and don't witness their deaths and their species extinction. These unknown and untold extinctions are the stories about how we humans took species and we spent them. Carelessly.
Endlings: Fables for the Anthropocene is a book about the last known individuals of a species before those species go extinct. It's a book about endings—it's about extinction, last survivors, and what we can learn from literature. It's about where and how we need new words and new types of stories for thinking about species loss. I would like to think Endlings could remind people that how we tell stories and talk about nonhuman characters—like Celia, Lonesome George, and Benjamin—have very real consequences for how we think about species, ecosystems, and what we owe to beings outside of our own species.
"Bro! Tell me we still know how to speak of kings!" Humans. Tell me we can still learn how to talk about endlings and extinction.
__________________________________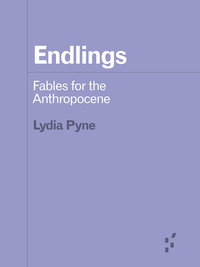 Endlings: Fables for the Anthropocene by Lydia Pyne is available via University of Minnesota Press.
---