Was The Graduate Inspired by a Brontë Family Scandal?
Finola Austin on Benjamin Braddock, Branwell Brontë,
and the Two Mrs. Robinsons.
"Mrs. Robinson, you're trying to seduce me." 
Even if you've never watched 1967 film The Graduate, or read Charles Webb's 1963 novel of the same name, this one line is probably evocative. A boy on the verge of manhood. A sexually experienced woman. An affair set against the backdrop of a decade defined by consumerism and counterculture, intergenerational conflict that pitted traditional values against a desire for communal property and free love.
Writer Charles Webb, who died this June at age 81, was in some ways as representative of the era as his first and most famous novel. Born to wealthy parents in San Francisco in 1939, Webb and his wife, Eve Rudd, eschewed the privilege they were born into, giving away money, properties, and artworks, and frequently finding themselves in poverty.
Eve, who later changed her name to Fred in support of a Californian group of the same name, focused on men with low self-esteem, predeceased her husband in 2019. Together, they'd led a colorful and non-traditional existence. They once divorced to protest the institution of marriage, although they later remarried for immigration purposes. In the UK (their adopted home for the last 20 years of their lives), they were reliant, at least for a time, on state-supported housing.
Webb accepted a one-off payment of $20,000 for the film rights to The Graduate and donated the copyright of the book to the Anti-Defamation League. In 2007, he told a journalist, "my whole life has been measured by it," in reference to the novel. He was apparently delighted when one of his sons, a performance artist, ate a copy of the book… with cranberry sauce.
Unsurprisingly then, Webb disliked talking about his famous novel, almost as much as he disdained book signings ("a sin against decency"). One result of this was that he never publicly addressed conjecture that his story, which now feels so quintessentially of the 1960s, was actually inspired by a real 19th-century scandal.
"My mistress is damnably too fond of me."
In January 1843, Branwell Brontë, sole brother to sisters Charlotte, Emily, and Anne, took up a position as tutor to a young boy at Thorp Green Hall in Yorkshire. Anne had been governess to the daughters in the same house since 1840. The siblings' employers? One Edmund Robinson and his wife, Lydia.
Just four months later, Branwell wrote to a friend, "my mistress is damnably too fond of me." A few months after this, he claimed to have a lock of her hair. In the summer of 1845, Anne resigned her position. Branwell was dismissed weeks later and returned to the Brontë home in Haworth, devastated and claiming that he and Mrs. Robinson were star-crossed lovers.
It's not only the "Mrs. Robinson" name that makes this story feel so reminiscent of The Graduate. On his arrival at the house, Branwell Brontë (who shares his initials with Benjamin Braddock, Webb's protagonist) was also just 25 to Lydia's 43—an age difference, which, in this gender configuration, shocked the Victorians as much as 1960s movie theater audiences. Elizabeth Gaskell, the first biographer of Charlotte Brontë, wrote in 1857 that, "in this case the man became the victim." She blamed the "profligate" Lydia for Branwell's alcoholism, opium addiction, and early death, at age 31, and for the deaths of his sisters Emily and Anne that soon followed. Her inference was clear—had it not been for this Mrs. Robinson, the world might have seen more Brontë novels.
So damning was Gaskell's character assassination that Lydia (by now remarried) threatened to sue for libel. The allegations were withdrawn and removed from future editions of The Life of Charlotte Brontë, but the damage was done. Ever since, Lydia Robinson has been the villainess of the Brontë myth, branded an adulteress, or at least a coquette, and shamed for her alleged sexual appetites.
Elizabeth Gaskell, the first biographer of Charlotte Brontë, wrote in 1857 that, "in this case the man became the victim."
In my novel, Brontë's Mistress, I revisit this affair from Lydia's viewpoint, telling her side of the story for the first time. My book is fiction, yet my research was extensive and all-consuming, as I tried to write the story of what could have happened in the voice of a woman trapped by the social conventions of her time.
As I began to write, I realized that it wasn't just the Brontës, their works, and the countless biographical treatments they've inspired, with which my book was in conversation. Though Charles Webb himself never confirmed or denied the Brontë connection, it's impossible to write a novel about a young man and an older woman named Mrs. Robinson, without being in dialogue with The Graduate and its place in the popular imagination.
"Mr. Brontë seduce you?… I should think it's the other way around," Lydia's husband says to her in a pivotal scene in my novel, an echo of the film's most famous line.
"It is too late, Mama," one of Lydia's daughters tells her. "Not for you," she replies, reversing the final mother/daughter exchange between Mrs. Robinson and Elaine in the movie.
While the 1960s and the 1840s couldn't be further apart in some respects, especially when it comes to the roles available to women and their freedom to explore their sexualities, what struck me was that the older woman/younger man relationship remains so transgressive in our culture. Mrs. Robinson isn't just iconic because of the strengths of Webb's book and its adaptation, but because she's one of our very few references in English for this dynamic.
In her 2012 book How the French Invented Love, feminist author and historian Marilyn Yalom persuasively argued that this is not the case in French literature and culture. From Henri II and his mistress Diane de Poitiers (two decades his senior), to the sexual initiation of the adolescent male by his mother's friend in Claude Prosper Jolyot de Crébillon's The Wayward Head and Heart, to the muddling of maternal and sexual love in Rousseau's Confessions, the French have a range of cultural touchstones to turn to when a woman is the seducer.
We have just one.
As readers meet my Mrs. Robinson, I know she won't escape the shadow of the fictional character the real-life Lydia Robinson might have inspired. But I hope I've done my part to complicate the older woman/younger man dynamic and blur the lines between profligate and victim, seducer and seduced.
__________________________________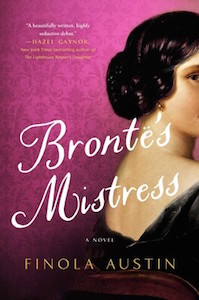 Brontë's Mistress by Finola Austin is available now from Atria Books. 
---