Lit Hub is pleased to announce a new books, published in association with the Library of Congress and edited by the twenty-fourth Poet Laureate of the United States, a collection of poems reflecting on "our relationship to the natural world by fifty of our most celebrated contemporary writers." Here's more about the book:
You Are Here features fifty previously unpublished poems from some of the nation's most accomplished poets, including Joy Harjo, Diane Seuss, Rigoberto González, Jericho Brown, Aimee Nezhukumatathil, Paul Tran, and more. Each poem engages with its author's local landscape—be it the breathtaking variety of flora in a national park, or a lone tree flowering persistently by a bus stop—offering an intimate model of how we relate to the world around us and a beautifully diverse range of voices from across the United States.
Edited and introduced by the twenty-fourth Poet Laureate of the United States, Ada Limón, this book challenges what we think we know about "nature poetry," illuminating the myriad ways our landscapes—both literal and literary—are changing.
Here's the cover, designed by Mary Austin Speaker: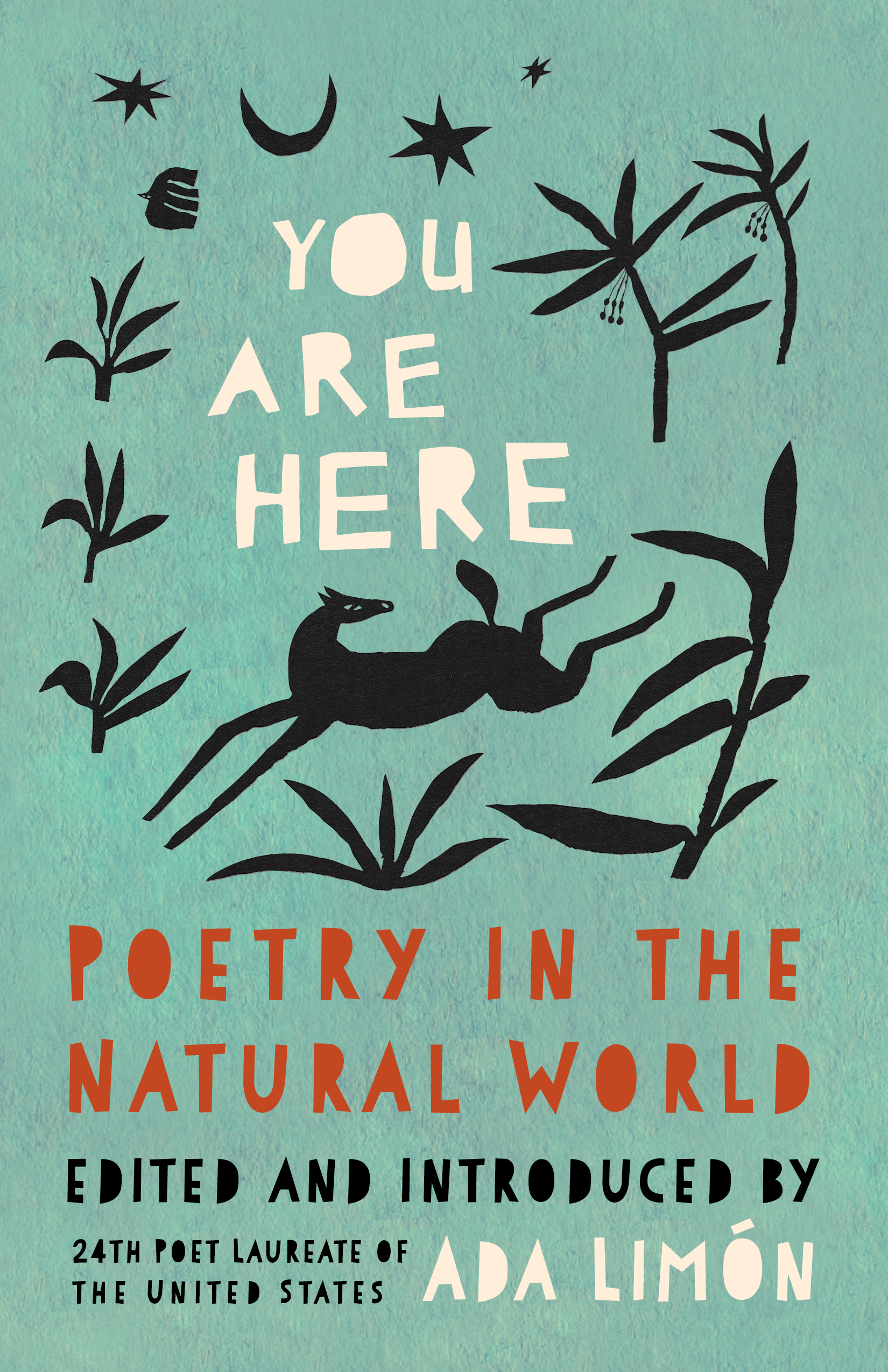 Speaker told Lit Hub, "One of the things that I have long admired about Ada as a poet is how she summons an amazement deeply grounded in the everyday. Everywhere in her poems, we are already in relationship with animals and plants that inhabit the places where we live and burrow and root. I wanted the cover of You Are Here to suggest that sense of relationship, so I turned to Enikö Katalin Eged's elegant paper cut designs that often feature trees, horses, and stars, which have been companions to humans for thousands of years. I cut out the title letters from construction paper to chime with Niko's aesthetic—the simple rendered expressive by the evidence of the hand in the line's quavering. Poems can offer us a return to a relationship that has always been there, waiting for us to step back into it, and I hope the cover acts as an invitation to return."
Poet Ada Limon had more to say about the project:
Working with Mary Austin Speaker is always an incredible gift. She's a brilliant talented designer with a poet's heart. When we initially talked about the cover for the new anthology, You Are Here: Poetry in the Natural World, we knew we wanted something grounded, something of the earth, something that could be both urgent and timeless at the same time. When she sent me the cover, I knew this was it. The images from Enikö Katalin Eged were both stark and pulsating with movement. The text design was intentional and uniquely human. I couldn't be more honored to celebrate this beautiful cover and the work that has gone into these pages. I hope this book becomes a mainstay for anyone looking to reimagine their relationship with nature, and the cover is a gorgeous doorway to that discovery.
You Are Here will be published in April 2024 by Milkweed.