Understanding the Pervasive Influence of Silicon Valley: On Peter Thiel and the Sprawling History of the Tech Industry
Max Chafkin Recommends Books that Highlight the Intersection of Tech, Business, and Politics
At this point, it's become almost rote to point out that Silicon Valley enjoys a sweeping influence over our lives. Facebook is bigger and more powerful than any media company in human history; Google's control over the world's information is nearly absolute; Amazon seems poised to swallow all of retail. Nine of the ten biggest publicly traded companies in the world are tech companies. And so on.
There are lots of stories that could be told to explain how this happened: There's an economic story, a policy story, and a business story—likely starring some Great or Bad entrepreneur (Elon Musk, if you're an optimist; Elizabeth Holmes for the pessimists).
And then there's the story of Peter Thiel, who has done more to establish Silicon Valley as an imperial force, economically and culturally, than anyone else over the past two decades. My book, The Contrarian: Peter Thiel and Silicon Valley's Pursuit of Power, argues that understanding Thiel is essential to understanding Silicon Valley's influence and ideology. I also argue that the explanations for how the tech industry acquired and maintains its power, which generally present it as an apolitical and technocratic force that grew out of the countercultural movement, are largely wrong.
Part of the appeal of the project was Thiel's secrecy. He tends to only submit to friendly interviewers, and only agreed to meet with me off the record. Instead, my research built on the 15 years or so I spent covering the tech industry, and was supplemented by several years of intensive reporting, during which I talked to more than 150 sources within and close to Thiel's network, dug up Thiel's old writing, and investigated the companies Thiel created or helped create—especially PayPal, Facebook, and Palantir. It also, I hope, builds on the work of authors on this list.
*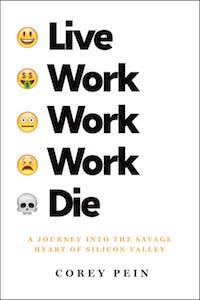 Corey Pein, Live Work Work Work Die: A Journey into the Savage Heart of Silicon Valley
The premise of this book is a stunt—unemployed journalist moves to San Francisco "to become a billionaire"—which propels him straight into the hopeful desperation of an Airbnb hostel, where aspiring entrepreneurs, drunk on the prosperity gospel of Silicon Valley, pay $85 a night for a bed in a room full coders who are also hoping to strike it rich. As a starting point, it sounds sort of obvious, and yet not much has been written that takes the perspective of these strivers—most of whom, needless to say, will fail—seriously. Even better, Pein uses this perspective to explore the intellectual framework that allows these workers to be exploited, and shows how the tech industry's sunny concern for "the future" is often a cover for something much darker.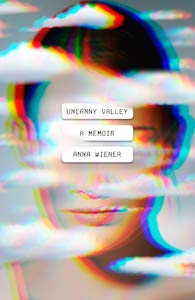 Anna Wiener, Uncanny Valley: A Memoir
Nonfiction books about Silicon Valley tend to focus on technology for its own sake, or on the money that technology produces and consumes while ignoring the ways that tech companies are imposing themselves on the culture. Weiner's book addresses this deficiency. Her title refers to the emotional state produced by humanoid robots that look almost, but not quite, like actual people—though in Wiener's book it's also a metaphor for the literal Valley itself. This is a workers' eye view of the tech revolution, but one that is more nuanced than Pein's. Weiner is adept at showing us what is attractive about the world that the big tech companies have given us, and also what is repellant in it.
Lisa Brennan-Jobs, Small Fry: A Memoir
Even more than a decade after his death, the idea of Steve Jobs as a visionary executive, most memorably conjured by Walter Isaacson, looms over Silicon Valley. But there was another Jobs—brilliant, yes, but also, neurotic, loving, and cruel—and it is this character who emerges in his daughter's memoir. In telling her own family story with intimacy and authority, the book presents the most convincing portrait of the great innovator that has been written to date and forces us to question the moral accounting of the industry that Jobs embodied. Like Pein and Weiner's books, this is an outsider account of a world that we know well—or at least think we know.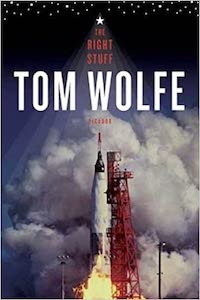 Tom Wolfe, The Right Stuff
I first read this book in high school and reread it while I was setting out to write about Thiel. I loved it then, and although there are aspects of Wolfe's narrative that don't hold up especially well—Wolfe's sexism, especially, feels like a handicap—the book remains thrilling, both in the execution and in the ideas it reckons with. First and foremost: Wolfe sets up his paean to a certain lost idea of American heroism—as embodied by test pilot Chuck Yaeger—in contrast not just to the counterculture (which again, feels like a dated concern) but also to a new computer-driven vision of the future in which astronauts like John Glenn are as much props as they are pilots, and the real power rests with the engineers working behind the scenes. That vision, of course, could not feel more relevant today.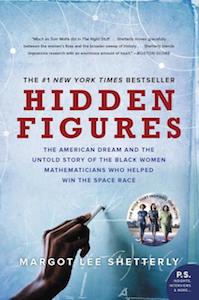 Margot Lee Shetterly, Hidden Figures: The American Dream and the Untold Story of the Black Women Mathematicians Who Helped Win the Space Race
The book, which inspired the 2017 film by the same name, can be read as a response and a corrective to Wolfe's. Whereas for Wolfe, the computers and the technicians who run them (who coincidentally were known as "computers") are a vaguely malevolent force, ruining the pilot's glory, Shetterly shows how this attitude—the perception that computer work was somehow less worthy—created an opening for marginalized groups, especially Black women, who did the calculations that allowed Glenn to complete his orbit. That the story of the women computers of Langley was largely forgotten—replaced by a new stereotype of the geeky and socially awkward man—is a reminder that the power dynamics in tech aren't fixed, and never have been.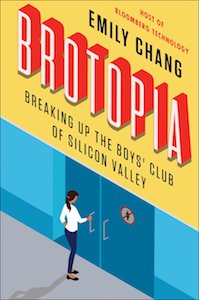 Emily Chang, Brotopia: Breaking Up the Boys' Club of Silicon Valley
While Shetterly's "hidden figures" figure in Chang's book—and while both books are focused on the place of women in tech—Chang's is not a historical narrative, but a searing indictment of the tech industry as it exists today. The book got buzz and generated controversy by calling out the industry's sex parties, which empower bosses to sexually harass their underlings under the guise of Burning Man-style open-mindedness. But what's really impressive about this book aren't the dishy details, but the strength of its argument. Chang persuasively shows that the sexism that pervades Silicon Valley is not innate to it; it is a fiction that has been imposed, often by powerful men. Her reporting on the role that the PayPal Mafia played in creating those gender norms was a key source of inspiration for my book on Thiel.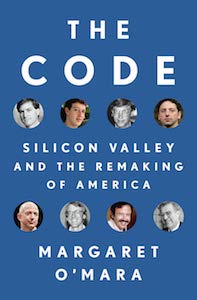 Margaret O'Mara, The Code: Silicon Valley and the Remaking of America
This history of Silicon Valley manages to cut through much of the industry's self-serving mythology without being oblivious to it. O'Mara's achievement is in showing how the tech industry, which likes to present itself as an anti-establishment force, grew out of—and was in many ways inseparable from—the US government and the defense industry. But she also shows how Silicon Valley grew thanks to free-market deference among policymakers and the industry's ultra-libertarian ideology. Your feelings about this will depend on your politics: A tech booster might see Silicon Valley's growth as a singular achievement; a critic might suggest that the Valley took from the government without giving back as much as it should have. Of course, the blend of libertarian values and a happy willingness to spend the government's money has been key to the success of Thiel, and many of his peers and allies.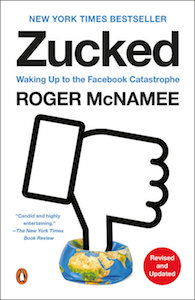 Roger McNamee, Zucked: Waking Up to the Facebook Catastrophe
As the pun in its title suggests, Zucked is not a subtle book—but it is a significant one. McNamee is an industry pioneer who invested in Facebook early, and, for a time, was a mentor to Mark Zuckerberg. He's not the only Facebook insider to turn critic, and, like Sean Parker, Chamath Palihapitiya, and Chris Hughes, could be accused of opportunism. It's nice to find the courage to criticize Facebook now that public opinion, at least in some quarters, has turned against it. But McNamee is convincing because of his stridency and because his critique is comprehensive. He blames Facebook's design—the company's services are deliberately addictive and push users to the most extreme content, with severe emotional and social consequences, he argues persuasively—but he also calls out the cravenness of its leaders.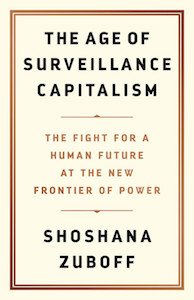 Shoshana Zuboff, The Age of Surveillance Capitalism: The Fight for a Human Future at the New Frontier of Power
Zuboff's dense manifesto would never be confused with McNamee's invective, but all critics of big tech companies owe a debt to Zuboff. Her book argues that Google, Facebook, and others don't violate user privacy incidentally, as executives from those companies argue whenever they are caught crossing the line; they do so deliberately and with a sense of purpose. As Zuboff tells it, surveillance—that is, the collection of an enormous and unprecedented trove of information nearly everyone on the planet, which can then be packaged and sold to advertisers—is their business.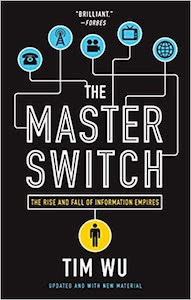 Tim Wu, The Master Switch: The Rise and Fall of Information Empires
That Wu's book came out in 2010, when most of us who covered tech were still enamored with the Internet's revolutionary potential and were treating the industry's most powerful companies as if they were plucky upstarts, is a testament to the author's foresight. His history of modern communications makes the provocative argument all media is subject to a cycle of consolidation in which a new, and supposedly democratic technology, is centralized by monopolistic companies until those companies are ultimately broken up by regulators. The Internet might not look anything like Ma Bell in her glory days, and yet Wu saw that it was quickly moving in that direction—until, of course, the government stepped in. A decade later, Wu may have something to say on that last point; in March, he took a job at the White House's National Economic Council.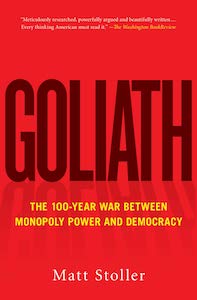 Matt Stoller, Goliath: The 100-Year War Between Monopoly Power and Democracy
Stoller, like Zuboff and Wu, is an essential voice among those who write about tech's monopolistic tendencies. He's also the rare industry critic whose work is respected by both left- and right-leaning firebrands. His subject in Goliath isn't Silicon Valley per se, but rather corporate power in modern America. Even so, if you want to understand the world that gave Facebook the power to potentially manipulate elections, it's important to see how political leaders of both parties embraced an intellectual movement that prized corporate monopoly above much else. Thiel's book Zero to One makes the supposedly contrarian argument that entrepreneurs should seek monopolies, which he presents as the height of business success. But of course, as Stoller's book makes clear, the only contrarian part of this argument is that Thiel said it out loud.
__________________________________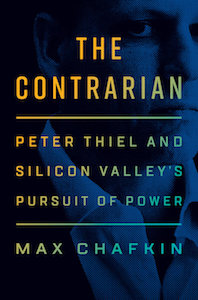 The Contrarian: Peter Thiel and Silicon Valley's Pursuit of Power is available from Penguin Press, an imprint of Penguin Publishing Group, a division of Penguin Random House, LLC. Copyright © 2021 by Max Chafkin.
---