Understanding the Complexities of Cuba: A Reading List
Anthony DePalma's Recommendations, From Rachel Kushner to
Mirta Ojito
Is there any land more seductive yet more mystifying than Cuba? Any place so singularly linked to revolution yet invariably associated with classic American cars, decked out in sluttish pink paint? Where the rebellious image of Che Guevara co-exists with the wrinkles of Raúl Castro? Where an authoritarian one-party system that systematically imprisons, harasses and isolates dissidents is defended by democratic nations around the world?
Cuba is so close to us that we think we know it, but preconceived notions—about health care, education or culture—fill in for what that proximity blurs. Those classic Chevys? There's usually rust under the shiny paint and a wheezing Russian engine under the hood. The primo Cohibas and Monte Cristos that tourists puff on as they stroll the Malecon? Fabricated from floor cuttings by the friend of a friend of a friend at the factory who sells them cheap. And all those lilting Buena Vista Social Club melodies drifting out of Havana's bars, restaurants, and nightclubs? Lures to entice stale memories and tourist tips.
Article continues after advertisement
In the four decades I've been traveling to Cuba, and in the last several years that I've been researching and writing The Cubans: Ordinary Lives in Extraordinary Times, every Cuban I've met has told me the same thing about life there: Es complicado. It's complicated. And the complexities of their politics, their economy, their customs and even their language mean that coming to any understanding about how a tiny island with a land mass smaller than the state of Florida—the exile dreamland of so many Cubans—could come to play such an outsized role in world affairs for so long takes energy, commitment and a degree of political and cultural savvy that can be hard to acquire without physically being there. The "people-to-people" tours that allowed Americans to visit promised insight but delivered little more than stereotypes. Although Cuba remains off limits to most Americans, there are ways to achieve an understanding of this island of illusions without physically being there.
*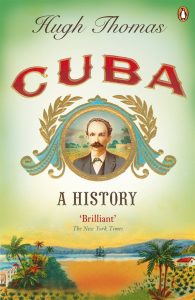 Hugh Thomas, Cuba: A History
The intense ideological nature of the Cuban revolution makes it necessary to distinguish books about the island that were written by Cubans—often with either poisonous anger or blind obsequiousness—and those written by non-Cuban experts. This is where the late British historian Hugh Thomas's monumental Cuba shines brightest. Though its sheer size and scope can be daunting, its thousand-plus pages objectively reinforce Cuba's extraordinary place in world events. Thomas briefly mentions Columbus's description of Cuba as one of the most alluring places on earth, but he begins his history in earnest with the invasion and one-year occupation of Havana by the British navy in 1762 and continues unwinding its history with multitudinous facts through to the last years of the 20th century. He is unsparing in his critical evaluation of Cuba's complex racial history, and he exhaustively covers the long fight for independence that culminated in the United States's neo-colonial occupation of the island. When his history finally lands expertly at Cuba's modern era, Thomas is unstinting in his even-handed account of the triumphs and tragedies of the Castro revolution.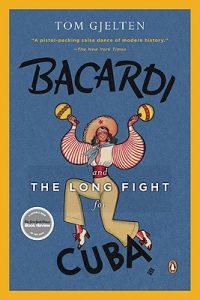 Tom Gjelten, Bacardi and the Long Fight for Cuba
Despues del triunfo, after the triumph (of the Revolution), is the principle time reference for modern Cuba, and a key to putting into context the puzzling nature of what has happened to the nation since Castro took power in 1959. There are many books about Fidel and Che and their bearded mountain rebels, but Tom Gjelten's Bacardi and the Long Fight for Cuba sheds illuminating light on the most perplexing nature of the revolution—how support for Castro and his movement turned to not just resistance but lifelong attempts to restore Cuba to something resembling the advantaged society it was prior to 1960. Focusing on the Bacardi rum brand and the powerful family that ran the famous company, Gjelten conveys the mystery, anger and betrayal that so permeates post-revolutionary Cuba.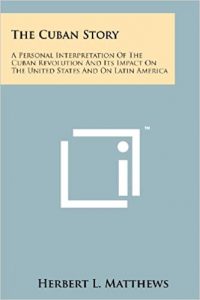 Herbert L. Matthews, The Cuban Story
The illusion of Castro's Cuba began before he took over, and to understand how that happened, and how the United States went from being one of the first countries to recognize Castro's government to being the enemy against whom he and his successors have railed for six decades, Herbert L. Matthews The Cuban Story provides unique perspective. Matthews was the New York Times correspondent and editorial writer who interviewed Fidel in the Sierra Maestra in February 1957, when the rest of the world believed that Castro had been killed in a botched landing on the Cuban coast a few months earlier. Clearly infatuated by Fidel, Matthews portrayed him in glowing terms that greatly boosted his support without hinting at the radical direction his revolution soon would take. Matthews's coverage made him a hero in Cuba, and something of a goat in the United States, where he and The Times were criticized for enabling Castro's takeover. Matthews wrote The Cuban Story while continuing to insist that Castro had not embraced communism until he was forced to do so by American aggression.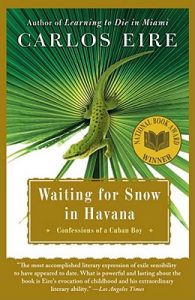 Carlos Eire, Waiting for Snow in Havana
Making sense of how Cuba went from being one of the most advanced capitalist countries of the western hemisphere to a communist stronghold requires peering into the soul of the Cuban people, and no one has done that better than Carlos Eire. His Pulitzer Prize-winning memoir, Waiting for Snow in Havana, reads like a novel but it is a factual account of his dreamy childhood in a Havana neighborhood that was being upended by Castro and his radical ideas. Eire, now a professor of history at Yale, entertainingly reveals the intimacies of his gloriously absurd father, who pictured himself the reincarnation of King Louis XVI of France, and his sensitive and disabled mother, who encouraged him to dream of angels even as his world was coming apart.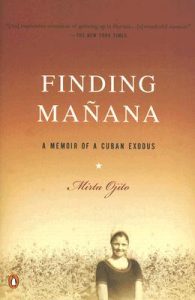 Mirta Ojito, Finding Mañana
 Eire left Cuba in 1962 when he was 12, one of thousands of Cuban children ferried to freedom without their parents in a program known as Pedro Pan. As the Revolution matured, many other Cubans who had been denied the chance to vote for a political alternative voted with their feet, fleeing Cuba however they could. In 1980, after a disturbance in Havana embarrassed him, Castro opened the floodgates to get rid of those he called scum because they didn't agree with his concept of Cuba. Finding Mañana is journalist Mirta Ojito's moving personal story of being a part of that massive exodus from Mariel harbor, arriving in Key West on an overloaded charter boat named Mañana days later with little but grit and determination. Her account of the chaos leading up to her departure, and the desperation of her arrival in Florida, is smart, passionate, and searingly honest.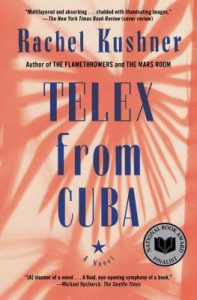 Rachel Kushner, Telex From Cuba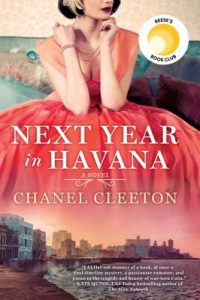 Chanel Cleeton, Next Year in Havana 
Finally, a pair of novels about Cuba written by American-born women with Cuban relatives fill in some of the emotional content that the non-fiction books do not provide. Rachel Kushner's debut novel, Telex from Cuba, convincingly lays out the huge impact Americans had in Cuba before the revolution, when the island largely operated like an American colony. A National Book Award finalist, Telex combines stories of Havana intrigue with sugar plantation greed and corruption to create a haunting image of Cuba on the cusp of revolution. Chanel Cleeton's Next Year in Havana also focuses on a Havana that seethed with insurgency while also bringing the story up to date with a parallel narrative of a return to the capital decades later to uncover long buried secrets. Told from the point of view of Cubans who lived through the revolution, as well as those who fled in exile, Next Year in Havana echoes the beating heart of Cuba.
__________________________________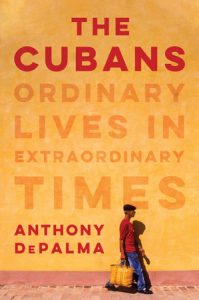 The Cubans: Ordinary Lives in Extraordinary Times by Anthony DePalma is available now from Viking, an imprint of Penguin Random House. 
---