Understanding the Bronx:
A Reading List
John J. Healey Recommends Books By E.L. Doctorow, Lilliam Rivera, and More
New Yorkers have a different notion of the Bronx than most outsiders. They know it as being the only borough that is part of the American mainland, and that it is pastoral as well as urban. It got its name from the Swedish immigrant Jonas Bronck who settled a farm on Wappinger tribe land leased from the Dutch West India Company in 1639, shortly before he died.
The Bronx went from being a massive chunk of southern Westchester filled with estates and mansions to becoming a destination for waves of European immigrants in search of affordable housing and a fresh start. Those waves gathered and broke at the very beginning of the 20th century and then peaked dramatically after the First World War.
By 1901 my family, Irish on both sides, had settled in the Highbridge section of the Bronx. I spent the first 15 years of my life there. In the grim classrooms of the Irish Catholic schools I attended, you could count the number of Hispanic and African American students on one hand. I was immersed in a world of Irish and Jewish residents plus a smattering of Italian, German, Polish and Swedish families. Like Huck Finn, I lit out for the territories as soon as I could and never returned. I also learned Spanish and have spent most of the rest of my life living in another language, far from the monolingual lace curtains of my Highbridge roots.
The Bronx has a compelling and difficult history. In the South Bronx during the troubled and often violent 1960s and 70s, many descendants of those European immigrants, who by then constituted a solid middle class, abandoned ship and were replaced largely by Hispanic and African American residents who have defined much of the borough's culture since then. Despite periods of turmoil and poverty—and despite Robert Moses and his gruesome Cross-Bronx Expressway, which decimated the urban fabric of the area—the Bronx is an adaptable survivor and has preserved its resilient character while enjoying a new glow and relative prosperity. Throughout my childhood my father was a congressman (Democrat) from the Bronx; now, we are lucky enough to have AOC.
Some years ago when I was living in Paris, a dream brought me back to Highbridge, a nightmare that haunted me for days. As I set out to trace the clues it left, it led to the discovery of a crime that took place in my grandparents' time. A young Swedish girl was found murdered in the basement of a row house on Ogden Avenue. Through further research, including a lengthy trial document, I discovered that one of the witnesses testifying was a relative of mine; another was the father of a close family friend. The building where the girl was found and where she lived with her family was the same one where my father had lived with his brothers and my grandparents. My father and the girl were born months apart and surely knew each other. As a boy, I spent many nights sleeping there as well.
I had no recollection of anyone ever mentioning this tragedy, and yet the nightmare pointed to some childhood knowledge of it. An adult intuition made me suspect it had been hushed up. All of my family members who might have been able to shed some light had passed away. As I pored over the riveting transcript of the trial and studied other sources, it seemed clear to me that the wrong man had been prosecuted and executed. The municipal authorities had needed a fall guy.
I needed to tell this story as I saw and imagined it. This deep dive into the past became the inspiration for my novel April in Paris. Selections from the transcript are included verbatim, but names and dates have been altered and most of the story, including a contemporary romance, is pure fiction.
Growing up in the Bronx toughened me, educated me, and remains a part of me. A lasting effect from my recent literary return has been a re-awakening of my Bronx identity and an interest in other books related to that often-maligned part of the world. I read the first two books on this list years ago. The next two helped with my research, and the last three are new and rich reflections written by more recent Bronxites, whom I salute.
*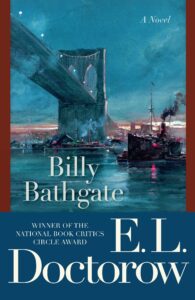 E.L. Doctorow, Billy Bathgate      
(Random House Trade)
I once audited a class given by Bronx-born E.L. Doctorow on Don Quijote de La Mancha, and I often saw him dining at Knickerbockers when I lived near Washington Square. Published in 1989, Doctorow described his seventh novel as "a young man's sentimental education in the tribal life of gangsters." Billy Behan's Bronx of the 1930s is Doctorow's, for it is described with a degree of poetic authenticity only available to someone who has lived it.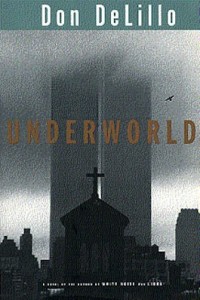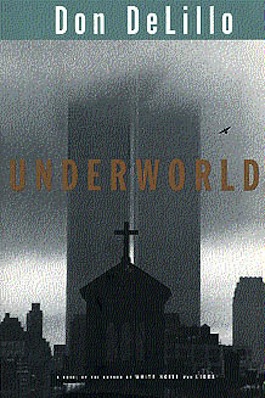 Don DeLillo, Underworld 
(Scrubber)
As a young boy in the Bronx DeLillo played stickball near Arthur Avenue, as I did two decades later near Macombs Dam Park. Many consider Underworld to be his most ambitious novel. David Foster Wallace was floored by it. Harold Bloom wrote that it "touched what I would call the sublime." Published in 1997, it revolves around the Bronx-born character Nick Shay. After exploring various places throughout the USA, it returns to Shay's Bronx of the 1950s in the inimitable, elegant prose for which DeLillo is justly famous     .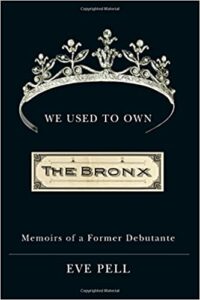 Eve Pell, We Used to Own the Bronx: Memoirs of a Former Debutante      
(Excelsior Editions)
The publisher's tag line for this unusual book describes it as "an inside story of privilege, inherited wealth, and the bizarre values and customs of the American upper crust." Given the grim tale of a child's murder contained within April in Paris, I decided to give my doppelganger the gift of great, inherited wealth, allowing him to investigate who really killed the child, and to pursue the woman he has fallen in love with, free of encumbrance. Eve Pell's take on the blue-blood rich of the American East Coast, amusing and alarming, was a great help.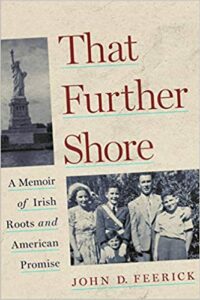 John D. Feerick, That Further Shore: A Memoir of Irish Roots and American Promise      
(Fordham University Press)  
There are striking parallels between John D. Feerick's memoir, and the journey taken by certain members of my own family. Reading Feerick's descriptions of his humble beginnings in a Bronx, Irish-Catholic enclave, followed by his striving and his taking advantage of educational opportunities that allowed him to have a distinguished career in law, was inspiring even as it hit close to the bone. This book was an invaluable resource for someone like me in need of re-familiarization.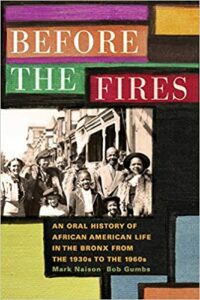 Mark Naison & Bob Gumbs, Before the Fires: An Oral History of African American Life in the Bronx from the 1930s to the 1960s
(Fordham University Press)
This book is an important eye-opener and fascinating read. Naison and Gumbs have deep knowledge of African American history and the Bronx. Their interviews with 17 men and women with fond memories of lives lived in the Morrisania and Hunts Point sections of the borough, having been refused housing in other areas (including Highbridge), describe the vibrant community that developed in those areas and sustained them over the years." Naison writes in his introduction: "What motivated their participation was the feeling that their entire experience of growing up in a cohesive, nurturing community had been erased by media narratives that presented the black experience in the Bronx as one dominated by gangs, drugs, violence, and family decay. They said they had been trying to tell their story for thirty years but that until our oral history began welcoming their voices, no one would listen."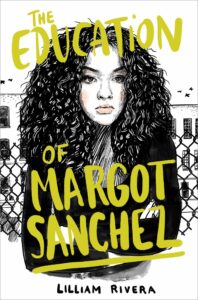 Lilliam Rivera, The Education of Margot Sánchez  
(Simon and Schuster for Young Readers)   
Lilliam Rivera's 2017 bildungsroman portrays the Bronx that evolved long after my time there, yet the rebellious and crafty spirit of the protagonist was somehow familiar, and the blend of English and Spanish words gives the reader a rich bilingual texture. Reviewed in the Latinx Publishing blog, Norma Perez-Hernandez writes, "Reading The Education of Margot Sanchez was in some ways like returning home. When seeing words like 'bonchinche' and 'alcapurria' I was able to connect deeper to the story than if I were reading 'gossip' or 'fritter.' While I read plenty of books that utilized slang from the Midwest or southern California, I never got the chance to read a book that used the same kind of words I'd hear from my own family."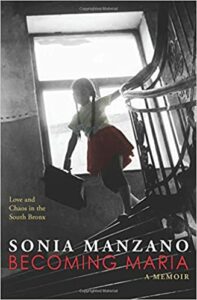 Sonia Manzano, Becoming Maria: Love and Chaos in the South Bronx
(Scholastic) 
This memoir of Sonia Manzano, who appeared on Sesame Street as the beloved character Maria for 44 years, is a gripping and moving book. It is a glorious example of how literature can transcend cultural differences by sticking with the personal and the particular. Manzano was born two weeks before me and grew up in the Bronx during the same years I did. Her Bronx is Latino to the core, mine was Irish. I grew up in a compartmentalized neighborhood, and never interacted with the world of her childhood. Yet her trials and tribulations, her yearning to grow and expand her horizons, is absolutely translatable for anyone growing up anywhere driven by the same instincts for survival and liberation.
________________________________________
April in Paris by John J. Healey is available now from Arcade Publishing. 
---