Uncovering the History of Slavery in Detroit
"We Owe it to Them, and Ourselves, to Bear Close Witness"
Please rip your mental map in half and turn it upside down—the one that sees Detroit in Michigan, Michigan in the Midwest, the Midwest as fly-over country in the United States of America. That is a modern map, developed long after Detroit was settled by Euro-Americans and the grinding process of westward expansion gave some Americans a new West from which to turn back and view a "Middle West" and an "Old Northwest." In the 1600s, Bkejwanong (an Anishinaabe place name) was a hunting ground and transitional village site for the many indigenous groups who peopled the lake country, expertly moving across this wetland terrain to suit their subsistence needs from season to season. At the end of that century, French explorers associated this spot with another name, Détroit, or "strait," a narrow channel joining two bodies of water.
It was the French who built the first permanent European post here—to foster the lucrative trade in fur-bearing animal skins. Detroit was therefore seen for over a century by Europeans and Americans alike as a Francophone place, as a subordinate and marginal "dependency" of French Canada to the north, and then of British Canada following a French military defeat. It would take two wars between Great Britain and the fledgling United States before the American claim on Detroit, and on the loyalty of Detroiters, was actualized. When Detroit became American in 1783 (or 1796, or 1815—the date was always in motion and a French elite maintained economic and social influence well into the 1830s), it was located in the "West," a frontier post not yet matched by Chicago (in the Anishinaabe language, Chigagou, "the wild-garlic place"), let alone cities on the horizon of that mangled mental map. A linchpin port town in the Great Lakes by the mid-1700s, Detroit is the second oldest French settlement in what is now the United States, with roots dating back before New Orleans and St. Louis.
While the history of colonial and early Detroit has been told from many perspectives and is now a growing area of historical inquiry, published studies tend to render invisible or inconsequential the existence, struggles, and contributions of enslaved people in the city. In contrast to the existing historical literature, and as a hoped-for contribution to it, I set out to chronicle the rise, fall, and dawn of Detroit while centering the experiences of those who were held in bondage there from the mid-1700s to the early 1800s.
In the mercantile settlement that would eventually become an American urban behemoth, hundreds of people—Native Americans, African Americans, men, women, and children—were kept captive, stripped of autonomy, and forced to labor for others. The composite story of their lives across five decades and under three imperial governments illustrates the extraordinary and all-too-ordinary character of Detroit, reveals the role of enslaved people as key actors in the history of the city, and illuminates a defining theme, and indeed paradox, of American history: the breadth and elasticity of slavery and the epic, ongoing quest for liberty.
Native Americans, African Americans, and Euro-Americans were differently positioned in this quest. Like the American revolutionaries who called themselves Patriots, enslaved people in Detroit exhibited a deep-seated drive for independence. They verbally and physically challenged their owners and, in the ultimate blow to the system of bondage, fled across the Detroit River to secure their freedom in another country. Native communities living near Detroit likewise adopted a rebellious stance against authoritarian imposition, laying siege to the city and competing with colonial authorities in the battle to retain autonomy in the region. Often these various freedom dreams clashed, but sometimes they coincided, when indigenous groups sided with the Redcoats or Patriots to better their own position, or when enslaved blacks took advantage of wartime chaos to launch escape attempts. Red, black, and white American freedom bids, three streams of purpose and passion in the late eighteenth and early nineteenth centuries, merged at the turbulent site of Detroit just as the waters did.
*
Although there is a nearly nonexistent record of Detroit bonds-people's direct words, several Detroit slaveholders wrote about their human possessions in matter-of-fact language captured in letters and financial account books. Due to Detroit's character as a swashbuckling fur trade settlement that tolerated a loose legal and political infrastructure for close to a century, and due to a devastating fire in 1805 that destroyed businesses and private homes, even slaveholder records from the town are limited.
Perhaps because of the slim nature of the Detroit slavery archive, very few scholarly works, and no full-length books, had yet been written about this subject. But not having at our disposal the sources that make for a fuller history does not mean we should ignore the enslaved in Detroit. Their lives had meaning to them, to their families, and to the region, and can, when illuminated even by the refracted light of limited sources, have meaning for caretakers of the city today. The odds have been against some Detroiters from the dawn of the city's founding, and yet they still fought and fled, created alliances and evaluated circumstances, crashed across international borders and challenged entrenched racial biases. We owe it to them, and ourselves, to bear close witness to their triumphs as well as their trials.
The scattered nature of the archival record on slavery in Detroit resists the wish that we might have for a comprehensive story that includes beginnings, middles, and endings for each individual and family that will emerge on these pages. Rather, the fragmentary state of the Detroit slavery archive reflects the rough, unpredictable nature of enslaved people's experiences. So instead of pushing for story in some coherent and seamless sense, I strive to offer what I see as a quilted chronicle: a chronological but oftentimes broken account of important events that stitches together historical interpretation, context, and causes, while patching in intuitive descriptions of people moving through a fraught place.
What we can come to understand through this patchwork project is that Detroit was both common and uncommon as a site of American slavery. Detroit was a place built not on tobacco, sugar, or cotton but on the skins of animals often prepared and transported by slaves. Its geographical centrality in the fur trade circuit during the heyday of the industry made Detroit unusual even in a broader context of slavery as it was practiced in the Midwest. Most slaveholding settlements in the areas of Indiana, Illinois, Wisconsin, and Minnesota applied stolen labor to military officers' personal services at various forts, domestic duties, wheat production (Indiana and Illinois), mining (Illinois and Wisconsin), and resort hotels for vacationing southerners (Minnesota).
In contrast, Detroit's enslaved, while certainly employed to cushion daily life for others through domestic pursuits and in small-scale agriculture, were critical among the labor force that greased the wheels of trade. A close look at life in Detroit therefore draws together two aspects of the U.S. past that are often narrated separately: the fur trade of the great West (often imagined as involving whites and Indians) and chattel slavery (often imagined as involving whites and blacks). Trading in the pelts of beavers and trading in the bodies of persons became contiguous endeavors in Detroit, forming an intersecting market in skins that takes on the cast of the macabre.
While black men's backs and legs served as the locomotives that moved these furs across vast distances, indigenous women's bodies were plundered for sexual riches, much like the land was stripped of beaver and other fur-bearing mammals. The theft of unfree people in Detroit, of their knowledge, skills, and corpuses, made the city we know today possible. But out of the shadows of exploitation, enslaved people rose to accomplish a set of rare, phenomenal feats: they ran away consistently, testing new laws of the territory; they contributed to the growth of a subversive Afro-Native community that came to be known as "Negrotown"; they formed an armed fighting force that paraded the streets of Detroit while conflicted officials looked on with worry. In spirit, and surely in flesh for some, they were the ancestors of modern-day Detroit.
Inspired by passionate public discussions about Detroit's past spurred by commemorations of the Underground Railroad, the sesquicentennial of the Civil War, and the bicentennial of the War of 1812, I took up this research project in the summer of 2011 with the aid of a small team of student researchers. No doubt, the intensity of dialogue among residents and scholars from Detroit and beyond took some sense of urgency from media accounts that repeatedly described Detroit as a symbol of ruin and collapse. But History may have a constructive rebuttal for this demoralizing rhetoric. One of Detroit's prominent slaveholders once called the city "ruined," and yet, from the vantage point of Detroit's most vulnerable residents in his time—enslaved men and women—disarray meant the opportunity for reinvention.
__________________________________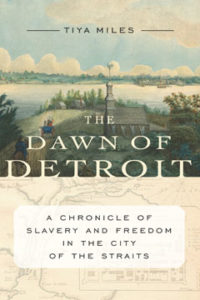 Adapted from The Dawn of Detroit: A Chronicle of Slavery and Freedom in the City of the Straits. Used with permission of The New Press. Copyright © 2017 by Tiya Miles.
---