True Love and Fire Alarms: A Tour Diary
Rebecca Dinerstein, on the Road from Iowa to Wales
I started writing The Sunlit Night in 2009 on Vestvågøy, the fifth of six islands that stretch out from northern Norway into the arctic Norwegian Sea. Six years later, this past June, Bloomsbury published the novel and sent me out on the road. We launched the book in Brooklyn on June 2nd; on June 3rd I woke up and went to the airport. Over the next month, I took in these cities, these countries, these meadows and these sheep, overwhelmed with gratitude and in love with the adventure.
1.
In Boston my 82-year-old media escorts told me their ritual was to fall asleep holding hands every night. I'd asked them how they made their love last—they'd been married, and business partners, for 51 years. "Rosie elevates me intellectually," Paul said. "Paul has a kind heart and a strong sense of humor," said Rosie. It was eight in the morning in Boston and my Brooklyn launch party had ended only five hours earlier. It felt surreal to now sit beside humorous old Paul (wise old Rosie stretched out across the backseat) as we drove from Boston to Wellesley to Cambridge, signing books, stopping for sandwiches, asking each other what made good love good. Tour had begun in the kindest, quietest way.
2.
In Chicago I mistook my mini white Clearasil tube for my mini white toothpaste tube and had to call poison control. It turns out benzoyl peroxide will make your gums sting, but it will not make your insides shrivel up as I feared mine would in my sleep. I lay in bed visualizing my demise from the inside out and picturing the tie-dye T-shirts my high school buddy Adit used to wear, until he moved to Antarctica to work in construction. Adit now lived in Chicago and had showed up at my reading as a surprise. I hadn't seen him in ten years. One gift of the tour was the reappearance of lost faces. Lost faces, and the face the hotel's front desk clerk makes at you when you ask for the local poison hotline.
3.
In San Francisco I ate Tartine's lemon and almond sandwich under a purple jacaranda tree!
4.
In Seattle a large posse of Norwegian women showed up to my reading at Elliott Bay Books. I could hear them exchanging ja's and takk's from my hiding spot in the stockroom before the reading started. From the stage, I could see their blond heads nodding at me. I threw in a few Hyggelig å være her's (*happy to be here) for their amusement. They asked me, essentially, what my deal was and I apologized for being a completely American Norwegian-wannabe. They took me out to dinner! Afterwards, the eldest and most authoritative of the Norwegian women generously drove me back to my hotel. I changed into the complimentary robe and sat looking out over the Pike Place Fish Market, over Elliott Bay, and out toward Bainbridge Island. This felt like tour at its most luxurious and most restorative.
5.
In LA my brother whom I love very much gave me a burrito that I loved very much. That night, the reading took place under a great big tree growing inside Skylight Books. My brother had invited all his friends, many of whom I'd crushed on as a 12-year-old. Now we were 15 years older, on the opposite coast, of drinking age, no longer in Halloween costumes or birthday hats.
6.
In Minneapolis my hotel room was on a high floor and I could see much of the city and its many lakes through my window. I'd visited Minneapolis only two months earlier for the AWP Conference, but so much had changed. I now had this new, 250-page object in my life, where before there'd been a 250-page idea. I could hear George singing his victory song from Sunday in the Park With George: "Look I made a hat—where there never was a hat."
7.
In Iowa City the hotel announced around 2 am that an emergency had occurred in the building and we'd be evacuating via the nearest stairwell. A wedding party had booked the fifth floor and one groomsman had lit his bath towel on fire. I put my reading dress back on, walked down the stairs, and waited in the Iowa night. The audience at Prairie Lights had been warm and enthusiastic, and I felt content in a hazy, sleepy way until I realized I'd left my key card on my bedside table. A fireman gathered the locked-out guests and ushered us into an elevator, promising to let us in. As the doors were closing, he dropped his phone down the elevator shaft.
8.
In Brooklyn I had 24 hours: unpack, laundry, repack, Frasier reruns, time to go.
9.
In London I went down into the Oxford Circus subway station and saw my book advertised on the station walls. I stood gaping at the posters so awkwardly that commuters stopped and gaped at me. A man on his way to the Bakerloo Line platform came over to me and said, "You must really like that picture." I explained. "You're Rebecca Dinerstein?" he asked. I felt for the first time in my life like I was Rebecca Dinerstein. He shook my hand and took a picture for me with my phone. I stood a while longer, shy and ecstatic.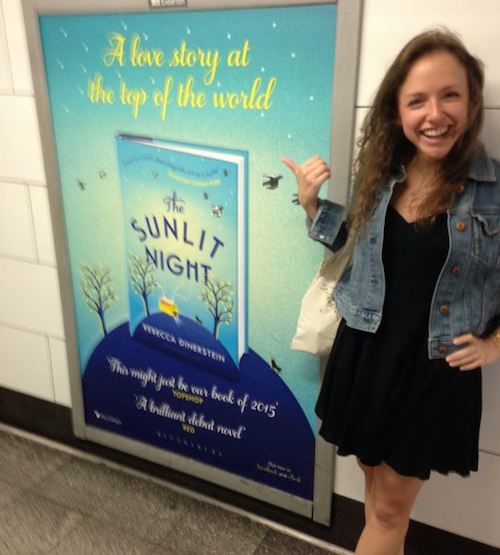 10.
In Bath I read at a bookstore called Toppings that stocked an incredible selection of poetry and monographs and I bought an excellent guide to British sheep breeds. The train rides to and from London, due west to Bath and back, hypnotized me. One field bled into the next and the endlessly British conductors said things like, "We've got bacon baguettes and sausage toasties and those will be at reduced prices." I had been in motion for so long, I felt so light, I thought I might evaporate into the cabin's fluorescent aisle lights.
11.
In general I found myself craving and clinging to strange rituals like fried eggs on dry corn flakes and Britney Spears Greatest Hits as sources of comfort and strength.
12.
In Wales, in a poppy garden behind a bookstore called Palas Print, a little girl in a school uniform told me she wanted to be a writer and asked me to sign her book. She said her name was Lleucu, which in Welsh meant "the kindest light." I could have packed up and gone home right then because she had captured the essence of the whole journey. It was a rare, stormless night in Caernarfon, and the countryside we drove through looked like Arcadia.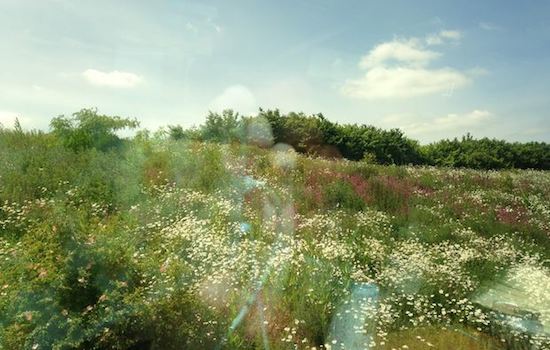 13.
In Brighton it was Friday night and the city had been waiting for the weekend. The sea was visible at the end of each avenue and each person I passed seemed intoxicated by the salt in the air. Pink, blue, and yellow houses lined the lanes and at every corner a pub served Friday pints. I ate my favorite dinner of the tour: a fried rice dish called the "Fancy Nancy."
14.
In Edinburgh there's a bookstore called Golden Hare Books that was founded by a man who'd been the Ancient Coins director for the British Museum and a former director of the Victoria and Albert Museum. The store looks like a Swedish art gallery: one copy of each book, facing out, against rainbow-colored walls. It was precisely midsummer, and the national monument near Arthur's Seat stood illuminated well past ten. When the sun finally sank, a nearby bar served a whiskey flight that represented distilleries from across Scotland—the best shot tasted like black pepper.
15.
In between Northumberland and Newcastle the sheep seemed completely blessed and eternal in their meadows.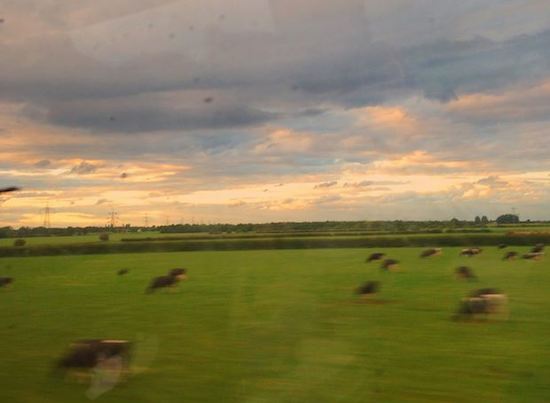 16.
In Brixton I read Ted Hughes's first book The Hawk in the Rain, in the rain, and rested. His poems made me understand how much of being a person is being an animal. The next day I went home to Brooklyn, energized and reeling.
---