Trouble for Your Thoughts: On Reported Creative Nonfiction
Kenneth R. Rosen Recommends Nine Books To Better Understand Our Place in the World
I undertook the writing of my new book, Troubled: The Failed Promise of America's Behavioral Treatment Programs, as an excavation of my past.
The reporting for this book began in 2007, when I was a teenager. Over the next year, I was admitted to three therapeutic treatment programs for adolescents in New York, Massachusetts, and Utah. In total, I was incarcerated for 288 days. These programs were known for their exploratory approach to therapy, which amounted to a brutal, forced redirection of wayward teenagers. They focused on breaking us down, but as one former client told me, "they were never as good at building us back up." For me, as for many others, the programs were the start of a life spent circulating through countless institutions and lockups.
But since leaving those programs, a time I recall as "chancing into adulthood," I had started writing and found my way to journalism as a means of understanding who I was and where I fit into the greater world. Along the way I discovered reported memoirs and creative nonfiction, veering away from my dreams of becoming a novelist. I had wrongly believed once that fiction was the only vehicle through which one could glean a deeper understanding of themselves and their place in the world.
But I had also learned that some of the greatest fiction ever published had its roots in journalism (See: The Jungle and A Farewell to Arms and Grapes of Wrath). Meanwhile, the nonfiction I found wielded the tools of the novel and married them with journalism to better understand a person's, or a family's, history. In writing my own "reported memoir," I took cues from giants: Susanna Kaysen, David Carr, Katherine Boo, John Dos Passos and Ted Conover.
Reported memoirs and good creative nonfiction shape not only the reader's understanding of a particular world, but also the author's, who invariably benefits the most from such psychological unwinding.
*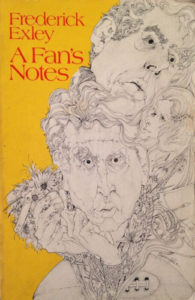 Fredrick Exley, A Fan's Note
(Vintage)
The book "uses the metaphor of Exley's own life as a tool to examine the themes of celebrity worship, self-obsession, addiction and masculinity. Exley does not waste time trying to make himself look heroic." —The Guardian
Exley's "fictional memoir" reminds readers, from the very subtitle, that even the best fiction is rooted in real-world experience. Write what you know, a trope doled out to M.F.A. students, is meant as a guiding principle but not one to which one must be wed. Exley's own exploration is in a sense the best kind of reporting, the one not so much observed as wholly lived.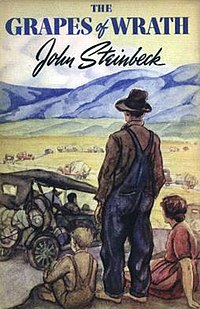 John Steinbeck, The Grapes of Wrath
(Penguin Group)
"I need this stuff [reports written by Tom Collins, the director of California's Arvin Migrant Camp]. It is exact and just the thing that will be used against me if I am wrong." –Steinbeck, personal journals in Working Days
The San Francisco News commissioned Steinbeck, who'd later embed with Allied troops as a war correspondent throughout World War II, to write a series of articles on migrant workers making their way from the midwest to work in agricultural operations across California. That series, The Harvest Gypsies, would prove to be the backbone of Grapes of Wrath, which in its own right is a work of narrative nonfiction, the characters and storyline fudged but rooted in time spent with the subjects it covers. And he needed nonfiction sources, those experiences, in order to make sense of something he admittedly was unsure he'd get right.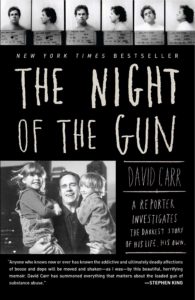 David Carr, The Night of The Gun
(Simon & Schuster)
"As a veteran journalist, I decided to report the story. For two years on and off, I pulled medical and legal documents and engaged in a series of interviews with people I used to run with. By turns, it became a kind of journalistic ghost dancing, trying to conjure spirits past, including mine. Some people I interviewed wanted me to say I was sorry. I am, and I did. Some people wanted me to say that I remembered. I did, and I did not."  –excerpt, The New York Times Magazine
I revered Carr, a colleague I hardly knew but one I had read religiously every Monday when his Media Equation column appeared in print. I remember standing outside the Times Building in New York, smoking nearest him as he proofread his column. I was too bashful to introduce myself, but felt that our searches for reconciliation with our past might dovetail into a friendship. That'd never happen, but I learned from his book that even the best memory can serve its beholder to shield them from extra pain. In a way, our memory acts as our a fraught person's ballast toward personal redemption.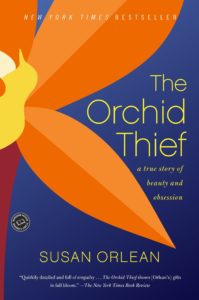 Susan Orlean, The Orchid Thief
(Ballantine Books)
"I suppose I do have one embarrassing passion—I want to know what it feels like to care about something passionately." "If you had really loved something, wouldn't a little bit of it always linger?" –From the book
So much about Susan's journey to the side of a man who spelled for her the exact passion, or obsession, that she felt was lacking in her life, resonates with the process of writing and reporting about one's self in full view of others. She had indeed found that passion for which she ached, even if it wasn't immediately clear. And that obsession is what makes her work, up to even her most recent book, The Library Book, so engaging. It's a measured inquiry of the passionately obsessed.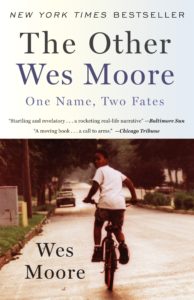 Wes Moore, The Other Wes Moore
(Spiegel & Grau)
"Moore writes with subtlety and insight about the plight of ghetto youth, viewing it from inside and out; he probes beneath the pathologies to reveal the pressures—poverty, a lack of prospects, the need to respond to violence with greater violence—that propelled the other Wes to his doom." –Publishers Weekly
Now that I've gotten halfway through this list, I'm starting to realize that my paths have crossed, personally or professionally, with many of those I've selected, as though something about my career trajectory has either been shaped by what I read or informed by experiences I had that mirror the authors herein. Wes and I, many years apart, attended the same military academy. Through this book, he explored the consequences of one's surroundings and influences, whether they are in fact consequential or formative, not just defining. It is a rare look into something we all wonder: what would I be had I taken that path, rather than this one?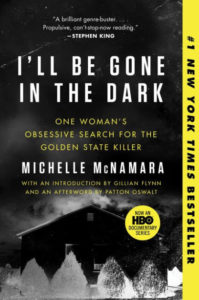 Michelle McNamara, I'll Be Gone in the Dark
(Harper Perennial)
In "I'll Be Gone in the Dark," the book she was working on when she died, McNamara was smart enough to recognize her own obsession and make it part of the story she tells. –The Lost Angeles Times
One of my mentors in graduate school told me that the obsession of an inquiry is what drives a reader to stand by you on that journey. If a writer is not enthralled by their subject matter, it's a rare work that'll keep a reader engaged, too. Michelle's obsession with the Golden State Killer makes an otherwise flat true-crime story come alive. It is a dual-track quest, taken into the mind of a killer and the unintended victim watching the fear and death roll through her community.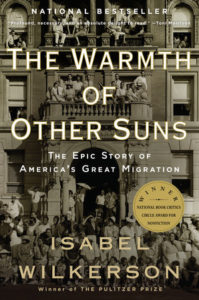 Isabel Wilkerson, The Warmth of Other Suns
(Vintage)
Through "my early experiences growing up in a world surrounded by people who had come to the mid-Atlantic region during the latter half of the migration from all over the southeastern seaboard, I knew it to be a farther-reaching national resettlement than had been described by most studies of it. … I wanted to convey the intimate stories of people who dared to make the crossing." –from the author's "Notes on methodology"
Isabel's work was the culmination of ten years of research and more than 1,500 interviews. Her inquiry began with her early childhood in the South and how those stories still reverberated everywhere she went and travelled, a story largely ignored in the granular context she explores in her book. It was those early life experiences that no-doubt shaped her credibility with sources and drove her dedication to the enormous undertaking.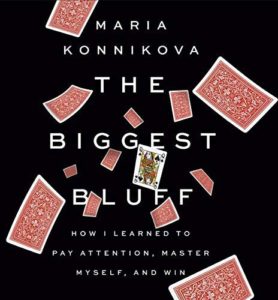 Maria Konnikova, The Biggest Bluff
(Penguin Press)
"How much of her success has turned on hard work and how much on being in the right place at the right time? Whatever the case, she traveled to all the right places—Macau, Las Vegas, Monte Carlo—and even made some money along the way" –Kirkus
Imagine spending a year writing and researching a book and getting paid for the privilege. Now imagine that paycheck multiplied ad infinitum, and paid in poker chips and trips to some of the most luxurious locales on earth. Maria takes a singular question, a line of inquiry which I suppose began with her first book on con artists, and immerses herself in answering it, along the way taking rabbit trails where the natural progression of answers lead to more questions.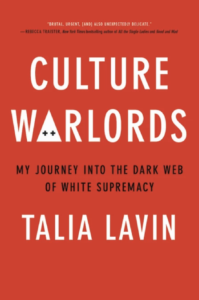 Talia Lavin, Culture Warlord
(Hachette Books)
"Her research, she says, 'taught me how to hate.'" –The New York Times 
Though we've largely seen the death of the memoir, which peaked, some might argue, in the late '90s, the creative nonfiction boom has offered latitude to explore questions of the self while engaging in the research practices of the academic or journalist. Questionable ethics aside, Talia infiltrates the online chat rooms and listservs that have drawn the recent ire of the nation. But through her research, she finds herself impacted by that which she sees, hears, and reads, a reminder that reporting and writing remain deeply personal and affecting.
__________________________________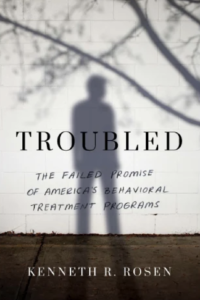 Troubled: The Failed Promise of America's Behavioral Treatment Programs by Kenneth R. Rosen is available now via Little A.
---