Tom Wolfe on the Writer's Hippocratic Oath: "First, Entertain."
John Freeman's 2004 Interview with the Legendary Writer
Along with Joan Didion, Norman Mailer, and Hunter S. Thompson, Tom Wolfe was one of the early proponents of New Journalism. Born in Richmond, Virginia, in 1931, Wolfe began his career as an old-style journalist, banging out stories for the Springfield Union in western Massachusetts, and later for The Washington Post and the now-defunct New York Herald-Tribune. During the 1962 newspaper strike, he asked Esquire if he could cover a hot-rod convention in Southern California. He struggled so much to write it straight that he wrote his editor a long letter about what he couldn't write. The result was "There goes (VAROOM! VAROOM!) that Kandy Kolored (THPHHHHHH!) tangerine-flaked streamline baby (RAHGHHHH!) around the bend (BRUMMMMMMMMMMMMMMMM)," the cornerstone piece for his first book of essays.
Wolfe's interests in Americana were as vast as they were unexpected. The Black Panthers, astronauts, modern art, and American stock-car racing are among just a few of the things he has written about. In the mid-eighties, he responded to an offer by Jann Wenner, the publisher of Rolling Stone, to serialize a novel he had been meaning to write. Wolfe accepted and began publishing monthly installments of what would become The Bonfire of the Vanities (1987), a runaway bestseller and a potent skewering of the haves and have-nots of the eighties Wall Street boom. Wolfe has since published three more novels—A Man in Full (1998), I Am Charlotte Simmons (2004), and Back to Blood (2012). I spoke to him upon the publication of I Am Charlotte Simmons, which deals with the sexualized world of university life in America.
*
Sitting cross-legged on a plush gold couch in the library of his Upper East Side apartment, wearing the trademark white suit, navy tie, and spotless two-tone spats, Tom Wolfe is about as far from a college keg party as one can be in the United States.
On the table before him stands a small statuette of Chairman Mao. The walls around us support shelf after shelf of books on Flemish masters and folios of modern painters, along with portraits of Wolfe's daughter in full equestrian gear.
Visit Wolfe in this setting and it becomes easy to understand why life on American university campuses was a distant and shocking reality for him. Indeed, his 700-page novel, I Am Charlotte Simmons, reads like every father's worst nightmare. Set in the fictional Dupont University, it reaches down into America's deep-fried soul and returns with an inflammatory portrait of the pornographic hollowness of that  $160,000 investment otherwise known as college: all the drinking and the partying, the video-gam playing, test cheating, wanton screwing, and athlete worshipping.
Article continues after advertisement
Even Wolfe, who has traveled with the psychedelic novelist Ken Kesey, attended NASCAR races, hung out with Black Panthers, and made millions by telling us what the madding crowd is doing, acknowledges that America's youth may have slipped a little. "I'm glad I didn't know this before my kids went off to college," he says with an uneasy smile.
It's an odd statement for America's preeminent clocker of the zeitgeist. As if we needed a reminder of how, well, pre–September 11 such concerns over life on college campuses seem, the view out of Wolfe's library stretches all the way to the former site of the World Trade Center.
I ask him whether he may have mistimed his target, if, perhaps, the zeitgeist passed him by this time.
"I did pause and say, you know, wait a minute," says Wolfe with the languid cadence of a born Southerner. "This is supposedly changing everything. But look at New York today: real estate is out of control. Besides, I found on campuses that the reaction to September 11 was zero."
Why do they hate us? Who are they? Osama bin who? These are the questions Americans asked after September 11, and if you believe Wolfe's portrait in I Am Charlotte Simmons, even American college students didn't pause too long to ponder the answers. Using his brilliant interior monologues, Wolfe reveals that kids are ignorant and have remained so because they have one thing on their minds: sex.
Critics have already pointed out that Wolfe's decision to write a female lead might be a response to those who carped, among other things, that he could not make a woman come alive on the page. Wolfe disagrees.
"I finally decided on Charlotte because her simple naïveté is a good way to introduce the reader to this campus life, so every revelation to Charlotte Simmons is supposed to be a revelation to the reader. Also, from what I had seen, the changes in terms of sexuality are much harder on a woman than a man."
Tom Wolfe as a feminist? Indeed, the action that follows reads like a literary dramatization of the themes and observations contained in Wolfe's essay "Hooking Up," in which he noted that by the year 2000 sexual stimuli bombarded the young so incessantly and intensely that they were inflamed with a randy itch long before reaching puberty.
Life at Dupont reflects what happens when these hyper-sexed teens reach college age. Within a day of her arrival, Charlotte is "sexiled" from her room when her roommate brings a young man home for sex; fraternity brothers engage in stopwatched contests to see how quickly they can bed fresh meat.
All this could be written off as melodrama were Wolfe not so thorough about his research. He visited more than a dozen college campuses over four years. He talked to students and attended classes, and, just a few years after having quintuple bypass surgery, stayed out until four or five in the morning, standing in the corner of fraternity house basements with ears pricked. No notepads.
Although he never observed "sexual congress," as he puts it, Wolfe did see plenty of dirty dancing and be- came so fluent in what he called the fuck patois—in which the expletive is used as a noun, verb, and adjective—that he could speak it himself.
A novel by Wolfe has become a kind of once-a-decade event in American publishing and is greeted with the polarized fanfare characteristic of an industry fighting over fewer and fewer spoils.
If the sales of The Bonfire of the Vanities thrust Wolfe to the top of the heap of America's social novelists, A Man in Full, which was a finalist for the National Book Award, gave Wolfe's critics a thorn in their side. Reviewing the book in The New Yorker, John Updike wrote that it was entertainment, not literature.
The food fight over Charlotte Simmons was fierce. In The New York Sun, Adam Kirsch argued that Wolfe has never been able to discover the deeper, stranger, more elusive truths that fiction can bring. Charles McGrath responded in The New York Times with a profile that compared Wolfe to other American masters who graduated from the newsroom to the novel: John O'Hara and Stephen Crane.
Wolfe seems to have known I Am Charlotte Simmons would be greeted with a certain savagery, and he's started a new essay, his response, perhaps.
"I've begun working on a writers' Hippocratic oath," Wolfe says. "The first line of the doctors' Hippocratic oath is 'First, do no harm.' And I think for the writers it would be: 'First, entertain.' Entertain is a very simple word. I looked it up in the dictionary. Entertainment enables people to pass the time pleasantly. And any writing—I don't care if it's poetry or what—should first entertain. It's a very recent thing that there's a premium put on making writing so difficult that only a charmed aristocracy is capable of understanding it."
November 2004
__________________________________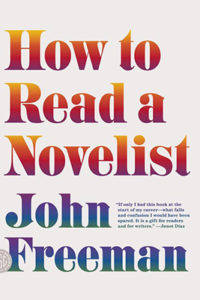 From How to Read a Novelist. Used with permission of FSG Originals. Copyright © 2012, 2013 by John Freeman.
---