Tom Cooper on Moby-Dick, Florida Books, and Terrible Sex Scenes
Rapid-Fire Book Recs From the Author of Florida Man


Welcome to the Book Marks Questionnaire, where we ask authors questions about the books that have shaped them.
This week, we spoke to the author of Florida Man (out this month in paperback), Tom Cooper.
*
Book Marks: First book you remember loving?
Tom Cooper: I remember loving the Roald Dahl's Willy Wonka series, the Knopf edition, with the scratchy, slightly sinister black ink illustrations by a guy named Joseph Schindelman. Less Disney, more Edward Gorey and Brothers Grimm. I remember the texture of the page, the deckle edge. I remember where I was sitting, the quality of light. It was very much a tactile experience, obviously. This is also one of my oldest, clearest memories.
BM: Favorite re-read?
TC: Hopefully this isn't a cop-out, but at the moment I'll say a whole genre and era. Whenever I'm stuck in a writing rut, or whenever I need to remind myself why I like books and writing and reading in the first place, which was often these last few plague years, I pick up what got me into reading as a kid: mainly horror stuff. I came of age during the heyday of the airport paperback. When I was nine or ten, all those lurid covers depicting demonic possession, carnivorous plants, swamp monsters and Satan worshippers drew my eye (see Paperbacks from Hell by Grady Hendrix, a pictorial history). I was simultaneously uneasy and intrigued. They seemed seedy, forbidden, scary. So I sought them out.
Naturally. And when the nuns at the Catholic school confiscated my copy of The Talisman, by Stephen King: well, I was sold. There was a lot of schlock during this era, but also a lot of good stuff that stuck with me after my formative years. Stephen King, of course, but also people like Jonathan Carroll, Clive Barker, Ramsey Campbell, Karl Edward Wagner, Joe R. Lansdale, Thomas Tyron, Richard Matheson, Peter Straub, Dennis Etchison. One of these days, I think—well, I know—I'll write a straight-up horror novel. I wanted to do this from the very beginning.
BM: What book do you think your book is most in conversation with?
TC: Well, it accidentally stumbled into the conversation with certain books. Particular books. Florida books. By writers such as Carl Hiaasen, Tim Dorsey, Randy Wayne Wright, guys like that. Very talented, very different writers. Of course, I absolutely invited these comparisons. The book is called Florida Man, for Christ's sake. But I think my Florida is a little wackier and free form, maybe more akin to Padgett Powell or Harry Crews or Joy Williams. My Florida book certainly isn't beholden to facts or verisimilitude. There are a number of exaggerations and confabulations.
BM: A book that blew your mind?
TC: Joy Williams's The Visiting Privilege: New and Collected Stories. What otherworldly, idiosyncratic stories. Magic, really. I feel the same about Flannery O' Connor's collected stories.
BM: Last book you read?
TC: I just read Dan Chaon's new book, Sleepwalk, coming out pretty soon. I really loved it. I love all his stuff. 
BM: A book that actually made you laugh out loud?
TC: White Line Fever, an autobiography by Lemmy, late singer of Motorhead. A close second would be Renegade, another autobiography, this one by Mark E. Smith, late singer of the Fall. There was a particularly memorable sequence wherein he leaves his dentures in the glove compartment of someone's car.
BM: What's one book you wish you had read during your teenage years?
TC: Any, and I mean fucking any, financial planning book.
BM: Favorite book to give as a gift?
TC: Doctors of the Old West, by Robert F. Karolevitz. The Lost Words: A Spell Book, by Robert Macfarlane. And, mentioned above, Paperbacks from Hell, by Grady Hendrix.
BM: Classic book you hate?
TC: I hate to step on any toes, and I hope it's not too soon, but for graduate school I had to read 1740's Pamela; or Virtue Rewarded, by Samuel Richardson. It's an epistolary novel, about one thousand pages long. I had to read it all. Every word. Every "O, how my eyes run!" I should have went to trade school. Or at least read a financial planning guide.
BM: Classic book on your To Be Read pile?
TC: Can you believe I've never read Moby-Dick all the way through? What a fraud! Of course I've read many parts and passages. On the other hand, I had no idea how to pronounce ambergris until the other day. I thought it was pronounced to rhyme with "gris-gris." Wrong. One of these days, in the company of the wrong whalers? It might have proven a deadly mistake.
BM: What's a book with a really great sex scene?
TC: I think most scenes, even supposedly good sex scenes, are terrible. Just terrible. And that odious phrase, "making love." Jesus. Revolting. The briefer, the better. Sometimes I think Bukowski had it right: "They fucked." I'm a romantic guy, obviously.
BM: Currently reading?
TC: Death in Her Hands by Ottessa Moshfegh; The Hawk is Dying by Harry Crews; Pharmako-Poeia by Dale Pendell; Secrets of the Sideshows by Joe Nickell.
*
Tom Cooper has been published in dozens of literary magazines and journals, most recently in Oxford American, Mid-American Review, Gulf Coast, Boulevard, and Willow Springs. He is the author of The Marauders, his first novel, and his stories have been nominated four times for the Pushcart Prize. He lives in New Orleans.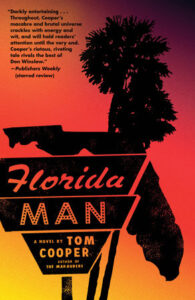 Tom Cooper's Florida Man is out this month in paperback from Random House
*
---