To Write a History of Pittsburgh is to Write a History of America
Ed Simon on the Paris of Appalachia
When I returned to Pittsburgh 15 years ago, I found myself being berated about my hometown's supposed provincialism by an unpleasant and obscenely rich man-child from Manhattan while we were at an impromptu brunch in Pamela's Diner. Following an orientation session for graduate students at Carnegie Mellon, a small group of us made our way down Forbes Avenue, and he, unfortunately, joined us.
In my recollection, he was a juvenile 40, twitchy, and there to pursue a master's degree in something like entertainment technology or technological entertainment. Though he repeatedly emphasized his private school education, his degree from one of the minor Ivies, and his father's home in southern California, the detail that most stands out in my mind was his crossing the street to retrieve a Starbucks after he found Pamela's coffee to be lacking.
Within the first five minutes of eating pancakes, he explained that his parents were paying his rent on a two-bedroom in The Pennsylvanian, a luxury apartment at the edge of downtown in the former Union Station, a magnificent Victorian Beaux-Arts terracotta building with a massive rotunda featuring inlaid stained glass. Living within the presence of all of that past wealth—made by those responsible for the steel and glass canyons of his own youth—made no impression on him; having been in Pittsburgh for less than a week, he insulted the Pittsburgh Symphony Orchestra, the local art scene, and the city's restaurants (including Pamela's, which serves America's greatest breakfast). He rendered his verdict: Pittsburgh was simply the "Paris of Appalachia."
To be a Pittsburgher is to cringe at the contradiction of having a triumphant pride in your city, combined with embarrassment about how it is sometimes viewed. Pride, because for all of its problems (and they're legion), you know how gorgeous Pittsburgh is; at the same time, you're also aware that it has frequently been a punchline to those who have never been here, both before and after the economic collapse of the 1980s that nearly destroyed us.
My man-child's quip wasn't uncommon, but it's become less frequent as, for better and worse, the city's cultural capital has risen. After the hundredth comeback article in The New York Times along the lines of "Pittsburgh Thrives After Casting Steel Aside" or "Built on Steel, Pittsburgh Now Thrives on Culture," the old jokes appear much less often. But this means that one simplistic media portrayal—Pittsburgh as a blue-collar shot-and-a-beer town—has been replaced with an equally simplistic revision, in which city leaders wouldn't mind being known as an organic quinoa and microbrew hamlet (or whatever), a type of Portland on the Mon.
It must be remembered how Pittsburgh's terrain was responsible for its explosive success, and the city has maintained it even through decline.
Any media narrative is bound to lose something, and yet, I suspect any Pittsburgher sees in these conventional stories something reductionist.
There is, perhaps understandably, an ignorance in the wider country about Pittsburgh's history, even though the city's story is intrinsic to the national narrative—the latter isn't comprehensible without the former—and the past weighs heavily here. "A city with heft—that's how a friend who moved here… described it," writes retired Pittsburgh Post-Gazette columnist Brian O'Neill in his collection entitled, yes, The Paris of Appalachia: Pittsburgh in the Twenty-first Century. "Victorian wealth remains evident in our architecture, our culture, our foundations, our hospitals and our universities." O'Neill explains that the Gilded Age sheen still visible under the rust on our belts is intrinsic to the aesthetic of the city and reflective of its story of rise, decline, and perhaps resurrection.
American capitalism was built on Pittsburgh steel, iron, coke, copper, glass, and aluminum; robber-barons like Carnegie, Frick, Westinghouse, Heinz, and the Mellons were the veritable kings of American ascent, but their power was filched through the exploitation of (frequently immigrant) labor. Contradictions define Pittsburgh: it's the metropolis whose rivers were lined with belching steel mills, but which also hosted the world's first major modern art exhibition; the second-largest city in a commonwealth founded as a utopia, but which eventually contributed to our current ecological precipice. This is a region that has yet to fully acknowledge that its greatest cultural contributions of music and literature were made by her Black citizens, and that it's long been home to a radical political tradition too often obscured by the illustrious names of the powerful chiseled on our buildings. Even more shocking is that this city renowned for grime and filth, soot and smog, is almost incandescently and irresistibly beautiful, what the poet Jack Gilbert described as a "tough heaven." In my book An Alternative History of Pittsburgh, I write that this place is "large and multitudinous, multifaceted, multifractured; it is complex, contradictory, and confusing."
My book wasn't written as rejoinder to the man-child—he's too irrelevant to deserve that—nor was it written to actually be a history, counterintuitive as that sounds. Besides, there are already excellent historiographical accounts: Franklin Toker's Pittsburgh: A New Portrait, Martin Aurand's The Spectator and the Topographical City, and the magisterial forerunner of them all, Stefan Laurent's half-century old Pittsburgh: The Story of an American City (illustrated with stunning photographs by W. Eugene Smith). Readers who consult them will get a brilliant grounding in the facts, but I wanted to instead assemble "a diary, a dream journal, a wooden shelf packed with interesting rocks and shells." Fragmentary, digressive, and incomplete.
My structure was inspired by the Uruguayan leftist Eduardo Galeano, who invented this impressionistic way of writing in Open Veins of Latin America, explaining in 2006 that, "I began to write these short stories that are integrated, always integrated in a huge mosaic of other stories inter-linking, sort of a conversation between different experiences, emotions, ideas, sounds, colors." Such an endeavor was never undertaken by me as a brief or an apology, nor as conventional scholarship, but rather to keep the paradoxes of Pittsburgh in view.
Today, factories are turned into luxury condominiums and shopping centers placed atop repurposed slag heaps. It reminds me of the observation of Montaigne's secretary upon their visit to similarly hilly Rome in 1580, where "in certain places we were walking over the roof-ridges of houses still intact… we walked on the tops of the old walls, which the rains and the coach wheels occasionally bring into sight." Instead of the Colosseum, we have the Carrie Blast Furnace; instead of the Pantheon, there are Homestead Steel Works' smokestacks. But just as Rome's monuments signified the ideology which sustained their empire, for better and frequently worse, so too are the ruins of Pittsburgh representative of our own empire's fortunes. O'Neill writes in The Paris of Appalachia, "Most American cities have yet to see their finest architecture, their highest population, their greatest impact on the world. We almost certainly have. We used to be a much bigger deal, and then we stopped being one." In all of its glory and filth, through the triumph and oppression, Pittsburgh is a metonymy for this nation. To write a history of Pittsburgh is to write a history of America.
"The three most beautiful cities in the world are Paris; St. Petersburg, Russia; and Pittsburgh."
More fundamentally, it must be remembered how Pittsburgh's terrain was responsible for its explosive success, and the city has maintained it even through decline. "Geography is destiny," Toker writes in Pittsburgh: A New Portrait. "For a hundred years Pittsburgh extracted the land's resources, grinding up sandstone to make glass, mining coal for making steel, and refining oil at the very beginning of a global industry." But as concerns Pittsburgh, there is also something intangible and ineffable about that terrain, what the ancient Romans called Genius loci, the individual spirit of place. There is a reason why longtime locals are excited to take newcomers through the Ft. Pitt Tunnel—how the individual perspective transmutes from the hum-drum scrabble of the highway into an exit of brilliant, bursting luminescence, skyscrapers arrayed beneath you along the rivers, with the sweep of hills on either side, homes clinging to their incline like adobes in a canyon. To the east, Oakland is arrayed in long blocks of low neo-classical buildings covered in gleaming limestone, appearing like the Acropolis, but with the whole neighborhood punctuated by the University of Pittsburgh's Cathedral of Learning, an absurd and sublime neo-gothic skyscraper. There are communities like Polish Hill, rowhouses on the narrow and crooked streets slinking their way towards the green-patina dome of the Immaculate Heart of Mary (an imitation in miniature of St. Peter's Basilica), or Squirrel Hill with its verdant slope nestled between the wilderness of Frick and Schenley Parks, situated at the axes of Forbes and Murray, lined with Chinese restaurants, Kosher grocery stores, synagogues, and bookstores. As The New Yorker's architecture critic Brendan Gill unironically wrote in 1989, "The three most beautiful cities in the world are Paris; St. Petersburg, Russia; and Pittsburgh. If Pittsburgh were situated somewhere in the heart of Europe, tourists would eagerly journey hundreds of miles out of their way to visit it."
Aforementioned East Liberty poet Jack Gilbert spent his life in New York, the Greek isles, Tokyo, and San Francisco, but he would imagine Pittsburgh often. In one lyric, Gilbert recounts taking care of the baby of his Danish girlfriend. He writes of "Changing him and making him laugh. / I would say Pittsburgh softly each time before throwing him up. Whisper Pittsburgh with/my mouth against the tiny ear and throw him higher." Gilbert's narrator knows that his relationship has an expiration date, and that these brief, happy moments with her infant will not last. Yet he wishes to leave a bit of himself, a bit of where he has come from, "even the smallest trace," with the child. "So that all his life her son would feel gladness / unaccountably when anyone spoke of the ruined / city of steel in America. Each time almost / remembering something maybe important that got lost."
Now, let me whisper, Pittsburgh.
__________________________________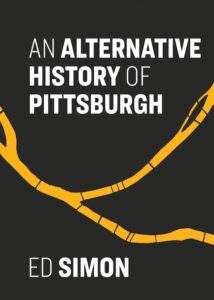 An Alternative History of Pittsburgh by Ed Simon is available via Belt Publishing.
---