"To Be A Writer, You Must Write": How Joan Didion Became Joan Didion
Evelyn McDonnell on the Writing Process of One of America's Leading Literary Ladies
Joan Didion looks straight at the camera, with her fist curled in front of her mouth—as if to indicate it is through her hands that the taciturn thinker speaks. Appropriately, a manual typewriter takes up half the frame in this iconic black-and-white photo taken by Nancy Ellison in 1976.
When she was a teenager, Didion taught herself to type and to write by pecking out stories by Ernest Hemingway and Joseph Conrad on an Olivetti Lettera 22. Her goal: "To learn how the sentences worked," she told the Paris Review. Thus began her immersion in the physical act as well as the craft of writing. Call it a form of machine learning. "I'm only myself in front of my typewriter," Didion once told an editor at Ms. magazine.
At some point her father, in one of his random financial schemes, bought a load of Royal 200 typewriters, one of which became Didion's accomplice. She took it with her everywhere. A typewriter is included in the carry-on items in the packing list she published in The White Album. Her idea was not to write on the plane, but while she waited in the airport, she would sit "and start typing the day's notes." This is one of many instructive lessons offered by Joan Didion. She must have hauled a typewriter with her in 1955, when, at age twenty, she took a train alone from Boston back to Sacramento, after a month spent in Mademoiselle's guest editor program. She typed multiple letters to her Mademoiselle colleague and college friend Peggy LaViolette on hotel stationery along the way. "Never being one to throw myself wholeheartedly into Adventure, I carefully got a seat alone, barricaded myself in with wicker basket, typewriter, mangled copies of old magazines and thought I could sleep all night," she typed in one missive.
Many writers become so attached to a physical process that changing tools with the times is not easy; some never manage it. Neil Gaiman, the futurist, has said he prefers to write his novels in longhand. I still print out my writing and edit it on paper, a routine I was chuffed to hear Didion recommend to Hilton Als in an interview late in her life. Over the decades Didion graduated from notebook to manual typewriter to electric typewriter to computer, again demonstrating her openness to progress. Still, she did complain to author Maxine Hong Kingston about the transition to electric in a 1978 letter, saying that combined with moving and quitting smoking, the "reprogramming…had caused an inordinate amount of stress." She switched to a computer in 1987 and eventually came to love the editing capabilities of word processing programs. "It did for me what geometry was supposed to have done," she said.
Many writers become so attached to a physical process that changing tools with the times is not easy.
Writers are prone to obsessive interest in other writers' processes. We write because we are readers, and we read, in part, to see how others write. Didion was a bookworm. When she wasn't sitting on the fender of her car, she was far from the snakes at the Sacramento library on a Friday night with her friend Maurice, or maybe her gal pal Nancy Kennedy (whose brother Anthony later became a Supreme Court justice and spoke at Joan's memorial). Photos and videos document her various homes stacked floor to ceiling with books. Among the items sold at auction by her estate in 2022 were Didion's collections of works by George Orwell, Elizabeth Hardwick, Joyce Carol Oates, and Norman Mailer.
Joan was an avid consumer of culture in general, with broad interests that did not divide art into high and low: She named one anthology after a Yeats poem, another after a Beatles album. Writer and friend Calvin Trillin called her Brentwood home "the West Coast literary consulate," but she and Dunne largely financed it with Hollywood hack work. She loved biker films, interviewed Jim Morrison for the Saturday Evening Post and Joan Baez for the New York Times, wrote an important essay about Georgia O'Keeffe, and was close friends with writer and artist Eve Babitz (Slow Days, Fast Company) and writer and screenwriter Nora Ephron (When Harry Met Sally).
There's a 1971 interview with Joan on YouTube, posted by the Center for Sacramento History. Some of the audio is missing, but the footage of Didion in her office in her Franklin Avenue house is, well, pure gold. She's wearing a brown flared miniskirt and a black V-neck shirt that fastens in the back. She has tucked her shoulder-length strawberry blond hair behind her ears, as she did, and freckles dot her cheeks. She's talking about growing up in rural environments; her Valley accent is strong. I'm not talking San Fernando Valley here; I'm talking the almost southern twang of the Central Valley, that Didion said she picked up from the many refugees from the Oklahoma dust bowl with whom she went to school. This is how Didion spoke: not with the English accent of Vanessa Redgrave, who portrayed her in the stage version of The Year of Magical Thinking, or the crisp patrician consonants of Barbara Caruso, who reads the audiobook of that text, but like a freckle-faced country girl. The camera pans across shelves full of books and books piled on the desk, lingering on volumes written by Didion and Dunne. Joan snips an article out of a newspaper in front of a cabinet of haphazardly placed manila folders, presumably full of other clippings. She's talking about worrying herself sick about a comma being out of place while admitting she doesn't have the same fastidious approach to her housekeeping. (This is the secret life of women writers: We can't be good mothers, wives, daughters, writers, cooks, and housekeepers.) She sits on a black leather couch with leopard-print pillows, smoking a cigarette and reading a paperback that's open on her lap.
"I like words and I'm very excited by seeing what can be done with words," she says. "Play It as It Lays is a very short novel. I worked on it for five years but when I finished it, I thought every word was exactly right. Now I can't even read it because words pop out at me, or sentences that I think ought to be changed."
Didion once told a participant in a writing seminar that to get through writer's block, you had to write one sentence, and then another, and then another.
To be a writer, you must write.
__________________________________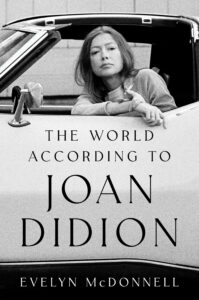 Excerpted from The World According to Joan Didion by Evelyn McDonnell. Copyright © 2023. Reprinted with permission from HarperOne, an imprint of HarperCollins Publishers.
---