Tilted Towards Liberation: Tanaïs on Rejecting Western Constructs, in Writing and in Life
Helen Betya Rubinstein in Conversation with the Author of In Sensorium
"Our sense of scent has a limited vocabulary," writes Tanaïs in their first book of nonfiction, In Sensorium. So, too, do those stories as yet untold, at least in the languages of power. But In Sensorium works, like perfuming itself, to "reconstruct silence into sensuous experience," challenging what Tanaïs calls the patramyth—those "foundational lies and mythologies recorded in history to protect the powerful." 
These pages address "mysticynicism," the "persistent doubt of the Unknown, the Divine, the Sacred" that is an "inheritance of colonization"; "apocalypsexual" longing; and CHOD, an acronym whose American, South Asian, Sanskrit, and Tibetan resonances Tanaïs embraces while using it to signify cisgender heterosexual oppression and dominance. 
For all its insistence on naming what has not yet been named, In Sensorium is also proudly indebted to its ancestors, especially Tanaïs's Bengali Muslim foremothers, like the educator Khairunessa Khatun, the writer Rokeya Sakhawat Hossain, and the sculptor and activist Ferdousi Priyabhashini. 
Yes, the book teaches its reader about ambergris, "the undigested squid beaks in sperm whale guts that they eject along with their feces." But it also ranges generously, capaciously, through matters of caste, aesthetics, and history criminally underdiscussed in American literature—from the Black Muslim community of Ashville, Alabama, near one of Tanaïs's childhood homes, to the murder of their partner's namesake during the struggle for Algerian independence, to the three million Bangladeshis killed during the Liberation War of 1971, and the hundreds of thousands of women raped by the Pakistani Army, then made into a complicated sort of national heroes.
Tanaïs and I met long ago, as baby writers in an MFA program together, and they have always seemed to me to see and speak truths that most people are, at best, only on the brink of perceiving. At one point in our recent conversation, indignant about ongoing violence against the Muslim diaspora, Tanaïs exclaimed, "No one wants to publish this shit!" Thankfully, someone has.
*
Helen Betya Rubinstein: In your book, you describe both writing and fragrance as modes of transport, means of escaping circumstance. How do your creative practices feed each other?
Tanaïs: For me, documenting places through olfactory materials is analogous to my process as a writer, where place drives the way I move through what I'm writing. If you look at the different materials in the book's perfume interludes, you'll see that there's a lived, historic, embodied connection between them. Whereas in a lot of Western perfumes it's about creating this abstraction—like happiness, or a type of water, "cool water." We grew up with that, in the 90s. Like CK One—you're not even sure what you're wearing, you're just wearing this concept. And I reject that with all of my being.
I had to learn how to reject a lot of the rules of writing in the Western construct of writing, and I had to reject a lot of the rules of Western perfumery. Because what I have to say and what I want to create as a perfumer and a writer—it is florid and taking up space and a mélange and a blend, and those are not things I was taught to respect. As a writer, I was taught to disavow and disrespect my urges and my instincts. And perfumery brings me in touch with my instincts and my sensual animalistic self. And I want to bring that into my writing.
A perfume is now this object of pleasure and aesthetics, but that's not how it started. It started to clear the bodies of the dead of malevolent spirits. Thich Nhat Hanh just passed, and how they're preparing Thich Nhat Hanh's body is pouring sandalwood shavings all over the body. When you burn that body it's going to fill the air with the smell of sandalwood, creating a corporeal body outside of the human experience. And that's what a book is, you're holding a body of a person's mind, their "body" of work. For a perfume too, you are summoning an idea that's not there and giving it form, giving it a body.
I don't want to talk about craft, I want to create art. And that is messy. That's angry. That's passionate.
We're actually moving toward that in the world, because we're so digitally disconnected, we just experience each other as projections. We want that feeling of embodied presence that a perfume connects you to and a physical book connects you to.
Perfume and writing are very analog. They're also very ancient. They're also disrespected and rejected, because there are so many more important things to think about than the way we navigate the world sensually. Something I wanted to do with the work was go to that place that has been rejected, but is so me. This is me accepting myself, and that is something powerful every person needs to do.
HBR: How does that relate to the choice to make it nonfiction?
T: I had no choice. I had to create this work to make myself legible and to make myself understood. I wrote a [second] novel, and that novel did not find a home. I had to work through the pain of that, knowing that what I had written felt prescient—because it's about a mother and daughter who've been disconnected and only experience each other after the mother has passed, through virtual reality and an archive of the mother's life that is not physically present, which is literally where we're headed and what we're living through. 
But when I tried to sell that work, no one could get it, and no one cared. People responded with "I don't care about these people." And if you can't care about people in fiction, as a writer, I need to nonfictionally show you that these people matter. And they have histories and lives that are not wrapped up in translation for the dominant culture, but are very rich and very deep without any interference from the dominant culture.
So it comes from a very wretched place. It comes from a place of rejection. It comes from a place of anger. Rage. Any writer who is going through this can relate to what it's like to try to get ideas out there that do not fit into some dominant culture idea of a story. I needed to write this to establish the validity of my life, and allow myself the room to write the fictional worlds I want to write, which imagine liberation, which imagine things that don't yet exist.
As I've said before [on Twitter], "publishing is the soft arm of white supremacy," because it creates narratives of dominant cultures, whether it's in the US, India, Mexico, Nigeria. And there are others of us who bleed around the edges of these places—Bangladesh, Guatemala, places on the borders that are invisibilized by the conversation, because they are not even named. I'm writing to the places that are erased by hegemonies. The record of history erases the voices of women and nonbinary and transfemme people who are often the fixation of nation building and histories we read, but are not named. These are the dissonances and fractures I want to address. The institutionalized arts just reiterate those divisions that are omnipresent in our cultures. 
HBR: Someone once asked me what publishing will look like after liberation. 
T: We'd publish our own shit. That would be ideal. 
We're living under capitalism, but commerce and sharing ideas and knowledge production are much older than these systems of human slavery to create products. When you have something small to trade, that can be done with a lot of intention and care. In the pandemic, I decided I wanted to keep my [beauty] business small and invest in creating something that feels like an artifact for the future, something you never want to throw away. That to me is what a book is, too. It's always in circulation. 
HBR: I love this line from In Sensorium, "I write to imagine freedom, even though I write in the language of power." 
T: To decolonize our mind and our bodies, we have to be tilted towards liberation. And for me decolonizing language is not doing away with shame, but really touching the place where shame exists. In how I speak, how I look, how I take up space, how I feel. And that process of decolonizing my language is wielding English in a way that feels good to me. That's not about mastery. That's not about domination. It's not about the perfect sentence. It's not about craft.
I got really sick writing this book. Because I had long Covid, and I was so vulnerable, and the illness was not just in my body, it was in my mind.
I don't want to talk about craft, I want to create art. And that is messy. That's angry. That's passionate. It's a lot of things that cannot be contained even in words. So I'm just trying to touch that core feeling through words, and that in and of itself will be a colonized process. It's English, for god's sake. It's Bengali, for god's sake. Any language that becomes a dominant language that people speak has dominance laced into it. Because it is a spoken and written way of controlling information.
Even writing a book, I've created an object to belong to the patramyth. I have not named everyone that could be named. I think what we're struggling with now is this fear of saying the wrong thing, talking incorrectly about something, misgendering something. There's a fear that's permeating, and to me, that is another way that language polices and language is about dominance. It's not liberated. Liberated language is always seeking and yearning and trying, attempting to capture something even though we know that the essence of that will always be right beyond reach. And perfume is a great metaphor for that. A perfume is literally dying the minute it hits your skin.
HBR: At one point you write about the relationship between beauty and domination.
T: Separation from nature is where a primordial violence began. Controlling the way we look, the way we speak—in creating a collective around a shared aesthetic, beauty becomes domination. Because you're calcifying something. And anyone who is unruly or different or wild becomes a threat to what is seen as safe, same, included. 
That is why in this country Black and brown-skinned and Indigenous peoples have always been people to police and to control and to contain. Not just carcerally but in how they look, their beauty. It's a violent way of asserting dominance—the most violent tool, honestly. When you look into history, at how people have made Black and global South femme people feel about their bodies, for their labor, their sexual labor—it's astonishingly violent. 
There were moments, writing, when I felt like, at a different time, some of the shit I'm saying would be so gauche or unimportant to people. I had to work through internalized colonization, internalized misogyny, and I was deeply unraveling.
HBR: How did you care for yourself?
T: I got really sick writing this book. Because I had long Covid, and I was so vulnerable, and the illness was not just in my body, it was in my mind. I'd felt chipped away at from the process of selling the book and then, when Covid happened, it was like, I have nothing else but the truth to try to reach and try to write. 
I didn't care for myself. I smoked more pot than I've smoked in years. I smoked cigarettes. I didn't exercise. I lost forty pounds, because I was sick to my stomach. I looked like a different person. I had to actually not care about myself, I had to care about the book. It was like my baby that I was staying up with until five in the morning every night. At the expense of sleep. At the expense of food. I just was servicing this thing.
__________________________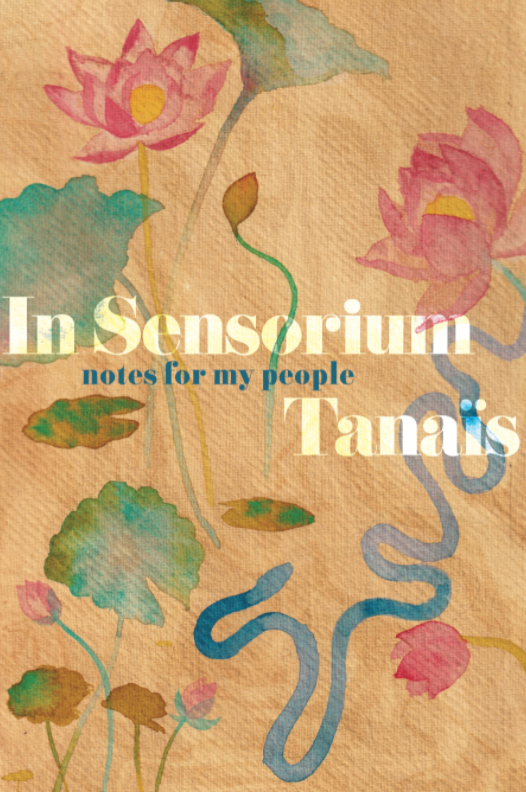 In Sensorium, by Tanaïs, is available now from Clarion/Mariner.
---