Thoughts on Sports, Real Estate, and Drinking: Robert Frost Writes to His Son
"We needn't feel very far away from each other."
In 1932, unsure whether he'd ever return to New England, Robert Frost's son Carol began hunting up possible buyers for his farm in South Shaftsbury, Vermont. (The property was remarkable for its 18th-century manse, the "Stone House," now owned by Bennington College.) The previous year, his wife Lillian had developed tuberculosis and he had taken her and their young son Prescott to live in Monrovia, California, where the renowned Pottenger Sanatorium was located. Before that, Carol had resided either with or near his parents in South Shaftsbury.
Eventually, Carol would return to Vermont—in 1934, after Lillian recovered her health—but would kill himself just a few years later, in October 1940. Most of the correspondence between Carol and his father Robert is in the newly-released volume The Letters of Robert Frost, Volume 3: 1929-1936.
The present letter is characteristic. Carol and his father loved sports (they attended the 1932 Olympic Games in Los Angeles); hence the report of the Michigan-Illinois and Aggie-Amherst games. (John Cone, mentioned in connection with the Aggies, was then Frost's son-in-law.) Talk of real estate agents reflects the unusual state of Carol's affairs, as he contemplated whether to make his move permanent. Carol kept an apple orchard in Vermont; this explains, as does the relaxation of Prohibition, Frost's remarks about cider.
Additionally, Frost and his son liked a tale of the kind related here about Joseph Osgood "Toggles" Thompson, lately retired from Amherst College, two presidents of which come in for mention as well (Alexander Meiklejohn, in office 1912 to 1924, and, though unnamed, Stanley King, in office 1932 to 1946). Frost mistakes the age of Thompson's beneficiary, but otherwise gets things right.
–Mark Richardson, editor, The Letters of Robert Frost, Volume 3
*
Amherst
October 30, 1932
Dear Carol:
One thing in favor of all this travelling back and forth: it has got the country pretty well shrunk, so that we neednt feel very far away from each other. Boston, New York, Los Angeles, San Francisco, Omaha, Chicago, Denver, Baltimore and Philadelphia are down to the size of villages in a state of about the size of Vermont. If it werent for the coal dust in trains which catches me colds, I shouldn't mind being on the go between places half the time. I wish the locomotives would use oil or electricity.
In Ann Arbor the foliage was at the height of fall color; here in Amherst it is a little past. The market is flowing with two kinds of sweet cider, one the regular doctored kind that cant ferment and the other the old fashioned natural but, I suppose, illegal kind that can ferment and does almost as soon as you get it home. There was none of the second last year and its appearance shows how we are letting down gradually on enforcing the law.
Kent the Dorset real estate agent is after us for someone in Bennington. He drove clear down here yesterday to see what Elinor and I would say to taking two thousand down and a mortgage for six thousand. The customer who doesnt want his name known till things go further is described as having had the money to pay the whole price last year when Shaw got in ahead of him. He is described as a business man who should be able to raise the mortgage when and if times improve. We didnt seem to think you ought to have so much as six thousand tied up. I told Kent to see if he couldn't get more than two thousand down. I don't suppose anything will come of it. It is nothing to get our hopes up on. It merely gives us something to think over.
"Go to the theatre and games so you'll have plenty to tell Lillian about."
As a match for your seeing the theatre once a week I set out in Ann Arbor to see foot ball [sic] once a week. The Michigan-Illinois game was my first and it ended satisfactorily enough in a victory for our side 32 to 0. My second was to have been the Aggie-Amherst game yesterday afternoon but my cold and the cold of the weather kept me at home. You'll have noticed the score; Amherst took a bad licking. I dont mind as much as I should if we weren't connected in a way with the State College through John and if I werent in a way a farmer myself and always on the side of farmers. The State College has a star half-back, Louis Bush, from Turner's Falls, that our boys couldn't lay out or stop. I suppose you are seeing baseball Sundays. Be sure to bring Prescott on in playing and understanding the game all his enjoyment of it permits. I'm glad he liked the play at the theatre. He ought to go whenever there is anything not too much beyond him.
You remember Toggles Thompson the chemistry professor people used to make fun of gently? He's just been in to interrupt me with an interesting story of the depression. He has a Polish tenant of a small place he owns down at Hockanum by the Connecticut River. [1] The man is twenty-eight and has a wife and two children. He hasnt had work for more than a year and is more than a year behind on his rent. Something put it into Thompsons head to propose going into the wood business with him. Thompson got him an old truck and bought a wood lot on this side of the Holyoke range—twelve acres. Then Thompson did the soliciting. The Pole is not only out of trouble, but making money and so is Toggles Thompson. The idea is to sell good dry wood exactly as ordered in size and kind. The partnership between the retired professor and the down-and-out Pole is being preached about in church. Toggles is a funny sentimental fellow and the whole thing makes him talkatively happy. He came to try to take me over onto the wood lot. It is of course a good story. The Pole was desperate and had no good out of this country since he came to it seven or eight years ago. He was unjustly detained in jail a week once on suspicion of having set a fire and when released with apologies found that he had lost his job. Nice to give a hard-luck person something pleasant to think of.
We hear all sorts of amusing things about the new President. He has told the old guard to shut up talking about Meiklejohn as fresh as if the row was still on. He is going to have Meiklejohn here visiting and have his picture hung with the portraits of all the other Presidents of the college. Great stuff!
Keep as active as you can for Lillian and Prescott's sake as well as your own. Go to the theatre and games so you'll have plenty to tell Lillian about.
Affectionately
Papa.
[1] A deed dated July 30, 1934, held now in the Hampshire County Registry of Deeds, records the sale of a twelve-acre woodlot, located along the Holyoke Range near a place called Hockanum Flat. The seller is Edward "Eddie" Berestka (1913-1993), son of a Polish immigrant, Ignacy Beretska (1886-1956), and the buyer Toggles Thompson. The price was the nominal sum of one dollar, indicating that Thompson had loaned Eddie the money to buy the lot from­ one Carrie Marsh in 1929.
__________________________________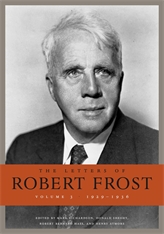 Excerpted from The Letters of Robert Frost, Volume 3: 1929-1936, edited by Mark Richardson, Donald Sheehy, Robert Bernard Hass, and Henry Atmore, published by The Belknap Press of Harvard University Press. Copyright © 2021 by The Robert Frost Copyright Trust. All rights reserved.
---