"They Are the Mothers!" From Goethe to Cusk, Halting Progress for Moms
Jennifer Banks Wants to Drag Motherhood Out of the Mud
In Johann Wolfgang von Goethe's Faust, the hero is led by the devil to the realm of the Mothers, a place accessible only by a steep, downward staircase and a magical key.
On the threshold of that dark pit, the devil explains that the Mothers "occupy a hell that's all their own," an unexplorable Void beyond existence itself and defined only by vast solitudes and waste. "To speak of them embarrasses," he continues, "They are the Mothers!"
Mothers are indeed "the Mothers!"  The good and bad, the biological and non-biological, the traditional and the trail-blazing—all are mothers and surely by now we shouldn't be embarrassed to speak about them. We should be able to reach them without magical keys or devilish guides. Better angels have shown us the way.
Over the last century or so, as medical advancements have revolutionized birth and as women started writing and publishing with greater frequency, a remarkable body of work has grown up around motherhood.  In novels, poems, memoirs, academic studies and self-help books, motherhood became a topic of sustained, widespread, and rigorous examination for perhaps the first time in history.
Despite the rich and nuanced accounts developed in such books, however, many old biases and taboos have persisted. Motherhood is still associated more with mind-numbing tedium than with civilizational genius. It's a career-ending subject, a Pulitzer Prize-winning author once candidly warned me, lowering her voice to a whisper.
The whole institution is backward—an irritating affront to those without children or an obstacle to women's freedom—rather than a future-oriented shared cultural practice that a range of people could be invested in.
To top it off, motherhood remains out there; it's weird. As Rachel Cusk observed in her 2001 memoir A Life's Work: On Becoming a Mother, the books on childcare remain shelved at "the far end of recorded human experience, just past diet books and just before astrology."
Irish novelist Anne Enright so begins her brilliant, wry memoir about motherhood, in a chapter tellingly entitled "Apologies All Round."
So why does motherhood remain so off limits? What about the subject makes it simultaneously so risky that in broaching it one's career is hung in the balance, and so minor that it barely deserves mention? These seem worthy questions to ask this Mother's Day, at a time when mothers are experiencing high levels of symptoms associated with acute stress disorder and the issues they wrestle with daily—pregnancy, childbirth, health care, food, education, and housing—deserve the attention of our greatest minds.
Across the globe, mothers birth around 385,000 babies a day. The coming into being and survival of these people depend on the skill, stamina, sacrifice, energy, and profound creativity of many people—fathers, doctors, nurses, family members, neighbors, researchers, teachers, childcare providers, and more. But down to this day, mothers more than any other group assume responsibility for this work. That this labor should be more equitably distributed across populations does not undermine the idea that this work and the people who do it deserve our attention.
But the public conversation is hamstrung by apologetics. "Sorry. Sorry. Sorry. Sorry." Irish novelist Anne Enright so begins her brilliant, wry memoir about motherhood, in a chapter tellingly entitled "Apologies All Round." She apologizes for her insides and for being so ordinary, for joining the ranks of the smug and astonished. She fabricates the breaking headline: "MARRIED WOMAN HAS CHILDREN IN THE SUBURBS" and admits that "it's not exactly a call to arms."
But the arrival of new lives should be a call to action, if not to arms. As a pregnant Mary Wollstonecraft wrote, shortly before giving birth in the spring of 1794, with the French Revolution and a bloody guillotine as her immediate backdrop, "Liberty with maternal wing, seems to be soaring to regions far above vulgar annoyance, promising to shelter all mankind." The governments of the future would be more like mothers, she prophesied, caring lovingly for their children.
But in 2023, it is increasingly hard to imagine what Mary Wollstonecraft imagined: a political world that takes its inspiration from the work that mothers do—creating, sustaining, educating, feeding, protecting, and nurturing life itself.
We do, however, have rich, alternative accounts that depict mothers without caution, embarrassment, evasion, or apologetics, and they should be widely known.
Toni Morrison, a writer whose books top the lists of the most banned books in America, described becoming a mother not as the reluctant acceptance of an embarrassing role she'd been assigned by some powerful man; it was, she asserted, the "the most liberating thing that ever happened to me."
Mothering her two sons was as important to her as her Nobel Prize winning creative work; it involved a deep, moral, intellectual, and embodied engagement with the complexity of our human and creaturely reality. She had devoured classics by Mark Twain, Leo Tolstoy, Fyodor Dostoyevsky, Virginia Woolf, James Baldwin, Jane Austen, Zora Neale Hurston, and so many others, appreciating their literary excellence, but she also perceived and depicted the cultural brilliance of mothers.
"You," Morrison wrote, describing the women she had grown up among, "were the rim of the world—its beginning. Primary. In the first shadow the new sun threw, you carried inside you all there was of startled and startling life."
What Morrison understood is that motherhood, long criticized as a standard-bearer of a normative, cultural script, goes against many mainstream American values, such as individualism, careerism, self-preservation, efficiency, and the accumulation of capital. And mothers have long been associated more with the underside of culture—with human filth and degeneracy—than with its dominant strata, despite long-standing expressions of mother-veneration.
The "word for mother and mud," Adrienne Rich observed in her landmark book Of Woman Born: Motherhood as Experience and Institution, "are extremely close in many languages." She noted that mud is "earth, slime, the matter of which the planet is composed, the dust or clay of which 'man' is built." And down to this day, "mother" in English refers not only to a birthing or caretaking person, but to the bacteria filled substance that grows on a fermenting liquid.
These aren't associations most of us seek out—slime, mud, bacteria, fermentation. The stereotypes embedded in our languages—of women with the earth, of mothers with decay—seems to provide a valid occasion for either critique or sentimental cover-up. But perhaps, as we veer closer and closer to environmental collapse, the instinct to evade these stereotypes should itself be examined.
Why is being associated with the earth such a bad thing?  Could the human desire to disassociate our species from the soil be just as bad if not worse than closely identifying with that messy, earthly pit?
In a public culture that competitively prizes the exceptions, trend-setters, and self-aggrandizers, the ordinariness of mothers and experiences like taking care of other people has become a little retrograde.
And I can't escape the feeling that our failure to attend to the full richness and complexity of motherhood, to meet mothers with the full force of our intellects, is not just an imaginative or moral failure in the twenty-first century. It is also a political failure. It is inseparable from the erosion of democratic norms and the discrediting of the idea that aspects of the human condition can be and must be shared.
Motherhood is democratic in that mothers are part of every person's ancestry, however fraught or riddled by absences. Mothering is very much about the demos; it is an ordinary experience associated with ordinary people doings things for other ordinary people. In a public culture that competitively prizes the exceptions, trend-setters, and self-aggrandizers, the ordinariness of mothers and experiences like taking care of other people has become a little retrograde. That represents a crisis for any democracy.
As recent Pew data has shown, close to 90 percent of American parents describe being a parent as either the single-most important or one of the most important aspects of their personhood. In any democracy, the greatest priorities, values, and self-conceptions of vast swaths of the population should be expressible in the public realm and reflected in its policies.
As Hannah Arendt also perceived, in the ordinary act of birth is an extraordinary aspect of our humanity: our ability to act together to create and begin new things, a capacity that is integral to participatory democratic life and that is annihilated in the deadly machinery of totalitarian power.  Although she never had children and wasn't a mother, Arendt was deeply interested in the birth of the next generations.
In the wake of the Holocaust, she emphasized natality as a being toward birth that resisted totalitarian paralysis and nihilism and that expressed a "shocked wonder at the miracle of Being." The next generations, she believed, would be the miracles that save the world "from its normal, 'natural' ruin." By caring for them we care for the world. Do "we love the world enough to assume responsibility for it," she asked, "and by the same token save it from that ruin which, except for renewal, except for the coming of the new and young, would be inevitable."
I like to think there's still time to descend Goethe's stairs and to descend into that realm of the Mothers—to perceive in its ordinary "wastes and solitude" what's become so obscured that we barely can see it: the extraordinary and fragile phenomena of life itself.
I like to imagine that a great cultural tradition could continue to grow up, like a cathedral in our midst, testifying to the courage, intelligence, hardships, and skill of the people who birthed and cultivated life against all odds when the world appeared to be ending. Future generations would look back and see a vital, rich, and imaginative flowering and say: they had mothers, and they thought about them.
 __________________________________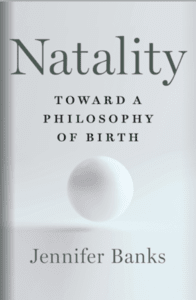 Jennifer Banks is the author of Natality: Toward a Philosophy of Birth, available now from W.W. Norton. 
---