The Wild Weird World of American Roadside Attractions
From "Real" Mermaids in Florida to the World's Largest Ball of Twine
One of the earliest and most beloved roadside attractions is the famous Mystery Spot located near Santa Cruz, California. According to legend, in 1939 a handyman named George Prather went out for a walk in some woods near Highway 17 one afternoon when he began to feel slightly dizzy. Checking his compass, Prather watched dumbfounded as the arrow inexplicably spun about. He soon discovered other anomalies in the area. Prather was fascinated—and thought others would be as well. He purchased a three-acre parcel of the land, then built a shack on the side of what came to be known as a "gravity hill." For a small fee, Prather led visitors out to the shack, where balls appeared to roll uphill and guests could lean far out over their feet without falling over, seemingly defying the laws of physics. After being featured in a 1948 issue of Life magazine and later on the television show You Asked for It, the Mystery Spot began to draw hordes of fascinated tourists from around the world.
Years later, the mind-boggling phenomena were attributed to Prather's own cockeyed perspective—he'd simply built a tilted house. The structure's imperceptible slant and lack of a visible horizon throw off visitors' ability to correctly perceive what is truly level. Yet the Mystery Spot's intriguing illusions continue to amaze visitors, and it remains open to this day. 
Well south of the Mystery Spot, travelers since 1969 have been tempted to discover The Thing near Texas Canyon, Arizona. The attraction is hard to miss. Motorists are confronted with, by one estimate, as many as 247 billboards touting the mysterious "MacGuffin" along the highways between Phoenix, Tucson, and El Paso. In the interest of keeping the secret, I won't divulge exactly what The Thing is except to say that the exhibit was originally created by a man known for peddling faux shrunken heads, mermaids, and other biological oddities as sideshow attractions.
To see a "real" mermaid in the flesh, motorists needed to head much farther east, to Florida. There, in tiny Weeki Wachee, a former stunt swimmer named Newt Perry established his famous Mermaid Shows in 1947 in hopes of netting travelers heading south to destinations like Fort Lauderdale and Miami. Those who stopped were treated to an underwater ballet performed in a natural spring pool by beautiful women dressed in fetching fish tail costumes. Elvis Presley and Esther Williams are among the many luminaries who attended a performance. You can too. Even today, the shows remain an immensely popular attraction.
It didn't take anything as exotic as sultry, slippery sirens to lure travelers headed west along desolate I-90 to Mount Rushmore. All it took was the promise of free ice water. With few other places for motorists to stop, the offer, now posted on billboards for hundreds of miles in both directions, was sufficient to turn Ted Hustead's humble small-town drugstore into a bustling cowboy-themed megamall. Since Hustead's wife, Dorothy, first conceived the free water promotion in 1941, Wall Drug has evolved into what is likely the nation's most famous roadside attraction, drawing two million thirsty visitors to a remote South Dakota town each year.
Perhaps nowhere else in America did businesses work harder—or show more creativity—in enticing motorists to pull over than along the famous Route 66, stretching from Chicago to the West Coast. Traffic along the highway was often seasonal and sporadic. To survive, businesses that lined the route had to try every means possible to get motorists to stop and spend their money. The most obvious of these tactics were the colossal fiberglass "people attractors": giant hotdogs, guns, pies, cow heads, ice cream cones, and other items associated with the goods each proprietor was hawking.
Before long, the buildings themselves took on attention-getting shapes. Restaurants morphed into gigantic shoes, sombreros, and UFOs. Diners were served in retired trolley cars, cabooses, and airplanes. Motels assumed the appearance of log cabins, alpine cottages, and, of course, Indian-style teepees. At the Wigwam Village chain's peak, seven of Frank Redford's unique roadside inns lined Route 66.
"Six parties around the country have laid claim to possessing the World's Largest Frying Pan."
Other oddities appeared as well. Along the highway in Catoosa, Oklahoma, motorists were amazed to come across a beached blue whale. More than 80 feet long and sporting a friendly smile, the whale sits in a small watering hole, inviting overheated travelers to take a quick dip. Interestingly, the whale wasn't originally built as a tourist attraction. It was a wedding present constructed by a man named Hugh Davis for his bride, Zelta, and intended for use by their family only.
A little farther along Route 66 in Tulsa, road trippers ran into the Golden Driller, a towering brass-toned oilman wearing a hard hat built in 1952 to tout the area's good fortune as the "oil capital of the world." A newer, even taller, and bare-chested version replaced the original in 1966. At 75 feet in height, it's one of the tallest freestanding statues in the United States—so tall he requires an actual retired oil derrick on which to support his gloved right hand.
Of course, it wasn't just the cities and businesses along Route 66 vying for the attention of motorists. Outlandish oversize objects could be found beside highways all over America. The World's Largest Catsup Bottle awaited tourists in Collinsville, Illinois, and the World's Largest Light Bulb became a beacon for visitors to Edison, New Jersey, home of the inventor's Menlo Park Laboratory. Honoring its hometown's rich automotive history, the World's Largest Tire (80 feet tall) can be seen near the Detroit Metro Airport.
For years, there was a running duel between two parties for the title of World's Largest Ball of Twine. The ball got rolling . . . er, winding . . . when a Minnesota farmer named Francis A. Johnson, the son of Senator Magnus Johnson, began tying the ends of spare bits of sisal and coiling them up in 1950. Inspired by newspaper accounts of Johnson's curious, and ever-expanding, creation, Frank Stoeber of Cawker City, Kansas, set to work on his own ball in 1953. Stoeber wound so diligently that he eventually surpassed the size of Johnson's ball despite his later start. In 1973, Stoeber's ball of twine was the first to be recognized by Guinness as the world's largest, measuring in at more than 11 feet in diameter. However, Stoeber's death the following year gave Johnson the opportunity he needed to once again surpass his rival.
After several years of furious winding, Johnson finally succeeded, as confirmed by Guinness in 1979. And Johnson wasn't done. Despite failing health, he continued adding to his enormous orb until finally reaching the end of his string on his death in 1989. Now 12 feet in diameter and weighing 17,400 pounds, Johnson's ball was gifted to the nearby town of Darwin, Minnesota, where it is celebrated exactly as its sole creator left it, housed in a glass-enclosed gazebo in a central park. Unwilling to accept second-class status, however, authorities in Cawker City opted to turn Stoeber's sphere into an ongoing pursuit, setting up the ball in an open-air pavilion where tourists were encouraged to make their own contributions and help reclaim the record. Today the Cawker City version is generally considered the biggest of its kind,(1) at last check measuring in at more than 40 feet in circumference and more than 8 million feet of twine. Johnson's ball remains the largest wound by a single creator.
The competition between the two towns certainly wasn't the only "World's Largest" rivalry. Fittingly, there have been even bigger ones. Six parties around the country have laid claim to possessing the World's Largest Frying Pan. Most are well over 12 feet in diameter and are used to fry eggs or chickens at local fairs. Such skillet braggadocio pales in comparison to the dozens of businesses claiming to be sitting on the World's Largest Chair, each padding its claim to its own advantage. While a lumber store in Binghamton, New York, boasted of building the World's Largest Ladderback Chair, an office supply dealer in Anniston, Alabama, declared that it had created the World's Largest Office Chair—and at least a half-dozen claimants feud over the record for the World's Largest Rocking Chair. You get the idea.
Even harder to keep track of back in the road trip's golden era were all of the World's Largest Animals. Depending on where your journey led you, you might run into the World's Largest buffalo, bull, Holstein cow, turtle, prairie dog, musky, clam, sperm whale, loon, hippo, jackalope, or just about any other animal (real or imaginary). In tiny Enterprise, Alabama, you can still find the World's Largest (and only) Boll Weevil monument, erected by the town after a plague of the insects destroyed surrounding cotton crops, delivering a tough lesson to local farmers on the importance of crop diversification. True story.
1. Incredibly, there are two additional contenders, though their claims to the title are controversial. A ball exhibited in the Ripley's Believe It or Not museum in Branson, Missouri, was certified as the largest by Guinness in 1994. However, rather than traditional brown sisal twine, the Branson ball is composed of lighter
__________________________________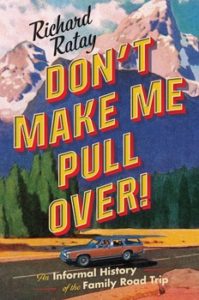 From Don't Make Me Pull Over!. Used with permission of Scribner. Copyright © 2018 by Richard Ratay.
---