The Weather is Now Political
Eric Holthaus on the Social Inequalities at the Heart of the Climate Crisis
In the weeks before the Paris climate summit, a graphic photo of a young Syrian boy—drowned on a beach in Turkey after a harrowing attempt by his family to escape a nightmarish war—overwhelmed the world's senses like a punch to the gut. The moment was a deeply personal, tragic, and urgent slap in the face for those who had been paying little attention to what has become Earth's largest forced mass movement of people since World War II.
Multiple studies have now shown that the Syrian crisis was triggered in part because of the fallout and mismanagement following one of the worst droughts in centuries—linked to shifting rainfall patterns due to a warming planet. Along with the pure and immediate horror that humanized a refugee crisis many people knew of only via statistics, the photo said clearly that it was not just rising seas but also the loss of agricultural areas that might redefine a world where rapidly changing weather conditions are beginning to have profound consequences.
The Pentagon has warned that shifting patterns of droughts, heat waves, and melting ice have already become one of the planet's biggest security threats. In some parts of the world, like Syria, this has helped to spark brutal wars and forced people to permanently abandon the only places they've ever known. The Syrian conflict has driven much of the current round of mass migration, but it also foreshadows something far worse: by the middle of the 21st century, the UN estimates that more than 250 million people worldwide will be forced to move away from environmentally vulnerable parts of the world if nothing changes.
Shortly after the photo of the Syrian boy emerged, Tony de-Brum set the stakes high on behalf of the world's front-line climate nations: "Displacement of populations and destruction of cultural language and tradition is equivalent in our minds to genocide." In the months following Paris, a delegate from Tonga summed up the mindset in the islands from here on out: "In ten years we drown. . . Until then, we work."
This century will unfold astride intertwined planetary and human tipping points. Because the weather is now political, it has generated a social movement. Instead of getting lost in the horror of existential change seemingly beyond their control, people like Selina have helped transform the Marshall Islands, along with other countries on the front lines of the climate emergency, into a place of courage. Selina's speech in Paris also signaled the beginning of a global shift of power: the century's middle decades will be guided by the moral authority of youth and those living at the front lines of climate change—demanding that their voices be heard. For Selina's generation, what's happening is much more than changes in the weather and increasingly persistent tides. It's about working together to create a new world that is more peaceful, prosperous, and fair.
As with all political topics, words matter, and the way we talk about the weather matters now more than ever.
Incontrovertible evidence of human influence on rainfall, temperature, sea level, and cloud cover means that our daily experience of being alive on our planet is now different than it has been throughout the entirety of the hundreds of thousands of years of modern human existence, and is being actively mediated by people in power. That daily reality—and the continued ability of humanity to thrive on this planet—is now subject to the choices we make as individuals, as communities, and as a broader society. Since weather affects almost everything we do, everything from food production to transportation to public health to the very viability of our cities, the fact that human activities are fundamentally changing how the weather operates will create winners and losers. Weather is, more than ever before, a matter of social justice. The atmosphere is now both a weapon and a source of life, and the way we talk about our new shared reality will either empower the communities who stand to lose everything or risk further tilting the scale in favor of the people who will profit from continued business as usual.
As with all political topics, words matter, and the way we talk about the weather matters now more than ever. International politics has long thought of climate migrants as a problem to be managed, not as a civil rights crisis, stripping families of their humanity during a vulnerable time. There still is, officially, no such legal thing as a "climate change refugee"—the United Nations does not recognize the atmosphere or the environment as an entity that can inflict harm that would qualify a person for refugee status.
__________________________________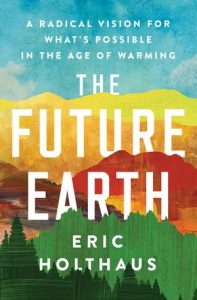 Excerpted from The Future Earth by Eric Holthaus, reprinted with permission from HarperOne an imprint of HarperCollins Publishers. Copyright © 2020.
---