The Truth Behind the Poetry: On the Facts and Myths of the American Revolution's Early Days
Bob Thompson on Paul Revere's Ride and What Came Next
At the start of the American Revolutionary War, there was only one place Boston could be attacked by land. It was called Boston Neck or just "the Neck," and it was among the most significant chunks of revolutionary real estate in Massachusetts. To follow the action when shooting broke out in April 1775, you need to know how the Neck dictated the starting point for Paul Revere's famous ride, not to mention the route the British Regulars would take on the way to Lexington and Concord.
It would also be nice to go see what the Neck looked like in April 1775, but you can't. Here's why:
From the time of its founding through the eighteenth century, Boston was a virtual island. If you wanted to enter or leave without getting in a boat, your only option was a 120-foot-wide isthmus that connected the south end of town to the mainland. It was the Neck at which the military governor of Massachusetts, Thomas Gage, began to beef up British defenses on September 3, 1774, one day after hordes of musket-bearing men had filled roads to Cambridge during a Lexington-Concord dress rehearsal known as the Powder Alarm.
And it was the Neck that Revere needed to avoid the following spring. In the nineteenth century, however, massive landfill projects more than doubled the size of the city and radically reshaped its shoreline. Back Bay, which used to be a real bay that rose and fell with the tides, became a fashionable urban neighborhood. And the Neck, with huge tracts of filled land on either side, essentially disappeared.
I thought I'd look at what remained anyway.
Walking down Washington Street in modern Boston's South End, as instructed, I came to a nice little ballpark called Luis Tiant Field. Between street and field stood a long, low sculpture, five feet high at its crest, with one side covered in sea-blue tiles and the other in planted earth. LandWave, it was called, and the Neck had been its inspiration, though I could make out no reference to the Revolution. Later, I would learn, it was condemned as "a dangerous playground for skateboarders and climbing kids" and removed.
Oh well. My next Boston stop would reconnect me with Joseph Warren, a man who understood that on April 18, 1775, geography was destiny.
A thirty-three-year-old widower with a thriving medical practice, Warren was charismatic, ambitious, and fiercely committed to colonial liberty. Had he not died young, his admirers believe, he would have achieved Founding Father status. He was also the highest-ranking resistance leader in Boston on April 18—most others, fearing arrest, had left town—and he knew how dramatically the world had changed in the seven months since he and his colleagues had tried to rein in the Powder Alarm because they weren't ready for war.
During those months, Massachusetts courts continued to be closed, and Massachusetts counties passed resolutions that foreshadowed the Declaration of Independence. The colony also created an illegal shadow government, the Provincial Congress, which started collecting taxes, stockpiling arms, and reshaping its militia into a force that might someday resemble an army.
Meanwhile, the Crown's position hardened. Contemptuously underestimating the strength of the opposition, one of Gage's London bosses demanded that the governor do something right now—using his own best judgment, of course.
Thanks, pal.
Hand forced, Gage decided to send hundreds of red-coated troops on a supposedly secret mission into the countryside. It's hard to imagine him not knowing that he risked war by doing this. It's equally hard to imagine Warren not knowing that he risked war by sending out messengers to warn that the Regulars were coming.
His first move was to send a tanner named William Dawes to try the land route through Boston Neck. Then, needing a Plan B—what if Dawes got turned back by the guard?—Warren sent for Paul Revere.
They met at Warren's rented house on Hanover Street, which doubled as the doctor's medical office. No trace of it remains, unless you include the fact that City Hall Plaza, one of the ugliest urban redevelopment projects ever built, sits on the ashes of a neighborhood that took its name from William Scollay, the brother of Warren's fiancée.
Revere was the son of a French immigrant (original name: Rivoire) who had married a Yankee woman, and he was one of the best-connected men in town. A skilled artisan, primarily a silversmith, he was "a great joiner" who "knew everyone and moved in many different circles," as historian David Hackett Fischer put it, thus helping "link one group to another." He was also "supremely good at getting things done" and was often asked to carry important news to liberty-minded contacts as far away as Philadelphia.
The task Warren assigned to Revere and Dawes on April 18 was the same: Ride to Lexington and warn Samuel Adams and John Hancock that British troops were headed their way. The doctor didn't know the Regulars were after the two most important opposition leaders in Massachusetts, but he didn't want to risk Adams and Hancock being surprised in their beds. Plan A, as we've seen, was Dawes trying to make his way past the guards at the Neck. Plan B, which Warren and Revere activated at Warren's house around 9 or 10 p.m., was even riskier. Two friends would row Revere to Charlestown, across the mouth of the Charles River from his home in the North End, without attracting the notice of a British warship anchored directly in their path. If he made it, colleagues there would have a fast horse waiting for him.
There was a Plan C as well, arranged by Revere and those Charlestown colleagues two days earlier. As everyone knows, it involved signal lanterns and the Old North Church, a fifteen-minute walk from City Hall Plaza, much of it along Boston's famed Freedom Trail.
A few hundred yards into the North End, I found myself at the brown, clapboard-covered house where Revere had lived. Its revamped visitor center was still under construction, so I didn't linger. Then I came to another Revere site that was both wonderful and unexpected.
Until 1861, Revere was a regional hero, not a national one. But when one of the most popular poets in American history took an interest in him, he went permanently viral.
Being a twenty-first-century American, I had seen the name "Paul Revere Mall" on a map and assumed it had something to do with shopping. But "mall" can also mean "sheltered walk or promenade," and here it was—a long brick walkway with a crowd-pleasing statue of the Midnight Rider on one end and the elegant steeple of the Old North Church rising above the other.
Between statue and church, embedded in a high brick wall, was a treasure trove of 1930s-era historical markers designed to exalt the neighborhood and mesmerize history obsessives like me. Dozens of North Enders who helped make Boston "the pride of later generations" are celebrated, among them Ann Pollard, who came ashore with the Puritans in 1630 to find her new home "covered with blueberries."
The mall's namesake is honored with a few lines from the poem that begins "Listen, my children, and you shall hear / Of the midnight ride of Paul Revere." Cobbled together from Henry Wadsworth Longfellow's much longer original, they describe what happened after someone climbed the steep stairs inside the church to send a signal to Charlestown about which way the British were coming—by land, across Boston Neck (in which case one lantern would be lit), or by sea, in boats launched from Boston Common (in which case two lanterns would be displayed):
On the opposite shore walked Paul Revere . . .
A glimmer and then a gleam of light! . . .
A second lamp in the belfry burns! . . .
And so through the night went his cry of alarm
To every Middlesex village and farm.
The first thing to say about this poem is that it isn't true. Well before he got in that boat to be rowed past that warship, more of Revere's friends, at his request, had lit those two lanterns in the church's highest window. They already knew which way the troops were going; the point was to let the folks in Charlestown know, so they could have a horse ready—and, by the way, start spreading the word themselves.
The second thing to say about "Paul Revere's Ride"—which is full of such errors—is that without it, few of us would know Revere's name today.
Until 1861, Revere was a regional hero, not a national one. But when one of the most popular poets in American history took an interest in him, he went permanently viral. Writing on the eve of the Civil War, Longfellow wasn't striving for historical accuracy. He intended his poem, Fischer wrote, as "a call to arms for a new American generation, in another moment of peril," as well as an argument "that one man alone could make a difference, by his services to a great and noble cause." That cause, historian Jill Lepore has noted, was not only preserving the Union but ending slavery.
It's not that he didn't do any Revere research at all. For poetic purposes, he ascended to the steeple window of Old North Church, startling pigeons as he climbed. I would have followed suit, except that tours no longer went all the way to the top. So I stood outside and admired the steeple for a while—it's not original, having been blown down twice in storms—then walked across the Charlestown Bridge to see if I could find the spot where Revere's brave oarsmen dropped him off.
Sure enough, in an isolated corner of waterfront not far from the USS Constitution, a marker with a hokey painting of Revere standing up in a boat notes that he landed "near here," walked "a short distance" into town, and got on a horse. Just after midnight, he would gallop up to the Lexington parsonage where John Hancock and Sam Adams were staying and find at least nine militiamen already on guard.
They had been alerted hours before that something might be up.
_________________________________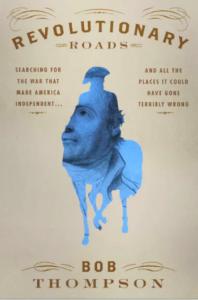 Excerpted from REVOLUTIONARY ROADS: Searching for the War That Made America Independent…  and All the Places It Could Have Gone Terribly Wrong ©2023 Bob Thompson and reprinted by permission from Twelve Books/Hachette Book Group.
---