The Top 10 Most Totally Metal
Books of 2020
Bookseller Extraordinaire Keaton Patterson Pairs Great Books
With Serious Music
There is no other way to put it. From authoritarianism, murder, riots, and even a bona fide plague, 2020 has been one of the darkest years I have ever experienced. One way I have tried to cope is by immersing myself into horrifying and macabre literature, as well as moving deeper into my love of heavy metal. That's just the kind of guy I am. But why horror, you ask? Why heavy metal? Why in this year of all godforsaken times? And I answer, exactly because of the times. Horror. Crime.
Explorations of the dark side of society and ourselves are always the easiest way to gauge the hopes and fears of a people. Horror is a mirror. The underworld is the negative image of the world in which we tell ourselves we live. But in 2020, it seems like all those fears have bled over into reality. And now we are all in need of an exorcism. Thankfully, books and music can save our souls—by forcing us to confront and deal with the horrors we have created for ourselves. And as for metal? Of course, from the very beginning of the genre, heavy metal has been thoroughly influenced by horror.
For instance, Black Sabbath—the undisputed creators of metal—took their name from a movie about Satanic cults (still considered very real in the second half of the 20th century). Furthermore, metal has proven itself one of the most literary genres in all of music. Countless albums have been influenced by and conceptualized after everything from the works of HP Lovecraft to Moby Dick. So, I thought it best to summarize this year with a literary/metal pairing for y'all. So here are the top ten most totally metal books I read this year, along with the perfect listening accompaniment for the adventurous. Enjoy and rock on! I'll see y'all on the other side.
*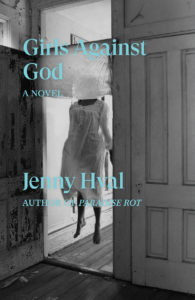 Jenny Hval, Girls Against God
(Verso Fiction)
The multi-talented Hval returns with her second novel—a chaotic, twisted descent into the worlds of witchcraft, feminism and black metal! When a young girl can no longer control the hatred she feels towards the provincial, Christian, patriarchal norms of polite Norwegian society, she does what any disaffected youth would do. She starts a band… and a coven.
Metal Pairing: Darkthrone, "A Blaze in the Northern Sky"
Hval's narrator namechecks these legends repeatedly in Girls Against God as influences for both their sonic attack, misanthropy and DIY aesthetic. This 90s black metal classic is also the perfect introduction to a sound and scene that eventually led to a spate of church burnings and murders in Norway. The darkness here is very real.
*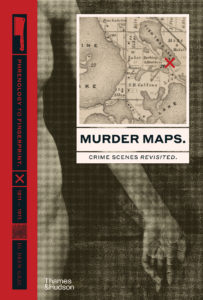 Dr. Drew Gray, Murder Maps
Featuring detailed backstories of the participants, historical overviews of evolving detective methods, and yes, killer cartography, this is the perfect encyclopedic reference guide for lovers of the macabre and true crime! Through profiles of murder celebs like Lizzie Borden, to everyday thugs and perpetrators of crimes of passion, you'll learn more about murder than you ever knew you wanted!
Metal Pairing: The Black Dahlia Murder, "Verminous"
The latest album from these melodic death metal titans is a fitting pairing. Not only does their very name reference one of America's most notorious unsolved murders, their highly technical approach to a genre known for its brutality mirrors the meticulous attention Dr. Gray gives to each of the murders he explores.
*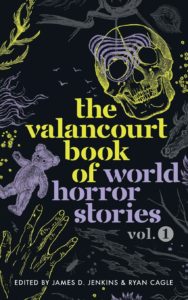 The Valancourt Book of World Horror Stories, V1
(Valancourt Books)
Valancourt's momentous anthology of horror stories has only just been released. But it is already safe to say that this incredibly small indie press has put together the most inclusive and far-reaching collection of horror ever put between covers. I can't wait!
Metal Pairing: Sepultura, "Roots"
The Brazilian legends created something entirely new in metal when they incorporated instrumentation and singing by the native tribes of their jungle-bound home country to this absolutely crushing album. Like the Valancourt anthology, this album is not only entertaining but also has real anthropological value.
*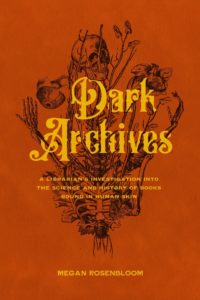 Megan Rosenbloom, Dark Archives
(Farrar, Straus & Giroux)
What else can I say about this amazing and disturbing book other than that it's about the horrifying history of books bound in human flesh? Yes, just like the Necronomicon in Evil Dead. I guess we also now know that librarians like Rosenbloom are metal AF!
Metal Pairing: Bathory, "Bathory"
As with Dark Archives, there isn't much left to say about this incredibly influential album. Totally home recorded by a teenager in his bedroom, Bathory opened up dark gateways in metal that will never be closed. More extreme forms of metal—like death, black and Viking—would be unthinkable without it.
*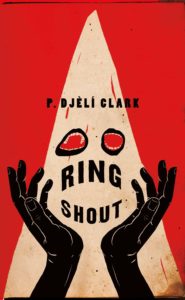 P Djèlí Clark, Ring Shout
(Tor Books)
While Lovecraft Country is getting the HBO bump this year as a groundbreaking imaginative fusion of Lovecraftian horror and Black Lives Matter social commentary, it doesn't come close to this historical anti-racist revenge fantasy. Set in the 1920s, Clark's slender and propulsive novel follows a band of Black freedom fighters as they wage guerilla war against the KKK. Only when these Klansmen are disrobed, they are exposed as literal monstrosities of whiteness. There is also a fiery demon-slaying sword enchanted with the vengeful souls of dead slaves.
Metal Pairing: Napalm Death, "From Enslavement to Obliteration"
For 40+ years, the grindcore progenitors of Napalm Death have been advancing their anti-racist, anti-fascist, anti-capitalist views in as extreme a manner as possible. This is music as brutal and ugly as the world we have made, but always shot through with a message of hope and resistance. For both ND and Clark, the only hope for change is through our direct involvement and action.
*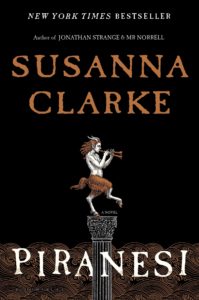 Susanna Clarke, Piranesi
(Bloomsbury Publishing)
The author of Johnathan Strange and Mr. Norrell returns with this mind-bending dark fantasy! The narrator of Piranesi, who may or may not be named Piranesi, wanders the ever-changing halls of a mysterious house filled with statues, rooms and meanings just beyond comprehension. A feat of pure imagination and storytelling, with Piranesi, Clarke proves herself a master of the otherworldly.
Metal Pairing: Mercyful Fate, "Don't Break the Oath"
The second album from these occult Danish rockers, like Piranesi, exists in a realm all its own. The very guitar solos, drumbeats and especially King Diamond's haunting, multi-octave voice seem filled with magic, evil and the feeling of pure power derived from the act of creation. You will find such extraordinary things therein, but it may cost your soul!
*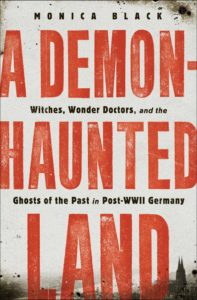 Monica Black, A Demon-Haunted Land
(Metropolitan Books)
This is quite simply the most interesting and creepy history book I came across this year. Black explores a little-known period following WWII, when a supernatural panic gripped various regions of defeated Germany. Accounts of witchcraft and demonic possessions surged. Mass hysteria reigned. Neighbor turned on neighbor, leading to very real murders. A vivid and unique look at the seduction of superstition during times of extreme uncertainty.
Metal Pairing: Kreator, "Terrible Certainty"
In the 80s, German thrash metal proved harder-edged than their American counterparts, like Metallica and even Slayer. Case in point—Kreator. Vicious and unrelenting riffs underlie lyrics intertwining occultism, war and the general ills of the world. Hard to imagine now, but this music was actually feared in the days of East/West Germany. But it still undeniably rocks!
*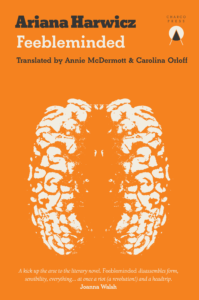 Ariana Harwicz, Feebleminded
(Charco Press)
My buddy Mark put this book in my hand saying only, "This is death metal literature." And—while intrigued—I couldn't comprehend then just how accurate that description would be. Harwicz takes us on a deep dive into a mind of unfettered madness and obsession. Featuring one of the creepiest mother/daughter relationships ever and ultra-visceral prose, this Argentinian shocker is not for the faint of heart. You have been warned.
Metal Pairing: Vastum, "Hole Below"
This Bay Area death metal collective is unique among the genre. Vastum is a multi-racial, coed collective culled from other bands in their area. And like Harwicz's writing, their twisted compositions explore dark erotic themes laced with violence and even elements of French psychoanalytical thought. You know, the thinking person's death metal.
*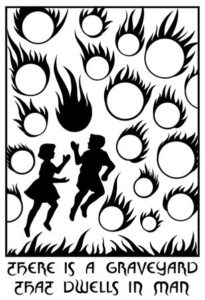 David Tibet, ed., There is a Graveyard That Dwells in Man
(Strange Attractor Press)
Another amazing collection of occult and "strange" stories. This curated anthology focuses on a wide swath of literary arcana selected from luminaries like Thomas Ligotti and Edith Wharton down to long-forgotten scriveners of the supernatural. Also, winner of most metal title and cover of the year!
Metal Pairing: Paradise Lost, "Obsidian"
The latest album from Paradise Lost is another magisterial amalgamation of gothic rock and doom/death metal. As with the stories in There is a Graveyard…, it is at once beautiful and terrifying. The perfect soundtrack for walking through the darkened streets of Victorian London or Arkham, Massachusetts.
*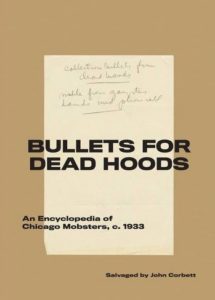 John Corbett ("salvaged by"), Bullets for Dead Hoods
(Soberscove Press)
Found on the dusty shelves of a thrift store in Chicago, this anonymous work profiles dozens of gangsters and shady characters of the Windy City in the early part of the 20th century. Who wrote it? The FBI? An undercover snitch? Someone from one of the powerful gangs of the era? No one knows, and it is all the more awesome and metal for it! From Scarface himself to run-of-the-mill street thugs with memorable nicknames, this unique book provides unprecedented insight into the criminal underworld. Very limited!
Metal Pairing: Body Count, "Body Count"
When pioneering gangsta rapper Ice-T formed a metal group in the early 90s, people thought it was a publicity stunt. But Body Count became instantly infamous for their banned song, "Cop Killer," and their hardcore stories of life and death on the mean streets. As with the profiles in Bullets for Dead Hoods, Body Count provides an eye-level encounter with the experiences of impoverished Black Americans living with crime, violence and police corruption on a daily basis, as well as offering a voice of pure rage to the voiceless.
*
Further Metal Reading (because this one goes to 11!):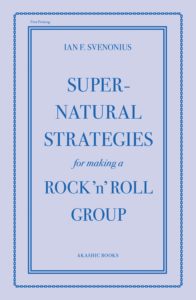 Ian F. Svenonius, Supernatural Strategies for Making a Rock 'n' Roll Group
(Akashic Books)
This one-stop, pocket-sized guide from the Nation of Ulysses frontman has everything you need to get started rocking—including ritualistic spells to assure your success! \m/
DEATH TO FALSE LITERATURE!!!!!!
---