The Stumbles and Obsessions on Jeff Bezos' Awkward Journey to Hollywood
Dade Hayes and Dawn Chmielewski on the "Data-Driven" Approach to Film and TV
In January 2015, while still basking in the glow of the industry's acclaim, Amazon acquired its first original movie, Spike Lee's Chi-Raq, about violence on the South Side of Chicago. It was the first of a dozen modestly priced indie movies Amazon Studio's Roy Price planned to acquire in hopes of grabbing the attention of filmmakers and convincing them to take their projects to a company still thought of as an online bookstore.
One film picked up at the Sundance Film Festival, Manchester by the Sea, starring Casey Affleck as a man who is forced to return home to care for his sixteen-year-old nephew after the death of his brother, would achieve another milestone for Amazon Prime Video. Released in theaters and on the streaming service in 2016, it won Oscars for Affleck and director Kenneth Lonergan, who was awarded best original screenplay—a first for a streaming service.
As Amazon's head of marketing and distribution from 2015 to 2019, Bob Berney helped build out the film strategy, drawing upon his decades of experience in exhibition, distribution, and marketing. "I was able to push the event status of theatrical," said Berney, an Oklahoma native whose gentle reserve belies a zeal for what he champions onscreen. "It was a new business for them, but they really did let me and my team do the job and try it."
The experience of plying his trade in a tech environment proved helpful to Picturehouse, the distribution label he subsequently ran with his wife, Jeanne, Berney said. But it felt like a constant adjustment to adopt the customer focus that preoccupied everyone at Amazon. "We would do things like post a new trailer for a movie on the website a couple of months before it was coming out. You know, just a routine part of how you normally promote," he recalled. "People would write in the comments, 'Why did you put this here if I can't buy it?!' It really opened my eyes. Everything is totally about the consumer experience."
Bezos, who established Amazon's obsessive focus on customers, also understood the importance of generating old-fashioned word of mouth. He was drafted to participate in the Oscar campaign for Manchester, hosting a party at his twelve-thousand-square-foot Spanish-style estate in Beverly Hills. He amiably worked the crowd gathered in his vast tented yard, which included such A-listers as Faye Dunaway, Diane Keaton, Matt Damon, Megan Mullally, and Kate Beckinsale.
The billionaire had attended the Golden Globes before, even getting lampooned in Jimmy Fallon's opening monologue, but this event elevated his stature in the industry. One veteran filmmaker recognized the opulent bash for what it was—a sign of the billionaire's gathering Hollywood ambitions. "Bezos is the next incarnation of Lew Wasserman," the filmmaker observed to Deadline columnist Peter Bart, in reference to the legendary media mogul who was considered the most powerful figures of his time, with influence far beyond Hollywood.
The Amazon founder became increasingly engaged in seizing the opportunities in film and television, doubling the company's spending on Amazon Prime Video from an estimated $2 billion in 2014 to nearly $4.5 billion by 2017. As the investment grew, so too did the pressure on Price and his team to deliver a mainstream hit. They placed a bold bet on The Man in the High Castle, spending $72 million to produce and market a series adapted from Philip K. Dick's provocative novel of the same name. It imagines an alternative history of World War II in which Adolph Hitler drops the atomic bomb on Washington and the Axis powers emerge victorious, partitioning North America into the Greater Nazi Reich in the east and the Japanese Pacific States in the west. The series attracted 8 million viewers in the U.S. in its debut season in 2017 and brought in a mere 1.15 million Prime subscribers worldwide, well short of Bezos's Game of Thrones aspirations.
At a confrontational meeting in Seattle described in Brad Stone's book Amazon Unbound, a frustrated Bezos berated Price for terrible execution and laid out a list of attributes of great storytelling. The twelve characteristics he brainstormed—including the hero's journey, complex world-building, betrayal, and cliffhangers—would hardly surprise even a novice screenwriter. But they served as a checklist for Price and his team, who would provide Bezos with a spreadsheet detailing how each show ticked the boxes (a practice they kept from their creative partners). This formulaic approach hardly insulated Amazon Prime Video from the misfires that followed, which included the forgettable crime series Too Old to Die Young and The Romanoffs, a meandering anthology series from Mad Men's creator, Matthew Weiner, which Slate critic Willa Paskin wrote "continuously puts its worst, least-interesting foot forward."
Data science could make predictions about a show's success based on historical performance— information that would help frame financial risk.
These expensive failures eroded Bezos's support for Price, whom he'd once admired for exemplifying the company's "think big" leadership principles, in Stone's account. An exposé by the Hollywood Reporter's editor-at-large Kim Masters sealed Price's fate. She reported that the Amazon Studios chief had repeatedly propositioned Philip K. Dick's daughter, Isa Hackett, on a taxi ride to an Amazon party following a day of promoting The Man in the High Castle at Comic-Con. Hackett rejected his overtures, reminding him she was a lesbian with a wife and children. She reported the 2015 incident to Amazon, which conducted an investigation but took no disciplinary action against Price. The report, published a week after the New York Times' revelations of sexual misconduct allegations against powerful producer Harvey Weinstein, hastened Price's departure. (Price has maintained that he has an offkilter sense of humor and that the whole matter has resulted from his misinterpreted attempts to make jokes.)
Disney veteran Albert Cheng stepped in as interim chief operating officer of Amazon Studios until Amazon hired NBC Entertainment president Jennifer Salke as head of the studio. Her résumé more closely fit Bezos's mainstream aspirations for the studio: she was an early champion of the blockbuster family drama This Is Us and the critically acclaimed sitcom The Good Place, and worked with megaproducer Dick Wolf to expand his popular Chicago-based dramas, Chicago Fire, Chicago Med, and Chicago PD.
Under her tenure, Amazon Prime Video would see its greatest success with a string of critically acclaimed hits, including The Marvelous Mrs. Maisel, an hour-long comedy about an Upper West Side Jewish divorcée who breaks into stand-up comedy in the 1950s; Fleabag, an adaptation of Phoebe Waller-Bridge's award-winning play about a young woman coping with life in London; Tom Clancy's Jack Ryan, which follows an up-and-coming CIA analyst on a dangerous assignment; and The Boys, a series inspired by Garth Ennis and Darick Robertson's graphic novel of the same name, in which a group of vigilantes set out to take down superheroes who abuse their superpowers. Ironically, all these projects had been developed by Price's team.
"I knew about some of the shows. I obviously had seen Transparent; I also had heard about how great this new show The Marvelous Mrs. Maisel was going to be," Salke said, noting that some of these shows had broken through in the cultural conversation. "But there were still just a lot of question marks in the industry: 'Who are these people?' 'How does this business work if it's just a benefit of Prime?' And 'How do you measure success, and what is it?'" Salke set out to build a reputation for Amazon Studios as a talent-friendly place with big, mainstream ambitions.
MIT-and-Harvard-educated Cheng began to impose the sort of analytic rigor the data-driven Bezos craved. He had left Disney's ABC in 2015 for the opportunity to lay his hands on Amazon's first-party data and explore how such a wealth of direct consumer information could guide content and development decisions. As a retailer focused on serving its customers, Amazon Prime Video could identify distinct audience segments and observe what they watched to determine whether there was enough appealing content to keep them entertained.
Until his arrival, the entertainment team had been green-lighting pitches the old-fashioned way: based on gut intuition. Cheng spent two years rooting around in data to glean insights to guide how much of the studio's entertainment resources to devote to particular projects. As is true with Netflix, analytics wouldn't replace a creative executive's judgment about which pitches and showrunners had the potential to make a hit show. But data science could make predictions about a show's success based on historical performance—information that would help frame financial risk.
Under Salke, Amazon Studios focused on global development, putting into production series from India, Japan, Britain, Germany, Mexico, and elsewhere to fulfill Bezos's vision of Amazon Prime Video as a glittery customer acquisition tool for the Prime subscription service. In markets like Mexico, Prime Video lit up months before Amazon introduced its two-day package delivery. In Brazil, the entertainment service provided one way for Amazon to differentiate its Prime service from domestic competitors like MercadoLibre and B2W Cia. "It's not hard to figure out how the value of this content works on Amazon. You're driving Prime subscribers as we expand internationally," said Salke. "People are coming in [to Amazon] through the content."
__________________________________________________________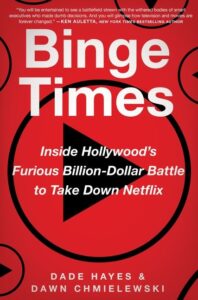 From the book Binge Times: Inside Hollywood's Furious Billion-Dollar Battle to Take Down Netflix. Copyright © 2022 by Dade Hayes and Dawn Chmielewski. Reprinted by permission of William Morrow, an imprint of HarperCollins Publishers.
---