The Strangest Things Are the Truest: Laline Paull on Channeling a Dolphin's Narrative Voice
"We hope and we fear that animals are more like us than we imagine."
I never meant to write a climate trilogy, but with my new novel Pod, I'm forced to acknowledge that I have. The story is based in real animal and environmental biology, where the strangest things are the truest. It's mainly told from the point of view of a young female spinner dolphin forced to survive in an alien bottlenose dolphin culture, but it's a wider story of ocean survival, with a variety of non-human protagonists all sharing one world.
And because cetaceans are known to be so emotionally bonded as to follow one beloved member of their pod to death rather than abandon them, it is easy to call them people. This is immediately contentious, because if you start calling cetaceans people, where do you stop?
We hope and we fear that animals are more like us than we imagine, and vice versa. "Brutish" used to be an insult, but now we are unlikely to associate that word with an animal. Children have no problem seeing animals as friends and other beings, but to get to adulthood we must turn away from our childhood selves. Ob-scene in Greek drama, meant those actions too distressing to portray on stage. What do we hide away from sight these days?  Prisons, abbatoirs, corruption….
When I write from an animal's point of view, as I did in Pod and in my biology-based and hive-set debut novel The Bees, I imagine myself into another form, as fully and physically and emotionally as I can. Perhaps I have never successfully left the child in me behind, and painful as that state can often be, it is has now become a strength. We all need help regaining that part of ourselves that is capable of wonder and empathy and shame-free responses. We are only going to solve our extremely urgent environmental crisis if we allow ourselves to care, with all our hearts.
If you start calling cetaceans people, where do you stop?
Cetaceans, the whales and dolphins, care about each other so much that some species will remain with each other even when to do so means death. Herman Melville in Moby Dick writes about the heartbreaking bonds between hunted whales, and the phenomenon of stranding pods of pilot whales is sometimes attributed to the fact that they would rather stay together to the end.
With the magic of technology, we can now go below the waves to study dolphins and whales, and it's abundantly clear that they enjoy loving relationships, an extraordinary variety of social arrangements, have culture (humpback whale song changes more or less annually around the world, to follow the most popular single song). So we marvel at the godly view of sea-creatures in natural history documentaries, but perhaps don't think so much about the parallel technological advances that allow ever-greater human intereference in the ocean.
What does seismic exploration of the seabed, or the acoustic terrors of the Orwellian-named "war games," mean for the most sensitive hearing of cetaceans, let alone fish? We casually order all sorts of things online that come to us via ship, but don't think of their proliferation, noise, and pollution—or the whales that are struck as they travel on their ancient migratory routes.
And we are only now recognizing industrial fishing as the rapaciously unsustainable force of destruction that it is—and I don't say this glibly. Every second breath we take uses oxygen from the ocean, and if the ocean continues to warm and acidify, if we continue to fish it out, the food web collapses.
I resisted the story of Pod—of real cetacean societies forced into a migration crisis because of a changing ocean they can't understand—because I knew the research would hurt—and it did. I had to deeply investigate what my own species is doing to the ocean and its creatures. I had to understand the biology of every species I wrote about, so that meant spinner dolphins, bottlenose dolphins, humpback whales, pilot whales, the giant Napoleon Wrasse who changes gender according to the needs of the shoal, the puffer fish the bottlenose use to get high, the giant clams who filter pollution, and last but not least, the parasitic remora fish familiar, if not celebrated, in many underwater documentaries, hanging off the body of a far more charismatic host.
For all the hard truths I had to acknowledge to write this story, I discovered extraordinary wonders and magic, not least in the beautiful and documented relationships of whales and dolphins, who most surely know love, friendship, fun, culture, erotic entertainment, surfing, jokes, drug-taking, politics, and even fashion. What was not to absolutely love?
First came the striking difference in the social structures of spinner dolphins and bottlenose dolphins. Spinner dolphin society is matriarchal, the males and the females look more similar, and they have this as yet unexplained and stunningly beautiful culture of spinning.
Bottlenose society is patriarchal, they hold harems, have political male alliances, and as mentioned, sometimes use recreational drugs (puffer-fish venom). They also have strong and sometimes punitive social codes, survive well in captivity, and are found in every ocean except in Antarctic seas. And then, I found out about the use of military dolphins—always bottlenose.
The truth is far stranger and more amazing than anything I could make up—but it's not enough on its own. In 1877 Anna Sewell published Black Beauty, written in her imaginative and emotional outrage at the treatment of London carriage horses. The novel woke the Victorian public to the suffering of horses and led directly to the end of the cruel use of the bearing rein, which forced up carriage horses' heads merely for fashion. I owe Anna Sewell a debt of gratitude for my literary lineage, along with Aesop, Ovid, Kenneth Wind in the Willows Graham, and all those unknown tellers of fairytales and myths, who write of a conscious and responsive natural world.
We are only going to solve our extremely urgent environmental crisis if we allow ourselves to care, with all our hearts.
We are in this present and terrible environmental crisis because of a failure of imagination and empathy, and a veneration of greed—which as soon as it achieves maximum gratification, is held sacred and protected. Things are changing, we are growing up from our raging toddler-state, grabbing and consuming and ignorantly (or callously) destroying the natural world.
I had ducked away from writing about whaling when I wrote my Svalbard-set novel, The Ice, which concerns a naive British businessman's ill-starred involvement in setting up an Arctic conservation retreat. Svalbard was once a whaling center, and there are certain bays there which now teem with fish, but which to this day no whale nor walrus will go. When I went there, again not intending to write a book set there, the tour guide said she could not explain it—but surely it's obvious: ancestral memory. Elephant matriarchs know the ancestral routes to water in times of drought and lead the tribe—to me it made complete sense that animals would know a place of holocaust and avoid it.
I thought I'd got away with it, that I had evaded writing about the pain of whaling. I had no thought of writing another book in which I zoomorphised myself, so on holiday in Mauritius, I agreed to a "swim with the dolphins" dawn excursion. I thought it would be beautiful and wondrous, which it was—until I realized that it wasn't just our boat going out to do that, but every hotel in the vicinity. And that these dolphins were a resident pod, regularly prevented from getting back to their home bay after a night's hunting by a bunch of stupid tourists on boats.
I didn't know this until afterwards, when I had been in the water and the pod had streamed by at top speed all around us, buzzing and clicking in what felt like anger and distress. One glancing blow from any of these massive beautiful animals would have killed me, but they avoided everyone in their way. A mother with her calf rushed past clicking, and for a second, she looked me in the eye and I felt it.
I asked about this pod and was told by the hotel that some time before, there were no bottlenose dolphins in this area, only the spinners. But one day after an oil spill some distance up the coast, the big bottlenose pod arrived here and the smaller pod of spinners left, never to return. My imagination lit up at those words—and my heart felt dread. What an amazing, but what a massively difficult story.
In that moment's flash that maybe other writers know, I felt and saw it all—the love of the pod, the people that made it up—and the tremendous danger all around. The big dark unseen industrial and military energies that move around us. The colossal shipping industry. And that mother dolphin and her calf, trying to get home after a night hunt out in the vast of the ocean. She looked at me, and Pod is how I look back.
__________________________________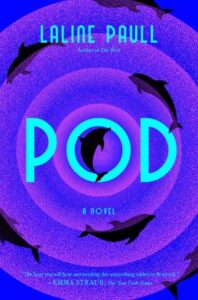 Pod by Laline Paull is available from Pegasus Books.
---