"The Strangest Sense of Freedom." On Jane Eyre and the Power of Narcissism
Josh Cohen Turns His Psychoanalyst's Eye to the Inner Life of an Iconic Character
"Risks to current security and well-being of JE, ten, are of great concern. On her own account, adoptive mother prevents her from interacting with her biological children, keeping her in near-total isolation. Also, strong suggestions of emotional and physical abuse from the eldest of the children, tolerated and even encouraged by mother and household staff. Much discussion of sending her "to school"; we have some concerns that intended institution is likely to exacerbate JE's feelings of emotional and material deprivation. Nonetheless, preference is to leave R household. We were surprised to find that despite neglect and cruelty, presentation was far from passive or lethargic. Ferocious in condemnation of R family and own defense. Resilience and defiance point to good prospects for adult life."
*
The opening of Jane Eyre's autobiographical narrative plunges us into an atmosphere of unrelieved lovelessness and hostility. Growing up in the household of her late uncle Reed, it seems Jane has never known herself other than as an object of resentment and disdain. She is subjected to regular physical assault from her cousin and to enforced isolation and emotional abuse from her aunt.
We might imagine that a child who endures an early life of this kind would internalize the hatred she's received and so become morose and passive in the face of her oppressors. But, in Jane's case, nothing could be further from the truth. She repeatedly risks further punishment with defiant blows and words of her own. Where does she find these resources of inner strength and conviction?
Although she may lack conscious memory of it, Jane came into the world loved and wanted. Rejected by her family for marrying a clergyman they felt was beneath her, her mother was the more determined to make a family of her own; baby Jane's arrival was joyously received. After both her parents succumbed to typhus in her early infancy, Jane was adopted by her uncle, Jane's mother having been "a great favourite with him." As his own death approached, Uncle Reed asked his wife to raise Jane alongside their own children.
Mrs. Reed's resentment at this commitment ended the chain of loving care and began a regime of unrelenting hostility and neglect. But the love of Jane's earliest carers had made its imprint on her mind and implanted in her a belief in her right to life and selfhood.
So when Mr. Brocklehurst, supervisor of Lowood Institution, the school to which Jane will shortly be sent away, visits the Reed home and joins her aunt in excoriating her wickedness and deceit, Jane doesn't assent meekly. After Brocklehurst leaves, she confronts her aunt, accusing her of "miserable cruelty," pitilessness and deceit.
It's not just Jane's words that induce in me, even now, the child's thrill in witnessing righteous resistance to adult injustice, but the description of her state of feeling in letting loose on her aunt:
Ere I had finished this reply, my soul began to expand, to exult, with the strangest sense of freedom, of triumph, I ever felt. It seemed as if an invisible bond had burst, and that I had struggled out into unhoped-for liberty.
Perhaps this passage has such an electric effect on me because it puts me in touch with the same feelings of limitless power that possessed me when I'd imagine felling a bullying classmate or teacher with a single blow of the fist or tongue or both. The embarrassing truth is that it took quite a few years to adjust to a reality in which I wasn't universally loved. The unsentimental candor of Charlotte Brontë's description lies in how far it goes beyond the simple expression of righteous protest; Jane here is a beast of unshackled rage and vengeance, screaming at her aunt in "a savage, high voice."
What Jane brings to Lowood, then, is a ferocious sense of self. The school's response is to pour cold, brackish water on this inner fire. The Lowood section of Jane Eyre (1847) gives us a heightened and dramatic account of the taming of the "savage" ego inflicted by school. Isn't this taming what most of us undergo at school, though mercifully not by the same means?
Jane is worn down largely by the sheer violence and deprivation inflicted by the school. Teachers, routines and material conditions all conspire to break the pride and self-love of its pupils in the name of their "spiritual edification." Lowood pupils are malnourished, fed woefully inadequate portions of burnt or otherwise inedible food. Polluted cooking and drinking water expose them to illness, while the dormitories freeze in winter.
What Jane brings to Lowood is a ferocious sense of self.
Alongside this lack of basic necessities runs a regime of harshness and humiliation. Brocklehurst publicly orders the shearing of girls' hair, preaching a mission "to mortify in these girls the lusts of the flesh; to teach them to clothe themselves with shame-facedness and sobriety, not with braided hair and costly apparel"—even as his own luxuriantly long-haired daughters appear in the room clad in "velvet, silk and furs."
During the same visit, Brocklehurst shames Jane in front of her peers, placing her on a stool before them and drawing on Mrs. Reed's reports of her wickedness to condemn her as "not a member of the true flock, but evidently an interloper and an alien," enjoining pupils to "avoid her company, exclude her from your sports and shut her out from your converse" and teachers to "weigh well her words, scrutinise her actions, punish her body to save her soul."
Shortly after this vicious diatribe, a desolate Jane is comforted by her older friend Helen Burns, and declares her preference to die rather than be consigned to a loveless life:
"to gain some real affection from you, or Miss Temple, or any other whom I truly love, I would willingly submit to have the bone of my arm broken, or to let a bull toss me, or to stand behind a kicking horse, and let it dash its hoof at my chest—"
Helen's response shows us the more subtle and perhaps more effective means of taming Jane's fiery selfhood. She interrupts, saying, "Hush, Jane! . . . you think too much of the love of human beings: you are too impulsive, too vehement." We can see her point. But then again, I hear so much more of myself in Jane's desperation to be loved than in Helen's appeal to quiet endurance.
Based on Brontë's eldest sister, Maria, who suffered a brutal school regime and slow death by consumption with the same stoic grace, Helen has a far more profound effect than the school's torturers on Jane's pride and self-regard. Perpetually victimized by the sadistic Miss Scatcherd, Helen absorbs the blows against her with unsettling equanimity. Miss Scatcherd is fully justified in all her harsh corrective measures against her, insists Helen, for "when I should be listening to Miss Scatcherd and collecting all she says with assiduity, often I lose the very sound of her voice: I fall into a sort of dream."
Although Helen presents Jane with a model of Christian humility and self-abasement, one could say that she's simply learned to manage the hatred and hostility directed against her by internalizing them. Dreaminess in class is not just a simple expression of character, but betrays a prideful over-investment in her inner life, becoming an offense against humility and ultimately to God.
It cannot be a coincidence that Jane, who never really surrenders her self-love, survives the plague of tuberculosis that kills Helen. The vulnerability of Helen's physical defenses is surely a symbolic analogue, if not a direct consequence, of her threadbare psychic defenses. Put another way, we are more prone to life-threatening illness if we don't consider our lives worthy of preservation.
For all that she loves Helen and learns through her to curb her emotional responses, Jane steadfastly resists her ultimate lesson, continuing to place the highest value on her mortal life and on the love of others. Years later, facing her death from hunger and cold after fleeing from Rochester's house, she clings tenaciously to life, preferring to beg at the door of the Riverses' house than to submit meekly to the judgement of her Maker, as Helen had done years previously.
Nor is she willing to rest content within the narrow tramlines of a "respectable" life. Jane's lust for life fills her with an overwhelming desire for the new and unknown. During her years as a teacher at Lo wood, she can assume Miss Temple's qualities of serenity and grace; but the "motive" for maintaining this state of tranquillity dissolves once Miss Temple leaves the school to be married.
Jane's unassuming humility, in other words, lasts only for as long as it's useful to her. Deprived of any motive to stay at Lowood once Miss Temple has left, her "old emotions" return with a vengeance: "I tired of the routine of eight years in one afternoon. I desired liberty; for liberty I gasped; for liberty I uttered a prayer." Jane's psyche is attuned far more acutely to the excitations of life than to the repressive dictates of Calvinist virtue.
Psychoanalysis and Brontë both remind us that narcissism is too complex and rich a phenomenon to be merely a casual insult.
One of the most poignant manifestations of this interior aliveness is her awareness of how she's perceived physically. Every direct or overheard judgement of her plainness is dutifully recorded, a narcissistic wound she works through by staring it straight in the face. She is not, she confesses, without vanity; when Bessie, a former servant in the Reed household, tells the eighteen-year-old Jane that she looks as she would have expected—"you were no beauty as a child"—she responds with a smile at Bessie's candor, but is not thereby "indifferent to its import; at eighteen most people wish to please, and the conviction that they have not an exterior likely to second that desire brings anything but gratification."
This painful awareness of her modest share of physical beauty only heightens her yearning to desire and be desired in return. That Jane's self-love and hunger for the world survive Lowood's regime of hardship and shame must have something to do with that deep-rooted intimacy with her loved infant self. That security means that the constant pressure of conformity is unable to touch that kernel of narcissism in us, which is so liable to run away with itself and yet so necessary if we're to live humanely.
There are surely lessons here for our own age. Social media and the use of self-display as the central currency of our culture have dragged narcissism into our everyday language and conversation. It is an accusation we throw at others (while never seeming to suspect it in ourselves) with alarming frequency these days.
Psychoanalysis and Brontë both remind us that narcissism is too complex and rich a phenomenon to be merely a casual insult. To be sure, there are pathological and damaging forms of narcissism, and we don't have to look far to find them. But Jane's remarkable story of survival and determination underlines the urge to the preservation, nurturing and, yes, the love of one's self as an essential feature of a healthy and satisfying inner life.
__________________________________________________________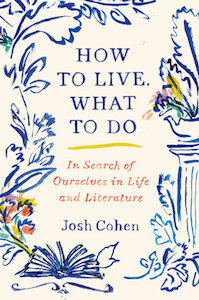 Excerpted from How to live. What to Do by Josh Cohen. Copyright © 2021 by Josh Cohen. Excerpted by permission of Pantheon. All rights reserved. No part of this excerpt may be reproduced or reprinted without permission in writing from the publisher.
---