The Romantic, Uncompromising, Audacious Life of Lhasa de Sela
On the Tragically Short Career of a Spellbinding Musician
"Here's Lhasa, who died New Year's Day in Montreal."
That's how Jeannie Hopper introduced me to Lhasa de Sela.
Jeannie hosted Liquid Sound Lounge, a not-to-be-missed Saturday evening show on WBAI in New York, and I always counted on hearing several good records that I didn't know. I'm not sure what I expected after that introduction, but it wasn't this: a cold, shivering shimmer of bells and wind chimes and a low, rhythmic rumble like the voice of the earth that I previously had heard only in the music of Tibet's Gyuto Monks. Over it, a Don Cherry-inspired trumpet solo floated like a dry desert wind. We were someplace far away and unforgiving, someplace alien and elemental, following an ancient, difficult path under a giant night sky. Yet, the singer, who was both breathless and young, betrayed no fear or trepidation. If anything, she was an adventurer—and a philosopher in the bargain:
You've traveled this long
You just have to go on
Don't even look back to see
How far you've come
Though your body is bending
Under the load
There is nowhere to stop
Anywhere on this road.
It was mesmerizing and ambitious, musically sophisticated and emotionally advanced—the most intelligent pop record I had heard in a very long time. Lhasa? How could I have not heard of her? How could any artist capable of this die quiet and unknown? Perhaps, I thought, this record, "Anywhere on This Road," was a fluke—an inspired overreach in an otherwise pedestrian career.
Either way, I needed to hear more. It's said that seeing is believing, but listening has always been my most reliable route to knowing, so the next morning I went digging for the song's album, The Living Road. It took just a verse of its opening track, "Con Toda Palabra" ("With Every Word"), an explicit and passionately sung ballad about being not just lovestruck but completely inflamed with desire, to know that what I had heard the night before was no fluke. Lhasa de Sela could sing and Lhasa de Sela could feel—and Lhasa de Sela had been for real. I had to know who she was and why I had never heard her music.
I soon learned that the American-born singer had been 37 when she lost a grievous struggle with breast cancer. And I would also learn that, though she was unfamiliar to me and most Americans, Lhasa was a star in Canada and much of Europe, having earned a gold record and Juno Awards by absorbing and synthesizing such diverse strains as Gypsy music and flamenco, Mexican rancheras, Americana and jazz, Portuguese fado, Middle Eastern pop songs, Russian lullabies, chanson française, and South American folk melodies into her own unique and remarkable work. Over a thirteen-year recording career, she made just three albums: the first was in Spanish; the second, in Spanish, French, and English; and the last, exclusively in English. Lhasa's second album, The Living Road, won her the 2005 BBC Radio 3 World Music Award for Best Artist of the Americas and the Times of London named it one of the ten best world music albums of the decade.
I suspect she was this country's first world music chanteuse, and it bothered her deeply not to be heard here.
Celebrated abroad, she has remained unknown in the United States. American record companies, quick to recognize her talent and license her work, proved nowhere near as adept at promoting Lhasa and introducing her to listeners. Her biggest bar to American success was obvious: approximately half of the limited number of recordings she had made weren't in English—a deal-breaker in a country where most of us aren't used to being asked to step outside the familiar walls of our Anglophone mass culture. But her linguistic choices don't hinder comprehension: as with poems, Lhasa's songs convey feeling before the meaning is fully grasped.
The shameful irony is that her consciousness was wholly American—daring and iconoclastic for sure, extraordinarily far-reaching and humanistic, but still homegrown. I suspect she was this country's first world music chanteuse, and it bothered her deeply not to be heard here. It isn't just her big ears for eclectic music that make Lhasa and her records singular. There is also a rare thoughtfulness and wide-eyed sensuality in her work. She saw the world as imbued with magic and romance and a cosmic design—a dramatic and poetic outlook she expressed with wit and lyricism.
But Lhasa was also a bootstrap intellectual. The child of an unorthodox family, she had been urged from an early age to both take herself seriously and treat life as an adventure, and she responded by adopting punishingly high standards and expectations. An obsessive and deep reader, she turned an insatiable philosophic bent toward life's unanswerable questions, and that search became the wellspring of her songs. In her use of three languages one senses both a frustration with and a reach for deeper and more exact meanings, as if our day-to-day language doesn't quite get it done. Yet, her sophistication was leavened with romanticism and humor and made fresh by a naïf's ability to experience the world with unreserved wonder; she remained incapable of being jaded.
Lhasa's premature death notwithstanding, her three albums constitute a diary of a life's search and a full artistic journey. To put it plainly, I believe she was a significant artist who should be recognized and this book seeks to rectify that. But the work isn't the only arresting aspect of her story: Lhasa was not just an artist but also a true bohème. She lived a creative, romantic, uncompromising, and brave life.
Seeking freedom on the margins, her family lived an exhilarating but financially and emotionally precarious existence.
Her hippie family lived much of the time in a converted school bus, crisscrossing between the United States and Mexico. Lhasa grew up without a telephone or television, and she was homeschooled by her parents, who rejected the bulk of material and social assumptions of mainstream American life. At the same time, they were fierce about instilling in their children an unquenchable curiosity, a deep devotion to spiritual and intellectual advancement, and the veneration of creativity. And because they succeeded, Lhasa would always remain somewhat estranged from society at large and a loner at heart, unable in particular to fathom the lack of curiosity and discipline in so many of the people she met. Hers was, to borrow a phrase from Emmett Grogan, a life played for keeps. For those of us who have fantasized about living such a life, ignoring conventions and having the courage to be that kind of parent, Lhasa's extraordinary story is romantic and inspiring.
It also, however, sounds a cautionary note as to what that choice can cost. Seeking freedom on the margins, the family lived an exhilarating but financially and emotionally precarious existence. They were ever on the move and ever on the edge. The consequences were a jarring lack of permanence, an element of real danger—strange people, strange surroundings, little in the way of a safety net—and an enduring feeling of isolation and otherness. That experience, coupled with a family legacy of hurt, strife, and tragedy that predated her birth, would weave the blue threads of sadness and insecurity into Lhasa's personality. And when the once tight-knit fabric of that family tore apart—the only world she knew—the anger and pain from that rip never completely mended.
Lhasa's friends and musical collaborators tell stories of a singularly enchanting and intense person, the once-in-a-lifetime friend who could be hilarious or dark, both childlike and dauntingly complex—an unendingly creative and deep-thinking woman who giggled like a young girl but could be rough on the people she loved and brutal to herself. As her music attests, she felt life intensely and was both enraptured by the mystery and deeply bruised by the realities of love. When diagnosed with cancer, Lhasa struggled to comprehend it and seemed lost. I believe what she felt was betrayal—as doubtless any person cut down before their time might—but a betrayal made that much more shocking and awful by her unquestioning faith in and excitement about the magic of life, a magic she had turned herself inside out to capture, shape, and share in hundreds of deeply focused and surprisingly intimate performances and three transcendent, death-denying albums.
A sorceress of the soul, Lhasa conjured the unknowable and the amazing, and in her all-too-brief life, she became the medium of that message. "There was always this mystery," says Arthur H, a French musician who was one of her close friends, "this damn mystery that was there because of her intensity."
Welcome to the mystery.
__________________________________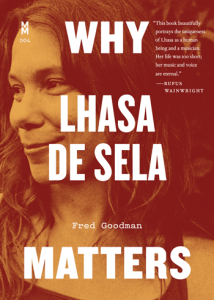 Excerpted from Why Lhasa de Sela Matters by Fred Goodman. Used with permission from the University of Texas Press, © 2019.
---