The Rebel Vocabulary of Ágota Kristóf
Helen Oyeyemi on Kristóf's memoir The Illiterate
It's a triumph over probability that Ágota Kristóf's The Illiterate, first published in French in 2004, is available for perusal at all. In a 1999 interview, this unparalleled writer's answer to the question "What are you working on at the moment?" indicated that she was barely writing anymore—oh, if only it were possible to hear the author's tone as she told Gergely Nagy: Somehow I've gone off literature.
At some point between 1999 and 2006, the withdrawal from written narrative crystalized, and in 2011 the author elaborated on the situation. She remarked—in a way that makes it possible to glimpse her skipping the part of the writing process where the thoughts are committed to the page, a static medium of page which only accepts familiar phrases, and moving on to the new chapters that can only be written within the far greater flexibilities of the mind—that I have the whole thing in my head, I basically have it written. It is very easy to write it down when it is already there in my head. Then I wrote a few pages, but I kept repeating what I had already written. I started again, then I wrote the end, several times, but then I left it off.
And yet . . . here, through the gaps in a growing aversion to telling tales, The Illiterate speaks. We hear something of Kristóf's view of literature, and the paths along which she brings her own contributions to it. Read on a certain level, this appears to be the story of a Hungarian with anti-Communist sympathies who, having journeyed into bitter exile in 1956, found herself sorely pressed by the necessity of decoding an environment that forced her sense of self into strange new shapes.
When it came time to write about—and against—these distorting experiences, Kristóf didn't turn to her mother tongue. The notion of a language with words forming so complete a synergy with her conception of her surroundings that I couldn't imagine that another language could exist, that a human being could pronounce a word that I wouldn't be able to understand— this was no longer a livable reality. Instead there was a job at the Swiss watch factory, manufacturing time in silence, and there was the emergence of a persona perceived not only as vulnerable, but pitiable.
Kristóf's narrator doesn't mention any unkind acts aimed at her group of refugees, but some of the kindnesses described cloud the heart with unease: On Sunday, after the soccer game, the spectators come to look at us through the barracks fence. They offer us chocolate and oranges, naturally, but also cigarettes and even money. It no longer reminds us of concentration camps, but of a zoo.
When it came time to write about—and against—these distorting experiences, Kristóf didn't turn to her mother tongue.
We're informed that five years pass, during which the émigré acquires spoken French, but can't read the words. Since a reader must either read or lose everything, written French is the linguistic modality that the narrator of The Illiterate must learn to understand her new world despite the marrow-chilling absence of obligation on the part of written French (or of any written language) to understand her.
The prose of Kristóf's published books, written in French, and in a style that is frequently deemed "minimalistic," stems from her preferring to exclude adjectives and things that are not real, that have their origin in feelings and from the difficulty of trusting one's footing when dealing with phrases that defy perfection. Kristóf's writing (and a great deal of the reading that she loved—Victor Hugo, Rosseau, Voltaire, Sartre, Camus, Michaux, Francis Ponge, Sade) was done in a vocabulary with which she was at war at all times. In giving the writerly aspects of herself over to French, Kristóf surrendered her linguistic capabilities to catastrophic loss: This language is killing my mother tongue.
[pullquore]Kristóf's writing (and a great deal of the reading that she loved—Victor Hugo, Rosseau, Voltaire, Sartre, Camus, Michaux, Francis Ponge, Sade) was done in a vocabulary with which she was at war at all times. [/pullquote]
Winding the thorny thread of this loss around her pen, visceral dread, swiftly flashing sensations of release and all, the way of this Illiterate is rebellion. That's one reading of Kristóf's eloquent brevity. We could stop there: sentences hurled with perfect aim at the border between one language and another is quite enough to be going on with as a writer's life's work. But Kristóf 's rebel vocabulary does still more; it is more. Think of the various ways in which verbal ornaments act as a veil, suggesting (or negotiating a perception of) fluency. Encountering Kristófian descriptions—those that would rather omit ornament than pursue recognition of having been written with the "inspired" flow of a native speaker—the complacent reader is introduced to profound uncertainties.
There is some part of readership that is complacency; we go in feeling that we have mastered letters—but the words of a rebel vocabulary don't feel chosen for their communicative properties so much as they feel repurposed to convey situations the speaker hasn't learned the "correct" words for. The reasons or excuses for not having learned the "correct" words are immaterial: ultimately those words haven't been learned, and here we are in the realm of Kristóf's bestknown novel, The Notebook, in which the twin protagonists study the connotations of human interactions such as giving, taking, helping and harming from scratch.
This is where the sublime refinement of Ágota Kristóf's craft comes closest to knocking the breath out of our bodies: the pressure she brings to bear on words and what they do and do not say to us returns her readers to an awareness that the tangled, snapping network of systems that presents itself to us as "the world" is not legible and never has been. This reawakening might even place us somewhere close to the states we existed in before learning to read.
Do you remember much about your preliterate time?
My own memories of becoming a reader are mostly feelings of being engulfed by rage at having to deal with books, these boxes of signs with noises trapped inside them. (Just like TV, I suppose, but TV's advantage was that watching it demanded a much less keen attention.) Besides, how suspicious it all was, this reading business! Why was I required to know how to do it? So that I could learn other things, I was told. But why do we have to read and write words to know things? I don't think I ever actually asked anyone that question; I must have assumed it would answer itself once I'd crossed over to the other side of the comprehension barrier. I'm not sure, however, if I've found an answer.
Text and the absorption of it is a key form of sustenance and of instruction as well as the means for the restoration of burned bridges between all manner of thoughts and ideas. And yet text and our absorption of it are the means by which language makes use of us for all manner of detrimental purposes—instilling a hatred of the other along with a love of categories and hierarchies that demean everyone even as they seem to elevate a worthy few.
Or, in the caverns mere steps away from these loftier arenas, there's late night reading and rereading of text messages and email messages in attempts to pinpoint the exact source of insult, comfort or charm. Which combination of letters carries that? Suppose you couldn't read at all and the text or email were merely meaningless glyphs—wouldn't you just put yourself to bed then, or access overstimulation in other, far less neurotic ways?
These pros and cons of literacy will already have crossed your mind in terms more lucid than the ones I'm gesturing toward. The Illiterate's narrator exhibits signs of having weighed up the pros and cons of being text-susceptible to her own satisfaction, and exhibits no qualms when it comes to aligning herself with the unnatural act of interpreting text as a way of life. Having casually described her propensity to read as analogous to "a disease" in its seeming independence from her conscious desire, the irredeemable transgressor goes on to deliver a direct report of things people say when they catch her reading:
–She never does anything. She's always reading.
–She doesn't know how to do anything else.
–It's the most pointless activity that exists.
–It's pure laziness.
And above all:
–She reads instead of . . .
–which is immediately followed by three words that encapsulate that most distinctively Kristóf air of part wry enquiry, part merciless challenge—
Instead of what?
Such a train of thought leads to writing: some shame is felt for languishing in the (surface) passivity of reading instead of putting things into words. The Illiterate wonders if writing is the mightier act. In the last few lines of his 2014 poem "Onomatomania," Thomas Lux poses this question too (without the question mark, in terms that are just as much a goading of the unreal as they are an incitement for the unwritten to rise up):
. . . nothing is really real
until it is written.
Until it is written!
Even those who cannot read
know that.
Kristóf's "illiteracy" positions legibility as a battle of wills. After all, the written word can be so impatient with us when there's any sign of our not going along with the agreed-upon concepts that award it legitimacy. We hesitate a moment, and the reaction from the words we are unsure of generally goes along the lines of: Are you stupid? I recently read that Nowe Ateny, the first Polish-language encyclopedia, had nothing but scorn for any eighteenth-century reader who expected a full debrief on the nature, deeds, and habits of horses. The entry begins:
Horse: Everyone knows what a horse is.
Life's retort to this is that knowledge of the word and knowledge of the phenomenon referred to are different (albeit related) matters. Deeming a person who neither reads nor writes a know-nothing warps fact, and deeming a writer or a reader a know-it-all does the same thing. Can we enter into a relationship with language that holds a balance between verbal and nonverbal truths? Being a reader, and thereby wicked-minded, the temptation to experiment with recipes for reality proved too strong for the adolescent Kristóf to resist—in this book she recounts the "birth secret" prank she played on her little brother, luring the boy into a corner of the garden to tell him:
–So this is it—you're a foundling. You're not from a family. You were found in a field, abandoned and completely naked.
We can't judge; it was words that made Kristóf do it, she had to test their power over her probably preliterate sibling by saying something that no text could either prove or disprove for him . . .
There's at least one other kinship that helped this illiterate, The Illiterate, on her way. This book reveals Kristóf as an admirer and affirmer of the vitality of Thomas Bernhard's work, and I see that—I see their joint expansion of the vocabulary of rebellion. Kristof's Bernhard is the very same Bernhard whose monologue in the 1970 film Drei Tage states:
I am a story destroyer, I am the typical story destroyer. In my work, at the first sign of a story taking form, or if I catch sight of even a trace of a story, rising somewhere in the distance behind a mound of prose, I shoot it down.
The same is true of sentences—I almost want to annihilate in advance whole sentences that even possibly could develop.
These are the acts of the well-informed illiterate. Well informed by experience, which shows that the written world is neither complete, nor does it complete any of the matters it touches upon. On top of all that, reading is a skill we're still acquiring. If the likes of Kristóf and her kin have anything to do with it, we shall never feel that we've finished learning to read. Our brushes with eternity lie in the scope of this schooling.
_____________________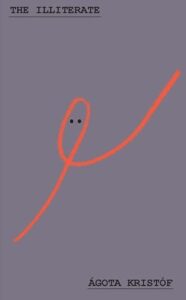 From Helen Oyeyemi's foreword to The Illiterate by Ágota Kristóf, translated from the French by Nina Bogin, and available now from New Directions.
---