The Perks of Reading Across Genre as Both Bookseller and Writer
Marissa Levien: "What kind of books do I like? Good books. That is the sum of it."
Once a week someone will approach me in the bookstore where I work and ask me what kind of books I like.
This question is often preceded by "I like X kind of books," where X can be substituted for: memoirs, fantasy epics, multi-generational family sagas, YA, Reese's Book Club Picks (yes, that's its own genre now), experimental fiction, Gen X maximalist tomes, spy thrillers, poetry, cozy British murder mysteries, cyperpunk, classical philosophy, historical romances, Jacobean revenge tragedies, space operas, ghost stories, and novels that exclude the letter e.
Here's the thing: they don't say "I'm in the mood for X kind of books." They say "I only like X kind of books." What I can't fathom is why people would limit themselves. Genre can arguably be categorized by a collection of tropes and settings, but the stories within each genre are infinite in the way they may reach a reader.
What kind of books do I like? Good books. That is the sum of it.
*
I once worked with a fantasy writer who told me that he exclusively read high fantasy epics. I quizzed him on this because I couldn't believe it… nothing else interested him?
No, he assured me. Other books were just plain boring. My suspicion mounted.
What I know for sure about writing is that you can't write well if you don't read, and read a lot of different things. While I was writing my novel The World Gives Way, which features an apocalypse, I read a lot of fiction that felt like direct inspiration: Station Eleven, The Hitchhiker's Guide to the Galaxy, The Memory Police, On the Beach. These books helped me get in the right headspace to imagine a world on the brink of collapse. They also offered an escape, enriched my life, and did all the other things good books do, which is probably more important than mining texts for story ideas.
But reading books that were similar to my story was only part of the equation. Any time I got seriously blocked, I turned to books that were seemingly the opposite of my own work. When I had plot issues during my first draft, I turned to Invisible Cities, which is a book full of prose poems and not much in the way of straightforward plot. Though The World Gives Way is fairly exterior and the characters are active, the interiority of To the Lighthouse helped me work through my characters' psychology. Additionally, the inert characters of Samuel Beckett gave me the right existential mood.
Any time I got seriously blocked, I turned to books that were seemingly the opposite of my own work.
Throughout the writing process I also chose pure entertainment to keep from feeling burned out, reading Jasmine Guillory romances and Tana French mysteries. The key was to zigzag: give myself a dose of one thing, then a dose of the opposite. I wanted to light up as many neurons as possible.
That's what reading widely can do for you: expand your brain. It's like the literary equivalent of travel or trying new foods. The funny thing is, people read outside their preferred genre all the time; they just selectively alter the labelling. This also happens at the bookstore: people regularly move books from the sections where I've shelved them. Over time, the pattern has emerged: more and more "genre" books get pulled from their sections by well-meaning patrons, who then re-shelve them into General Literature.
In my experience, it happens with authors who have just gained some fame, or who are now considered classic. Octavia Butler's work, for example, recently experienced a renaissance; people now refer to her as a foundational Sci Fi author. Amazon is making a miniseries out of Earthseed. And just like that, as if it has legs, I keep finding Parable of the Sower in Literature not long after I've shelved it in Sci Fi. The same thing happened to Lovecraft Country by Matt Ruff shortly after the HBO series debuted. I began finding copies in Literature and once (hilariously) in History.
The Haunting of Hill House also wanders away from Horror (Shirley Jackson has had her own cultural moment), as does Frankenstein. In fact, the only thing guaranteed to stay in the Horror section is Stephen King. He is the keeper of Horror, no matter how popular he gets.
It's like a switch flips once a book finds "legitimacy." I've heard of this, readers think, I should take this seriously. So now, even though the book features interdimensional portals and aliens, it's no longer Sci Fi. Now it's Literature. You're moving up to the Major Leagues, kiddo.
The problem, of course, is that there are no major or minor leagues between genres. Octavia Butler can and should be spoken of with the same reverence as Virginia Woolf. They are very different writers, but both are masters of their craft.
People sometimes think that one genre is harder to write than the other, and that is also patently untrue. It is just as difficult to write a perfect literary novel as it is to write a perfect romance novel, for example. Something lighter like romance might be more plot-driven than your average literary novel, but all that plotting requires its own expert sculptor. I've heard it described as a souffle… something light and airy, but the structure and timing is deceptively hard to pull off. Jonathan Franzen might deserve his accolades, but Nora Roberts deserves the same due.
*
Ursula K. Le Guin once said of herself, "Where I can get prickly… is when I'm just called a sci-fi writer. I'm not. I'm a novelist and a poet. Don't shove me into your pigeonhole, where I don't fit, because I'm all over. My tentacles are coming out of the pigeonhole in all directions."
Sometimes I envision a library or bookstore where instead of books being parcelled out into sections, there is just one long wall marked "Literature."
Sometimes I wonder if that's the way to go, if we should be abolishing genre altogether. Most of my favorite writers straddle multiple genres, such as Kazuo Ishiguro, Carmen Maria Machado, and Helen Oyeyemi, to name a few. Sometimes I envision a library or bookstore where instead of books being parcelled out into sections, there is just one long wall marked "Literature." People would be forced to browse and discover rather than stick with their preconceived notions.
But then again, it's fun to browse through the sections. It's fun, to be in the mood for a certain type of book, to find it and devour it. I could try to solve the problem in reverse by breaking down genres further, by doing away with the catch-all term of "Literature" and swapping it for a bunch of miniature sections like "Plotless Stream-of-Consciousness," "Magical Realism," "Literary Romances Where Characters Have Wan Sex and Reminisce About Their Trauma," "Anti-Capitalist Rants," "Capitalist Rants," "Detective Stories Where the Culprit is Society," "Drug Trips," "Sad Russians," and "Charles Dickens." But obviously that would be a logistical nightmare.
Ultimately I must make my peace with genre. It's fun to want a certain type of thing, so long as we don't decide it's the only thing we like. We must try to remember: just because something is satisfying doesn't mean it's flimsy, just because it's complex doesn't mean it's boring. A book can reach untold emotional depths and still feature a spaceship, and a book can depict two characters in a room and be riveting.
Read good books. Good books can be anything.
Now, if you'll excuse me, I have to go re-shelve this copy of Fahrenheit 451 back in Sci Fi where it belongs.
_______________________________________________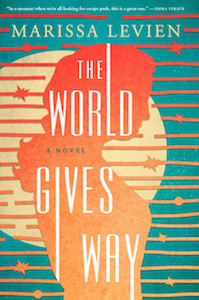 Marissa Levien's The World Gives Way is available now via Redhook. 
---