The Perks of Getting Lost at the London Book Fair
Marta Bausells on Impersonators, Rapid Fire Rights-Dealing, and "Shakespeariences"
Try making your way through the maze that is the London Book Fair at your own peril. Despite the excellent organization, with dozens of helpful staff strategically placed and ready to guide you, anyone without a very specific agenda, such as the general reporter, will quickly get overwhelmed. The endless galleries, corridors, makeshift cafes, stalls, exhibition stands, pop-up talks and business chats being conducted right in front of your eyes, and in all of your surrounding 360 degrees, will do that to a person. You are in one of several huge glass-covered halls, and any direction you tentatively choose to take opens up to new impossibly huge spaces.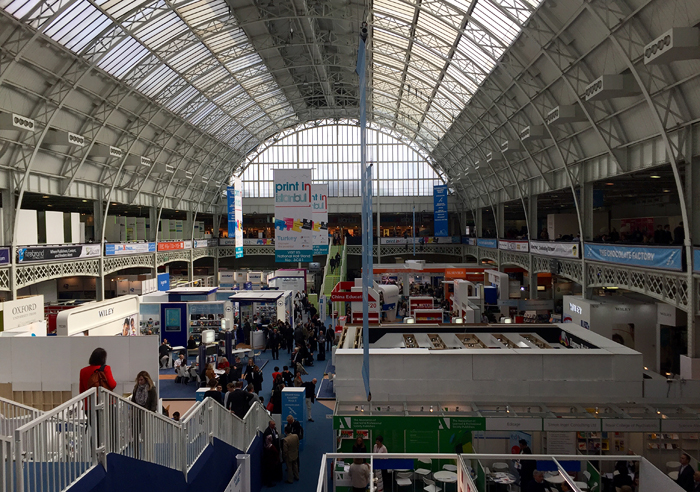 It turns out that 25 minutes is the duration of the press briefing about international publishing trends at the fair—and it's exactly the amount of time it took this reporter, who usually has a good sense of direction, to find the room it was being held in. I erroneously get sent up to the conference center instead, still empty but full of prepped tote bags and glasses full of candy. "Go sort of diagonally along all these stands, and go past where they sell all the chocolate things, and kind of walk along the English PEN Literary salon," are the literal instructions an exhibitor gives me to reach the press conference. "You can't miss it," says the optimistic look in her eyes. I can, by hopping from hall to bigger hall.
In my first half hour at the fair, I have heard about four different accents in English and conversations in four other languages. It is a sunny morning, and the Olympia venue does it justice: its huge glass dome ceilings let the beautiful light fall on the hundreds of deals and talks being conducted in all the fair's levels and spaces. The Olympia is interesting in its own right—opened in 1886 as a National Agricultural Hall, its inaugural event was the 1886 Paris Hippodrome, followed by poultry shows and Jimmy Hendrix gigs. One of its halls is the biggest building in the United Kingdom covered by one span of iron and glass.
This is, of course, not a literary fair: it's the biggest book rights event in the world—and second largest publishing event after Frankfurt—and its attendees look like they have no time to lose. Coffee is readily brewed near all the areas brimming with people having decisive-looking one-to-one conversations, trading rights right across the world. Most of its 25,000 attendees, coming from 124 countries, have, on average, an appointment scheduled every half hour, the fair's director Jacks Thomas tells me. So, even if there is secrecy around the deals made, you can guess the numbers. At times, I do feel like I'm on an international speed-dating convention, just without alcohol (yet).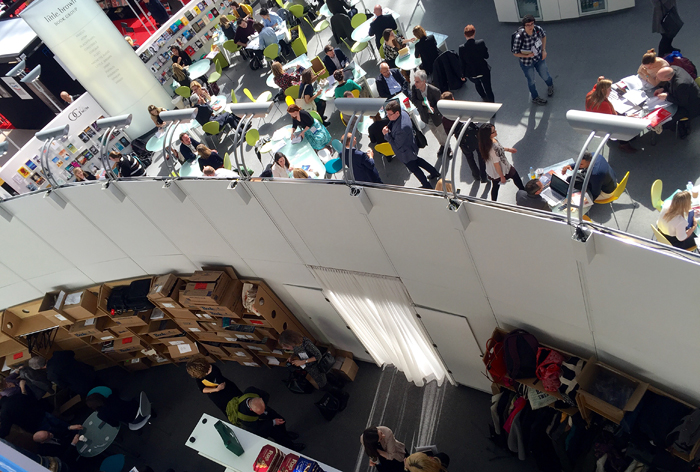 In addition to trading rights, there is something here for authors too. "People are here to find the next big thing in terms of not only books but also technology, also creative inspiration," Thomas says. "It's a one-stop shop. But typically an author wouldn't visit the book fair unless they have a very specific purpose and an appointment. We do have aspiring authors and self-published authors who visit our author HQ where we have three days of programming—of how to market yourself, how to find a publisher, proofreaders, etc." The events program would actually make many lit festival organizers jealous: readings of Shakespeare sonnets in Arabic, Chinese, Hindu or Spanish; talks by Judith Kerr, Tracy Chevalier or Jeanette Winterson; workshops on themes like "exploring the increasing importance of story in new products in the toy world"; but also events this reporter still hasn't quite processed, like one in which authors engraved Kindles, instead of signing books.
The big theme this year is, of course, Shakespeare—"Shakespearience" is the name they've given the celebration. Thomas reflects on the lessons publishing can learn from the bard, 400 years later: "Shakespeare proves the enduring power of content. You could be bright, and boy, does it last! And also I think this exemplifies the book fair in so many ways, because this is a rights trading fair, and it shows that Shakespeare is traded in 100 languages." And formats, as well. "You could find Shakespeare in everything from socks to chocolate—Shakespeare really rocks."
Thomas talks about emerging trends in publishing, including the rise of coloring books and audiobooks (up 27 percent in the UK this year), and of print for the first time in three years (led by children's books), a trend that is happening in the UK but not the rest of Europe. I ask her, out of all the trends, to single out what's [the] most interesting to her, and she chooses the fact that episodic publishing is back in vogue (with two thirds of British teenagers reading in this format, mostly on phones). Julian Fellowes, creator of Downton Abbey, will be publishing his latest book through an app called Belgravia. "I'm really fascinated by it," says Thomas, "because I think that that is a wonderful meeting of mind, storytelling and technology. And the idea of being able to have an injection of Julian Fellowes's wonderful prose weekly is pretty alluring. I'll be interested to see whether or not that kicks off other things."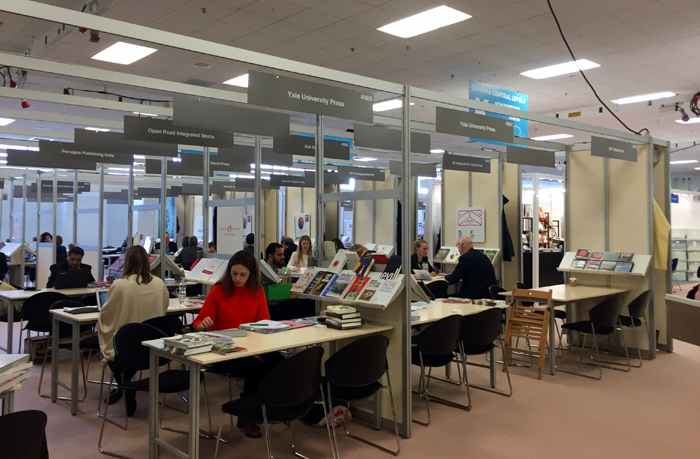 The evenings are a different story. I talk literature in pubs surrounding Hyde Park, packed with relaxed attendees as they follow the national sport of winding down with a pint; walk around softly lit mews in majestic-looking, neat and wealthy west London and think that this really doesn't look like it has anything to do with the scrappy publishing world I know.
Getting lost at the fair can actually be pretty useful—without it, I probably wouldn't have hung out with the smokers outside, passers-by, or even fellow loo-queuers, and I wouldn't have got a sense of the scale—or the hilarity among the order. "We're going to have a big monster coming down," says an L. Ron Hubbard impersonator—custom included—half-laughing, after offering me a professional photograph with him. "He's six feet tall, you can't miss it," says the photographer. "He's got a camera crew following him around."
---