The Perfect Covergirl
How a Painting Ends Up on a Book Cover
I'd been watching the girl in the painting that hung above my desk for a few months before I became obsessed with the idea of her appearing on my book cover. "Too Much Makeup" by Barbadian artist Sheena Rose could be an illustration of one of the characters from my novel, The Star Side of Bird Hill; specifically, sixteen-year-old Dionne Braithwaite, who has been shuttled off by her ailing mother to Barbados with her ten-year-old sister Phaedra in tow. The second paragraph of the novel describes Dionne, and the way that makeup affords Dionne both a form of armor and a connection to the life she's left behind in Brooklyn:
Dionne Braithwaite was two weeks fresh from Brooklyn and Barbados's fierce sun had already transformed her skin from its New York shade of caramel to brick red. She was wearing foundation that was too light for her skin now. It came off in smears on the white handkerchiefs she stole from her grandmother's chest of drawers, but she wore it anyway, because makeup was her tether to the life she'd left back home. Hyacinth, while she didn't like to see her granddaughter made up, couldn't argue with the fact that Dionne's years of practice meant that she could work tasteful wonders on her face, looking sun-kissed and dewy-lipped rather than the tart her grandmother thought face paint transformed women into.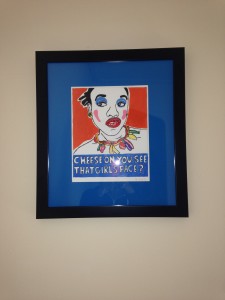 Beyond the makeup we see on the cover girl's face, there is also suspicion brewing, a side eye on the lookout for trouble, her lips deeply pursed in anticipation of what might vex her next. I knew that I had found the right image when I sent an early mockup of the cover to my sister and she wrote, "she looks like she's about to steups." A "steups" is a vocalization of irritation, impatience, or disapproval made by drawing air and saliva through the teeth. This seemed like precisely the right posture for the angsty, defensive Caribbean-American teenager I'd dreamed up in Dionne Braithwaite.
The work of Sheena Rose—a young visual artist born and raised in Barbados, currently on a Fulbright at UNC—forms part of a thrilling renaissance in Caribbean arts and letters. Rose is one of a cohort of Caribbean women artists whose elder members include visual artists Ebony G. Patterson, Simone Leigh, and Deborah Jack. My novel comes on the heels of the 2014 publications of four landmark books by Caribbean writers living and working in the United States–Marlon James's A Brief History of Seven Killings, Claudia Rankine's Citizen: An American Lyric, Lauren Francis Sharma's 'Til the Well Runs Dry, and Tiphanie Yanique's Land of Love and Drowning.
Aside from cover art, "Too Much Makeup" also has a life as part of Sweet Gossip, a playful, provocative performance art series featuring women's faces juxtaposed with colloquial expressions from Barbados, carried out into the streets of Bridgetown. Sheena Rose launched this series in collaboration with photographer Adrian Richards and writer Natalie McGuire. The type in the paintings, like the type that appears on the cover, is the kind you might expect to see on the awning of a hair salon or a rum shop in the Caribbean. The original text that accompanies "Too Much Makeup" is "Cheese on, you see that girl's face?" Translation: "Oh my God, do you see that girl's face?" Another painting in the series reads, "Look how she digging in she panty…She get me real sick." The text that I imagine in a thought bubble above Dionne Braithwaite's head is "When is my mother coming to collect me from this rubbish, ruined summer?"
The best American referent for Sweet Gossip is the idea of "shade." Writing about the resurgence of shade in her New York Times article, "The Art of the Underground Insult," Anna Holmes tells us, "Shade is currently having another moment, in no small part because of the ascendancy of the African-American vernacular in both popular culture and digital media." Sheena Rose's work offers a decidedly Bajan take on shade, or "picong" as Trinidadians call it. The artist statement for Sweet Gossip asserts that the project is in direct opposition to the "fun in the sun" stereotypes that dog visual and narrative representations of the Caribbean. "This project wants to express more of the Barbadian culture than the familiar stereotypes of beaches and sun, and look at the way we Barbadians speak. In the paintings, Sheena Rose references some of the stereotypes and places them within everyday situations in the paintings." As Rose's career continues to ascend along with other Caribbean artists of her generation, they will be responsible for creating a new visual lexicon of the region.
I met Rose when I traveled to Barbados to research and write a first draft of my novel during the summer between two years of graduate school. I wanted to experience the island as an adult for the first time. I'd spent time in Barbados, where my mother's family is from, and in Antigua where my Dad's family is from, and also traveled to Jamaica, the island from which my stepmother hails. But years of living in Flatbush, or as I like to call it "the West Indian section of Brooklyn," had left my ear with a mangled pan-Caribbean accent that was far from distinctively Barbadian. I went to Barbados to hear the rhythm and sound of how people talked, to experience the landscape with fresh eyes, and to have some quiet time to write. I was also eager to extend my social network there beyond my family to include young, creative people.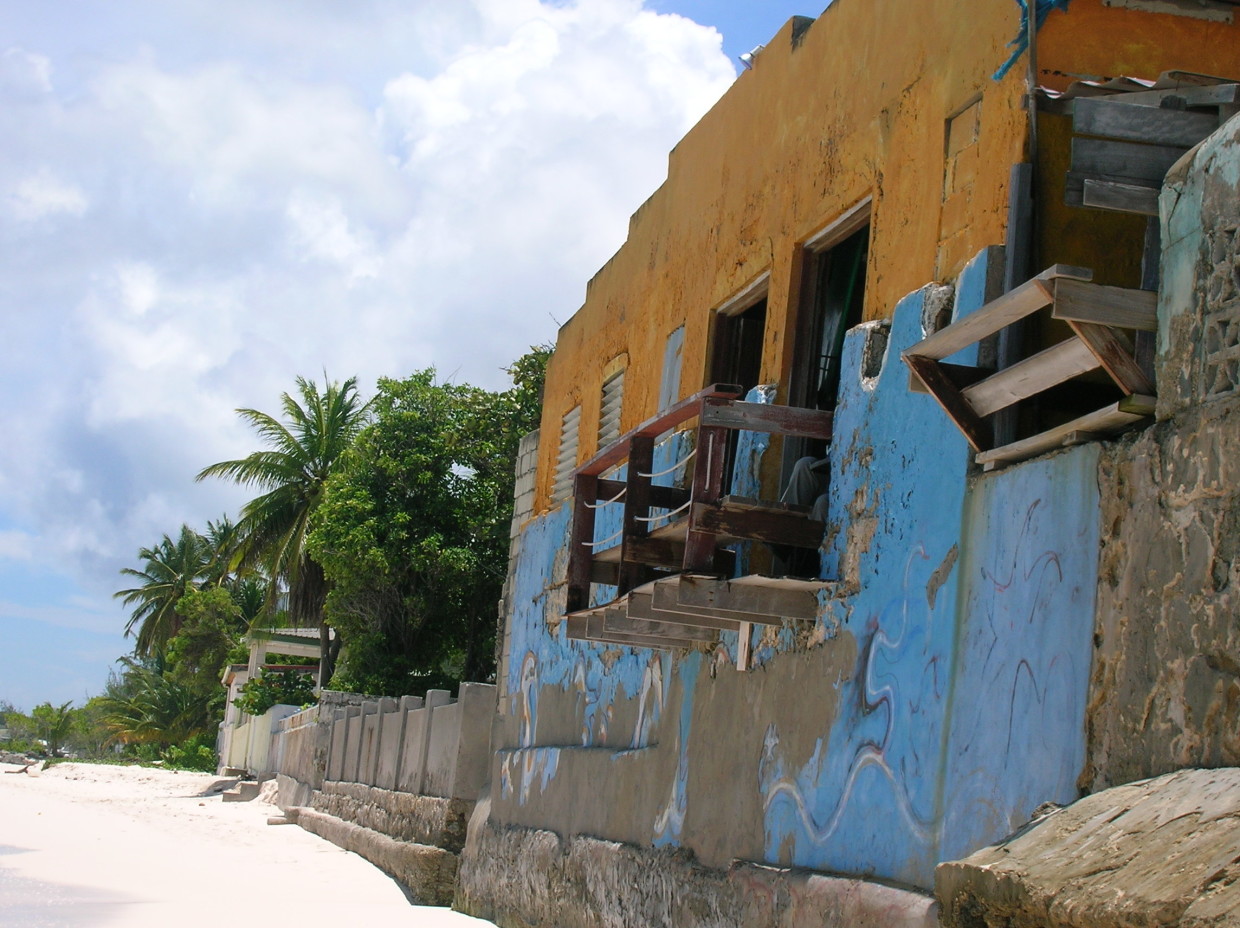 While there, I met Sheena Rose for the first time at a Saturday afternoon arts salon at Folkestowne Marine Park where Sheena was presenting her work. I was immediately drawn to Rose's vibrant imagery, her bold self-presentation, and her unapologetically Bajan ways and work. Rose more than lived up to the expectations set by two Caribbean creatives and scholars who introduced me to Rose's work, Barbadian filmmaker Lisa Harewood and Yale University professor Vanessa Agard-Jones.
Her painting, "Too Much Makeup," ended up above my desk as a graduation gift at the end of my MFA at the Iowa Writers' Workshop. The two years I spent in Iowa City, while fruitful creatively and professionally, were a wasteland in terms of people of color, particularly Afro-Caribbean women, who were at the center of the life I'd left back in Brooklyn, and whom I consider my creative muses. The gift was a testament to the experiences I had growing up in Brooklyn, along with my Caribbean roots. It was also a symbol of victory, a reminder that I'd survived a strange time in a strange land and lived to tell the tale.
In the fall, I arrived in Philadelphia, a city that turned out to be the perfect, soulful answer to two years of exile in Iowa. Looming over the fresh surroundings and the gift of a free university apartment was the insistent pressure to finish my novel. Just days after I graduated from the Iowa Writers' Workshop that May, Penguin Press acquired The Star Side of Bird Hill. Buoyed by my West Indian work ethic and news reports that publishers were demanding advances returned on overdue books, I was determined to finish my book by the November deadline. As I got down to work, an unexpected idea grew stronger and stronger: "Too Much Makeup" needed to be the cover for my novel.
People told me not to get attached to the idea of using Sheena Rose's artwork on the cover of my book. Publishing companies have big art departments and are unlikely to use work by an artist of my choosing for the cover, they warned me. Still, I proceeded, hopeful as ever. And to my delighted surprise, my publisher was on board with this piece as the cover, a feeling of elation only surpassed by the moment, three months later, when Sheena graciously granted permission to use her piece on the cover.
I shrieked with joy when I saw the galleys of The Star Side of Bird Hill earlier this year. Sure, I was excited to have an advance copy of my first book in my hands. But more importantly, there was a thrill of recognition upon seeing a black girl on the cover of my book. It was not unlike the joy I felt when I first saw the girl lazing about in her school uniform on the cover of Jamaica Kincaid's Annie John or an impossibly young June Jordan on the cover of her memoir Soldier: A Poet's Childhood. I felt it when I saw the protagonist of Paule Marshall's Brown Girl, Brownstones, Selina Boyce on that book's cover, and more recently when I read Jacqueline Woodson's Brown Girl Dreaming.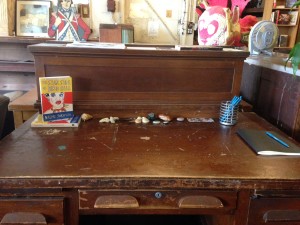 The cover of my book features one face, but also many: there's mine, and the face of my sister, and my cousins, and my mothers and my aunties, and all the women who I've yet to discover and put on the page. It is the image a girl who is fierce and opinionated and ready to tell a story, throw shade, give a joke, or all of the above. The girl on the cover is who I wanted to write about, the kind of girl I once was.
Main image: "She feels she's all that," Photo by Adrian Richards. From Sweet Gossip, a collaboration by Sheena Rose, artist, Adrian Richards, photographer and Natalie McGuire, writer.
---