The New Weapons of War: Disinformation, Economic Coercion, and Online Disruption
Seth G. Jones on Contemporary Digital Conflict with China, Russia, and Iran
In mid-​March 2020, cell phones across the United States lit up with alarming news. Citing a source in the US Department of Homeland Security, a series of apocalyptic texts warned that the Trump administration was deploying armed US soldiers onto the streets to enforce a lockdown in response to COVID-​19. "They will announce this as soon as they have troops in place to help prevent looters and rioters," said one text. The anonymous sender noted that his friend "got the call last night and was told to pack and be prepared for the call today with his dispatch orders." It urged recipients to spread the word. Similar messages warned of an imminent federal quarantine. "From a friend of a friend who works for Cleveland clinic," began another text, again citing unnamed sources. "Please be advised, within 48 to 72 Hours the president will evoke what is called the Stafford act. . . . ​Stock up on whatever you guys need to make sure you have a two week supply of everything." It then implored people to forward the text to family and friends.
Back in Washington, the White House reacted quickly. "Text message rumors of a national #quarantine are FAKE," the National Security Council said in a tweet on March 15, just before midnight. "There is no national lockdown." But it did little to stem the panic of some recipients, who frantically called their friends and family. As the US government explained, the texts were part of a disinformation campaign intended to sow disorder and confusion during the early stages of the COVID-​19 crisis.
But who sent them? US intelligence agencies ultimately concluded that Chinese government operatives had forwarded texts to Americans on their cell phones and posted false information on social media platforms. Several US intelligence analysts I spoke to did not believe that Chinese agents had created the lockdown texts, but rather amplified existing texts. The messages were tailored to alarm people and drive recipients to share and spread the misinformation on their Twitter and Facebook feeds. China was weaponizing information by sending texts to cell phones on US soil.
For decades, Russia had conducted disinformation campaigns in the United States. The Soviets were famous for their propaganda. So were the Chinese—​though largely outside the United States. Beginning in the 1940s, for example, China orchestrated a relentless propaganda and intelligence campaign against Taiwan. But China had never been this aggressive with operations targeting Americans in the US homeland. US officials were alarmed at how quickly China ramped up pro-​Beijing and anti-​Washington propaganda on social media platforms. "The Chinese have always had the capability to collect information, conduct espionage, and conduct a range of other activities against the United States," a former US intelligence agency leader told me. "But the Chinese have gone a step farther in conducting disinformation in the United States. And it is decidedly unneighborly."
Cyber campaigns, covert action, support to state and nonstate proxies, information and disinformation, espionage, and economic coercion—​these are the tools of irregular warfare.
Even after American officials had discovered the source of the misinformation, Chinese government officials continued to pile on. Zhao Lijian, a Chinese spokesman for the Ministry of Foreign Affairs, wrote on Twitter in March that the US military might have spread COVID-​19 in the Chinese city of Wuhan. "It might be US army who brought the epidemic to Wuhan," he wrote. "Be transparent! Make public your data! US owe us an explanation!" The claim that the US Army had infected individuals in Wuhan was ridiculous and completely unsubstantiated. Undeterred, however, the Chinese government amplified the claim on the official Twitter accounts of Chinese embassies and consulates.
The state-​run China Global Television Network Arabic channel produced an episode of China View that aired on March 17. Speaking in Arabic, the presenter falsely asserted that "some new facts" indicated that the pandemic might have originated from American participants in a military sports competition in October 2019 in Wuhan. The presenter further speculated that the virus might have originated out of US defense laboratories at Fort Detrick, Maryland, and raised "the possibility of the virus being transmitted to China from abroad during the period of the Military Olympic Games in Wuhan, which was attended by 109 countries, including the United States."
Russian and Iranian government outlets soon joined the fray, aggressively promoting conspiracy theories that COVID-​19 was a US-​manufactured biological weapon targeting their countries. A news outlet funded by the Russian Ministry of Defense published an article titled "Coronavirus: American Biological Warfare against Russia and China." It argued that Washington had unleashed COVID-​19 against Russia and China to weaken their economies—​an odd claim, since COVID-​19 devastated the US economy as well. An article from RT, the state-​run Russian news network, suggested that "the U.S. could be the prime culprit behind Covid-​2019 outbreak that hit China and then Iran." The head of Iran's Islamic Revolutionary Guard Corps said: "It is possible that this virus is a product of a biological attack by America which initially spread to China and then to Iran and the rest of the world."
None of these claims were true, of course. But Chinese, Russian, and Iranian activity during the COVID-​19 pandemic highlighted some of the major foreign policy instruments that those countries used to compete with the United States. Cyber campaigns, covert action, support to state and nonstate proxies, information and disinformation, espionage, and economic coercion—​these are the tools of irregular warfare.
*
While conventional warfare—​clashes between large military forces—​defined twentieth-​century power, irregular warfare will increasingly define international politics in the coming decades. Rising powers see an urgent need to globally compete for power and influence, and they are aggressively waging irregular warfare. Though the United States led the world after the Cold War as the only remaining superpower, supported by strong allies and a network of trading partners, the country is woefully unprepared for this type of competition today.
US government agencies and departments are focusing too much on planning for conventional and nuclear war with China, Russia, and other adversaries. Some policy makers are fixated on building a bigger navy with more than 350 ships, spending over $1 trillion on nuclear modernization, expanding the number of active duty and reserve soldiers to more than 1,040,000, and—​perhaps most important—​fighting conventional and nuclear wars against Russia in the Baltic states and China in the Taiwan Strait and South China Sea. And they are giving too little attention to irregular warfare. Yet China, Russia, and Iran are daily—​even hourly—​targeting the United States at home and abroad, using irregular means. Their main tools are not fighter jets, battle tanks, or infantry soldiers, but hackers, spies, special operations forces, and private military companies with clandestine links to state security agencies. They are waging a war online and in the shadows—​not primarily on conventional battlefields.
The United States does not need to choose between conventional and irregular competition. Both are important. Russia and China are developing conventional and nuclear military capabilities that pose a threat to the United States and its partners. The challenge is to find an equilibrium. As former secretary of defense Robert Gates said to me: "You have to be prepared for the full range of contingencies. One of the reasons that the Cold War, in many respects, was fought using nonmilitary instruments was because of the power of our conventional and nuclear forces to deter the Soviets." But while the United States fought effective irregular campaigns during the global competition with the Soviet Union, today it has ceded that battlefield to others. The results are disturbing.
US adversaries have exploited polarization in American politics; taken advantage of a withdrawal of US forces from the Middle East, Africa, and South Asia; and targeted US universities, companies, and government agencies. These trends worsened under President Donald Trump. His hyperpartisan politics, isolationist tendencies, and disregard for allies made it easier for China, Russia, and Iran to exploit the United States' vulnerabilities and weaknesses at home and abroad.
They are waging a war online and in the shadows—​not primarily on conventional battlefields.
After Trump's refusal to accept the outcome of the November 2020 presidential election and his incitement of a mob that stormed the US Capitol Building on January 6, 2021, Chinese government officials and pundits excoriated the United States for lecturing the world about democracy and human rights. Favorable views of the United States around the world plummeted, according to the nonpartisan Pew Research Center. In some countries, the United States' unpopularity in the age of Trump was nearly on par with Kim Jong-​un's North Korea, a regime run by a despot who butchered and starved his own population.
"We are not primed to compete against the Russians, the Chinese, and the Iranians. We are failing at it," former acting CIA director Mike Morell said to me. "I am fearful that when historians look back at this period, they will see it as the beginning of China overtaking the United States as a global power." Charles Cleveland, former head of US Army Special Operations Command, bluntly warned: "The United States is facing death by a thousand cuts. We are not prepared for competition the way the Russians, Chinese, and Iranians see it. For these countries, competition is largely irregular—​not conventional."
The Chinese are engaging in economic and technological competition, the Russians are conducting aggressive covert action, and the Iranians are leveraging partner forces and other assets in Lebanon, Syria, Iraq, Yemen, and other countries. All have aggressive cyber and espionage programs, and all view the United States as their main competitor. All three are also more active than most Americans recognize. "Competition is a daily occurrence," former CIA director Michael Hayden said to me. "It is happening all the time." Irregular warfare is generally cheaper for these countries than building conventional and nuclear capabilities. Since they are authoritarian regimes with state-​run economies, China, Russia, and Iran can also direct resources to irregular activities more quickly than the United States can and have few—​or no—​constraints in waging blatant disinformation campaigns and pilfering military and commercial secrets.
"The Chinese are not interested in a shooting war," said Admiral Bill McRaven, the former head of US Special Operations Command (SOCOM). "They are stealing our technology, they are trying to outpace us in artificial intelligence and other areas. While we can never discount the possibility of war with China, these issues concern me much more than conventional conflict." In addition, US deputy secretary of defense Kathleen Hicks argued: "Today's competition of interests is often playing out in a place beyond diplomacy and short of conventional war, which some experts refer to as the gray zone. Too often, rivals are gaining an advantage at the expense of US interests." Joseph Votel, former head of both SOCOM and US Central Command (CENTCOM), came to a similar conclusion. "We are way too focused on conventional war and deterrence," he told me. "I saw this when I was SOCOM and CENTCOM commander. Conventional war dominated our approach."
There is still time to change course. But the United States needs to significantly alter how it thinks about—​and engages in—​competition before it is too late.
_________________________________________________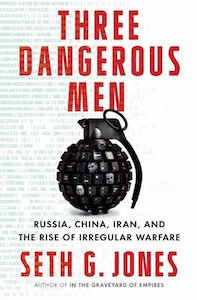 Excerpted from Three Dangerous Men: Russia, China, Iran and the Rise of Irregular Warfare. Copyright (c) 2021 by Seth G. Jones. Used with permission of the publisher, W. W. Norton & Company, Inc. All rights reserved.
---