The Moment My Poetry Students and I Could No Longer Ignore the Climate Crisis
Craig Santos Perez on the Origins of His Course in Ecopoetry
I arranged ten desks in a circle in preparation for students the first day of my undergraduate poetry workshop. It was fall 2011—my first semester teaching in the English department at the University of Hawai'i, Mānoa. The students filed in, out of breath and sweating. "The AC feels good," one said. "It's 90 degrees outside." I took roll, reviewed the syllabus, and began our first creative-writing exercise: haiku. As I would later learn, that August was the hottest in the history of O'ahu.
Despite the heat, the students kept up with the coursework as we explored sonnets, villanelles, and imagism. By October, the rains came and the island cooled. During one workshop, however, our cell phones beeped with flood warning alerts. Sure enough, by the time our class was over, the campus was drenched. A record number of storms (including "twin hurricanes") made landfall that semester, canceling many classes.
Student absences also increased because of illnesses transmitted by the swarms of mosquitoes on campus. Our workshop fell behind, and I had to scrap many of my lesson plans. I was frustrated. And the students seemed to be drowning in stress and a new kind of "eco-anxiety" unrelated to grades, work, tuition, or debt. I knew we were experiencing the impacts of climate change that were prevalent across the Pacific: record heat, extreme drought, increased storms, infectious diseases, ocean warming, rising sea levels. But I didn't discuss it with them. I didn't know how to.
After that difficult semester, I couldn't teach creative writing again without addressing the climate crisis. So I proposed to my department's curriculum committee a course on "ecopoetry" that would help students understand the environmental changes around us and give them the opportunity to express their emotions through poetry.
Ecopoetry generally refers to poetry about ecology, ecosystems, environmental injustice, animals, agriculture, climate change, water, and even food. It emerged in the 1990s as poets questioned the naturalness of "nature poetry," especially since nature itself was rapidly changing due to global warming and environmental destruction. Even though I had never taught such a course before, I was familiar with and interested in ecopoetry partly because of my own cultural background.
I was born and raised on the western Pacific island of Guam. As a kid, I always played with my cousins in the jungle or at the beach. We were taught, by our grandma mostly, to always act respectfully in nature, because that is where the spirits of our ancestors dwelled. But as I became a teenager, I witnessed how not everyone treats the environment as a sacred place.
I foreground how poetry can put a human face and emotional experience on abstract natural disaster and climate crises.
Guam is a US territory and one-third of our island is occupied by American military bases, which have contaminated our land, air, and water for decades, from the spraying of DDT to the leaking of PFAS into the island's largest reservoir. Indigenous environmental beliefs and ethics, as well as the legacy and ongoing impacts of environmental injustice in Guam, have been major themes and concerns in my poetry.
I have taught Ecopoetry every year since 2012, thanks to strong student registration. A diverse enrollment has reflected the demographics of the state; most of my students have been Hawaiian, Pacific Islander, and Asian American, with a smaller number of White, African American, and Latinx class members.
They have been barefoot surfers, skaters, dreadlocked hippies, mountain bikers, fraternity and sorority members, athletes, vegetarians and vegans, and self-proclaimed "nerds." Their majors have ranged from English to Ethnic Studies, psychology to science, hospitality to Hawaiian. Despite these differences, the students have always bonded through their shared love for the islands.
Unfortunately, most students know very little about ecology, environmentalism, or climate change. This is even true of science majors, whose knowledge seems to be more specialized in chemistry or physics. This gap led me to teaching ecopoetry as a creative pathway toward environmental literacy. So instead of reading just poetry, we also read science journalism and ecopoetry essays, as well as watch documentaries and YouTube videos about concepts like nature, ecology, wilderness, environmental justice, the Anthropocene, extinction, and climate change.
As they read these contextual sources, I ask them to annotate key words, images, symbols, facts, data, history, or descriptions that will form the foundation for their own poems. To help students organize all this information, I divide the course into weekly units focusing on different themes/concepts, such as "Pastoral," "Solastalgia," "Water," "Trees," "Animals," "Outer Space," "Plastic," "Nuclearism," "Oil," "Wildfires," "Disaster," "Gardens," "Geo-Engineering," "The Anthropocene," and more.
I also include themes related to identity, such as "Ecofeminism," "Indigenous Ecopoetics," "Black Ecopoetics," "Queer Ecopoetics," and "Disability Ecopoetics." Along with providing a framework for engaging secondary readings, this organizational structure helps students develop environmental literacy while also priming them to interpret and write their own ecopoetry.
For each unit, I assign ecopoetry related to the theme. We read and discuss the poems in the context of our supplemental materials, focusing on both literary interpretations and craft elements. I highlight how poetry can communicate environmental issues through creative language and expressive form. Moreover, I foreground how poetry can put a human face and emotional experience on abstract natural disaster and climate crises.
For example, one poem I teach is a long poem, "Gentle Now, Don't Add to Heartache," by American poet Juliana Spahr. The poem is about how the environment has been degraded and how many species have gone extinct. The students read the poem aloud and can hear the heartache and mourning of the speaker. They can feel the overwhelming loss embodied in the long lists of extinct and endangered species.
In terms of course readings, I introduce students to a wide range of poets, forms, and styles. Diversity is an important pedagogical ethic when teaching ecopoetry, because it reflects and honors ecological biodiversity. I have found that the most strategic way to present this is through ecopoetry anthologies, since the anthology form is itself an assemblage.
I supplement these anthologies with my own course reader that features Hawaiian and Pacific Islander ecopoetry. Through close reading an array of ecopoetry, the students develop critical reading and interpretation skills, an understanding of poetic craft and technique, and the recognition of the power of ecopoetry to humanize environmental themes.
Inspired by our reading and discussion, I then prompt the students to write their own original ecopoetry based on the current theme. Through their poems, they can demonstrate their understanding of the theme by incorporating their notes in creative ways, and they can articulate their own personal, emotional, cultural, or political relationships with the topic. We then conduct a conventional poetry workshop so the students can receive constructive feedback on their drafts, after which they revise and ultimately perform their finished poems aloud to the class.
The most memorable part of this course is not actually what happens in the classroom, but the experiences we have outside campus. Several times a semester, I organize class meetings that literally connect students to the environment. Imagine—students are sitting in a circle at Kaimana Beach, a small strip of sand at the end of Waikīkī. We read aloud "Ocean Birth," a stirring poem by Māori writer Robert Sullivan.
The sound of waves crashing against the shore punctuate the rhythm of the lines. The trade winds billow the pages of poems in the students' hands. After we discuss the poem, the students find their own spots on the beach to freewrite. Several students stand in the ocean, the water rising to their knees, while they write in their journals. One student, lost in thought, does not notice a large swell approaching until it is too late, and his journal is soaked.
We have had class at an arboretum in the valley behind our campus, inspired by the many native and introduced trees there. We have also met at a sustainable farm and community garden, as well as in Honolulu itself for our "urban nature" unit. The poems written from these field trips tended to be the most powerful and vivid work the students produced.
Despite my anxiety, I know our classroom will be a space where we can learn about, confront, and cope with the climate crisis together.
When I first taught this course, several of the more conscientious students asked on the last day of class, "Is it enough to simply read and write ecopoetry?" We concluded it was not enough. As one student poignantly phrased it, "Ecopoetry inspires us to act." The following semester, I began including community and public engagement components, requiring students to attend two community-engaged environmental events throughout the semester (extra credit if they attended more).
On the syllabus, I list local environmental organizations they can volunteer with, such as the Surfrider Foundation and the Sierra Club Hawai'i. Over the years, students have attended beach clean-ups, volunteered for farm work days, participated in Earth Day, and attended the Hawai'i Conservation Alliance Conference and the Honolulu Climate Change March. Beyond participating in environmental movements, we also brainstorm ways to engage the public.
Students have shared their ecopoetry on social media platforms to educate their friends/followers, submitted their ecopoems to the school newspaper, distributed their poems as broadsides around campus and local coffee shops, and organized ecopoetry readings on and off campus. The most substantial public ecopoetry project we completed was a collaboration with an online magazine, the Hawai'i Independent, in 2015. Each week of the semester, the magazine published a selection of student poems, accompanied by my introduction that explained our theme and readings for that week.
Community and public engagement has been a powerful way for students to actualize their desire to "do something" about environmental injustice and climate crisis, as well as to think creatively about how poetry can make an impact in the world as a form of literary eco-activism.
As I write this, I am preparing for my eighth year teaching Ecopoetry. This summer of 2019 was the hottest in history, breaking the record set when I first taught the course. I am rereading the Hawai'i Sea Level Rise Vulnerability and Adaptation Report, published by the state in 2017. How will my students confront the data from this report: rising temperatures, increased respiratory and mosquito-borne diseases, extreme drought, collapsing fish populations, more frequent hurricanes and tsunamis, and the extinction of endemic species?
How will they cope with the fact that sea-level rise will cause periodic flooding, permanent inundation, and coastal erosion, which will damage more than 6,500 structures, 25,000 acres of nearshore land, 500 Hawaiian cultural sites, and forty miles of major roads and highways—causing over $20 billion in damages? How will they reckon with the projected displacement of over 20,000 residents?
Despite my anxiety, I know our classroom will be a space where we can learn about, confront, and cope with the climate crisis together. We will be inspired by the ecopoetry we will read and the places in Hawai'i we will visit. We will empower ourselves by creatively transforming our thoughts and emotions into ecopoetry. We will participate in the environmental movement, engage the public, cultivate hope, and imagine sustainable futures through our poetry.
__________________________________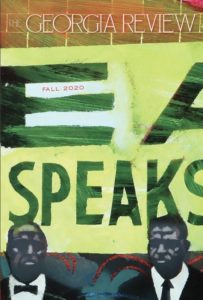 Excerpted from The Georgia Review (Fall 2020). Reproduced with permission. Copyright © 2020 by Craig Santos Perez.
---