The Long History of Afrogoth, from Toni Morrison to M. Lamar
Leila Taylor in Conversation with M. Lamar on Afropunk and Gothic Music and Lit (Also, a Playlist!)
The following is a conversation between Leila Taylor and M. Lamar that took place over email in preparation for their recent discussion on Taylor's new book Darkly: Black History and America's Gothic Soul at McNally Jackson Books in Brooklyn.
*
Leila Taylor: I first discovered your work from a New York Times article about you. I saw your picture of a black man, totally gothed up, sitting in front of a piano and there was this immediate recognition. You described yourself as "gothic-devil-worshiping-free-black-man-blues tradition" and I nearly jumped out of my seat. I thought, "That's it! That's exactly what I'm talking about!" In your films, you're using the visual language of the gothic (the black hooded cloak, the coffin, inverted crosses) with the symbols of slavery (cotton, bullwhips, gallows) and in one of your films, you're flipping through a copy of Toni Morrison's Beloved. It's just perfect. I felt like you and your work were the embodiment of this book.
You use the world Negrogothic and I find the terminology around this topic interesting. These words: goth, gothic, Afrogoth, Afrogothic, mean things to different people. Goth has a very specific definition for me. It's a music genre that was born in the late 70s/early 80s and the subculture and style that grew from it. "Gothic" is a descriptor, an attribute that can be applied to almost anything. I prefer AfroGothic because it's bigger, more expansive, it's a perspective and a point-of-view, something that can be applied to the black experience in its entirety. To me, AfroGoth implies a black goth person and to have that seems restrictive. There are two terms that you use to talk about your work: "Negrogothic" and "deathlessness" (which is so beautiful). What do those words mean to you?
M. Lamar: When I first came up with the term Negrogothic it was the title of a tape I was putting out in 2010. When one makes music the first question you are asked in social context is what kind of music do you make? Negrogothic became my default answer. When I talk about the Negrogothic I am not just talking about my music or music generally. I mean to evoke the whole of the trans-Atlantic experience. Much like the gothic novel, which is about horror and romance, I mean to evoke the horror of the plantation, of lynching, of Jim Crow, of mass incarceration, racial sexual fetish, etc.
For me, Negrogothic is a way of talking about all of the horror or our experience and the romance like the gothic novel being about romance and horror. The romance is what we do with this horror which is inescapable. The romance is the awareness of our circumstance and the beautiful blues music that has been the result or the negro spiritual sang by Jessye Norman or the Trumpet played by Miles Davis. The romance is so linked to the horror that it can be nothing else but gothic hence Negrogothic.
Deathlessness for me emerges from the Negrogothic. Anthony Paul Farley has said "what of the angel's debt? The debt the angel owes for it Deathlessness." Sun Ra said "I am not a man you see I am an angel." This angelic state or state of Deathlessness begins to account for connections to the spirit world which of course has been deeply important in black life.
When I talk about the Negrogothic, I mean to evoke the whole of the trans-Atlantic experience. Much like the gothic novel, I mean to evoke the horror of the plantation, of lynching, of Jim Crow, of mass incarceration.
LT: It's such a lovely way to think about ghosts as well, as being in a state of Deathlessness. It's not being alive but since you are existing in a state of being, you're not quite dead either. It reminds me of the Afro-pessimism concept of social death.  I'm glad you brought up romanticism because that's not the first thing people think of with goth, but that's absolutely what it is. I like to think of the gothic as romanticized melancholy and your work has much to do with the idea of blackness being in a state of melancholia or permanent mourning.
Since there is no singular loss from the Middle Passage, there were lost lives, memories, histories, cultures, languages, it's this nebulous void. Slavery never ended, the name and the tactics just keep changing. So there is no death to mourn. There's no healing process. There is just this persistent state of melancholia. The gothic is also about the aesthetics of melancholy and mourning as a practice. When I ask myself what does that practice look like and sound like in terms of Blackness, the answer is your work, the Negrogothic.
You mentioned Sun Ra. The way I think of AfroGoth is closer to AfroFuturism than AfroPunk. It's the gothic through the perspective of the black experience. You also mentioned spirituals and Jessye Norman. There are these temporal shifts that happen in your music that I find mesmerizing. There is this primordial guttural metal voice with Diamanda Galas like howls and when we met you mentioned the physicality of black opera singers. Your work also references Hegel and Nietzche. How do all of these influences come together to form the Negrogothic?
ML: What is so fundamental to me about being black in the US is our relationship to Europe. I have been obsessed with Germans like Hegel and Nietzche, Schubert and Wagner because they for me get at bondage and death and consciousness that I feel is resonant with the US black consciousness. I feel like Jessye Norman is a perfect embodiment of both Wagner and Hegel when she sings the spiritual They crucified my Lord. Her voice here, as well as the orchestra, are completely Wagnerian in terms of the total drama. For me, there is no other way to look at this performance of this spiritual other than a marriage of this great Wagnerian African-American soprano performing this very black in fact blacker than black music with all the sonic dominance and force of the European orchestra. She very much in that moment conquers European through a sorry song for and by our people.
This is my aspiration with the Negrogothic to be able to sit inside, deep inside this experience, the terror the mourning and to not be destroyed by it. For me, Jessye Norman, Marian Anderson, Sun Ra, Cecil Taylor are the Ultimate transcendent Negrogothic figures. Of course, there are many more who are able to spin horror and terror into a romance of unconditional love.
LT: You also can't talk about the gothic without talking about England. The gothic (and for that matter goth) is considered to be the purview of the British, something that they started and perfected, but with no consideration to the victims of British colonization. To me, that's where the gothic begins. If horror is about working through cultural anxieties and trauma, what better source than the traumatized? It's what always bothered me about the Southern Gothic. It's about the anxiety and lost identity of the south after slavery, the disillusionment and the horror that comes out of all that repressed guilt. While I love these stories (I love Flannery O'Connor) it's a bit like the murderer feeling sorry for themselves because they got caught. It's about the perpetrator, not the victim.
Since Walpole's Castle of Otranto, the haunted house has been fundamental to the gothic. The thing that is so important to me about Beloved is that it reframes the haunted house through the eyes of a former slave. It decolonizes the haunted house. I love your description of the gothic, to "sit inside the experience of terror and mourning and not be destroyed by it." But also to flourish in it, to create from it and thrive in that space. That's the story of Black people in America. I also see it in artists like Kara Walker, Titus Kaphar, and Kerry James Marshall. When I first saw Marshall's Shadow of His Former Self I could not get that image out of my head. It's the stuff of nightmares but it's totally enthralling.
This is my aspiration with the Negrogothic to be able to sit inside, deep inside this experience, the terror the mourning and to not be destroyed by it.
ML: Like you, I believe Morrison's Beloved is hugely important to any conversation about black people and the gothic imagination. In fact to any discussion of America and the gothic. In your book, you only talk briefly about the Oprah film based on the novel. I have always believed that not only should the film have been called a horror film but that it would have been better served by a slightly campier direction. This isn't to minimize the seriousness of the subject but to place it in a horror convention of a certain style as to not seem so heavy-handed. What do you think of this idea of cinematically bringing out the horror within the convention of the genre for that film and other films about the horror and terror of slavery?
LT: People are so afraid of losing credibility when it comes to horror. Tarik Davis wrote a great article on the  "respectability politics" of horror. Horror has never been seen as a serious genre. From the beginning, gothic novels were always considered a bit trashy and I think people are squeamish about putting something so loaded into a category considered frivolous. But that's where the power of horror lies. It takes the thing that we are supposed to revere and fear and it plays with it. It takes the bite out of it by owning that fear, by manipulating it, and changing it for our own pleasure. It's being scared on our own terms. One of the problems with movies about slavery is that we are still having to explain how horrific it was, why we still have to talk about it after 400 years. There is still this perception that we should be "over it" by now.
Horror is also the genre where we can take that undefined trauma and express it in ways that are inexplicable, uncanny, illogical. Chattel slavery was monstrous, we deserve monsters of our own. There are a few movies out there that are explicitly about slavery in the form of a traditional horror movie, like Tales from the Hood or Candyman. I think the problem with Beloved the Movie is that it can't escape the true historical horror. It wants to be The Color Purple and it can't be. We're so concerned with being taken seriously that we lose that part of our humanity that wants, needs, and deserves absurdity. I don't want a horror movie that uplifts. I don't want another 12 Years a Slave, I want another Ganja & Hess.
__________________________________
Listen to Leila's playlist for Darkly.
__________________________________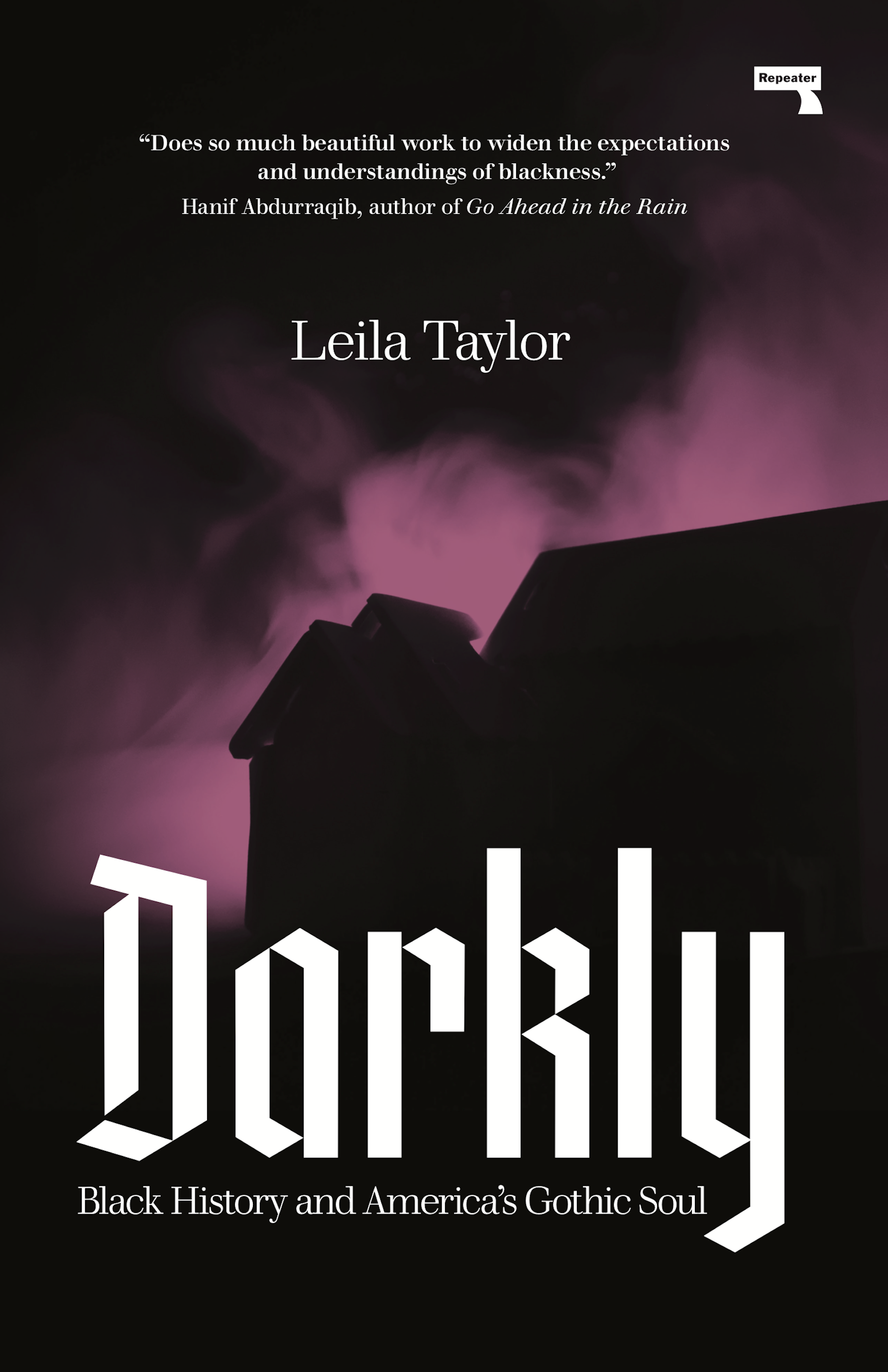 Leila Taylor's Darkly is out now from Repeater Books.
---