The Lit Hub Staff's Favorite Children's Books
11 Recommendations from the Editors
Almost everyone agrees that it's a good thing to read books to your children. Sure, it bolsters language skills, concentration, empathy and curiosity, and probably it strengthens the bond between parent and child—but also, children's books are just fun to read. Well, some of them anyway. And if you're someone who reads (and writes, and writes about) books for a living, chances are you started out pretty early, and with some pretty good material. To that end, the Literary Hub staff would like to recommend our very favorite children's books, sourced from our own personal childhoods.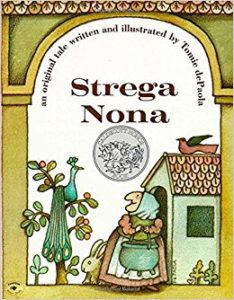 Strega Nona, Tomie dePaola
Strega Nona is about a witch whose magical ability is making unending amounts of pasta, like a one-woman Olive Garden, and her buffoon of a male assistant who nearly destroys their town with his incompetence (he only learns half of the spell and is unable to stop the endless stream of pasta; in an incredibly generous punishment, he is forced to eat it all). It was a very formative text for me.
–Blair Beusman, Associate Editor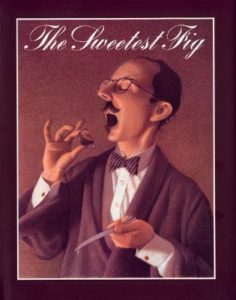 The Sweetest Fig, Chris Van Allsburg
As I child, I loved all of Chris Van Allsburg's books: The Garden of Abdul Gasazi, The Wreck of the Zephyr, Jumanji (did you know Jumanji originated as an extremely beautiful and frightening picture book?), The Wretched Stone, The Widow's Broom—ah, I could go on. Van Allsburg's books are something more than simple picture books—they are dreamy and serious, delicate works with grand themes. Not to be precious about it, but they are art. There is also, hidden somewhere in each, a bull terrier with a spot over one eye. His name is Fritz. But anyway, my very favorite of Van Allsburg's books has always been The Sweetest Fig, in which an evil French dentist, who is mean to his dog Marcel, is paid for an extraction in two magical figs, which turn out to literally make his dreams come true. But Marcel has dreams too.
–Emily Temple, Senior Editor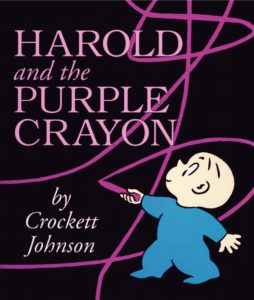 Harold and the Purple Crayon, Crockett Johnson
Because I have a toddler, any fond memories of reading from my own childhood have been supplanted by the experience of reading stories to him—but because my mother is sentimental beyond all get out, many of the books we read are actually my own (after being lovingly kept in a storage box in Brooklyn for a few decades—thanks, Mom!). While Eric Carle's books (specifically, The Very Hungry Caterpillar) are perennial favorites, they unfortunately don't elicit much of a response from the spawn. And while he loves Rod Campbell's Dear Zoo, it frustrates me to no end. (Zoos are not in the business of sending children pets, no matter how politely you write to them; this is a grossly irresponsible expectation to set.) One book that we all can agree on, though, is Harold and the Purple Crayon. It's a book that feels like genuine magic, an introduction to creativity and imagination whose simple message I hope will be a source of inspiration to my young reader: with a pen (or crayon) you can create anything.
–Emily Firetog, Managing Editor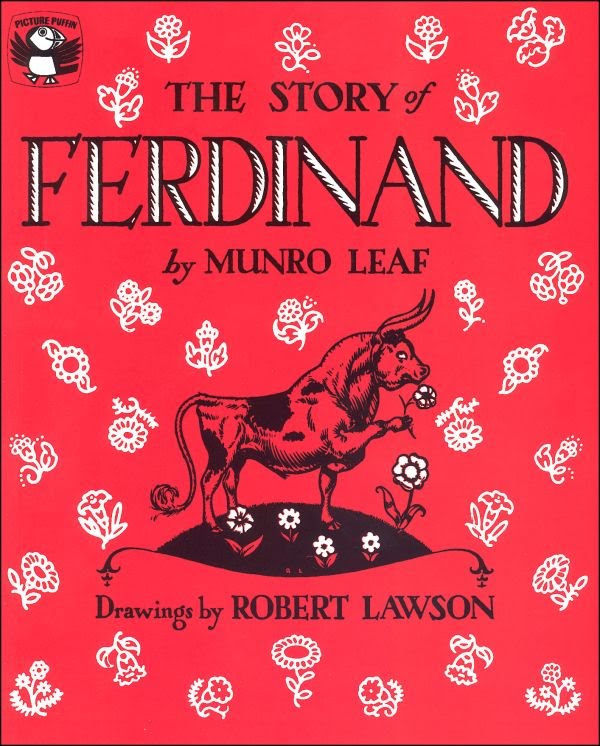 The Story of Ferdinand, Munro Leaf
I loved this book when I was seven years old and would study the illustrations of Robert Lawson, finding new details each time, in the faces of the bullfighters, in the fields filled with flowers and young bulls. I loved this book when I was 20 years old and learned it was an allegory of the Spanish Civil War. And now I love this book when I read it to my own seven-year-old.
–Jonny Diamond, Editor in Chief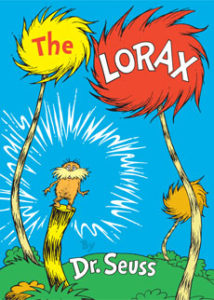 The Lorax, Dr. Seuss
As a kid, I had a big omnibus collection of Dr. Seuss books so well-loved that its paper cover wore right off. I don't remember every story it contained, but my favorite was The Lorax (although it may have at one time been The Grinch Who Stole Christmas—that entry was marred by a papercut so gruesome that it became slightly disturbing to revisit those pages. But I digress.) I was fascinated by the story's framing, and the moody, almost post-apocalyptic landscape it opens with. At the time, I certainly didn't realize or care that The Lorax was credibly an anti-capitalist parable about the cost of unchecked greed—"I, the old Once-ler, felt sad as I watched them all go. BUT . . . business is business! And business must grow"—how it poisons the landscape and displaces communities (RIP Brown Bar-ba-loots). But I'll admit it's satisfying when a childhood favorite maps onto your adulthood politics. It feels, to me, like a perfect example of a story you can grow up with—you know instinctively that it's sad when the last Truffula Tree falls with a "sickening smack," but with each re-read, you understand a bit more why.
–Jess Bergman, Features Editor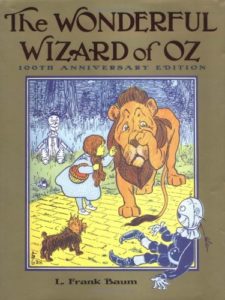 The Oz series, L. Frank Baum
For years, a faraway uncle sent my mother and I three Oz books a year: one for my birthday, one for hers, one for Christmas. Using basic math, that means nearly five years of my mother reading to me about the Land of Oz—which, in retrospect, makes the books seem all the more wonderful. We started with The Wonderful Wizard of Oz, which chronicles Dorothy's famous trip through Munchkin Land and into the Emerald City. We still relish the fact that the Emerald City is not in fact green—visitors are instructed to wear Emerald-tinted glasses upon entering the city, in order to protect their eyes from the city's overwhelming glory. But Dorothy's story is only a small part of Oz. Most of the books follow other characters: Queen of the Chickens Billina, an animated sawhorse named Sawhorse, the villainous Nome King, and more. Being a nerd and a bit of loner growing up, it's perhaps not surprising that the hyper-intelligent robot Tik Tok was one of my favorite characters. He also carries the maps to L. Frank Baum's Oz, a vast and character-rich fantasyland.
–Alicia Kroell, Editorial Fellow
The Rainbow Goblins, Ul de Rico
It turns out that all of my favorite children's books are about gluttony and punishment, which is slightly worrisome, but I won't read too deeply into that. This one is about a horrible band of goblins who feed off of (and thereby destroy) rainbows. A group of flowers team up to thwart them, drowning them in a sea of color. It's also beautifully illustrated, appeasing both the aesthetic and just aspects of my Libra nature.
–Blair Beusman, Associate Editor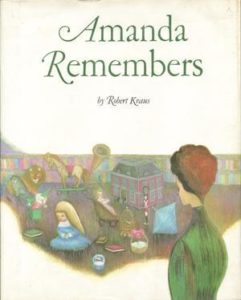 Amanda Remembers, Robert Kraus
To be honest, it was not the story of Amanda Remembers I loved so much as the physical object itself—a decaying clothbound book with a muted, painterly cover that looked nothing like the bright and cartoonish images I was used to. Amanda Remembers was published three years after my mom was born, and this copy had belonged to her when she was my age then, something which felt literally incomprehensible to my peanut-sized brain. In the book, young Amanda's mother throws away her beloved (and decrepit) doll and stuffed dog, prompting a poignant wave of reminiscence that culminates in Amanda crying herself to sleep and dreaming that her father has gone out searching for the toys—only to wake and discover that he has, miraculously, retrieved them from the dump. A savage Kirkus review from 1965 perhaps illustrates the extent of my bias when it comes to this book: "[The illustrations] call to mind the stiff sort of thing that used to be used in 19th century French novels. Amanda herself resembles a cold china doll, with blank blue eyes permanently blasted wide. The Victorian setting adds to the grimness of her brief grief." Still, as someone who came into her love of the grim early, I say: all the better.
–Jess Bergman, Features Editor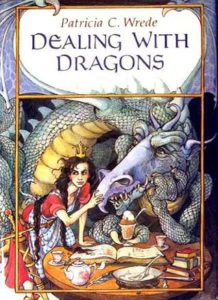 The Enchanted Forest Chronicles, Patricia C. Wrede
I actually don't think words can express how important the Enchanted Forest Chronicles were to me as an adolescent. I mean, I know all the princesses can do kung fu now, but that wasn't always the case, and besides, Princess Cimorene doesn't do kung fu—she runs away from her life of learning table manners and memorizing the correct moments to scream during giant attacks so that she can spend her days organizing a dragon's Latin library and cooking her cherries jubilee. Oh, and coming up with new and inventive methods to tell the knights and princes who come to rescue her to go away, please. This is only the beginning—the whole series is an irreverent, deeply charming revisionist history of every fairy tale you've ever heard, helmed by a group of extremely cool female characters. For anyone who thinks slaying dragons is for the birds, and would prefer to just be their best friends and kill all the wizards instead.
–Emily Temple, Senior Editor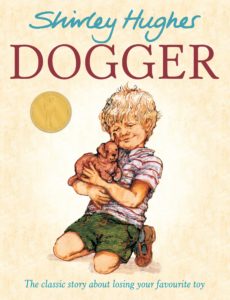 Dogger, Shirley Hughes
Dogger is a 1977 picture book by beloved children's author and illustrator Shirley Hughes (who will celebrate her ninety-first birthday this July). Hughes' books have been a staple of British and Irish households for decades and the earliest stories I recall being read, the earliest drawings I remember pointing at over my parents' arms, were penned by her. Dogger, my all-time favorite, is the tale of a young boy named David whose beloved stuffed dog is lost, added to a stall selling used toys at a school fete, and, in a tragic turn of events (and I hope you're sitting down for this) sold to another little girl. David is distraught of course, and the little girl is distraught because David is distraught, but just when we're certain all is lost, David's big sister steps in to heroically and selflessly save the day by trading the new owner a giant pink teddy bear (which David's sister won at the fete because David's sister is a boss) for Dogger. It may not be the most narratively complex of children's books, but it holds a special place in my heart.
–Dan Sheehan, Book Marks Editor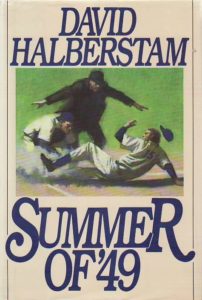 Summer of '49, David Halberstam
My parents generally couldn't be bothered to keep kids' books around the house, a form of neglect I fully intend to impose on future generations of Murphys. What we did have was sports books, lots of them, and as long as they were on my shelf, I read them indiscriminately, without regard for the words I didn't know or the racy anecdotes I couldn't possibly understand. My favorite, read at least a half dozen times in childhood, was David Halberstam's Summer of '49, about the legendary postwar season that pitted Joe Dimaggio and his hit streak against Ted Williams and his aesthetic perfection. It was a seminal text for my budding Red Sox fandom / penance, and I can still remember staying up late summer nights reading this one by flashlight while the inglorious '89 Sox, led by Dewey Evans, lumbered into a third place AL East finish, barely above .500, but with a storied and tragic past I was beginning to understand and cherish.
–Dwyer Murphy, Senior Editor, CrimeReads
---