The Life and Death of Robert Capa: How a Woman Invented the First Great War Photographer
Giles Tremlett on Gerda Taro, Who Documented the Spanish Civil War and Died in Action
In August 1936 a small, scruffy, dark-haired Hungarian photographer called Endre Ernö Freidmann and his elegant Polish partner Gerta Pohorylle crashed-landed into a field in northern Spain in an aircraft that also carried their lightweight Leica cameras.
It was an inauspicious, if typically rugged, arrival for an adventurous young couple who had already fooled picture agencies in Paris into thinking that they were, in fact, a single but entirely fictional person—an experienced American photojournalist whom they named Robert Capa. The fictitious photographer, they insisted, charged 150 francs a picture, or three times the rate Freidmann had been getting since he began selling his work the previous year.
By the time they crashed into a field outside Barcelona, the couple had been rumbled by the influential publisher of Vu magazine, Lucien Vogel, but the Capa reputation was already established. It was Vogel, in fact, who chartered the plane to Spain.
The couple, who were also lovers, had come to cover their first war, with Friedmann now using the name Capa while Pohoryelle called herself Gerda Taro and took many of the "Capa" pictures herself. It was the start of the career of the first great visual chronicler of war, as "Robert Capa" soon became.
Spain's civil war was the opening salvo of World War II. Capa and Taro backed the left-wing elected government that was trying to hold off the reactionary rebels led by future dictator Francisco Franco.
While Hitler sent troops to help Franco, Capa and Taro were left-wing Jewish exiles from fascism. She had been arrested in Leipzig, Germany, for distributing anti-Nazi leaflets while he had fled the anti-semitic regime in Hungary. They formed part of a wider circle of artistic but penniless young Jewish exiles in Paris.
The couple was courageous and talented, but also willing to cheat.
In August 2016, I travelled with Belgian photographer Max Pinckers to the southern Spanish town of Espejo, where we clambered up a steep olive grove on a hill called the Cerro del Cuco to the spot where one of Capa's most famous pictures was taken. The "Falling Soldier" shows a white-clad militiaman in what is meant to be the moment of death, with Life later writing a caption that read: "Robert Capa's camera catches a Spanish soldier the instant he is dropped by a bullet through the head in front of Córdoba."
A forensic investigation by Spanish photography professor José Manuel Susperregui has matched nearby hills and crests to the background of other pictures from this roll of film. Espejo, however, was a long way from the frontline in September 1936, which means the picture must be a fake. Capa and Taro either posed the shot or took pictures of a training exercise.
Pinckers brought a scanning camera to compose ultra-high-resolution pictures that contrast the elegant banality of the endless olive groves with the drama of Capa's famous shot. He called his later exhibition (and book) "Controversy". As a text in the book points out, the only indisputable fact is that the iconic picture is, indeed, of someone falling.
Fakery may shock purists, but it did not prevent the couple from also taking breath-taking pictures of real battle. Later in life, indeed, Capa's motto would be: "If your pictures aren't good enough, you're not close enough." It was an adage which, eventually and separately, cost them their lives.
In mid-November 1936, Capa drew up at a laborer's hut by a battlefield outside Madrid in a battered Citroën car that belched blue exhaust fumes. This was the squalid field headquarters of an inexperienced brigade of volunteer foreign fighters belonging to a remarkable military unit known as the International Brigades.
This unit of 35,000 self-declared "antifascists" from 85 of today's countries was a unique phenomenon, compared at the time to the Crusades. The volunteers, including 2,800 Americans gathered mostly in the Abraham Lincoln battalion, saw the attempt to overthrow Spanish democracy as part of the wider spread of fascism. Capa and Taro built a special relationship with these men and women, many of whom were also political exiles, Jewish or both.
That self-styled macho hero, Ernest Hemingway, was enraged by Taro's bohemian sexuality, fearlessness, and ability to get much closer to the real fighting than he ever managed.
The charming, self-deprecating Capa, then aged 22, was soon allowed out on patrol. He had still not encountered real combat. "If shooting can be avoided, I don't mind," he half-joked to German writer and volunteer Gustav Regler. When bullets began to fly overhead, Capa excused himself, saying he needed to change his trousers. "My guts aren't as brave as my camera," he explained.
That did not stop him returning several times to photograph the foreign volunteers at the front line in Madrid's war-ravaged University City campus—a place where, he later said, "the abnormal… had become normal."  Spread over a dozen pages of the magazine Regards, Capa's pictures of volunteers in the trenches, huddled behind machine guns or helping peasant women with their laundry, helped create a glamorous narrative for the International Brigades. It was his first major piece of war reportage.
Many of Capa's pictures were taken by Taro but separating them out is difficult. A famous series of Spanish militia women learning to shoot on the beach at Barcelona is certainly hers. At other times, it seems, they swapped cameras and authorship is impossible to ascertain.
Aged 25, Taro was the puckish and sexually confident daughter of Polish grocers who had settled in Stuttgart, Germany. With her arched eyebrows, reddish hair, and effortless coquetry she stunned many of the young men she encountered. One male observer felt she was "like a fox that is going to play a trick on you." Kate Mangan, a translator who travelled with Taro on a trip to the front, was a more reliable observer. Taro was "a ripe beauty," she wrote in her memoir Never More Alive: Inside The Spanish Republic "with a tanned face and bright orange hair cropped like a boy's… the effect was startling. [She] wore a little, round, Swiss cap on the back of the astonishing hair. She had small feet and was a model of Parisian sportif chic."
That self-styled macho hero, Ernest Hemingway, was enraged by Taro's bohemian sexuality, fearlessness, and ability to get much closer to the real fighting than he ever managed, and called her "a whore." Hemingway was also in Spain seeking greatness, or rather looking to revive his flagging literary output. He succeeded, writing For Whom The Bell Tolls about an American volunteer who dies in Spain.
Eventually, Taro decided to use her own byline. When Capa flew to Paris in July 1937 to organize a trip for them to China, she stayed behind—just as a Republican offensive was launched at Brunete, twenty-five miles from Madrid. Early on 25 July 1937, she travelled to the front with Canadian reporter Ted Allan, donning a militiawoman-style uniform of rope-soled espadrilles and khaki overalls. She ignored Allan's request that they avoid danger. "How do you want me to take pictures? Long distance?" she replied.
When they reached the International Brigade positions, they were warned that "in five minutes there will be hell." Taro refused to leave, taking pictures from a foxhole as aircraft from Hitler's Condor Legion bombed and strafed them. When soldiers began to run, she jumped out to stop them.
After her film ran out, they set off for the rear, balancing on the running boards of a large Matford car that was ferrying wounded soldiers to hospital. Taro was due to join Capa in Paris and thought she had shot some of her best work. "Tonight we'll have a farewell party in Madrid," she shouted across at Allan, according to his novelized version of events, This Time a Better Earth. "I've bought some champagne."
In the chaos of retreat, however, an out-of-control Republican tank smashed into the car. Taro was taken to an international hospital with serious stomach wounds. A Hungarian doctor, Janos Kiszely, recalled her being "more or less dead when she came into my hands." Taro's morphine-clouded final words were to ask if her cameras were safe. Unfortunately, those last pictures were lost forever.
The 26-year-old woman was such an unusual patient that somebody took a photograph of Taro on her deathbed, hands gently folded across her stomach, with the handsome Kiszely wiping blood from her face. The photograph appeared amongst the deceased doctor's possessions in 2018. Even in death, Taro looks impishly glamorous. The composition, in an apt homage, is almost perfect. Nobody knows who took the picture.
Capa never forgave himself for leaving Taro alone. "After her death, he would always talk about her with me, over and over again," Ruth Cerf, the friend who had introduced them in Paris, said. He went on to take iconic pictures of the beach landings at Normandy in World War Two and co-founded the famous Magnum agency. In 1954, he stepped on a landmine in Vietnam. The remarkable Robert Capa partnership died as it had lived, close enough to take the picture.
_____________________________________________________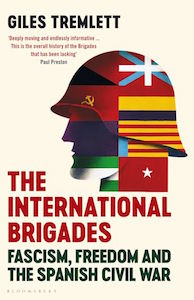 Giles Tremlett's The International Brigades: Fascism, Freedom, and the Spanish Civil War is available now via Bloomsbury. 
---