The Joys of Influence: In Praise of Intertextuality
Dur e Aziz Amna on the Work That Laid the Foundation for Her Debut Novel
As an English major in college, I had to take two courses titled Major English Poets I and II, starting with Chaucer and ending with Eliot. Many Americans in my cohort hated the requirement because of the English. As a Pakistani, I didn't love the courses either because of, well, the English. What made it more bearable, though, was the professor I had for the second course, a highly intelligent (English) woman in her seventies who spoke with equal eloquence about Milton, her dead ex-husband, and the tattoo she had recently gotten on her back.
While teaching The Wasteland, she spoke of the many literary allusions in the poem—there were so many subtle references to other writers that Eliot was accused of plagiarism. He responded by adding the famous endnotes that now form a seminal part of the poem, a part he himself exasperatedly called a "remarkable exposition of bogus scholarship."
I think of The Wasteland often, while considering how a lot of the Urdu poetry I have read refers to other poems, almost always without direct attribution. I have never considered that to be plagiarism because what is this idea that poetry can belong to anyone? I also remember The Wasteland any time I think more generally of intertextuality, the literary theory that suggests that all works of literature are derived from others. They can be deliberately intertextual—think Wide Sargasso Sea and Jane Eyre, or Joyce and Homer. There is also latent intertextuality, influences or references that creep into a writer's work without deliberate effort. Was Eliot aware of every reference he was making, or had certain lines from Shakespeare or Ovid or Baudelaire so frequently perambulated in his mind that the vocabulary was now as much his as it was theirs?
Writers from minority backgrounds constantly face questions of loyalty to their culture or language, posed sometimes by their audience and often by themselves.
While writing my forthcoming debut novel, American Fever, I knew that I wanted to include references to texts that had been important to the protagonist, Hira. The epigraph page itself pays tribute to all three languages that have shaped me, with one quote each in the original Urdu, English, and Punjabi. A delightful side benefit of writing a coming-of-age story featuring a bookish teenager was being able to constantly refer to the literature that had shaped her perception of the world.
The novel follows Hira as she moves from urban Pakistan to rural Oregon for a yearlong exchange program. While in America, she faces the classic dilemmas of the foreigner—culture shock, the pressure to assimilate, and homesickness. She swaps her highly Anglophilic bookshelf—Dickens, Blyton, Austen—for Emerson and readings on the American Civil War. As a Muslim woman, she faces other challenges too, navigating casual Islamophobia in school and reconsidering her ideas on gender and spirituality in this new setting. But it is after she is suddenly diagnosed with tuberculosis that the novel's engagement with literature deepens.
In Europe, tuberculosis had a reputation of being the artist's illness, thought to produce clarifying fevers and increase creative output. Indeed, many writers succumbed to it, from Chekhov to Chopin and from Kafka to Keats, although the correlation there is likely that of poverty and squalor. Yet, as Hira finds out, the disease is also a highly contagious one; it was the danger of this contagion that lead to the sanitoria of nineteenth century Europe. In twenty-first century America, it means a strict quarantine, during which she has to reach out for the only way she can keep sane—literature.
Perhaps the most significant literary presence in the novel is Nuskha Hae Wafa, the complete collection of Faiz Ahmed Faiz's poetry that Hira chances upon during her quarantine. The verses—quotes from which are scattered throughout this section—provide her with immense comfort while stranded in a foreign land; they are a homecoming to language and a way for her to feel something besides the numbness of isolation.
But what about latent intertextuality? Like many debut novels, American Fever is rooted in autobiography. Faiz is a crucial influence not only in Hira's life, but also in my own. Like many readers of Urdu verse, I have been under the spell of Faiz's words for so long that it is hard for me to tell how he has influenced my writing. There is a certain poetic sensibility that I hope to have inherited from him which passes from his Urdu verse to my English prose, but perhaps that sensibility is the romantic, imagistic spirit of Urdu poetry at large.
I know I would not be writing the way I do without him. I know that sometimes I write a sentence and I can immediately tell that it is the whispered echo of a verse from Faiz, even though I cannot always tell which verse. At one point, faced with the tribulations of disease, Hira asks the reader, "What do I tell you of the eve of despair?" In his well-known poem "Dil-e-Man, Musafir-e-Man" (My Heart, My Traveler), Faiz writes, "How do I tell you what it is / The eve of despair is a calamity." This, in turn, he took from Ghalib, again without reference, although quoting Ghalib is like quoting the gospel; God doesn't need our citation. In one of his most beloved ghazals, Ghalib wrote, "Who do I tell what it is, the eve of despair is a calamity."
As a writer raised in Urdu and Punjabi and now writing exclusively in English, I feel particularly interested in intertextuality. Writers from minority backgrounds constantly face questions of loyalty to their culture or language, posed sometimes by their audience and often by themselves. This question of "authenticity" frequently becomes the only measure of excellence when it comes to their work. Did they put in enough "untranslated words" in the text, as a calculated shrug of indifference towards the monoglot? Did they throw in an array of food items and exclamations in the other tongue? Is there at least one character speaking broken English, in a performative disruption of linguistic hegemony? Did they, God forbid, italicize non-English words?
Yet, the more I think about it, the more superficial these metrics seem, evidence of standards set too low. Instead, we should think about the influences that shape the writer's work. Does the idiom of other languages permeate their sentences? Do sensibilities cross the linguistic divide? Who are the writers being referenced, either intentionally or otherwise? Intertextuality can be a great starting point for these questions.
____________________________________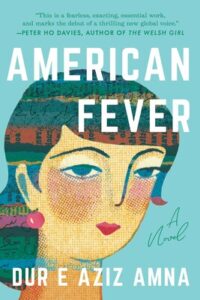 American Fever by Dur e Aziz Amna is available now via Arcade. 
---