The Invention of Fettuccine Alfredo: A Love Story
A Brief History of a Beloved Pasta Dish
Translated by Johanna Bishop
A history of Italian pasta can only start here, with the legendary fettuccine Alfredo. A very simple dish, with just three ingredients, that has been wildly successful: it turns up in over 800 American cookbooks published from 1933 to the present. So why will your Italian friends tell you they've never heard of the stuff?
It's not their fault. Alfredo is by no means a household name in our country, which is why those of us who have heard of it put it in the same category as spaghetti and meatballs—which we've only ever seen in Lady and the Tramp—or carbonara with bacon, garlic, mushrooms and cream: some shoddy imitation of an Italian dish, seemingly unrelated to our traditional cuisine.
This goes to show that fame has a way of ruining old friendships. Because although the average Italian may not know it, the "original" fettuccine Alfredo goes back centuries, and is actually the most ancient pasta dish in our tradition. But I'll get to that later.
Nowadays, in the United States, fettuccine Alfredo has become a dish of tagliatelle in a cream and cheese sauce, sometimes seasoned with garlic and parsley. It may be served in this simple version, or gussied up with other ingredients—the most common being chicken or prawns.
But the most extreme form is the Alfredo sauce found in American supermarkets, either in packets—to be mixed with water and butter—or in jars, ready to pour on your pasta (or pizza, as some labels suggest). It comes in dozens of brands, including organic and vegan options. In the better ones the main ingredient is cream, which is sometimes outweighed by products like modified cornstarch, maltodextrin, partially hydrogenated soybean oil and other such delicacies.
At first glance, this seems like a classic example of a carefully constructed, Italian-sounding fake, a dish that has reached the height of popularity in the US (and other countries) without ever setting foot in the Bel Paese. A marketing ploy by some cunning multinational corporation intent on pleasing palates used to creamy, mouth-filling sauces, with no link to real Italian cuisine.
And it's true enough that at some point, that's more or less the direction the dish took. Yet its early history is surprising, because it takes us to the heart of Italy at the dawn of the twentieth century, when a cook discovered—or rather, rediscovered—a fabulous dish that uses a few simple ingredients to magical effect. Believe it or not, in those days Rome had not yet developed the pasta recipes we all know and love. Amatriciana was just starting to appear in a few eateries; cacio e pepe was not yet considered a local speciality; and carbonara and gricia had yet to be invented. Back then, the most famous pasta dish in the Eternal City was—you guessed it—fettuccine Alfredo.
Alfredo strove to come up with a food that would be nourishing yet easy to digest, to help get his wife back on her feet.
Alfredo di Lelio, inventor of the fettuccine that bears his name, was born in Rome in 1883 and got his start at the family restaurant in Piazza Rosa, which later vanished to make room for the shopping arcade now known as Galleria Sordi. He was still a child when he began helping out at the family business run by his mother, Angelina.
The establishment was rather anonymous, one of the many restaurants dotting the capital, and that's how it would have stayed had it not been for the arrival of Armando, Alfredo's eldest son. This was in 1908. After giving birth, the mother, Ines, was so weak that Alfredo strove to come up with a food that would be nourishing yet easy to digest, to help get his wife back on her feet.
So here's what he did: "he personally prepared some fettuccine, using a semolina dough, and mixed it with very fresh butter and parmesan cheese. Then he said a prayer to St Anne (patron saint of new mothers) and served it to Ines, saying, 'if it's not to your taste, I'll eat it!'"
It was to her taste, all right.
So much so that she suggested putting the dish straight on the menu of their little trattoria. A simple recipe, with butter and parmesan perfectly blended to create a velvety sauce enveloping the fettuccine. What was so special about it, as opposed to just dumping butter on noodles? The quality and freshness of the ingredients, of course, but above all the method of emulsification used by Alfredo, whose skilled hands imparted an extraordinary texture to the sauce.
Two years later, his parents' restaurant, where fettuccine Alfredo first saw the light of day, disappeared as the city underwent all kinds of transformations. But in 1914 Alfredo managed to open a new restaurant—also in Rome, but this time in the very central Via della Scrofa—which he named after himself. Just how the fame of his dish travelled so far outside the Italian capital and rippled across the Atlantic is still a mystery. To be sure, some part was played by the fact that foreigners were enthralled by the histrionics of the owner, and that his fettuccine perfectly suited American tastes in pasta.
What normally would have been done in the kitchen was now paraded before a roomful of diners anxious to see ordinary pasta transformed.
One of the first American references to the dish turns up in the 1922 novel Babbitt, by Sinclair Lewis, which was quite popular in its day. At one point in the story, the protagonist meets an upper-class American lady who confesses her infatuation with Rome. But the object of her affection is not the city's paintings, music or antiquities: rather, it's the "little trattoria on the Via della Scrofa where you get the best fettuccine in the world."
This was just the beginning.
A few years later, in 1927, the restaurant was reviewed in the Saturday Evening Post by George Rector—a food expert, prolific essayist and host of a CBS radio show—whose long article launches into an admiring description of "Maestro" Alfredo di Lelio's handiwork. It starts, obviously, with a recipe for the fettuccine, which calls for a kilo of flour, five egg yolks, a glass of water and a pinch of salt. But the real key, according to Rector, is the next step: when it is served, or rather how it is served.
Coming to the table himself, Alfredo brandishes a large spoon and fork, sprinkles parmesan on the fettuccine, and "turns it over and over. Now, that's simple enough, but, as Eva Tanguay used to say about her dancing, it's not what he does but the way he does it." The secret to his fettuccine is finally revealed, and the author can barely contain his enthusiasm for Alfredo's artistry, as we read in his priceless closing words: "The recipe for the making is very simple. But so is the formula for painting a Rembrandt. Just get oils, canvas and brush, and go to it."
By this point it's not only clear that the dish was exquisite, but that Alfredo was a master at winning over his guests by showcasing the preparation of his speciality. What normally would have been done in the kitchen was now paraded before a roomful of diners anxious to see ordinary pasta transformed into Alfredo's "majestic fettuccine with double butter sauce," as it was advertised in the papers of the day.
But it was only in 1927 that this Roman speciality got its true consecration, an investiture presided over—and how could it be otherwise, given the theatrical flair that went into the dish—by two Hollywood stars: Mary Pickford and Douglas Fairbanks. Actually, the pair had already eaten at Alfredo's in 1920, while on their honeymoon. Seven years later they came back, bearing an unexpected gift with enormous publicity potential: a gold fork and spoon engraved with the dedication "To Alfredo the King of the noodles."
It's hard to convey the colossal popularity of these two silent film idols by comparing them to celebrities of our era. Douglas Fairbanks was known as "the king of Hollywood" and starred in the first adaptation of Zorro, as well as a famous Robin Hood that set box office records for 1922, and The Black Pirate, one of the first all-color films in history.
As if that weren't enough, he was one of the thirty-six founding members of the Academy that created the Oscars in 1929. Mary Pickford was one of the best known and best paid actors in silent film, famous for playing cheerful teens with golden ringlets. Dubbed 'America's sweetheart', she teamed up with her husband and with figures like D. W. Griffith and Charlie Chaplin to found United Artists, an independent production company that still exists today. Their wedding not only marked the union of two demigods, but created what at the time was probably the most famous couple in the Western world.
No amount of advertising could have equalled this endorsement from the Fairbanks, and Alfredo milked it for all it was worth without changing a comma in his recipe. Famous figures visiting Rome from all around the world made an obligatory stopover in Via della Scrofa, where the owner, always smiling under his prodigious handlebar mustache, would prepare the famous dish for them directly at the table.
______________________________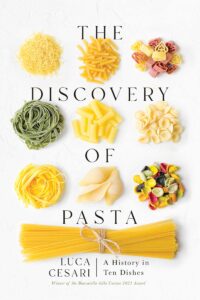 Excerpted from The Discovery of Pasta by Luca Cesari. Published by Pegasus Books, 2023. Translation copyright 2023 by Johanna Bishop.
---