The Intimacy of Writing in the Second Person, in a Bar
"Never the Third Person. . . You Are Far Too Close for That"
What you love about it: The thick wooden planks of the walls, so dark a brown they seem perpetually wet, soaked through, as though tugged from the wreck of a ship long sunk, hauled to the surface and then the shore, transported by wagon or train or brute animal strength across the great plains of the country to be reformed, pressed into service—still dripping, still drowned—as the walls of this Midwestern bar. The cool, silver surface of the bar itself, swirled and burnished steel, the way it reflects—dimly, as deep water would—the lights that hang on long cords just above your head, the way it reflects those lights but nothing else (not your fingers, not your eyes). That there is no mirror behind the bar. This is not that kind of place.
You love the sheet of floor-to-ceiling plexiglass that separates the bar from the street, the way it bows, slightly, when you press against it, flimsy as a certain kind of life. In winter, you watch the snow blow sideways and pile up, filling the parking spaces, spilling over the sidewalk. The snow leaves no room for people or their machines, their machinations. Air slips through the window like a ghost, and the seats nearby grow cold. In summer, they're sun warmed, fought over. In summer, the door stays open.
Year-round, a thin border of ice runs the length of the bar, embedded in its back edge and kept fresh by unseen technology, a reminder—memento mori—that winter is never gone long, not here. This strip is meant to keep the glasses cool; you're not sure if it works, but you love it nonetheless. Others dig hearts and initials into the rime, scrape it away with credit cards. Once, you arrived to find the imprints, impossibly small, of a baby's feet. You scratch "Go Sox" in its sparkling surface once a week or so, from April to October, though you're hundreds of miles from Boston and the ice grows back over everything. Anything you write is soon devoured.
You write at the bar, or read, in the midafternoon on weekdays when there are plenty of seats. You take up three—your books and notebooks, beer and food—at the bar's far end, where no one minds. Between sentences, between thoughts, you can watch the sports analysts silently shouting at each other on one of half a dozen televisions. You can grow oddly invested in their unheard arguments, while your mind remains on the pages before you. You feel foolish if those pages remain empty, if your pen stops for too long. You feel held accountable, anonymous as you are. Your goals grow simple, physical: fill a few pages, finish a beer. Who knows what might come of them? This—this is what you love, and why. This sense of possibility, sitting still.
True happiness, we are told, consists in getting out of one's self; but the point is not only to get out—you must stay out; and to stay out you must have some absorbing errand.
–Henry  James
What you love about it:
You don't, to be honest. You find it cowardly or lazy or something in your own work, though you adore it in others: Lorrie Moore's early stories, Richard Siken's poems, the essay by Michael Paterniti that begins, "Go with him. Go out into the feed yards with Jack Hooker." Even then, however, it is not the voice specifically that you love but what those writers do with it, their humor and panic and pathos. The voice—the second-person point of view—is part of a larger whole, and you worry that your work lacks that largess.
Still, this is how you write at the bar, slipping into this voice unconsciously as you make notes and expand paragraphs. Never the third person; that would be a lie. You are far too close for that, far more intimately acquainted (though what does intimacy mean, if it is inescapable?). Sometimes, however, a note or paragraph begun in this voice will find its way—a back door, a scenic route—to the other, the one you do not want to admit (why not?) is there, that I popping up after a few sentences or pages, as though you cannot outrun yourself or you cannot trick yourself or you have, in the course of writing, simply become more bearable. Perhaps all of these things are true. Perhaps none of them are. Regardless, your entry point is always this other voice, this voice your starting gun and sunrise and shortcut, your way in and up and to. Go with him.
But where?
The canker of self-consciousness has been long in me, so like a lot of writers I not only do a thing, I see myself doing it too—it's almost like not being alone.
–Charles D'Ambrosio
You love the bartenders, of course, a bar is only as good as its bartenders, and this bar, your bar, is the best. Your favorite bartender reminds you of your father, though a decade younger: The same pale blue eyes, almost lashless; the same love for the same books (fantasy, full of heroes); and offering the same pitch-black humor in any story that begins, Back in my drinking days . . . The same, these days, not drinking. The bartender who reminds you of your father has a daughter, a toddler, and he shows you pictures of her when the bar is quiet.
The other bartenders are kind and teasing and full of energy, drumming fingers and barking laughs as they make drinks and quips. Sometimes, when you come to the bar in the evening with your boyfriend or friends, they sit with you to drink their shift beers. They tell you about their past lives or travels, about their ex-wives or old jobs, about the people they were and are and might be again, the other selves they carry, the ones you'll never know.
Your boyfriend doesn't like how these other bartenders ask to read your writing, how they give you free beers. But they give him free beers, too, you remind him. This is the perk of being a regular, not a girl. There are no perks of being a girl.
My dirty secret has always been that it's of course about me. But I have been educated to believe I'm no one so there's a different self operating and I'm desperate to unburden my self of my self so I'm coming from nowhere and returning.
–Eileen Myles
See, you can write the sentences above, unqualified, in this fine voice you've found. You're braver in the second person, more surefooted. The second person is the voice of a god, commanding. "You shall not oppress a stranger; you know the heart of a stranger, for you were strangers in the land of Egypt." These are your favorite lines—not that you know many—in the Bible, a book with no author or a hundred, a book in which every I might as well be you. The second person is the voice of an acolyte, seized by the heart and uplifted, carried along on the fervor of his faith. Go with him. The second person can direct and can take directions, can command and follow commandments, can instruct and advise and admonish itself—not that you will here. It's not always that easy.
Recently, you tried to read the second-person memoir of a famous author and failed. Maybe the voice wasn't to blame—nothing particularly interesting happened, after all, nor were there any particularly interesting thoughts to be had—but you suspect otherwise. This voice can't last, not the length of a book, not the length of a life. You have to return, eventually, to that first person, the one you really are, cannot escape, and wouldn't want to, honestly, most of the time. For the length of a poem, though, for a story's stretch, you can try on this second person's skin. For an essay, maybe, it'll do.
Even if you are speaking to a "you" that will not listen, it is better than no "you" at all. This includes the "you" that is the self, of course.
–Tess Gallagher
The bar is decorated, sparsely, with black-and-white photographs of old farm equipment and two rusted tractor seats nailed to the walls. (Wreaths take their place come Christmas, and baubles hang from each of the dangling lights.) It's the kind of place you've always liked, somewhere between a sports bar and a pub—those shipwrecked walls—the kind of place you've found in every town you've ever lived, quiet enough to write but busy enough to distract you, occasionally, from that writing, and so keep it desired. In Boston, you wrote at a place golden in your memory, blond wood for the bar and sunshine streaming through big windows pushed open in July. In Cork and Florence, everywhere sufficed, anywhere you could be anyone would do. Here: The cool steel, the dark wood, the distant window to the rest of the world. The bartenders, their cheer and utter competence, their care for you and the other regulars.
The other regulars. The one who, seeing your notebook, claims to have known Gabriel García Márquez growing up, and will tell you all about it, if you let him. (You never let him. You're not that nice.) The one who orders a gruff-voiced whiskey double, every time, and lays his crooked wooden cane—a gnarled object out of a fairy tale—along the bar, beside the ice strip. Sometimes, he tries to pay your favorite bartender with a check. Sometimes, he asks you what you're working on, apologizes for interrupting, and keeps asking. The one who's brilliant, your bartender tells you, a scientist or an engineer or something at the university, you can never remember what. You've seen him out for dinner elsewhere in town, in a suit and tie, his gray hair combed, but here he always seems disheveled, downtrodden, his shoulders sloping as if they might someday reach the floor. Among themselves, the bartenders call him Suicide Bill; he often asks what they would do if he never came back.
Don't worry. He always comes back.
The other regulars are all men, all old; you're sure regulars of your age and gender exist but they're rarely here weekday afternoons, these daydream hours spent out of the sun. Your boyfriend doesn't like the fact that you go to the bar alone to write, but what he doesn't understand is that those who frequent this bar on sunny afternoons aren't there to talk to anyone, let alone you with your moat of books and papers, your guard as high as the ceiling, your natural shyness transformed into icy dismissal.
When men do talk to you, when they ignore your disinterest long enough to ask your name, you give a fake one. When they ask what you do, you lie.
How difficult it is to remain just one person, for our house is open, there are no keys in the doors, and invisible guests come in and out at will.
–Czeslaw Milosz
You could call it a sickness, this I masquerading as you, this you a salve slathered on the open wound of the self as it threatens to scar. It hints at dissociative identity disorder or schizophrenia, the latter from the Greek: divided mind. Divided from the world, a psychology professor once clarified, not from itself, but that explains why you confused the two as a teenager, and thought it was schizophrenics that Lifetime made those creepy, cheesy movies about (the actor's voice squeaking cheerfully one minute and snarling the next). You were wrong. Hallucinations, yes; delusions, yes; paranoia and catatonia, yes, yes; but the center holds. The schizophrenic's self, though tormented, is whole. Dissociative identity disorder (better known as multiple personality disorder) is the shuffling and dealing of different selves, the mind divided against itself. Unable to stand still, it shifts from one foot to the other and back, a body trying to get comfortable in a hair shirt.
But who doesn't dream of other—better—selves, able to be pulled out and slapped down when the game demands? You know you do. You ache to be some- times braver, sometimes calmer, sometimes more outgoing or more aloof. Kinder when you can, crueler when you cannot. There must be some relief, some sense of freedom, in the first moment of transformation, the emergence of someone new. You know this view is romanticized and damaging and likely very, very wrong, but you can't help it: You want to believe there is some worth, some beauty or use, in illness. You want to believe there is a point—salvaged, if not intended—to such pain.
But this is foolishness. You are not sick, not like that. You are merely interested in the idea, now, of personality, the individual contained within the trappings that, if they do not make her, at least color and shade her. At the bar, pausing between those moments of utter immersion in your work, you hover slightly outside yourself, your mind somewhere above, near the light on its long cord, looking down. You think of Italo Calvino's description of one of his otherworldly characters: "An outside with an inside in it." Your outside is like the light's reflection in the bar's silver surface: diffuse, dependent. There is a difference, a distance, between it and you. But you are not sick, and this distance inspires not disgust or fear but affection: your self a casual acquaintance, a stranger smiling at the end of the bar.
In the parable, like the dream, you're all the characters, though come the day, in real life, you must choose.
–Stanley Plumly
What else?
Only one of the bartenders is a girl—a woman—your age, gorgeous and warm and three years sober, with a sleeve tattoo and an easy laugh. Your boyfriend and his friends all have crushes on her, and you don't blame them. You would, too. You wouldn't mind knowing how to laugh like that. She celebrates your successes— when your boyfriend's book sells, when your friend lands a job—and asks about your plans. She tells you hers—to become a personal trainer, to move somewhere warm—though that idea disrupts the underlying pattern of the bar, of all bars: you, the patron, are always passing through, while she, the bartender, is here to stay.
She isn't, though. When the bartender who reminds you of your father has to tell you she is dead—just after Christmas, overdose—you don't know what to say.
You still don't know what to say.
It is not that the heroine is no longer as optimistic as she once was. It is that the heroine is not convinced she is the heroine or that the story is true.
–Eula Biss
There are other uses, of course, for this voice. Paterniti turns to the second person in certain essays to talk to his subjects directly, to tell their stories—their puzzling and heartbreaking and transcendent stories—back to them. (And isn't this what you look for in all literature, what you desperately hope to find? Your own life laid out, explained, made beautiful?) These stories are, without exception, rife with horrors: starvation in the Sudan, mortar rounds in Vietnam, crack running roughshod over a Florida neighborhood. Planes skid into rivers, millions are corralled in Cambodian death camps, a tsunami rips out the stitches of what used to be a shoreline—and Paterniti addresses the human beings at the heart of these events, the people who have lost their homes or their families or their ability to believe that people (others, themselves) are essentially good and kind and caring. Paterniti speaks of unspeakable things, and he does so in this voice often maligned for being clichéd or false.
He writes, "In this big world of hurt, you thought you could make a difference." And, "You bury her one night in a heavy rain and keep going." And, "You're open to little miracles now, so let one come." There is nothing false about these sentences. Paterniti talks to people who have talked to him, who have told their tragedies and bared their souls. (You mean this, you mean soul, this is what such writing does to you.) The third person would be false, inappropriate; the third person would enforce a distance that has already been crossed. Instead, Paterniti extends a hand across that gulf, and even you, eavesdropper, are allowed to reach out and take it.
And then there is that other you, the one that does not replace the I but assists it, taking the place of one or someone or everyone, as bold as the claims it is used to make. You have heard this called "the vague American you," though you are not sure what, exactly, is American about it. That untrammeled boldness, maybe. You have heard this you sneered at and dismissed, but you, yes, you love it. More importantly, you think it is only right, this usage. Why not? Why not accuse, implicate? Why not stand in a position assigned rather than chosen, test its limits, touch its walls? If you have not done what they say you've done: You might, someday. You might as well have. If you do not know what they say you know, well, you do now. If you do not feel what they say you feel, imagine. Someone, somewhere, feels that. Why not you? "You know the heart of a stranger." You do. You do.
The words I, and you, and they are grammatical devices invented simply for arrangement, and totally devoid of the intense and exclusive sense usually attached to them.
–Percy Bysshe Shelley
What you love about it: Less the place, exactly, than who you are in it, what it makes you—happy, watching the light through that huge window. Happy, lifting your head to catch the score of a baseball game. You think of all the people you might be, though you will never know them—not the second nor the third, let alone the fiftieth, the hundredth—but you can imagine them arrayed the length of the bar beside you, filling every seat.
What you love about it: Less the voice, exactly, than who you can be in it. How—when you are not anywhere near happy; when you feel as small as an infant's footprint in the crater of the world's horrors; when you cannot find any worth in this particular compulsion of yours, this need to write things down—you can turn to one of those imagined selves and hand over the pen. You can ask for directions, beg for instruction, and keep going. You can be both god and acolyte of this small world, this slender faith that you—yes, you—have made and can sustain. You still don't know what to say, it's true, but why else would you write? You've never had another, better reason.
__________________________________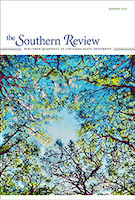 This piece originally appeared in the Summer 2017 issue of The Southern Review.
---