The Indisputably Best Dogs in (Contemporary) Literature
Beyond Lassie, Cujo, Marley, and Other Very Good Boys
I think that we can all agree that dogs and books are the best things on earth. The only thing better than dogs and books are books with dogs in them. I have a lot of complaints about the books that are assigned to children in schools but I think that probably Old Yeller and Where the Red Fern Grows and maybe even The Call of the Wild actually made some kids like reading a little more than The Good Earth or Hamlet ever did. (Although, why are all of those dogs dying in books? Kids don't want dogs to die. NOBODY wants dogs to die. See: https://www.doesthedogdie.com/) Certainly Lassie and Cujo and Marley are memorable dogs in literature for very different reasons. But I wanted to call out a few authors who write dogs so well that you feel like you know the dogs better than the people.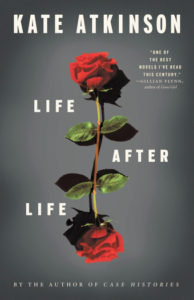 Life after Life by Kate Atkinson
(Little, Brown, and Company)
Nobody writes a dog like Kate Atkinson. Kate once said, "I'm quite a ruthless author. The only time I felt really bad about killing a character was in Behind the Scenes at the Museum, when the dog was sent to war and was killed. That broke my heart. That says more about me—that I'm more affected by dogs than people." Life after Life is filled most particularly with great dogs, first there's Bosun, then Lucky. The dogs are great friends of the characters and give them comfort in difficult times. I think dogs giving comfort to characters is a totally overlooked way to show a character being vulnerable. And Kate Atkinson does it so well. Plus, something about the way she describes dogs makes you just want to pet them.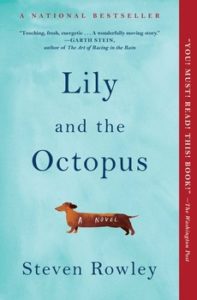 Lily and the Octopus by Steven Rowley
(Simon & Schuster)
This is a beautiful story about a man and his dog. It's hard to really write anything about this book without giving away its beauty. Safe to say: it will make you cry.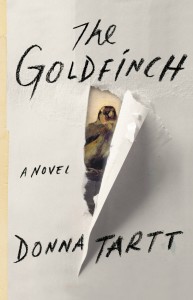 The Goldfinch by Donna Tartt
(Little, Brown and Company)
Anyone who tells me that that Popper isn't their favorite character in The Goldfinch is lying. Yes, that book is a masterpiece. But one of the main reasons that it is so great is the character of Popper. Popper is a maltese who belongs to Theo's dad's girlfriend Xandra. Popper is a totally evolved dog—he stays home alone when Xandra travels with a pet fountain from Petco and a feeder. The dog is starved for attention and Theo and his new friend Boris basically adopt him. They also rename him Popchik. The way all of the characters treat the dog is telling about them—Xandra ignores him, Theo cares for him and Boris uses him for comic relief.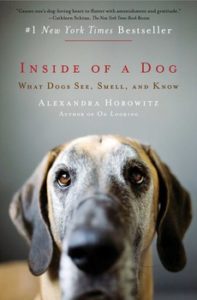 Inside of a Dog by Alexandra Horowitz
(Simon & Schuster)
Alexandra Horowitz isn't a novelist, but she writes so well about dogs and dog cognition that I can't help but write about her here. Inside of a Dog is a book about how dogs work, what they're thinking about, who they are at their core. She tells us that dogs smell time—they SMELL TIME? But yes, the stronger a smell is, the newer it is. They experience everything via smell. And that's why your dog might know that you're home before you walk in the door. He smells you from (literally) a mile away. It's a book that I consult regularly as I stare across the couch at my dog and think "what is going on in that cute little head (and nose) of yours?"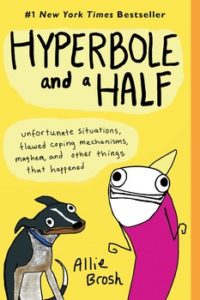 Hyperbole and a Half by Allie Brosh
(Simon & Schuster)
This is a book of graphic essays about a variety of topics—anxiety, love, moving and animals. It contains some of the most perfect writing about dogs that I have ever read. Case in point: "Dogs Don't Understand Basic Concepts Like Moving" which is the story of moving across the country with two dogs who just don't get it. Later in the book is an unrelated essay with a similar name titled: "Dog's Guide to Understanding Basic Concepts." The latter includes basic misconceptions by dogs including "I should eat bees" and "Problem: Noise. Plan: Make More Noise" and the best: "Danger" in which she notices what her dog thinks is dangerous (balloons, vacuums, plastic bags, sometimes rocks) and not dangerous (moving cars, lawn mowers). This book makes me laugh out loud and weep profusely every time I read it.
---