The Glamour and the Terror: Why Women in the Victorian Era Jumped at the Chance to Go to Sea
Siân Evans on the Daring Women Whose Transatlantic Journeys Challenged Gender Roles
In Victorian Britain, seaports were a vital part of the industrial economy. They were the gateway through which raw materials from all over the world were imported, and the route by which manufactured goods churned out by the burgeoning factories and mills were taken overseas for sale. The docks of Liverpool, Bristol, Cardiff, the City of London, Southampton, Glasgow and Harwich were teeming with ships of all sorts, from vessels exporting coal and importing cotton and timber to mail boats and passenger ships, whose main cargo was people.
Women's lives were tied to the shipping trade long before they started to travel and work on the ships. For shipowning families, their livelihood might be invested in a single ship, captained by a family member and manned by local seamen, or they might own a number of vessels and employ crew for specific commissions, carrying cargo and passengers around the world. In smaller, family-run firms, the women often played an active part in the business; acting as clerks, they attended to business matters while the men were away. Ports such as Portsmouth or Plymouth had ample opportunities for women to make a living, from running inns catering for travelers, or lodging houses for the crew on shore, to owning chandlers' stores and selling provisions to shipowners. They might work as seamstresses, sailmakers, laundresses or cooks, or own a small shop. Those were the more respectable port professions, but there was also the flourishing business of prostitution, as there was always a ready market for transactional sex in any port. In addition, there were the pubs and the gambling dens, where a recently returned sailor could soon be relieved of a large amount of his pay, and rich pickings existed for pickpockets of both genders.
By the 1880s, as emigration to the New World grew, passenger ships increasingly carried women and children as well as men, and in response the shipping companies took on female crew to attend to their specific needs. In addition, ships were designed and marketed to appeal to potential female passengers. By the last decades of the 19th century, forward-looking companies such as Cunard stressed their vessels' comfortable facilities and underlined the emphasis on safety, important considerations when a passage to America from Europe could take weeks and was often memorable for unprecedented levels of physical misery.
The vast majority of Europeans traveling west across the Atlantic in the latter half of the 19th century were relocating permanently to North America. Between 1860 and 1900, 14 million people emigrated from Europe to the United States, of whom 4.5 million traveled from Liverpool, half of them on Cunard ships. The founder of the line was Samuel Cunard, a Canadian businessman who had won the first British contract to deliver mail by ship across the Atlantic. His new vessel, a no-frills paddle-steamer, RMS Britannia, was primarily intended to transport mail and cargo, but it also had accommodation for 115 passengers. On its inaugural voyage on July 4, 1840, Samuel Cunard was accompanied by his daughter, so confident was he that the ship was safe.
When merchant vessels like RMS Britannia began carrying female passengers, it was considered desirable to have a woman crew member on board, so that "proprieties could be observed," and so women were afforded new opportunities in the maritime trade—opportunities that allowed them to travel. They acted as chaperones, ministering to the passenger if she was unwell, ensuring her privacy and dealing with all the personal hygiene issues likely to arise on an ocean-going trip lasting many weeks. While the crew might have private misgivings about having women on board, they were overruled by the captain or master, especially if he was keen to have his own wife along on the trip.
As the passenger trade grew in the late Victorian era, some shipping companies actively recruited small numbers of British women to work at sea, predominantly as domestic employees on passenger ships. The Merchant Shipping Act of 1875 required all passenger ships carrying migrants of both sexes to carry on board a matron, who would look after the interests of female and child migrants in steerage, ensuring they were kept segregated from male passengers if traveling unaccompanied, and that they were not importuned by the crew. On the upper decks, too, stewardesses fulfilled the combined roles of chambermaids, personal maids and sometimes nurses, tending to female passengers in physically uncomfortable and cramped conditions. At first, stewardesses were the wives of ship's stewards and traveled merely as their husbands' assistants. By the 1890s they were increasingly recruited from the ranks of "company widows," married women whose deceased spouses had been sailors or ships' officers.
In an era before any form of social welfare, widows were often left facing destitution, and they needed to find respectable, regularly paid employment to maintain their families. Stewardesses often had young children, who would be left in the care of relatives or friends while the mother went to sea to earn an income to support her offspring. Women with very young offspring preferred working the short-haul trips across the English Channel, though it was far more lucrative to sign on for a lengthy ocean trip lasting weeks, sailing from Liverpool or Southampton, to North or South America. Basic salaries were modest: a stewardess working for Royal Mail in 1879 was paid £3 a month, the modern equivalent of less than £50 a week. However, there were tips to be earned from passengers for good service, and at least the stewardess had bed and board provided while afloat, which was a consideration in households where money was tight.
Were they "ladies," who should be regarded as the fairer sex, or were they "shipmates" in skirts?
Stewardesses of the Victorian era were distinctively if repressively dressed in dour uniforms which suggested the garb of prison warders, nuns or nurses. Victorian society was rigidly segregated by gender at all levels and throughout all classes, and life on board ship reflected these social mores. It was generally believed that a decent woman's place was in the home; any respectable female should aspire to be a "domestic angel," maintaining a household, caring for a family. The culture on board ships tended to be ruggedly masculine, and most of the men aboard were completely unused to females in the workplace. The Captain's Lady had a certain status because her husband was the boss, and it was understood that she traveled under his protection. Nevertheless, ship's officers and crew members tended to find it hard to know how to deal with women as fellow workers. Were they "ladies," who should be regarded as the fairer sex, or were they "shipmates" in skirts? Where were the boundaries?
Many sailors, although usually married and having families (sometimes several simultaneously, in different ports), had only limited contact with working women throughout their adult lives, encountering them primarily as barmaids, landladies, shopkeepers, cooks, brothel-keepers or prostitutes. Those women who wanted to work at sea also risked their reputations ashore, because they might be assumed to be soliciting for sex, as prostitution was the female trade most often associated with the gritty, commercial reality of ports, harbors, docks, pubs and sailors.
As a result, seafaring men's initial reactions to having female shipmates working alongside them ranged from dubious mutterings and muted disapproval to outright bullying or sexual harassment. If the women were lucky, a certain amount of creaky gallantry might be expended on them, though this also could be disadvantageous. Stewardesses had to be careful in their dealings with the crew and male officers on board, maintaining a fine line between personal reticence and affability, and had to be adroit at sidestepping unwanted male interest. They should be neither too friendly, nor too distant. They were not allowed in male quarters, neither could they work alone in a cabin with a man, nor attend to a solo male passenger.
While not on duty, the female crew were expected to keep to their cabins, in case their mere presence on board inflamed male ardor. To circumvent this potential clash of the sexes, the shipping companies preferred to recruit older women, who were determined to maintain their dignity. In addition, male and female crew were discouraged from fraternizing socially while off duty, although friendships among shipmates inevitably developed, and, as one former stewardess fondly recalled if she was able to totter off a ship on arrival at port, she could always find a congenial male shipmate with whom she could explore the city.
In the mid-19th century very few women formally worked at sea; according to Dr. Jo Stanley, in Southampton, out of 4,500 local inhabitants listed on crew logs between 1866 and 1871, only 20 were women. However, the numbers of female passengers increased greatly towards the end of the century, not least because the means of traveling became less arduous and less dangerous. Women of all nationalities were crossing the Atlantic in both directions out of necessity or choice—to emigrate, to join their families, to find work in the New World or a husband in the old one. It was recognized by the major shipping firms that socially superior female passengers should be specifically catered for; Cunard introduced the first lounge exclusively for women on SS Bothnia as early as 1874. This ship was also the first to have a system of electric bells in the first-class cabins to summon assistance, an innovation much appreciated by any passenger laid low by seasickness.
By the 1890s there was a boom in passenger shipping, and the major ports of Britain became the embarkation points for emigrants from all over Europe as well as the British Isles. In 1893 large transatlantic liners started to leave from Southampton as well as from Liverpool, which had previously been the main embarkation port for North America. The White Star and Cunard shipping lines joined P&O in setting up offices and infrastructure in Southampton, which was just an hour from London by train. With the growth in the number of female passengers, gender-specific roles such as bathing attendants, nursery nurses, laundry attendants and masseuses were also created aboard the big ships. The shipping companies received applications for women's roles on board the ocean-going ships far beyond the number of positions available. The jobs were physically demanding, and those taking them would be living away from home—often in cramped, communal quarters— but, in an era of limited job opportunities for women, the idea of going to sea and earning an independent living was appealing to many.
__________________________________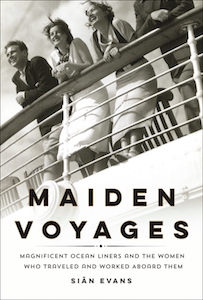 Excerpted from MAIDEN VOYAGES: Magnificent Ocean Liners and the Women Who Traveled and Worked Aboard Them by Siân Evans. Copyright © 2020 by the author and reprinted by permission of St. Martin's Publishing Group.
---