The Forgotten Fairy Tale Genius of Édouard Laboulaye
Political Parables of 19th-Century Democracy
In the happy country of fairies, one leaves it only to find one's way back. One suffers only to become happy, whereas pain is for us an enigma and life a struggle without end where the better people are the first to fall. There, in the country of fairies, one does not get old, and one always loves. Here, no sooner does our heart barely recover from those foolish acts of our youth than it turns serious and begins to love an object worthy of our heart. Then, our face becomes wrinkled, and our hair turns white leaving us with the feeling of ridicule. There, in the country of fairies, one knows everything in one hour or one day. Here, we pursue truth at the cost of our lives as it evades us. It flees like the marvelous bird, and when, at last, after 30 years of pain, we feel it near us, when our hand lowers to seize it, another hand more powerful freezes us and carries us off to the country from which nobody has ever returned.
–Édouard Laboulaye, Contes bleus, 1863
*
As a longtime scholar of folklore and fairy tales, I have dedicated a good deal of my research to the discovery and rediscovery of neglected writers and their collections of folk and fairy tales. In particular, I pride myself on finding and translating into English significant works by foreign authors who have not received the attention they deserve. In both my first edition of The Oxford Companion to Fairy Tales (2000) and the second revised edition (2015), however, I somehow omitted any reference to the fairy tales of the remarkable French writer Édouard Laboulaye (1811–1883). Moreover, I have not been the only one to neglect him. Almost all American and English encyclopedias and handbooks of fairy tales published in the 20th and 21st centuries make no mention of Laboulaye. In fact, scarcely a word has been published about his fairy tales, even in French. Nor have modern editions of his fairy tales appeared in either French or English.
Why such neglect when Laboulaye, one of France's foremost jurists and politicians of the 19th century, published highly unusual political fairy tales? His production of stories and novels is stunning in its variety. It includes three collections of tales, Contes bleus (Blue Tales, 1863), Nouveaux contes bleus (New Blue Tales, 1868), and Derniers contes bleus (Final Blue Tales, 1884); experimental works of fiction, such as the moralistic novel Abdallah, ou Le trè e à quatre feuilles (Abdallah, or The Four-Leaf Clover, 1859), based on traditional Arabic folk tales; the time-travel fantasy novel Paris en Amérique (Paris in America, 1862); and the fairy-tale novel Le prince-caniche (The Poodle Prince, 1867–68).
Laboulaye was a great admirer of American democracy, supported the antislavery cause of the North, wrote several books on the history of the United States and American constitutional law, and played a key role in developing the plans for the Statue of Liberty. Some of his American contemporaries considered him America's greatest friend. John Bigelow, the American ambassador to France in the 1860s, wrote: "Mr. Laboulaye's value as a friend of the Union, and of representative government was not long in being recognized in the United States. The press proclaimed his sympathetic utterances wherever the Federal mails could carry them; the Union League Club, of New York, ordered his portrait by Fagnani, which now adorns its walls, a bronze bust of him was placed in the Union League Club in Philadelphia, and at the close of our war, his name was more widely and more generally known in the United States than in Europe."
So why isn't Laboulaye better known today in the United States and elsewhere? And why have his literary accomplishments gone unnoticed since the beginning of the 20th century?
Many of Laboulaye's books were translated in the 19th and early 20th centuries by Mary L. Booth, editor of Harper's Bazaar, and by an anonymous translator, probably Mary E. Robinson, who published Laboulaye's tales under the titles Old Wives' Fables (1884) and More Old Wives' Fables (1885). His fairy tales, however, ostensibly published for and dedicated to children, were actually too sophisticated to be classified as children's literature or to be read by children. Indeed, before including them in books, Laboulaye published most of them in the distinguished Journal des débats (Journal of Debates), a weekly newspaper for highly educated readers, who would have noted their political significance. Indeed, they were quite successful mainly among adults. Given his extraordinary past, I believe it is time to reconsider Laboulaye's achievement as a writer of unusually wry fairy tales filled with biting social commentaries, philosophical reflections, and strong notions of social justice.
*
The Three Wishes
There was once a wise emperor who had issued the following law:
Every stranger who comes to my court will be served fish. The servants will carefully watch the newcomer, and if, after eating the fish down to the bone, he turns it over to eat the other side, the man will be declared guilty of this egregious crime and will instantly be arrested. Three days later he is to be hanged. But, through our imperial grace, the culprit may make a wish each day that will be granted immediately, provided he does not ask for his life.
More than one victim had already been convicted of committing this crime, when one day a count, followed by his young son, appeared at the royal court. The two noble guests were welcomed in the warmest manner; and, in accordance with the emperor's law, they were served fried fish in the middle of their meal. Both father and son relished it heartily, and, after eating down to the bone, the count turned over the fatal fish. All at once, he was seized by two servants and dragged before the emperor, who ordered him to be taken to the prison. This caused the count's young son such great sorrow that he begged the emperor to let him be executed in his father's place. Now, since the emperor was not a vicious man, and since he did not care who was hanged as long someone was hanged, he accepted the trade. Consequently, the son was thrown into jail, and the father was released.
Once in his dungeon, the young man said to his jailers, "You know that, before dying, I am entitled to three wishes. So, I want you to go to the emperor and tell him to send me his daughter and a priest who is to marry us right away."
Nobody was more surprised by this insolent demand than the furious emperor. Nevertheless, a sovereign's word is sacred, and he can hardly break his own law. His daughter, moreover, was resigned to this three-day marriage, and, like a good father, the emperor gave his consent.
The next day the prisoner asked the emperor to send him his treasure. This demand was hardly less indiscreet than that of the day before. Yet, how is it possible to refuse a man who is to be hanged on the morrow? Therefore, the emperor sent him his money and jewels, which the young man immediately proceeded to share among all the courtiers. And, since at that time there were those at court weak enough to be fond of money, they began to take an interest in this poor young man who had been raised so well.
On the third day, the emperor, who had slept badly, went himself to the condemned man and said, "Come and quickly tell me your last wish. Once I grant it, you will be strung up right away because I'm getting tired of your demands."
"Sire," the young man replied, "I have only one last favor to ask of Your Majesty. After that I shall die content. I would like you to blind the eyes of all those who saw my father turn over the fish."
"Very well," the emperor said."Your demand is quite natural and does credit to the goodness your heart."
After saying this, the emperor had the majordomo arrested.
"Me, sire!" the majordomo cried. "I saw nothing of the kind. It was the cupbearer who saw everything."
"Seize the cupbearer," the emperor exclaimed, "and blind his eyes!"
But the cupbearer declared with tears that he had seen nothing, and he pointed at the taster, who pointed at the butler, who pointed at the repairman, who pointed at the first waiter, who pointed at the second, who pointed at the third. In short, no one had seen the count turn over the fish.
"Father," the princess said, "I appeal to you as a new Solomon. If no one saw anything, the count isn't guilty, and my husband is innocent."
The emperor frowned, and all at once, the courtiers began murmuring with closed lips. Then the emperor smiled, and all at once, they opened their mouths.
"All right," he said, "let this innocent young man live. I have hanged more than one man no more guilty of this crime than he is. But even if he is not hanged, he is married. So, justice has been done."
__________________________________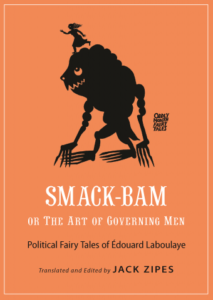 Excerpted from Smack-Bam, or the Art of Governing Men: Political Fairy Tales of Édouard Laboulaye,translated and edited by Jack Zipes. Copyright © 2018 by Princeton University Press. Reprinted by permission.
---