The Fires of Digression: Gregory Brown on the Slow Burn of Writing Fiction
"It's okay to wander. It's okay to be lost. It's okay to go slow."
I'm always amazed at how much writing happens when not actually writing. For me that means while walking, or building a bunkhouse on our property, or trimming all the dogs' nails, or vacuuming the house—often-mundane activities that demand focus but don't carry the high stakes of actually sitting down in front of a computer or a piece of paper and creating something beautiful and moving.
I find these tasks have a way of simultaneously focusing and freeing the mind. They demand a certain amount of analytical effort but provide enough space for digressive thought, a place where anything is possible, and fiction can emerge among the mists.
My first novel, The Lowering Days, is very much about paying attention to what's under the surface of things: both the lives of land and the human lives that land holds. In the case of the book, that surface is a fictionalized version of the lower Penobscot River watershed and valley, Penobscot Nation territory where my family has remained centered for 14 generations.
When I moved back home to Maine in 2013, the Penobscot River Restoration Project, a decade-long collaborative initiative to restore the river to better health and remove several hydroelectric dams, was nearing the end of its work. Two dams, long symbolic of the state's shameful history of environmental exploitation, had been removed. A fish bypass—basically a channel that let Atlantic salmon head even further up the river to spawn and allowed their offspring to swim back downriver to the sea—was being built on a third dam.
At the time I had a story collection I'd finished in grad school. I was going to write a novel to pair with it and land this mythical two-book deal thing I'd heard so much about. Like several of the characters in my novel, I was big on magical thinking, one could say.
I was, in hindsight, embarking on a novel for spurious reasons. But I was home. The river I'd loved my whole life was being freed and returning to health. I'd recently become a father. And after several months of struggling with my fiction during a sweltering, Iowa City summer, I had an idea for a novel that was finally alive. It all seemed so possible, clear, and (strangely enough) easy.
Seduced by the stories of writing fast, of novels turned out over weeks or months in feverish trance states of channeled creativity, I decided that would be my path. It would be seven years, many wayward drafts, 26 politely worded rejections from agents, and thousands of miles of walking alongside these imaginary people I cared so deeply about to discover their stories and better understand their emotional landscapes, before I actually finished and sold my book.
I should have recognized my delusion back then. But to write fiction at all in this country it seems like you have to find a way to live to a degree in the denial bubble, as one of my best friends and I call it. You need to build places where your own doubt won't find you. It doesn't take much for that bubble to expand and start encompassing things that happen off the page, like your life.
For the longest time I knew there would be a fire in my book. It was a large event in the novel that set the collision of three families into motion. But for years, the event as I'd conceptualized it and written it felt all wrong. I couldn't figure out why exactly. At the time, the fire in the book destroyed a new boat-building yard at the center of my fictional town's economic revitalization.
At the end of a long Maine winter, a new restaurant in Bridgton, Maine, the small town where I was living at the time, burned to the ground. The town was devastated, as the restaurant, Vivo, was a centerpiece in its plan to continue revitalizing an up-and-coming downtown.
I was supposed to tend bar that summer at Vivo. I had taken time off from any teaching commitments, and I imagined mixing drinks and doing some carpentry work, tasks that demanded far less intellectual lifting, to pay my bills while I carved out time to fix my busted novel.
The parallel between this real-life fire and my fictional fire felt eerie. It also immediately highlighted the problem I was having, but had been unable to name, with my novel: the balance between what was gained and what was lost by a loud act in an often quiet, meditative book.
I thought my fire was supposed to cause an emotional and physical loss, the flames swallowing a community's sense of possibility and injuring one of its members. I realized it wasn't a new or beloved object that was supposed to burn, but an object people had been stuck with and shackled to for far too long, like a paper mill, burned down by a teenager who, tired of watching the land and its people be poisoned, chose an act of destruction as an act of salvation. In the aftermath of fire, I realized there needed to be more than heartache. There needed to be rage, loss, and confusion, but hope for the emergence of something better as well. In this case, that meant the space for plants to reclaim the earth; for healing to begin; and for new, human-supporting industry to flourish.
To write fiction at all in this country it seems like you have to find a way to live to a degree in the denial bubble.
It was when I started following the unexpected digressions (a folk tale I added about two lovers who start as beings of stone and then populate the world), meandering characters (a reluctant but loving mother who pours her attention into the newspaper she starts), and unexpected obsessions (a gruff lobsterman who scours the area for roadkill to drag home to feed the ravens he so tenderly raises) that my deliriously uncooperative novel that was supposed to have been done years ago started not only to cooperate but to come to life.
A forest is a place where things happen incredibly systematically. But they often happen very slowly. There's an urgency to the natural world, but it never seems to carry out its work urgently, at least by our human standards of time.
Birds distribute seeds that drop, germinate, and grow into new food sources for other creatures. Vegetation comes back in particular stages after being disturbed by farming, timber harvesting, or fire—lichens, mosses, and grasses give way to Queen Anne's lace, asters, and brook sedge; blackberries and sumac rise aggressively; birches and aspen follow; if present, white pines spread into the sky with their ever-present canopies, filling the understory with shade and reshaping the landscape.
It's not unlike the shifting, structural process of building a book: choosing a form, settling on point-of-view, populating the world with characters who are both interesting and capable of living in that world, braiding in lines of tension, tearing it all down in revision and writing it back up stronger.
Looking back, I'm not surprised writing The Lowering Days, a novel very much inspired by and focused on the natural world, unfolded for me so slowly.
Writing fiction is entering into a certain wilderness—even if you're writing it in your head while vacuuming (again). It's a place where we're trying to witness and build something tremendously elusive. It's okay to wander. It's okay to be lost. It's okay to go slow.
I'm not saying one needs to write laboriously slow to write a good book, agonizing over perfect sentences and such. But in order to find the soul of a thing, whether it's a character who's haunting you or an action (like the burning of a mill) that must accomplish a multitude of complex things, sometimes you have to move quietly. They will startle. They will run away. They will misdirect you if they hear you coming, setting the wrong fire over in one corner, while you struggle to set the right fire over in another.
__________________________________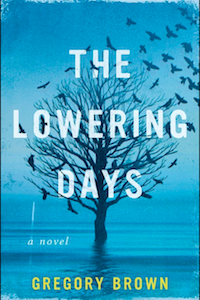 The Lowering Days is available from Harper, an imprint of HarperCollins Publishers. Copyright © 2021 by Gregory Brown.
---