The Fictional Singer-Songwriter Who Got Her Own Real Album
Laura Barnett on Creating the Musician She'd Always Dreamed About
She crept into my head one morning like a distant relative, a half-forgotten friend. A woman no longer young—in her mid-sixties, perhaps—with gray-blonde hair and dark eyes, living alone in a big old house in the English countryside. A woman with secrets, and sorrows, and a garden studio filled with dusty Martin guitars and an unopened Steinway grand. A woman finally finding the courage to push open the door to her studio, and return to the music she'd abandoned many years before.
This woman has a name now: Cass Wheeler, the protagonist of my second novel, Greatest Hits. But at that time, four years ago, she was more of a feeling, a hunch, a set of questions.
I wanted to describe a day in the life of this woman, this singer-songwriter, who I imagined as an English equivalent of Joni Mitchell or Carole King, with a bit of Stevie Nicks cool and Kate Bush originality thrown in. Could I explore her journey from childhood to this lonely country house, examining the source of the breakdown I was sure she'd experienced, but had no idea, yet, as to why? Could I write a novel about a woman who'd lived a difficult, complex, exciting life; who'd experienced success and failure, and just happened to compose a string of hit songs about it along the way?
All writers face the blank screen with questions such as these, ones that only our work seems able to answer. They are always daunting, and the gap between the book we hope to write, and the one we actually manage to pin to the page, is always depressingly huge.
But these questions, and this novel, loomed large above me in those early stages of thinking, researching and writing. I found so few examples of writers who'd attempted to scale this particular peak that I began to suspect it might just be an impossible task.
There are dozens of novels about artists and writers, from Siri Hustvedt's What I Loved and Girl with a Pearl Earring by Tracy Chevalier, to Richard Ford's The Sportswriter and Misery by Stephen King. Classical musicians don't fare too badly, either—think of Vikram Seth's stunning An Equal Music, or Tolstoy's The Kreutzer Sonata.
When it comes to rock, country and pop musicians, however, the field narrows. There are a few gems, like Thomas Cobb's grizzled Crazy Heart; the gorgeous Shotgun Lovesongs by Nickolas Butler, and the lovely Diamond Star Halo by Tiffany Murray, set in a fictional version of Rockfield Studios in Wales, where Queen recorded Bohemian Rhapsody and Murray spent her childhood.
But the protagonists of all of these are men. Look for novels about female rock musicians, let alone sixtysomething English singer-songwriters, and you'll come up with a very short list indeed. Salman Rushdie's The Ground Beneath Her Feet, a version of the Orpheus myth with a female rock star protagonist and an associated single by U2, is the best known, but I'm sure you'd struggle to name more than a handful of others. I certainly did.
I seized the chance to tell a story that had not been told in real life: that of the great English female singer-songwriter of the 1970s, in the Joni, Carole and Carly mould, who never was.
Undeterred, however, I pressed on. Sometimes, when you can't find the novel you want to read, the only answer is to write it yourself. Another question joined the many jangling around in my head as I began to tell Cass's story. Why is it that, when the real world offers us so many examples of incredible women in music, their fictional counterparts have historically numbered so few?
A large part of this lies in the tedious assumption that it is impossible to write a good novel about rock music; that writing about music is, to quote the old unattributed chestnut, like "dancing about architecture".
I have no patience with this. I've seen plenty of dance that evokes architecture—Pina Bausch, anyone?—and I've read a lot of beautiful writing about music. And anyway, any writer worth their salt should be able to write about anything at all: breakfast cereal; cement; a 1972 hit single by a glam-rock fourpiece from Bognor Regis.
The broader issue, I suspect, is another, more dominant cliché: the familiar life-arc of the famous musician, with world-dominating success followed by drug or alcohol addiction, general chaos, and salvation or death. Such tales have been told many times by real-life musicians, especially recently: everyone from Chrissy Hynde and Elvis Costello to Viv Albertine and Patti Smith seems to have brought out a memoir. And filmmakers have been committing the rock'n'roll Hall of Fame, whether real or invented, to celluloid for decades. Yes, I can't avoid mentioning Rob Reiner's This Is Spinal Tap, the shadow of which falls long over anyone trying to write convincingly and truthfully about music and those who make it, without stumbling headfirst into parody.
Why, then, do we need novelistic depictions of musicians, and women in particular, when we can learn so much from their own first-hand accounts—and when the possibility of burying yourself in up-to-eleven clichés is so very real?
The answer, for me, lies in the slippage between reality and imagination that only novels can provide. Autobiographies are necessarily skewed and partisan; memory lies and omits. Biographies, even those as authoritative as the many I consulted in the course of my own research—including Girls Like Us, Sheila Weller's excellent exploration of the life and work of Carole King, Joni Mitchell and Carly Simon, and Under The Ivy, Graeme Thomson's brilliant book about Kate Bush—don't have access to the unmediated inner workings of a subject's head.
A novelist does. We have an access-all-areas pass; we can pierce the protective armor of our characters, scan their memories and experiences, offer readers an emotional engagement that transcends the limits of non-fiction. A woman might be a musician, and a famous one, but she is an ordinary person first; a novelist can try to look beyond the smoke-and-lights clichés, and tell the story of a human being who just happens to have known how to sing and play. In my case, I seized the chance to tell a story that had not been told in real life: that of the great English female singer-songwriter of the 1970s, in the Joni, Carole and Carly mould, who never was.
But how, then, to hear this fictional musician's output: can she really take on a life beyond the page if we can't play her records? My answer to this was to ask a living and breathing recording artist, Kathryn Williams, to collaborate with me on an album of Cass Wheeler's music. Together we wrote the lyrics and Kathryn wrote the music for Songs from the Novel Greatest Hits, released alongside the novel on Kathryn's label One Little Indian. It was, to the best of our knowledge, the first time such a collaboration had ever been attempted, and critics and readers have agreed that the album adds an exciting dimension to the experience of Cass Wheeler's life and work.
Since the UK release of the Greatest Hits novel and album in 2017, a number of other writers and artists have joined me in putting women musicians at the center of the story. We now have Taylor Jenkins Reid's Daisy Jones and the Six, published this year, about the female lead singer of a 1970s rock band. We've had the wonderful remake of A Star is Born, with Lady Gaga (oh, how I loved it); and Natalie Portman playing a troubled pop star in Vox Lux. Don't even get me started on how much I adore Rayna James and Juliette Barnes, the two country-music stars of TV's glorious, much-mourned Nashville—so popular here in the UK, I am happy to report, that cast members have filled stadiums on their live soundtrack tours.
If I were sitting down to write my own novel now—to capture that singer-songwriter who strode into my imagination one morning, with her grey-blonde hair and her buried secrets—the creative landscape around me would look rather different. Now, more and more fictional women musicians are creeping onto our pages and our screens; now, the answer to whether it's impossible to write decent fiction about popular music and the women who make it has to be a resounding "no". And that, to my mind, is something to celebrate—which I'm off to do now, actually, with a stack of Joni Mitchell, Kate Bush and Fleetwood Mac records. Care to join me?
____________________________________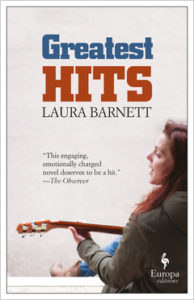 Greatest Hits is published in the US by Europa Editions. Songs from the Novel Greatest Hits is out now on One Little Indian.
---