The Enduring Appeal of Literary Tricksters
From Jeeves to the Cat in the Hat
In literature and myth, tricksters are powerful figures. They're clever, their lack of reverence for the status quo makes them dangerous to those empowered by societal norms, and their shamelessness is often a clarifying antidote to internalized oppression. Based on those qualities alone, one could see how well the presence of tricksters in our stories could help address much of the toxicity that exists in our culture. However, tricksters are more common in polytheistic traditions, whose moralities tend to reflect the ambiguities of lived life more than monotheism's prescriptive notions of right and wrong. This push toward an inflexible moral binary in many contemporary cultures has resulted in just the sort of problems that trickster characters can help address. "We may well hope our actions carry no moral ambiguity," Lewis Hyde writes in his book Trickster Makes This World, "but pretending it's the case when it isn't does not lead to greater clarity about right or wrong; it more likely leads to unconscious cruelty masked by inflated righteousness."
There are many characters in contemporary stories that share some characteristics with tricksters, but most end up lacking in crucial ways. Our favorite fictional thieves initially seem promising. After all, tricksters are fixated on crossing and altering boundaries and thieves are known to violate the established boundaries of the law. But when thieves strive for riches or even just the pleasure of getting away with something, they fall short of the trickster who steals to reorder the world and keep it flexible. Based on that criterion, one might suggest Robin Hood as a possibility, since robbing from the rich to give to the poor is an obvious assault on the established order, but an important element of that myth is that he believes his actions are just, and so he fails the test of ambivalence, one of the trickster's defining features. Satan is also commonly mislabeled as a trickster, though he fails the same important test since he tricks mankind out of hatred.
As is their custom, these shapeshifters tend to hide in plain sight.
But Western literature isn't devoid of tricksters. As is their custom, these shapeshifters tend to hide in plain sight. Below I've called out three of my favorite examples, some of which might not be obvious instances of the archetype. By highlighting them here I hope not only to make their status as tricksters clearer, but to demonstrate why that status is what makes their role in their stories and our imaginations so vital.
*
Manley Pointer
Tricksters love playing with boundaries and one of their favorites is the line that separates the sacred from the profane. So what better image to encapsulate the trickster archetype than a Bible that's been hollowed out to fit a flask of whiskey. In Flannery O'Connor's short story Good Country People, a cynical philosophy scholar named Hulga Hopewell is so distracted by her disdain for the assumed ignorance of the people around her that she ends up being taken in by the affected naiveté of a young Bible salesman named Manley Pointer. Hulga believes she's seducing an innocent until he invites her up into a hayloft and persuades her to remove her prosthetic leg. Manley then reveals himself to be a scoundrel. He takes from his Bible not only a bottle of whiskey, but a deck of pornographic playing cards and some condoms. Here it seems worth mentioning that tricksters are often preoccupied with lust in a manner that's roughly similar to a Tex Avery cartoon. Manley's true self horrifies Hulga as the situation she thought she was in control of is suddenly inverted and she is forced to realize that she was the one who was being naive. Before he vanishes down the loft's ladder with her prosthetic leg, Manley tells Hulga, "I've got a lot of interesting things … One time I got a woman's glass eye this way." He then adds, in reference to Hulga's studies, "you ain't so smart. I been believing in nothing since I was born!" It's the arbitrary nature of his thefts and this perfect articulation of his universal ambivalence that makes Manley an ideal trickster. The theft of Hulga's leg was not committed for the personal benefit of the thief, but for the radical reorganization of Hulga's worldview.
*
Jeeves
Anyone who has read P.G. Wodehouse's novels and short stories about Bertie Wooster and his perfect valet, Jeeves, might take issue with the assertion that Jeeves is a trickster. Tricksters tend to love dirt and chaos, whereas Jeeves can't even seem to handle his employer's poor fashion choices. In fact, many of the Jeeves and Wooster adventures begin with a tense domestic scene. Bertie has purchased some article of clothing that Jeeves feels is unsuitable for a proper gentleman (a checkered suit or a pair of cloth-topped boots that Bertie loves "like a couple of brothers"). In these situations, Bertie always brashly suppresses the complaint: "And when he tried to tread on me like a worm in the matter of a hat, I jolly well put my foot down and showed him who was who."
That will seem to settle the issue until some social entanglement draws Bertie out of the domestic sphere and into the larger world. An important feature of tricksters is that they tend to thrive wherever uncertainty reigns, so it's no coincidence that Jeeves doesn't go to great lengths to assert himself until Bertie has been drawn into the confusion of his own social connections. At the first sign of trouble, Bertie will appeal to Jeeves for help and Jeeves will typically offer a series of suggestions that only furthers the chaos. As the chaos increases, so does Jeeves's control over the situation. Eventually everything is resolved through his ingeniousness and Bertie promises to part with the offending article of clothing, which, in many cases, Jeeves has already taken the liberty of throwing away. Though the Jeeves and Wooster stories are formulaic, Wodehouse makes each one unmissable with his hilarious prose and the pure satisfaction that comes from seeing Jeeves-as-trickster at work. Employers are typically the ones empowered to tell employees how to dress. And historically the concept of a proper gentleman was a social construct meant to codify the distinction between people enjoying the benefits of dynastic wealth and the rest of the human race. In Jeeves's hands, the constructs separating master and servant become a set of standards for his master to obey, making Jeeves a wonderful example of the situation-inverters and chaos sowers of the trickster archetype.
*
The Cat in the Hat
This classic and subtly subversive picture book begins with two children sitting by a window during a rainstorm while their mother is away. One of the central challenges of childhood is to learn what behavior is acceptable in what circumstances in order to mitigate the fear of losing your parents' love. Outside is where it's acceptable to run and play and to raise your voice. Inside is where you must be quiet and careful. For this reason, a rainy day in a children's book is often shorthand for the stifling of natural impulses. A previously agreed upon boundary has become unbearable, which is the exact circumstance in which a trickster tends to materialize. In this instance it's a cat. And he's wearing a hat.
The cat attempts to entertain the children while reassuring them that his tricks "are not bad" even though he proceeds to make a mess that the mother would clearly categorize as bad. And yet, the cat's insistence that his tricks aren't bad doesn't appear to be a lie. It's clear from his demeanor that he simply doesn't recognize or value the established order that would restrict the children's behavior indoors. The cat even brings in a box containing child-sized role models, Thing One and Thing Two, in an effort to teach the children how to play inside the house as if they were outside the house. The first activity the Things attempt is to fly kites indoors. Frightened by the mother's impending arrival, one of the children captures the Things and orders the cat to leave the house. The cat seems disappointed that the children have failed his invitation to play and he departs without protest. The house is now a mess and the children consider their fates until the cat returns with an elaborate cleaning machine that he refers to as "another good trick." Even though the cat has helped to reestablish the status quo, the fact that he refers to it as another good trick certifies his ambivalence. In the end, his demonstrated behavior seems to have individuated the children from the established order by showing them that making a mess is not, in fact, the end of the world. When their mother returns they both greet her with wry smiles, wondering what of their misadventure, if anything, they should tell her.
_________________________________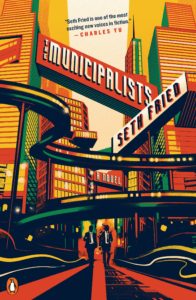 Seth Fried's The Municipalists is out now. 
---