The Dangerous, Dirty Job of Oil Extraction: On the History of Offshore Exploration
Tabitha Lasley Revisits the Disasters of Deepwater Horizon and Piper Alpha
Oil is a country all of its own, a nation with movable borders. Its frontiers are being pushed back all the time, into increasingly hostile territory. The age of easy acquisition is over. Every new prospect has problems, every windfall its own set of caveats. Matters of climate, geology, location, regime. Lack of infrastructure, intraethnic disputes, political wrangling over pipelines. Hostage-taking in Libya, piracy in West Africa, insurgents in Iraq, ice floes in Arctic Russia.
In the North Sea, the winter weather is rough, the seabed an impenetrable blend of shale and clay. In Brazil, the oil is locked under thick layers of salt. Central Asia somehow manages to combine the worst elements of every other petrostate: sour gas, civil unrest, banditry, oil buried deep at high pressure, frozen seas in winter, desert heat in summer, government intrigue all year round. In politically stable countries, the commute is a calculated risk, but most occupational hazards are confined to the rig: blowouts, fires, asphyxiating condensate, chemical burns, heavy machinery, swinging loads. In more volatile regions, employees have to contend with the threat of kidnaps, riots, and terrorism, before they even get to work.
Extracting oil is a dirty, dangerous job. It is a pitched battle among human ingenuity, inhospitable terrain, and highly combustible materials. The dangers are compounded by the locations' remoteness. Platforms store volumes of oil and gas on board, so the risk of explosion is always present. Rigs can, and do, sink, as in 1982, when the Ocean Ranger sank in Canadian waters, and 2001, when Petrobas 36, then the world's largest semisubmersible platform, capsized off the coast of Brazil. In 2010, Deepwater Horizon claimed 11 lives and became the largest marine oil spill in history. Disasters on this scale, though rare, serve to remind us how contingent our control is. After Deepwater Horizon, oil gushed into the Gulf of Mexico for three months. When Well 37 in Tengiz blew out, it burned for a year. It took Red Adair, who specialized in combating well fires, three weeks to extinguish Piper Alpha.
In the history of offshore exploration, there is no bleaker parable than Piper A. Known as "the Monster," it was once the single largest oil producer in the world. By 1988, its best days were behind it. Piper Alpha had become known throughout the North Sea as a place where accidents happened. The year before, a rigger died there. On July 6th, the platform was undergoing essential maintenance. The asset holder, Occidental, considered stopping production while the work was carried out, but decided it would be too expensive.
What followed was a perfect storm of lax practice and poor conditions. It's referred to as the swiss cheese model of causation. An organization can layer its defenses, but each layer will have a weak spot, like the hole in a slice of Emmental. When those holes line up, trouble finds its way in.
That day, contractors working on a condensate pump left the safety valve off, and replaced it with a loosely fitted blind flange. The night crew took over, but they didn't see the permit stating that the job was unfinished and the pump had to stay off. The pump was switched on, gas started to flow through it, and pressure began to build. The safety valve would have withstood this pressure, the blind flange could not. It gave, and gas began to leak out, triggering a series of explosions. Since the rig had been built to store oil and not gas, the walls were flame retardant, but they weren't blast-proof. They collapsed at the first explosion.
After Deepwater Horizon, oil gushed into the Gulf of Mexico for three months.
The automatic sprinkler system had been switched to manual, because divers were working in the water near the pumps and there was a risk they could be sucked into the inlet. Oil from the neighboring Tartan and Claymore platforms backed up down the pipeline, pumping fuel into the fire, even as men were abandoning the rig. They couldn't find anyone with the authority to stop production.
Soon, Piper Alpha was engulfed in flames that could be seen 70 miles away. One hundred and sixty-seven men died that night. Some obeyed their drill and retreated to the accommodation quarters. They were entombed inside when the platform buckled and the block slid into the sea. Others climbed to the helideck and waited to be saved. When it became clear no one was coming (within a minute of the first explosion, the helideck was enveloped in smoke, and the choppers couldn't get near), they had to save themselves by jumping into the sea 50 meters below. Those who didn't break their necks faced a choice: sink down into the dark and drown, or swim to the surface and burn. It is a tale of elemental fear. Raging fire. Burning sea. Survivors driven by the most basic instinct of all: to plant their feet back upon the earth.
For the 61 who survived, the horror wasn't over. Some turned to drink. More than one committed suicide. Many suffered from PTSD, which was barely understood back then. Grown men in the northeast of Scotland didn't see therapists. When compensation was awarded, the ones able to articulate their grief got more than those too traumatized to talk. Survivor's guilt manifested itself in other, unsettling ways. One woman came home to find her husband standing at the bottom of a six-foot hole he'd impulsively dug in the garden. That man, Bill Barron, went on to model for Sue Jane Taylor, the artist who sculpted the Piper Alpha memorial in Aberdeen's Hazlehead Park. The sculpture shows three figures, facing east, west, and north, representing youth, physicality, and oil, respectively. I met Taylor once, and she walked me around the memorial garden, pointing out the rose plants chosen by the families of the dead, the long columns of names carved onto the sculpture's plinth.
Afterwards, we sat in the tearooms and watched the rain run down the windows, until the garden's green lineaments had all but disappeared and only the smeared pinks and reds of the rose beds were visible. She told me she had worked furiously on the memorial, never sure, until the very end, that there would be enough money to complete it. Together, the garden of remembrance and the sculpture cost £100,000. Of this, the asset holder contributed £11,000. Occidental didn't want the memorial. The company thought the families ought to be satisfied with a book of condolence. In the days after the disaster, Occidental's head of PR went to see Taylor and tried to buy up every sketch, every photograph, every negative she had of the platform. He said she could name her price. She refused. Some artists can't be bought.
Occidental sold off its North Sea assets and braced itself for the inquiry. In the end, it paid out $100 million. Though the Cullen Report damned its safety procedures—and in doing so, transformed the culture offshore—no one person was ever found liable. North Sea standards are now the most stringent in the world, but there is still no way to rule out human error. If you ask people to work 12-hour shifts, for 21 days, they will get tired and make mistakes. Accidents still happen, but many go unreported. They exist in an almost metaphysical realm: If the media didn't hear about it, did it really occur?
A few years ago, workers on the Magnus noticed an odd smell coming from the showers. Further investigation revealed the water supply to have been contaminated with diesel. BP issued guidelines. Workers were told to drink and clean their teeth with bottled water yet continue to shower as normal. They might notice the "harmless" scent of diesel, but should ignore it. It's worth noting here that BP also said Corexit, the dispersant it sprayed on the Gulf after Deepwater Horizon, was harmless, even as cleanup workers began to experience memory loss, muscle spasms, and skin complaints, a set of symptoms last seen in Gulf War soldiers.
Procedures are designed to establish a chain of liability, so if something does go wrong it can be traced back to an individual. In reality, accidents are rarely one person's fault. Films like Deepwater Horizon feature villainous executives because it's difficult to dramatize corporate complacency and systemic failure. Piper Alpha came on the heels of Chernobyl, the Challenger, and the presciently named Herald of Free Enterprise. In some ways, it was a different time, an age of deregulation and ruinous misjudgment. But the story comes with a postscript that suggests lessons can be forgotten as quickly as they're learned.
__________________________________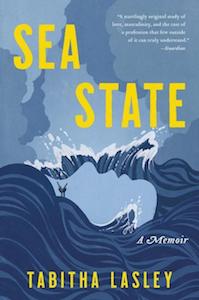 From Sea State by Tabitha Lasley. Copyright © 2021 by Tabitha Lasley. Excerpted by permission of Ecco, an imprint of HarperCollins Publishers.
---