The Dangerous and Untold Story of Paparazzi Work
Featuring the Further Abuses of Donald Trump
I met Chris Guerra in October 2012. The paparazzi photographer Galo Ramirez introduced me to Chris, a young, aspiring paparazzo who had only recently begun working on a freelance basis for the same agency as Galo. I photographed one of their training sessions as they waited outside Heidi Klum's Pacific Palisades mansion. My photos of Chris's training were shown during his memorial service three months later.
Chris was struck by multiple cars and killed on New Year's Day in 2013. Reports indicate he was attempting to comply with a California Highway Patrol officer's orders to return to his car after trying to photograph Justin Bieber's Ferrari in Los Angeles. He was 29 years old. According to witness testimony and dashcam transcriptions, a police officer had stopped Bieber's Ferrari for speeding and was beginning to question the car's occupants about the scent of marijuana in the car. When one of the occupants told the officer that Chris was videotaping the stop, the officer released them to focus his attention on Chris instead.
"What the hell are you doing?" the officer was recorded saying. He then uttered several undecipherable words, ending with "paparazzi." When Chris explained that he was a photographer and a member of the press, the officer asked, "Do you have any credentials other than you just standing there?"
As the officer's tone became more aggressive, Chris responded, "Okay, all right! Relax!" The officer told Chris that paparazzi should not hassle people and demanded that Chris return to his car, which was parked across four lanes of traffic with no crosswalk nearby. Chris's last words were, "All right, brother." He was then hit by two cars and killed.
The driver of the first car, an SUV, was stopped, questioned, and sent on her way with no charges. Per the police report, the officer told the driver that "the accident was not her fault." The second driver never stopped, which constitutes a felony hit-and-run, but no investigation followed. Although there is no evidence that Chris was killed instantly, the officer, who was trained in CPR, made no attempt to investigate whether he was still alive. The dashcam later recorded the officer saying to his partner, "Dude, I was just like, I just told him he couldn't stand there. Fucking idiot, man."
The fact that today's Hollywood paparazzi are predominantly Latino men is central to the nature of the public discourses around paparazzi.
The singer Miley Cyrus echoed this sentiment in a Twitter thread reacting to the incident: "Hope this paparazzi/JB accident brings on some changes in '13. Paparazzi are dangerous! . . . It is unfair for anyone to put this on to Justin's conscious [sic] as well! This was bound to happen! Your mom teaches u when your [sic] a child not to play in the street! The chaos that comes with the paparazzi acting like fools makes it impossible for anyone to make safe choices." These tweets were retweeted almost 100,000 times, and fans responded with such comments as "Your hate for the paparazzi is one of my favorite things about you." Some comments from viewers of online video reports of Chris's death were even more vitriolic: "It's sad when people die. Paparazzi, not so much"; "Paparazzi don't count as human beings, so it's ok to laugh when one gets flattened"; "Poor Justin. I feel so bad for him. Fuck you, paparazzi"; and "More paparazzi need to die. If I see one on the road, I will swerve to hit the motherfucker."
As part of her Twitter tirade against Chris, Cyrus tweeted at the e! News correspondent Ken Baker, "@kenbakernow you can have a big part in making that change if the photos stop being made entertainment. There's plenty of news without paps [paparazzi]!" Baker, who had previously worked for People magazine and Us Weekly, agreed with Cyrus and condemned paparazzi work, despite the fact that his own work depends on it: "@MileyCyrus honestly, I can't believe this hasn't happened before. So many super sketchy street ambushes, all for stupid pics."
Instead of being acknowledged as an integral part of the celebrity news machine, the work of paparazzi is popularly derided and framed as disposable.
That today's Hollywood paparazzi are predominantly Latino men, including US-born Latinos and Latin American (im)migrants, is central to the nature of the public discourses around paparazzi. News articles refer to them as "untrained," "corner-cutting," "foreigners working on . . . questionable visas," while online reader comments call them "bottom feeders" and "illegals" who should "be deported." The field has become dominated by Latinos because formal barriers of entry do not exist for paparazzi work. This is their way into the Hollywood system, outside the hierarchies and elite spaces inhabited by others in the industry, such as celebrity reporters. e paparazzi's informal labor and racially minoritized status position them as public scapegoats for what is wrong with celebrity media.
Celebrity reporters, on the other hand, contribute similarly to celebrity media production but are not scapegoated in the same way. This is due at least in part to such factors as race, gender, class, education, and perceived professionalism. Celebrity reporters are predominantly college-educated women, many from middle- to upper-middle-class backgrounds, and the vast majority are white, while the paparazzi were predominantly working-class men of color without a college education. However, celebrity reporters face different perils, as the story of the former People magazine reporter Natasha Stoyno reflects.
Before working as a stringer—a regular freelancer—for the magazine, I was hired as an intern at People in the fall of 2004. My cubicle was directly outside of Natasha's office. At the time, many of her reporting assignments were focused on Donald Trump, whose television show was soaring in the ratings. Indeed, the entire magazine was wrapped up in the success of The Apprentice and heavily promoted Trump. Talk of The Apprentice was so prominent during that time that it inspired a group of us at the office to dress up as Trump and his apprentices for Halloween. Only weeks later Natasha was conducting interviews at Trump's Mar-a-Lago estate for a story about the happy married life of the reality star and his third wife, Melania, who was pregnant at the time. When they were alone during the interview Trump attacked Natasha, forced his tongue into her mouth, and told her they would have an affair. Despite the assault, the story Natasha was working on was published; it was titled "Happy Anniversary" and celebrated the couple's wedding anniversary and Melania's pregnancy.
In 2011, during a taped interview for my research, Natasha confided in me about the attack since it was relevant to my focus on gender in the work of celebrity media producers. She said that she was writing a story about a "very famous person" that "was all about how he was so happy with his new wife. Meanwhile she was pregnant and he's making a pass at me. Literally pushing me against the wall sticking his tongue down my throat." She paused and whispered, "Donald Trump." I was still freelancing for People and thus a colleague as well as a researcher, and a friend. But even in a private setting with someone she trusted, she hesitated to say his name out loud, years before he was a presidential candidate. Natasha continued, "He called me up after the article ran and said, 'I just want to tell you what a great article you did. It was fabulous. I love it.'"
When they were alone during the interview Trump attacked Natasha, forced his tongue into her mouth, and told her they would have an affair.
At the time of the attack she told a superior, who asked if she wanted to press charges, but she decided against it. "I just thought, this guy felt so big." She explained that she felt dishonest about the story. "But I didn't know my power then. . . . I was in shock for those few moments that I couldn't react normally as I should have. . . . Donald Trump doesn't give a shit about what anyone thinks or feels. And then I talked to one of my best friends and she said, 'Oh, he made a pass at me once too. It's just common for him.'"
For fear of losing her job, she did not publicly tell the truth about Trump for years. She even allowed her story about Trump's very happy home life as a doting husband to be published. Stories like Natasha's are not unique. Women in the entertainment industry, in all kinds of positions, are frequently used strategically and mistreated for the benefit of the companies they work for or the pleasure of the men they are interacting with professionally. Celebrity reporters spend most of their careers at the mercy of celebrities, who are able to exercise a great deal of power over them and the media outlets they represent. To maintain her dignity, the reporter of course likes to think of herself as powerful, possessing the agency to shape a story and change the world. But as Natasha's story reveals, the power of the celebrity reporter can be quite limited. Faced with the possibility of disrupting the narrative about Trump in a very real way, she opted for the status quo, the path of least resistance—a testament to her vulnerability rather than her weakness.
Because Natasha had revealed to me years earlier that Trump had assaulted her, I was not surprised when the infamous Access Hollywood video was released during the 2016 presidential campaign, in which Trump said that as a "star" "you can do anything" to women. The fact that the tape had only a limited impact on public opinion made me fearful about what the outcome might be if Natasha publicly shared her story, but I still hoped that she would. On October 12, 2016, People published the first report in which Natasha publicly told the story of her assault by Trump. I reached out to her to remind her that she had described the assault to me in a recorded interview and named Trump as her assailant; my recordings became a potential legal asset to her as she faced criticism and threats of a lawsuit from Trump. My research on celebrity media had become wholly intertwined in the U.S. presidential race.
Maybe this should not have been entirely surprising. The practices of celebrity reporting, and celebrity media production more broadly, are now important to U.S. politics and world events. While there were always blurred lines between entertainment, celebrity, and politics, the distinction between entertainment and news media is not an empirical reality, but rather a function of a public imaginary—that there should be a difference between so-called hard news and entertainment news.
__________________________________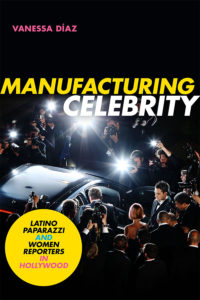 Excerpted from Manufacturing Celebrity by Vanessa Diaz. Copyright © 2020. Reprinted with permission of the publisher, Duke University Press. 
---